I was back at the range today, trying to sort out the problems I've been having. First, I went to the local hardware store and picked up several roll pins. On slightly larger than the factory and the other substantially larger than the factory. I swapped the roll pin without trouble and went to the range.
The rifle ran well for the first 150 rounds but then it started to puke as it had before. I took it back to the office, replaced the roll pin with a spare I had, and tried again. The rifle continued to puke. I returned, tried to install the next size larger pin I had but it would not fit. Next, I pulled the extractor, cleaned it and "tweaked" it. Returned to the range and the rifle continued to puke. Pulled the extractor again and tweaked it some more. The rifle continued to puke. (I tried three different Colt mags and none worked better than another)
I this point, I'm not sure what to try next. I believe I may be able to get my hands on a Colt 9mm SMG bolt. If I can, I plan on swapping it in and seeing if it runs the gun. If I'm still having problems, I'm also considering putting the entire subgun uppper on the current rifle and seeing if it runs with the Hahn magazine block and Colt magazines.
I had a camera with me so I took pictures. My malfunctions all seem to be issues of ejection/extraction. If one "style" was most common, it would be this one: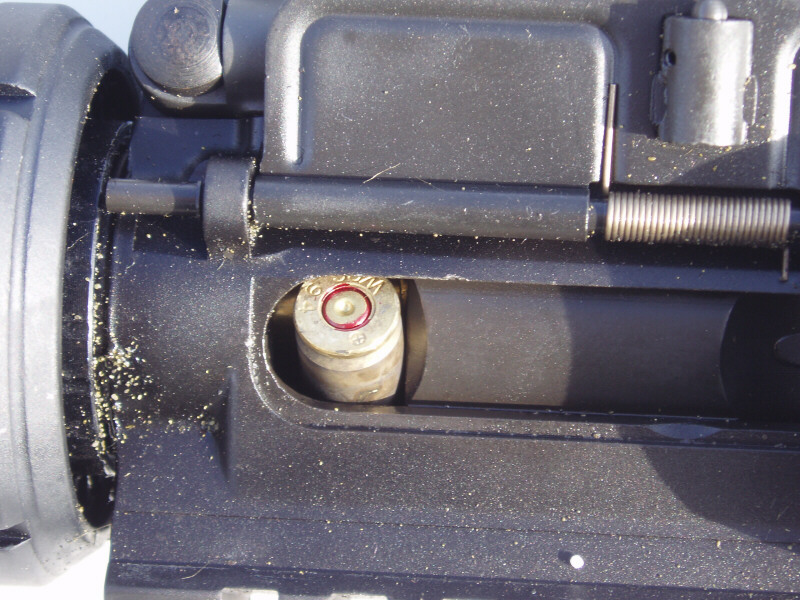 Below are some other pictures. The case behind the ejector is typically the result of trying to clear a malfunction.