O.K. calm down, we all see that you want specific info on the ramp cut.
I see that you want to have it CNCed and pricise mesurments are good to have.
But getting then might be a bigger problem than you thought, everyone here is trying to be helpfull, but my two cents would be to do it yourself with a dremmell tool!
All I did was take the same profile and extend it twice the current lengh down the bolt!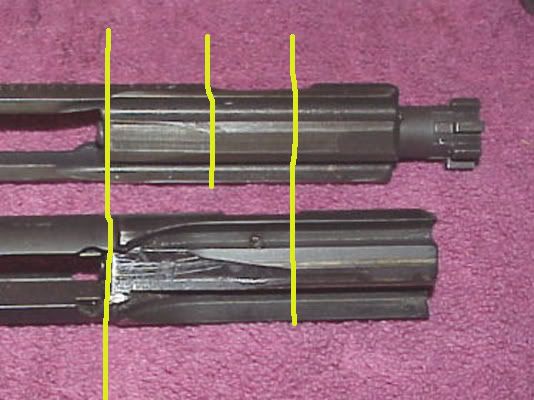 By looking at the picture from SBR7_11 that I enhanced
you can see the diffrence in the bolt ramps, The upper ramp is STD, the lower one is MODDED, twice the lenght and more gradual re-cocking it takes twice the leght of the same stroke to cock the hamer back wicth in my opinon does two things, 1. makes the re-cocking action easyer on the hammer and pins, 2. makes it alot smoother on the bolt to hammer interaction, I used a Bussy two stage lower with 0 problems after I ramped my bolt, (I sad Bussy two stage with notched hammer!), now I have a dedicated RRA lower STD hammer also with 0 problems!
I hope this helps?
I will try to get some of my pics up soon!