Meet Project Raven V2.5:
Douglas SS 12" 6.8 1/11 barrel
LaRue 12.0
Troy FBS-R
Troy FBS-F
Troy MMD
CMT 6.8 Bolt w/ Wolff springs and Colt insert
CMT M16 Bolt and carrier
Surefire Scoutlight with LU60A Bezel and FM63 IR Filter
PRI Gasbuster CH
LaRue GasBlock (chopped)
TD VFG, Panels, and Battlegrip in FDE
Schmidt Bender 1.1-4x20 PMII CQB "Short Dot"
LaRue SPR-E Mount
VLTOR Stock (FDE) and Receiver Extension
Bushy SBR Lower
CQD Receiver Endplate Sling Loop
Magpul TriggerGuard
CMC Single Stage Curved Trigger
With 110 VMAX factory loads, it has more than 40 yards more frag range than an M4 with 5.56 75 grain TAP. With the AMAX, it hovers around 0.8 MOA out to 200 yards or so (with proper optics, a good shooter, and a good rest). And yes, when I went to take the pics I grabbed the wrong ammo can, so you can see it with a 5.56 mag for now.
Weight is 9.2 lbs loaded with 25 rounds of 6.8 in a PRI mag. Seeing as how that weight includes the 29 oz Short Dot and mount, I think it's pretty handy. The next version will be about a pound lighter, more accurate, more reliable, and a helluva lot cooler.
I dig it.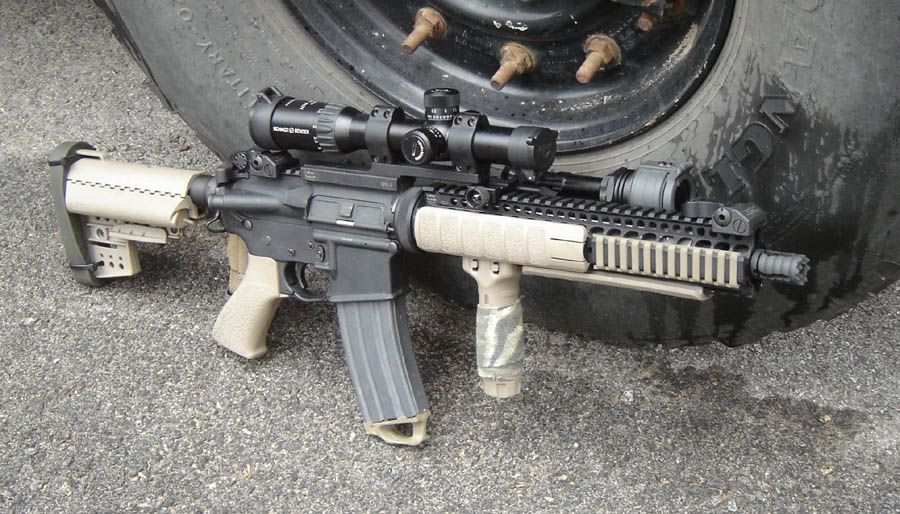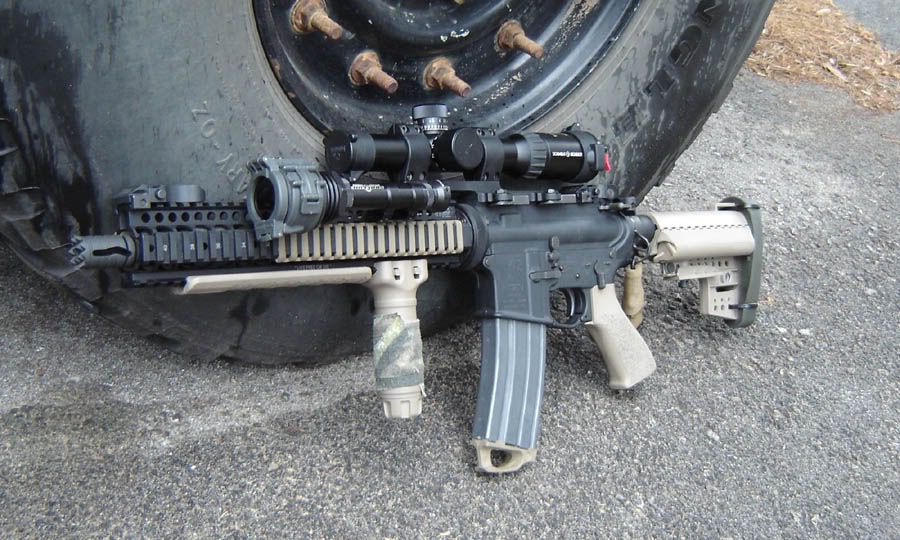 New Pics on page 2!