Hey guys!
I finally had the opportunity to take the guys from my "Growth Group" out shooting this weekend. My church's adult bible fellowship classes are divided again into smaller groups that meet a couple times a month outside the church building, and when we meet at my house, they all enjoy a tour of the gun room! A couple of the guys have Glock pistols, but none of them have an AR-15. After a few months of them "hinting" how fun it would be to go shooting, we finally had the opportunity to do a formal classroom gun safety class. Then the next day, we all went out to a friend's land and set up a range.
I brought my Bushmaster 20" A2 rifle (with the Ciener .22lr conversion kit installed) and my CMMG MOD4 carbine. One guy had never shot a gun before (I don't even think he'd ever HELD a gun before), a couple hadn't shot a gun in a long time, one had served in the US Army and fired an M16A2 back in the day, and a couple had familiarity with their Glocks and bolt-action rifles, but that's it.
We shot at tin cans, a wood board w/ targets taped up, and a spinner target system for the .22lr rifles (the A2 conversion and one of the guy's Feather AT-22.)
Here are some pics:
Me with my CMMG MOD4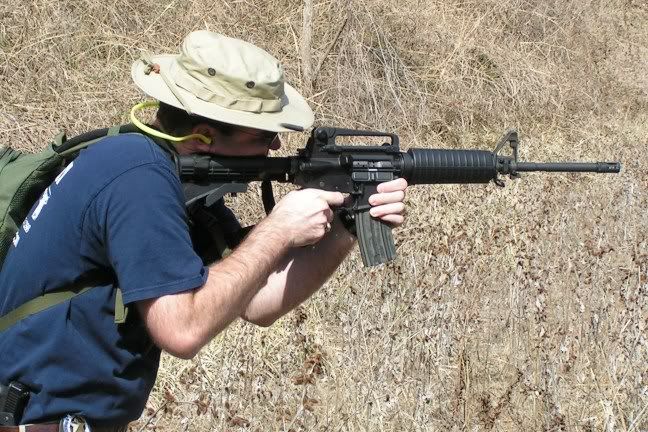 Charging the carbine:
Old school Army grunt reunited at last!
Me shoot'n the Feather. I LOVE that gun!
Shooting the conversion
The group
We all had a great time, and I overheard several of the guys saying how they just "had to get an AR!"
The disease is spreading...