I helped out at the Advanced Armament booth during SHOT, but I got to mill around a bunch during the show. Here are some pictures I shot.
The booth, during setup. Firearms and suppressors just laying willy-nilly about the floor.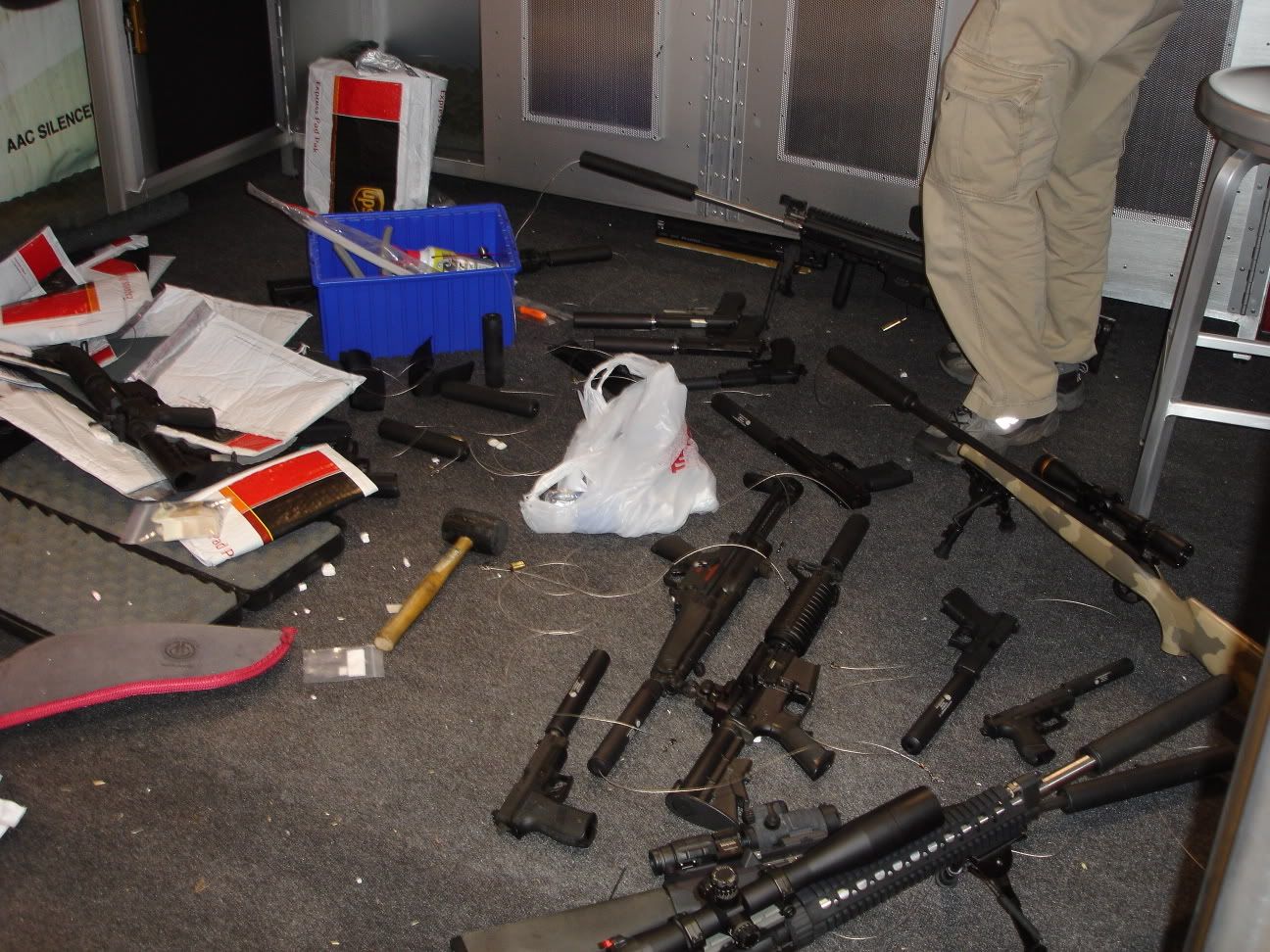 Here's the AAC booth, where I worked. All set up and looking good.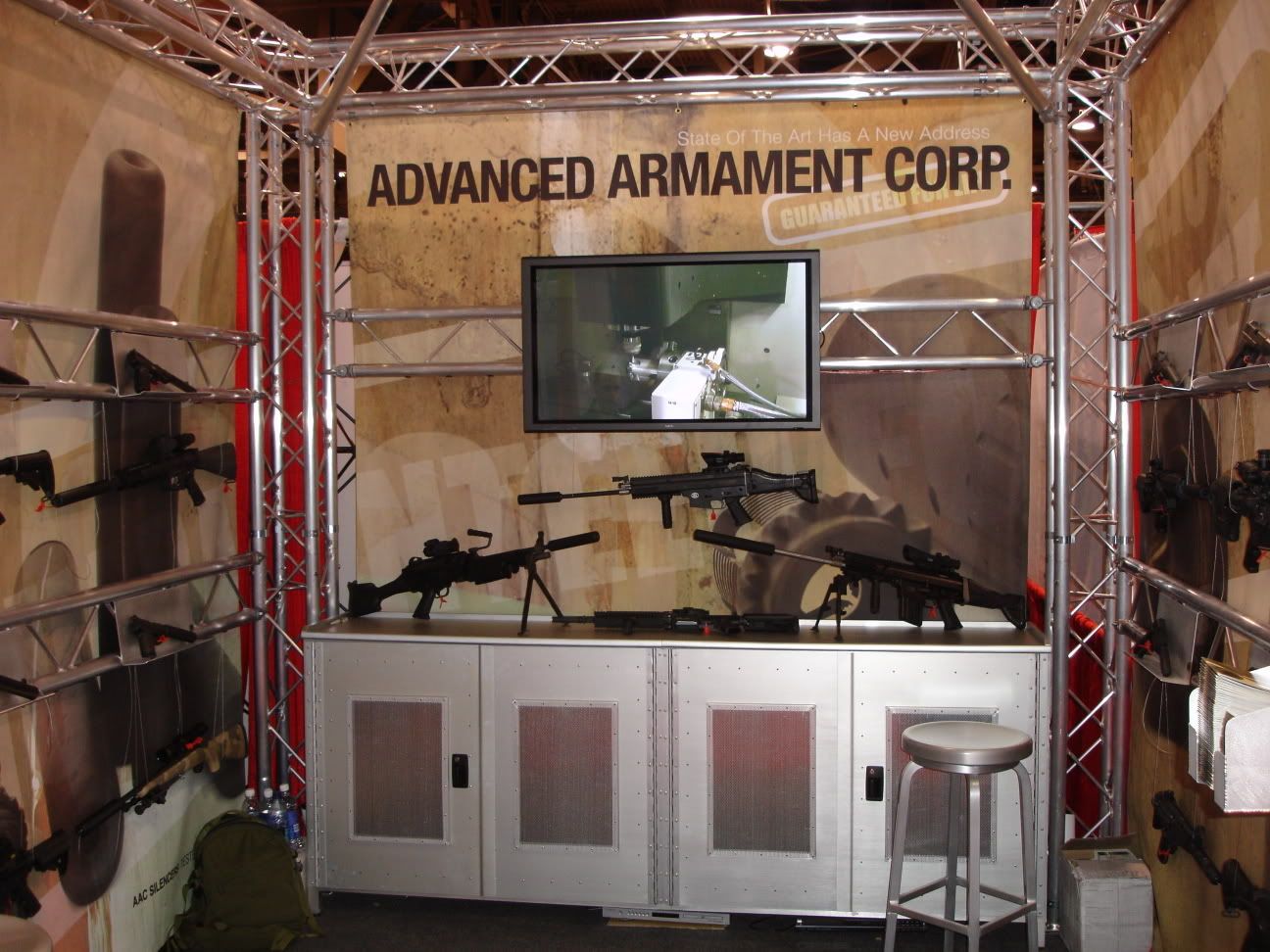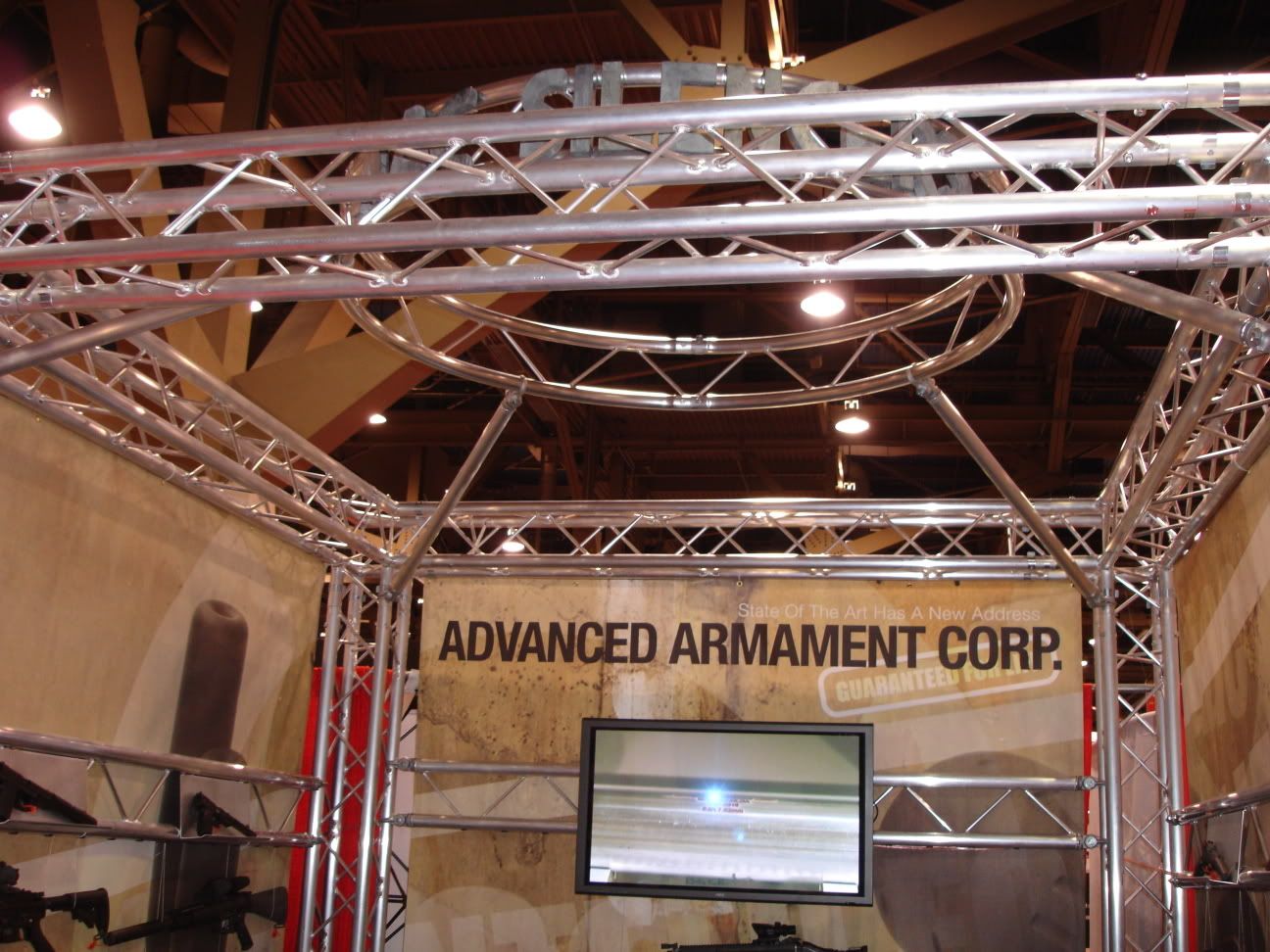 Next is all the rifles, pistols, and suppressors we had in our booth.
HK 416. Even HK didn't know we had it. Bunch of assholes at the HK booth wouldn't even let us walk AROUND their booth and look before the show until we walked over with it. "You can come back tomorrow when the show starts." One of our guys walks over with the 416, and they were like, "Hey, where'd you get that?" "From the US Government." "Oh. Well, what can we do for you?"
The suppressor is a prototype titanium version of the can AAC is doing for the SCAR-L. Weighs 9 oz.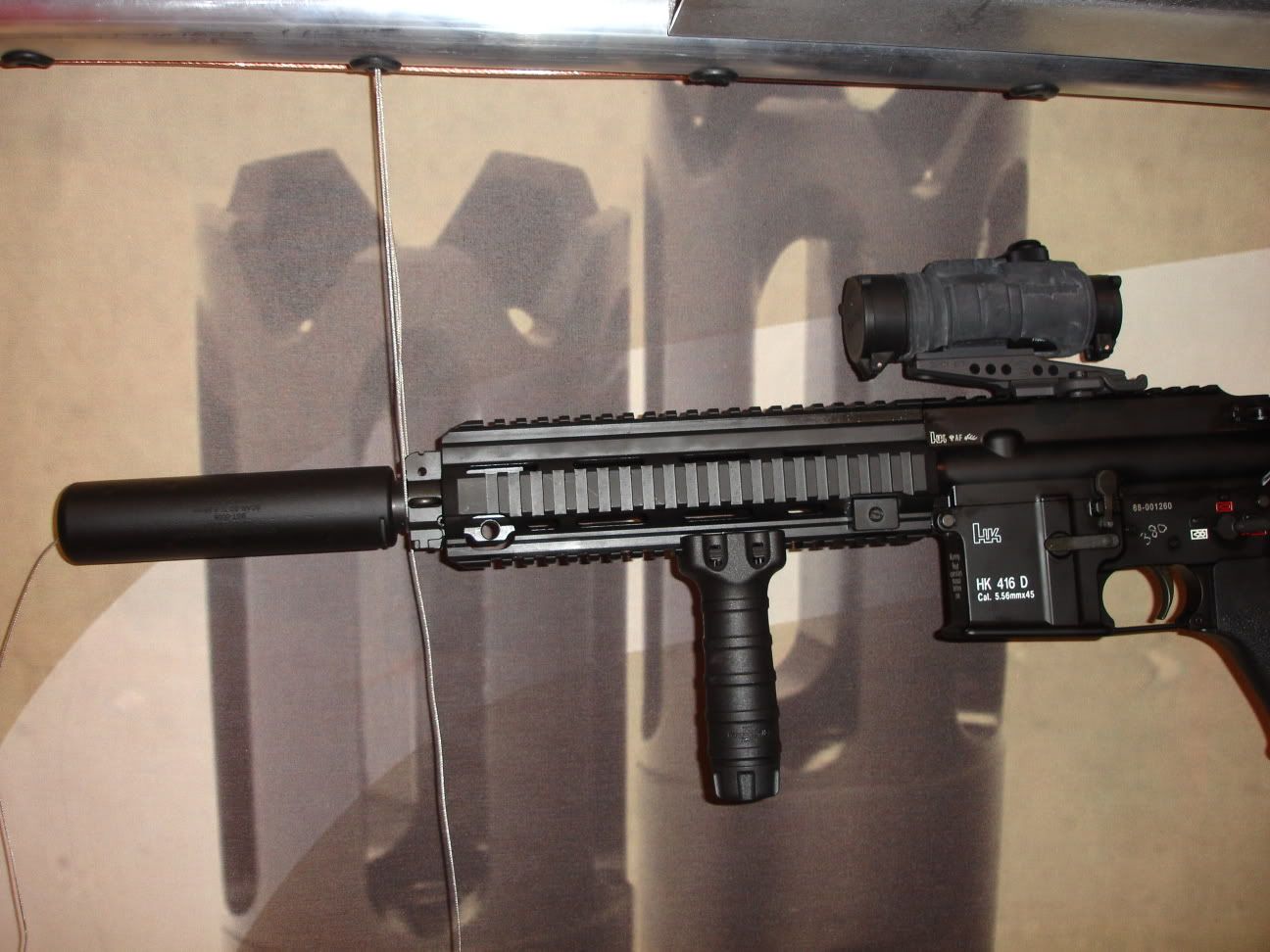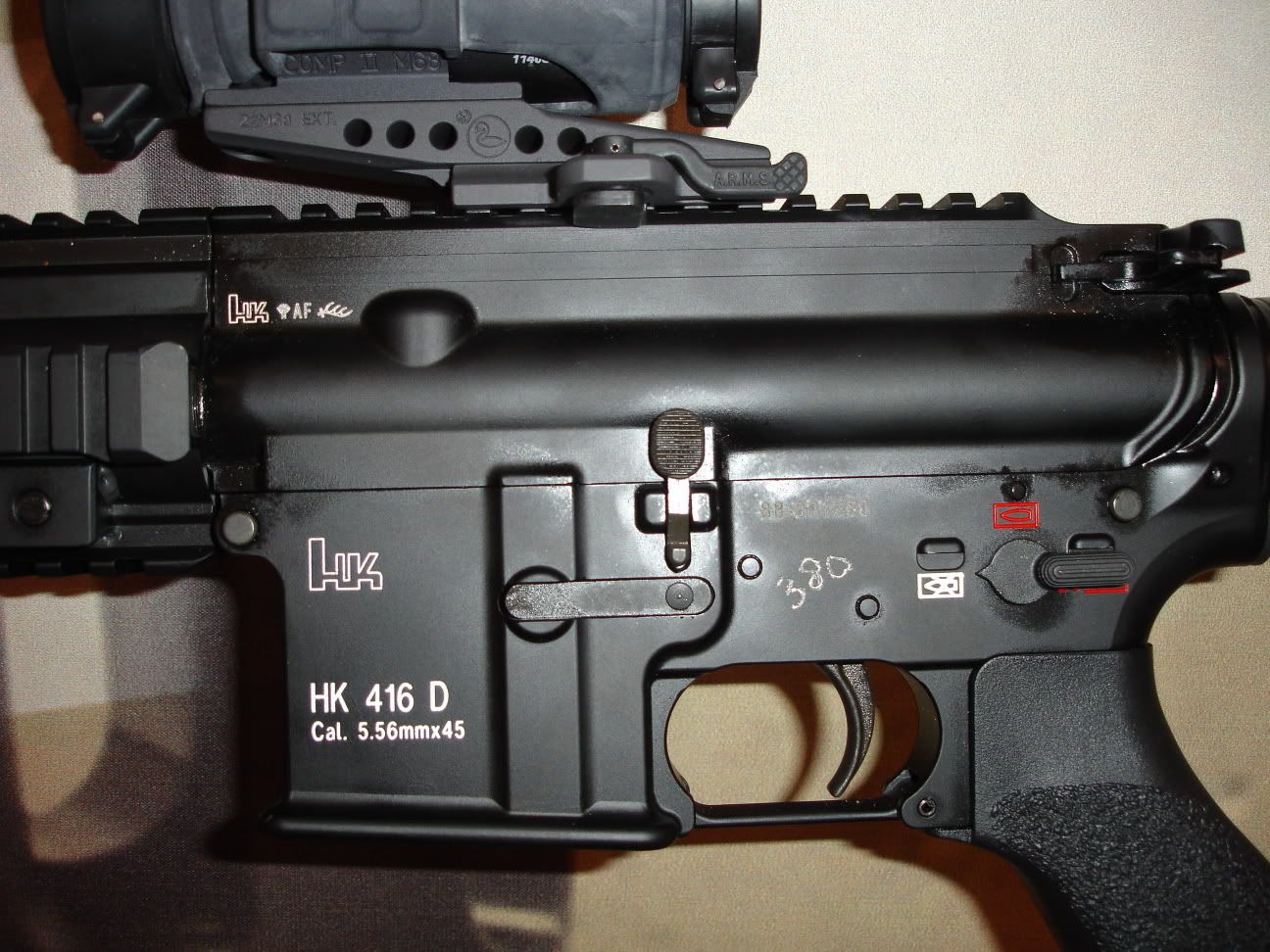 Mk 23 w/ EVO-45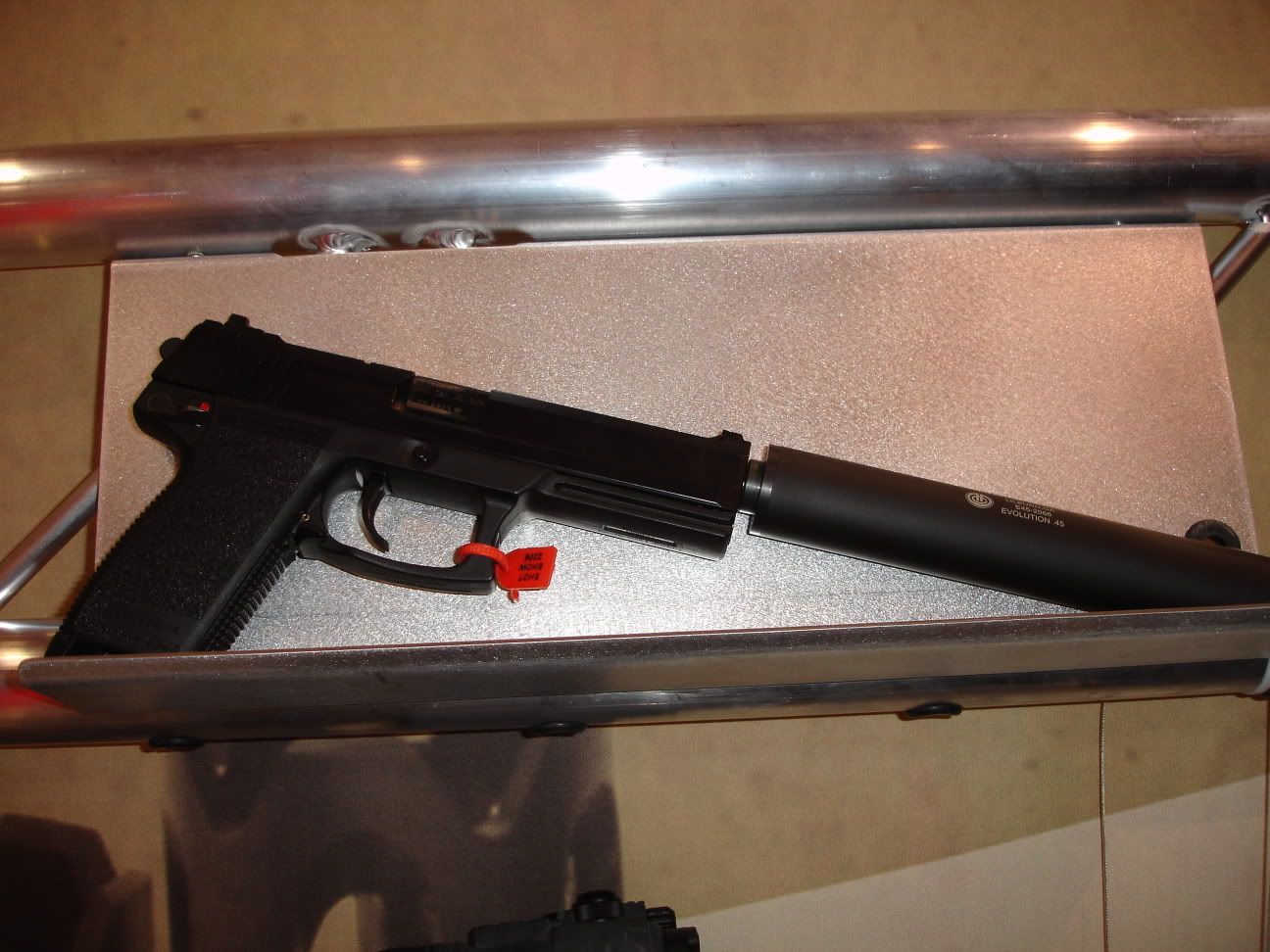 Sig 220R w/ EVO-SOF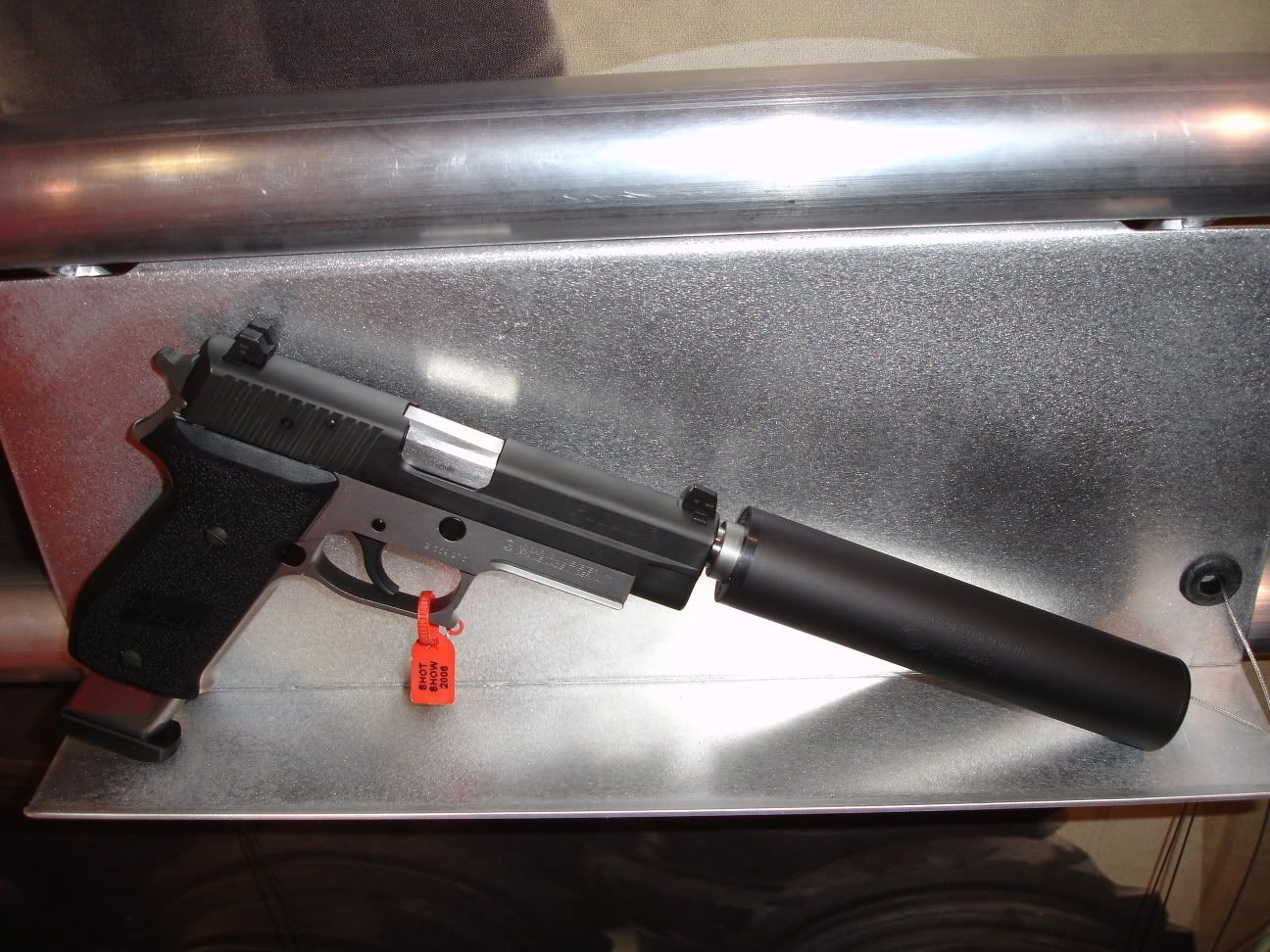 Colt M4 w/ S2R. The cool thing about this suppressor is that it has a multi-start coarse thread with 5 different start points. This lets you match up the numbers on the can with the start point so that you can set your point of impact the same with and without the can, and always use that same number for repeatable POI. It's also a partial reflex can, and only adds about 4" to the OAL of the rifle.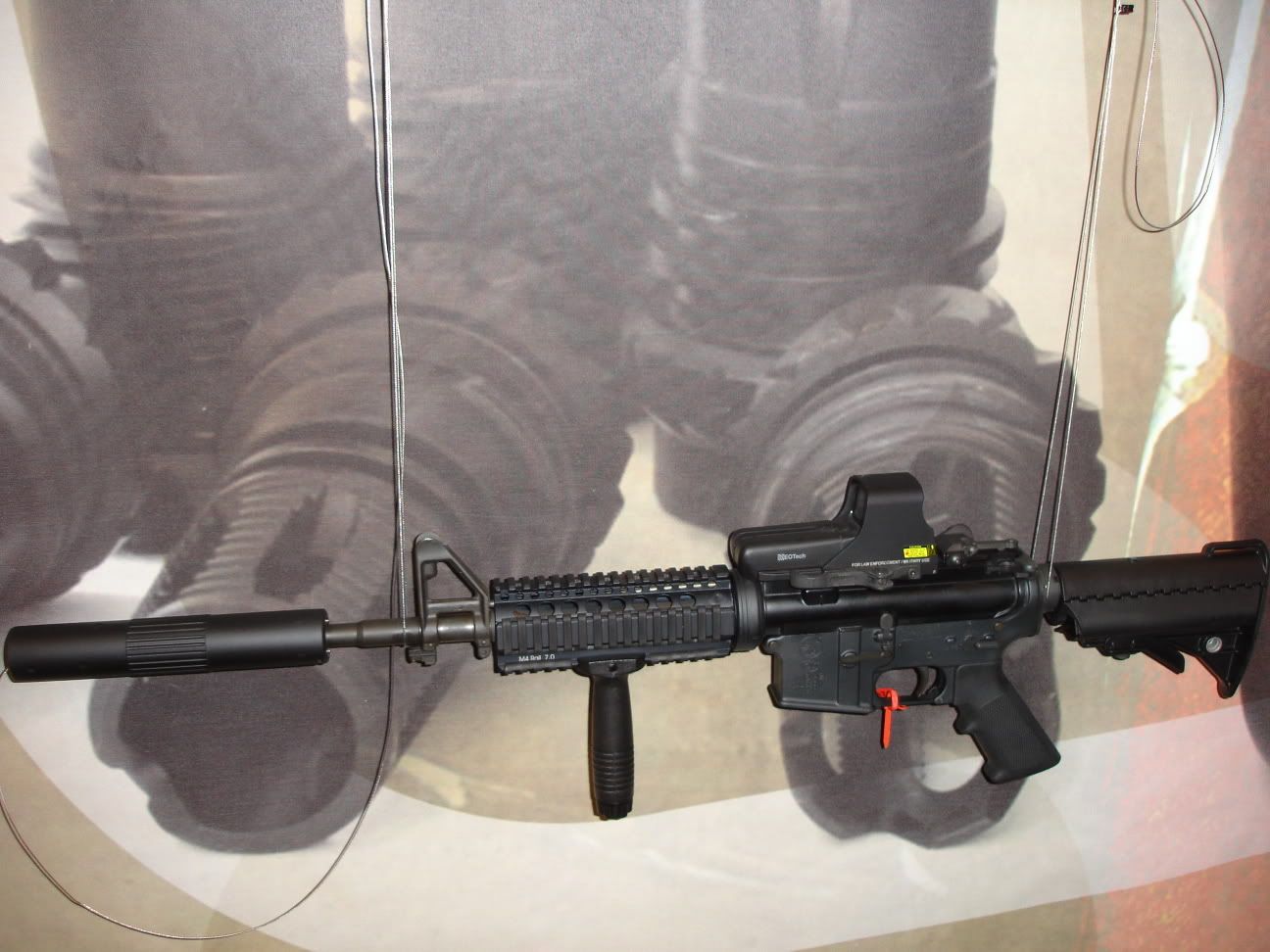 Remington 700 w/ Cyclone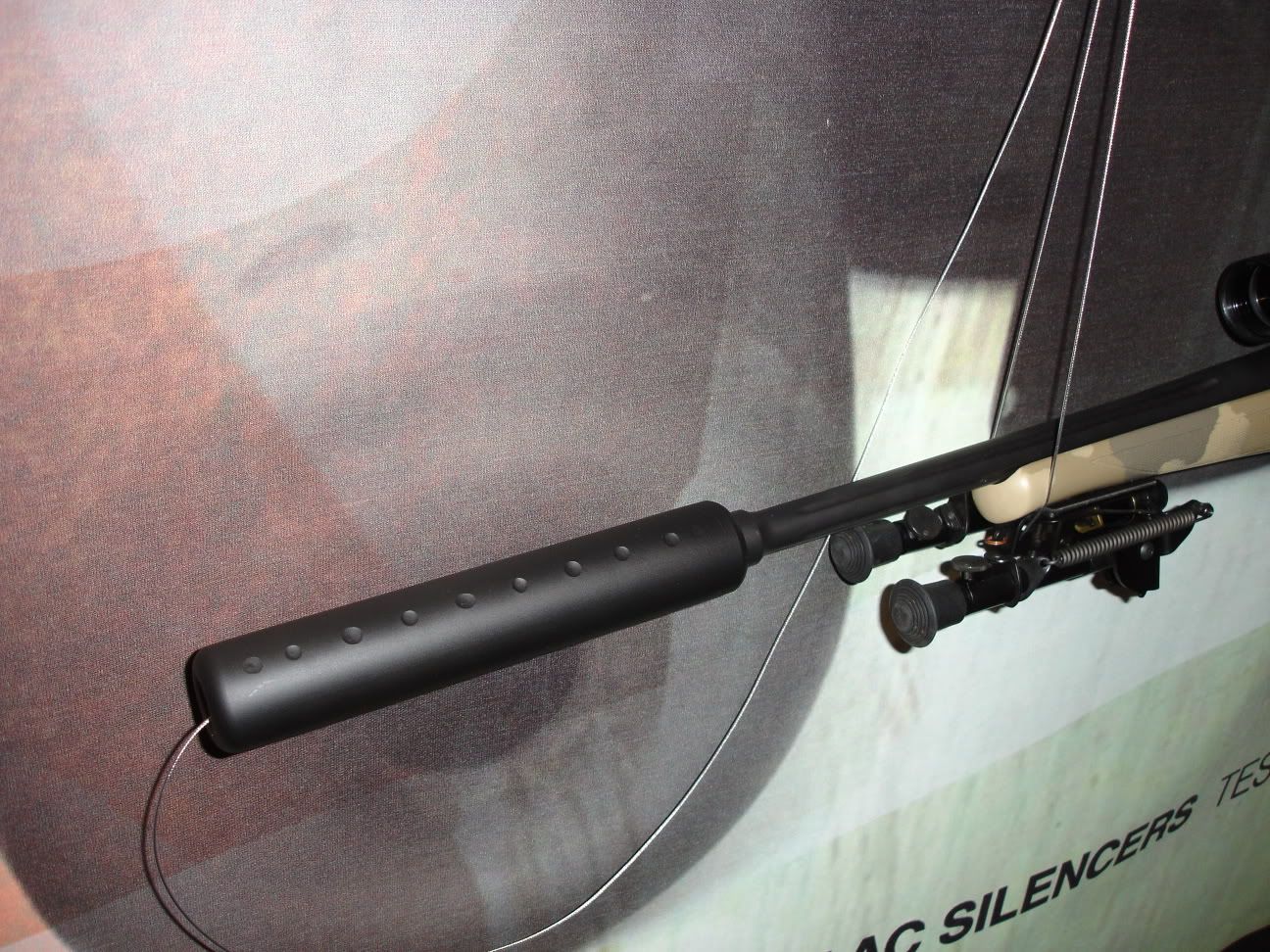 USP Compact w/ EVO-SOF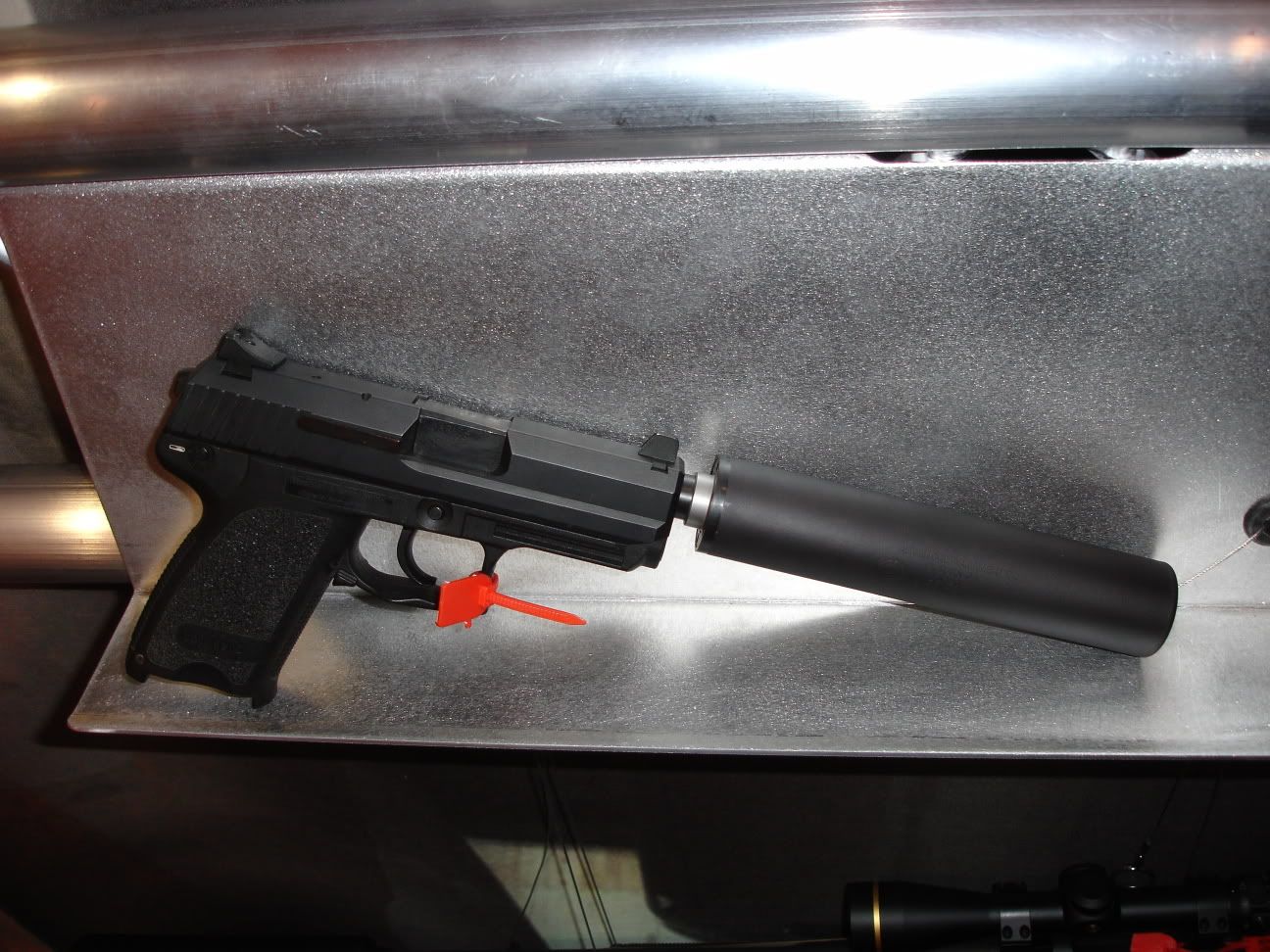 Knight's SR25 w/ SCAR-H-SD. This can, like the S2R, has the multi-start, adjustable POI, and is also a partial reflex can.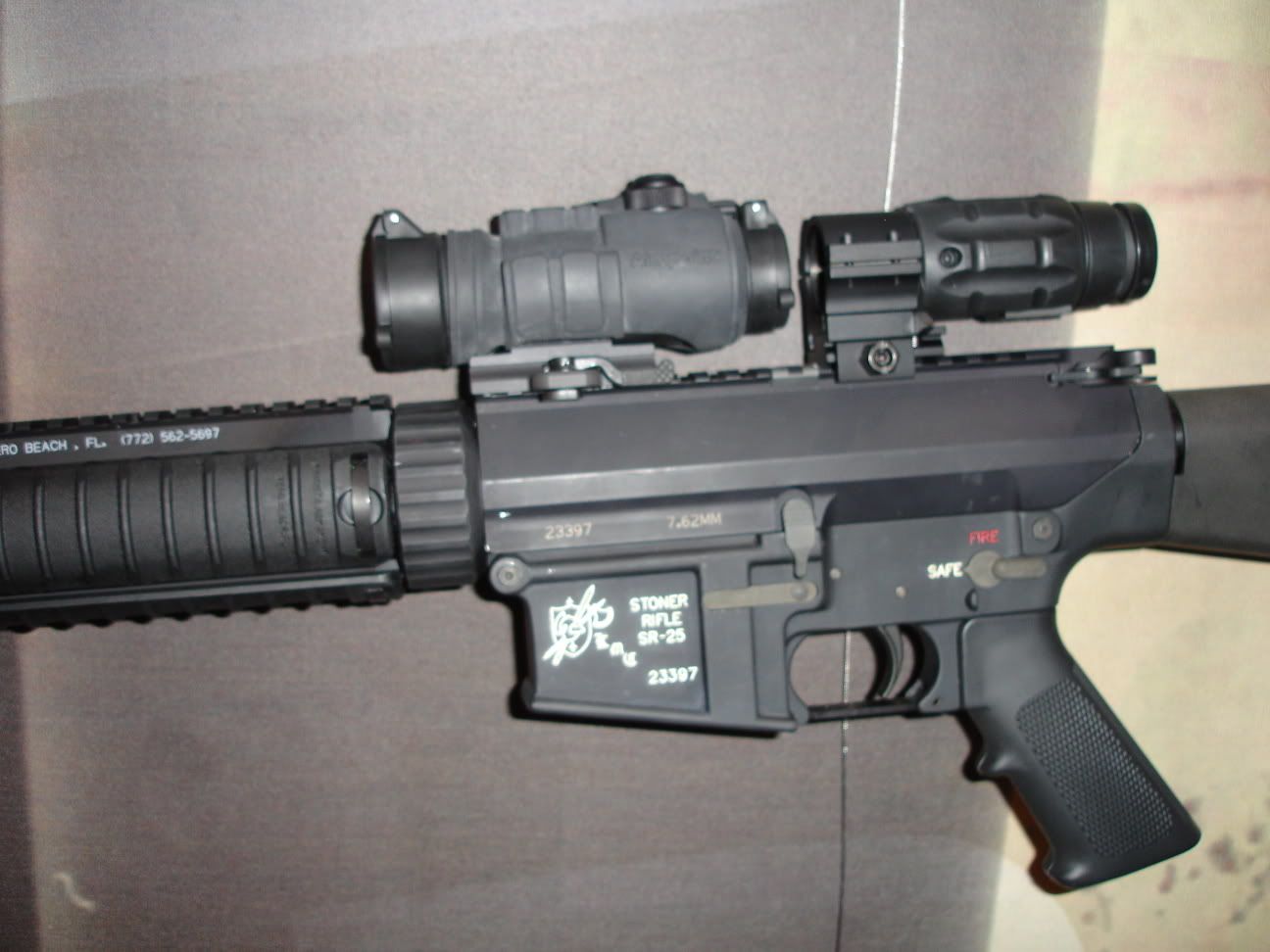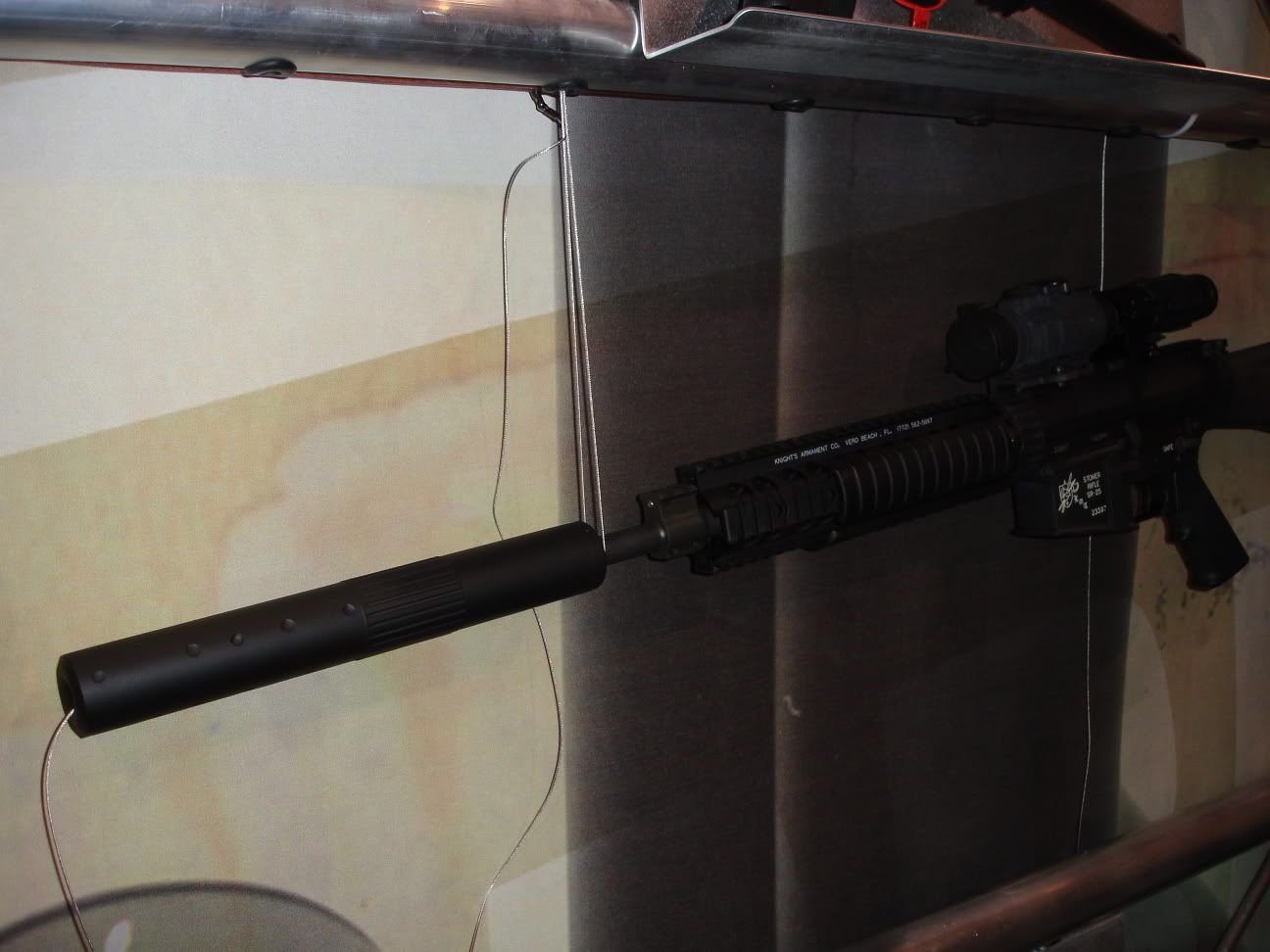 FN 5-7 w/ whatever the hell the 5.7 can is called.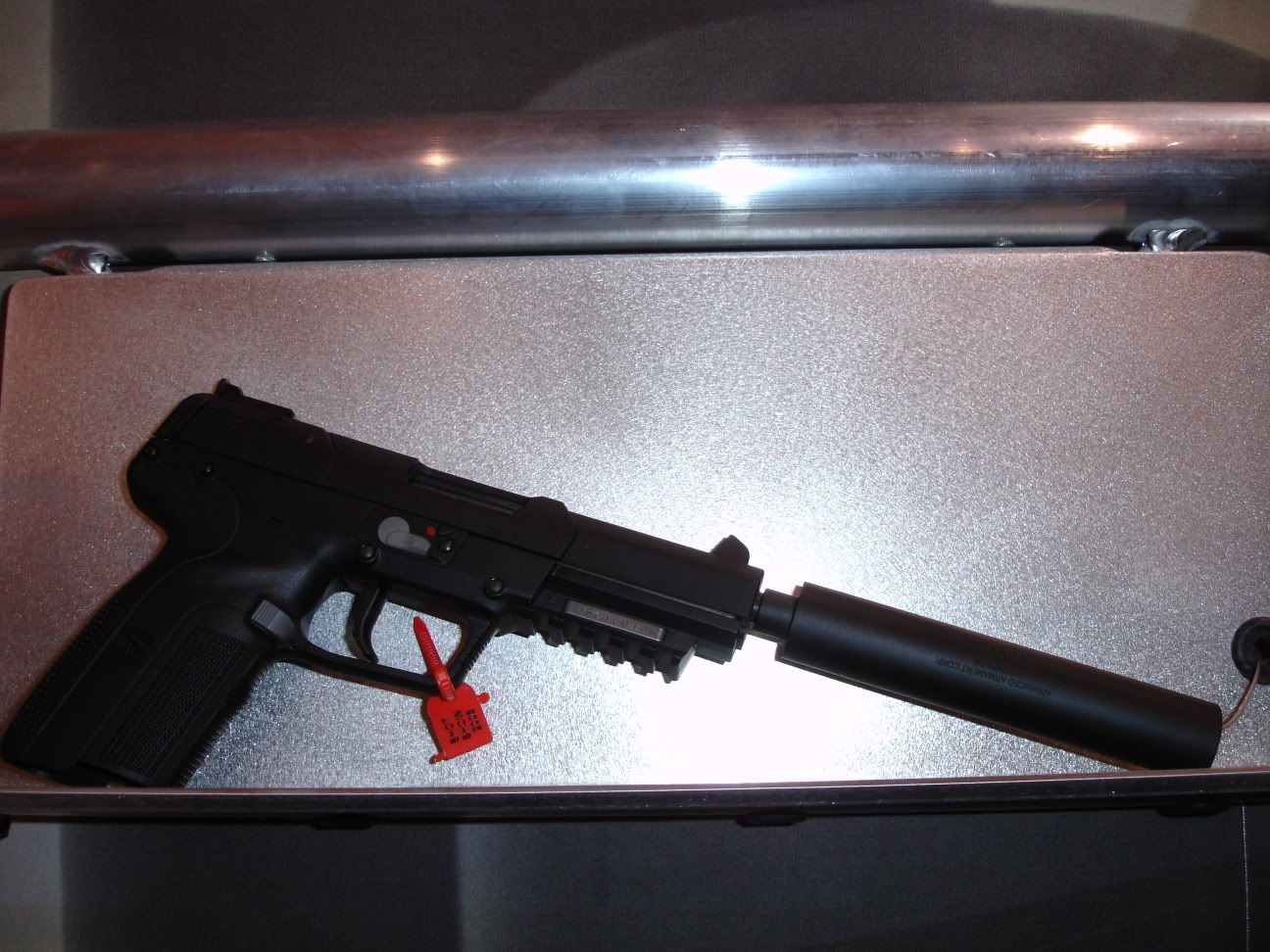 M249 w/ M4-2000.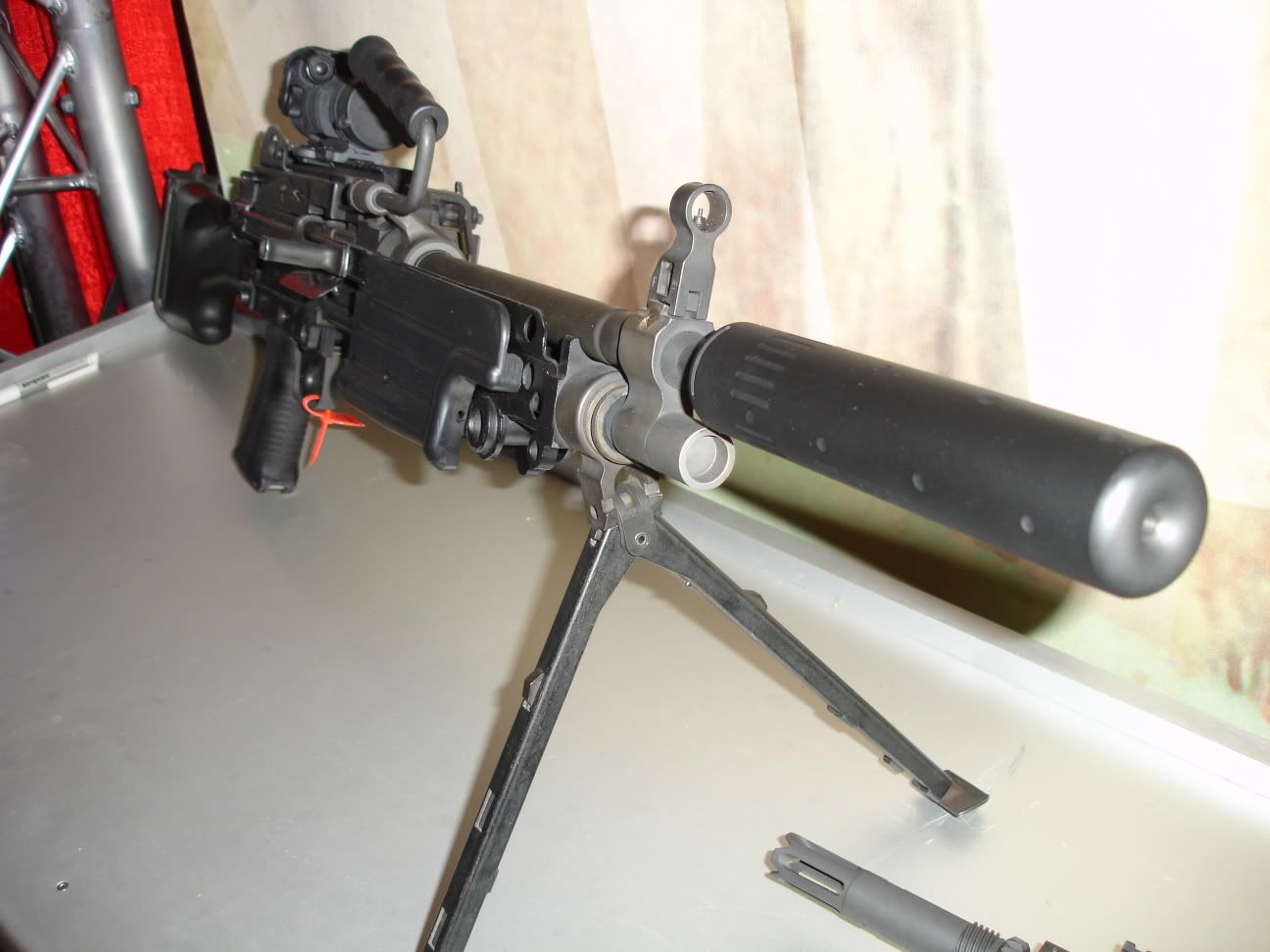 FN SCAR-L w/ SCAR-SD. This can and the Surefire can are the two vying for the SCAR suppressor contract.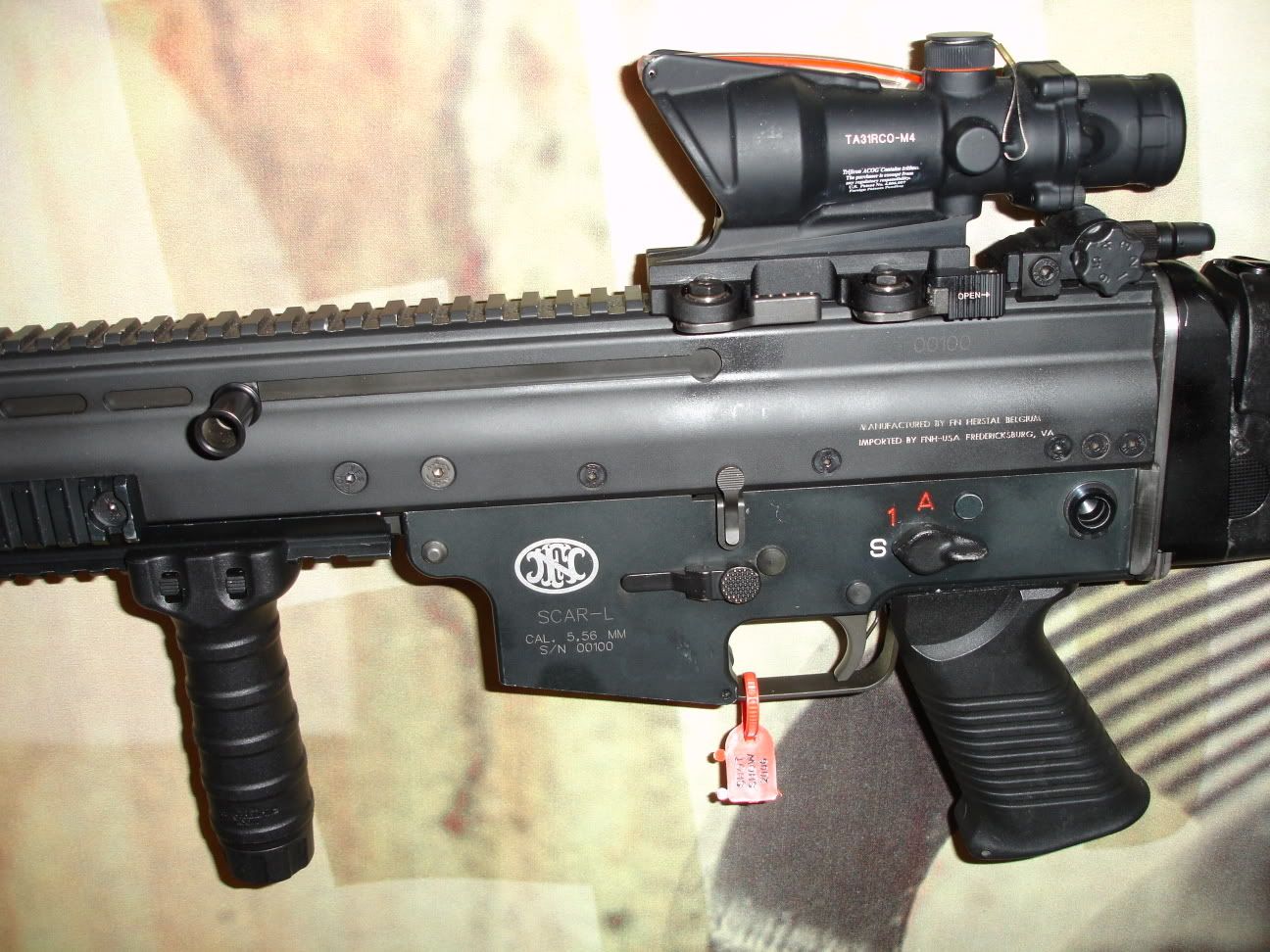 Closeup of the multi-start threads and reflex flash hider on another Knights SR25.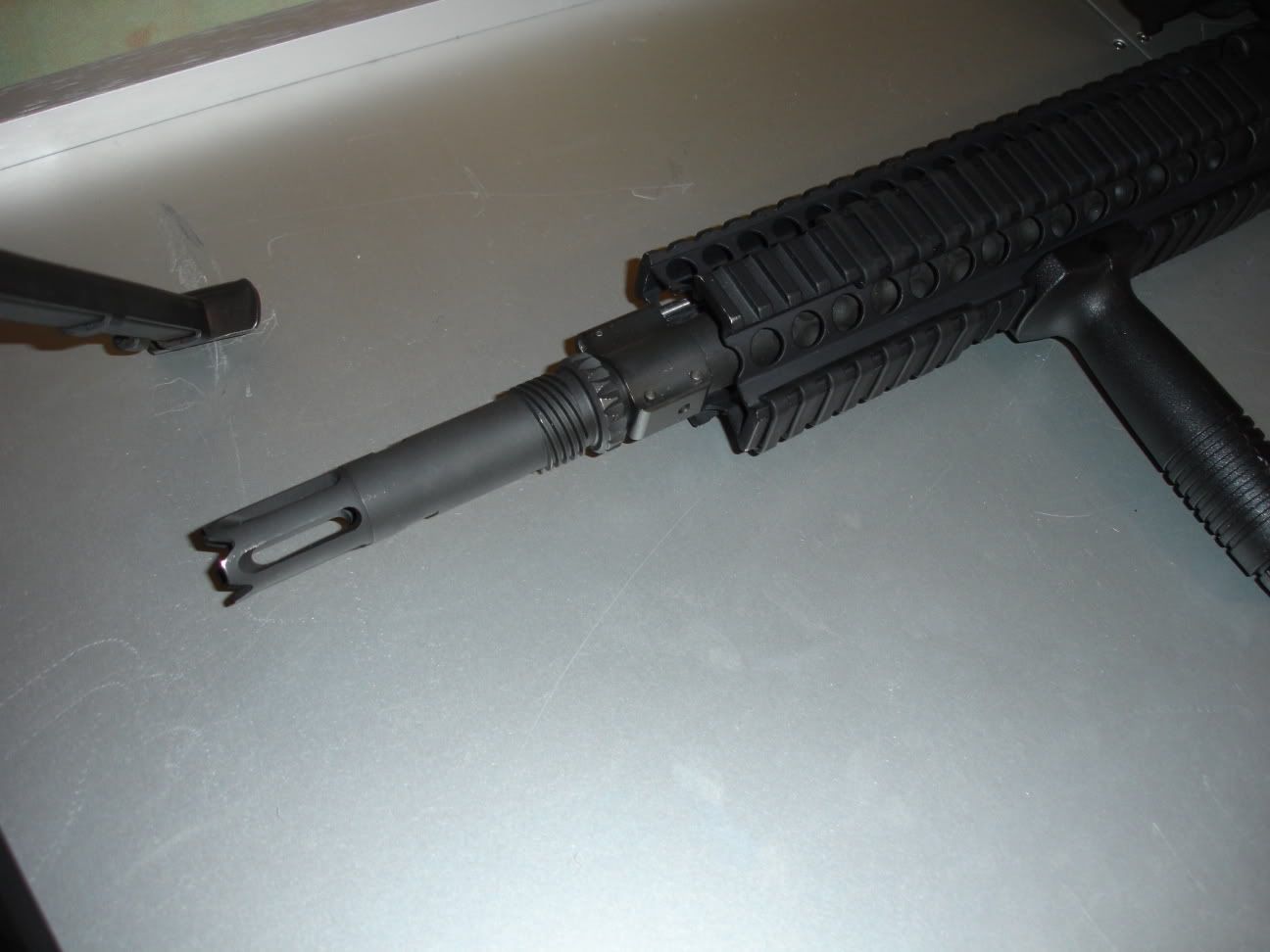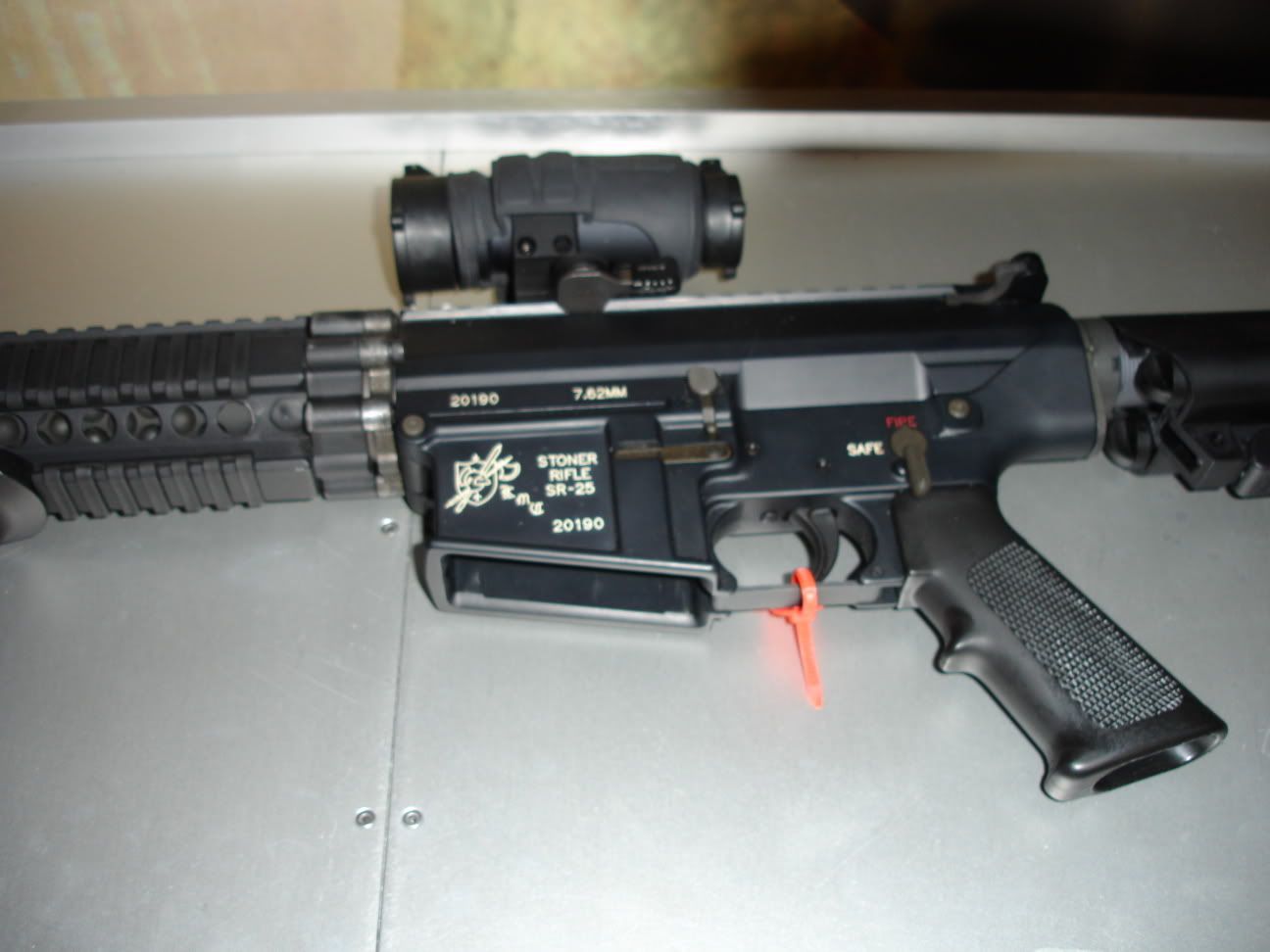 FN SCAR-H w/ SCAR-H-SD.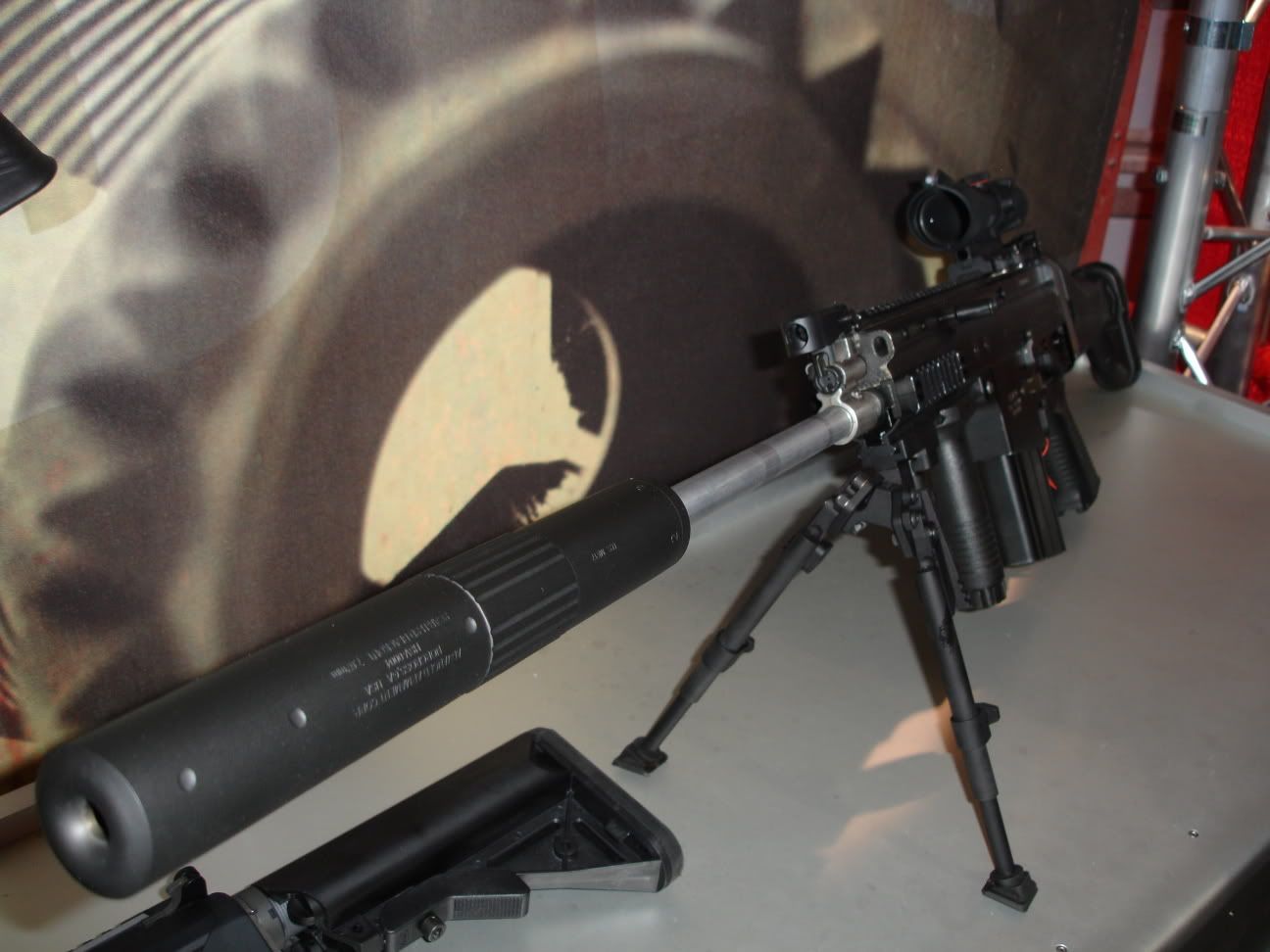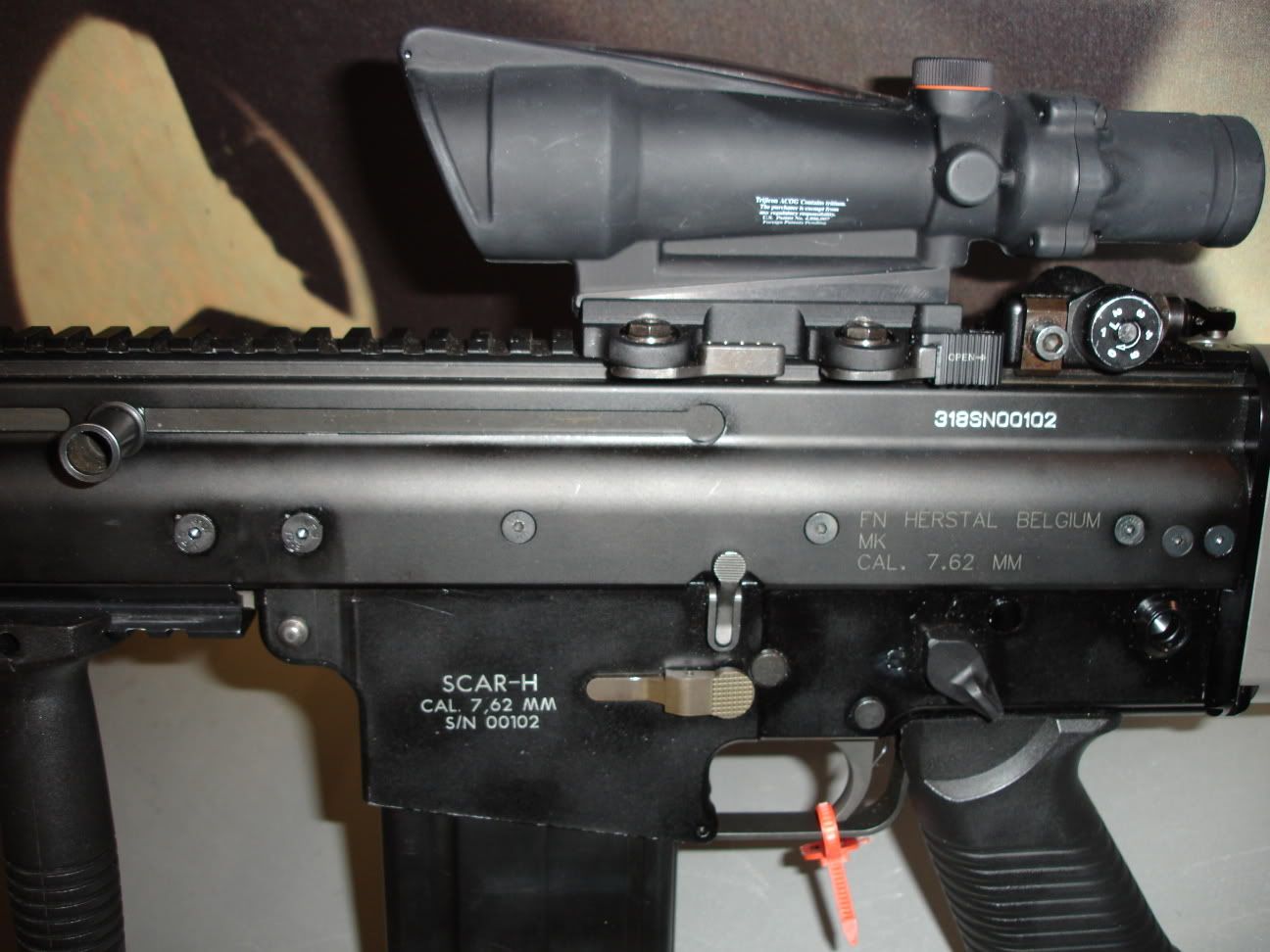 Walther P22 w/ Prodigy. This can has a separated thread pattern that allows quicker attaching and detaching than continuous threads.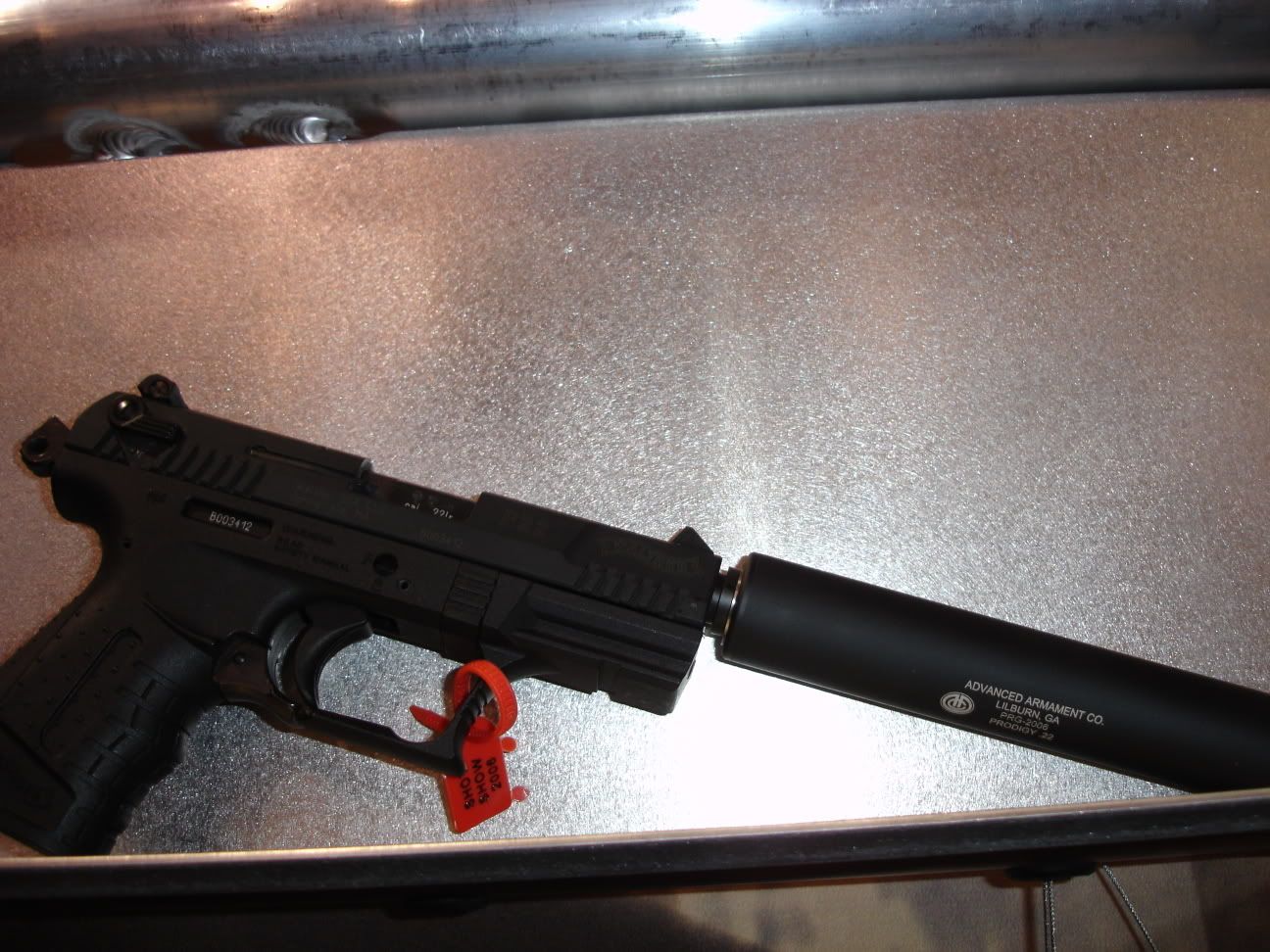 Colt shorty w/ SCAR-SD.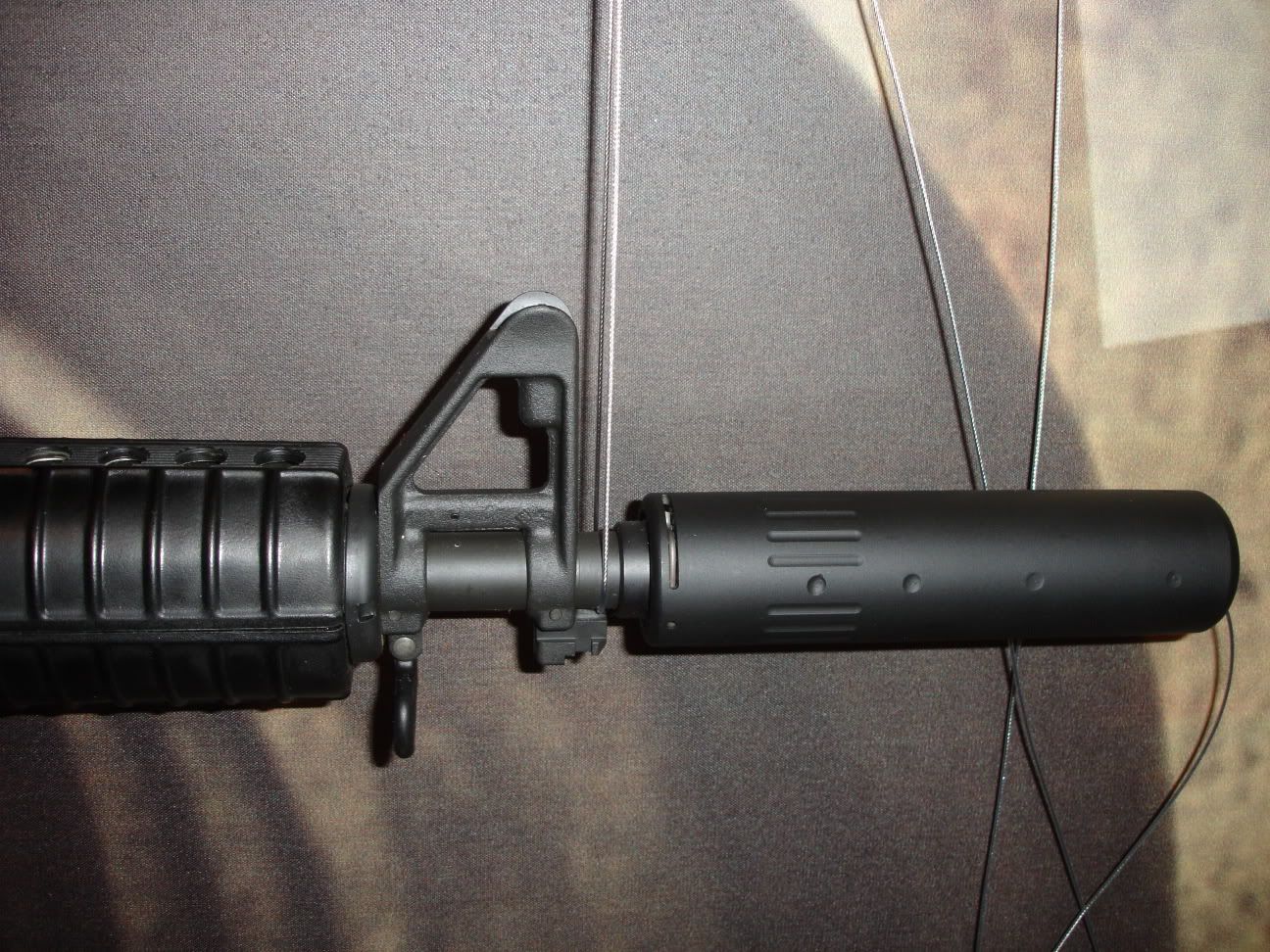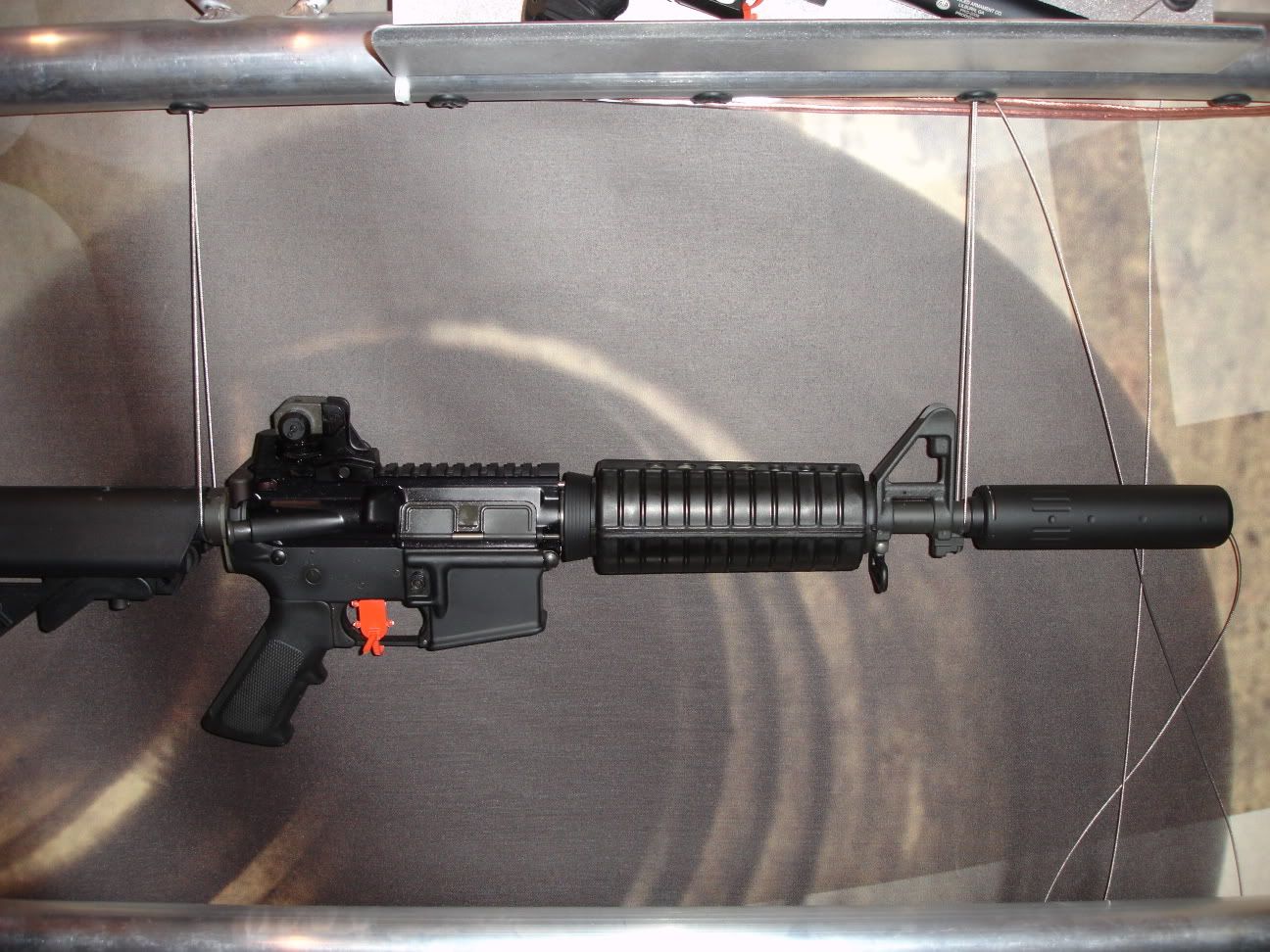 Sig Mosquito w/ Pilot. Same can as the Prodigy, but with continuous threads.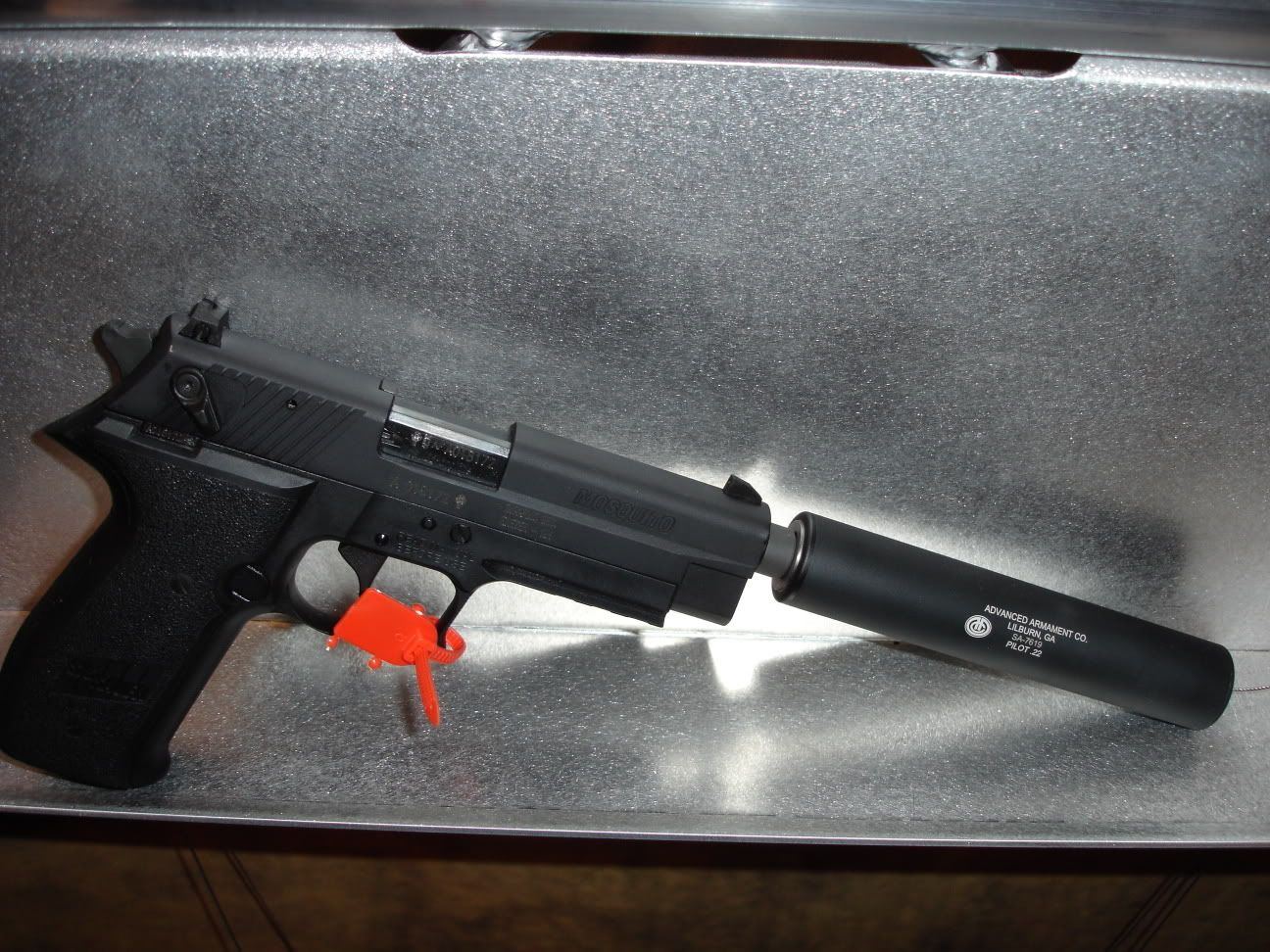 MP5 w/ Striker 2.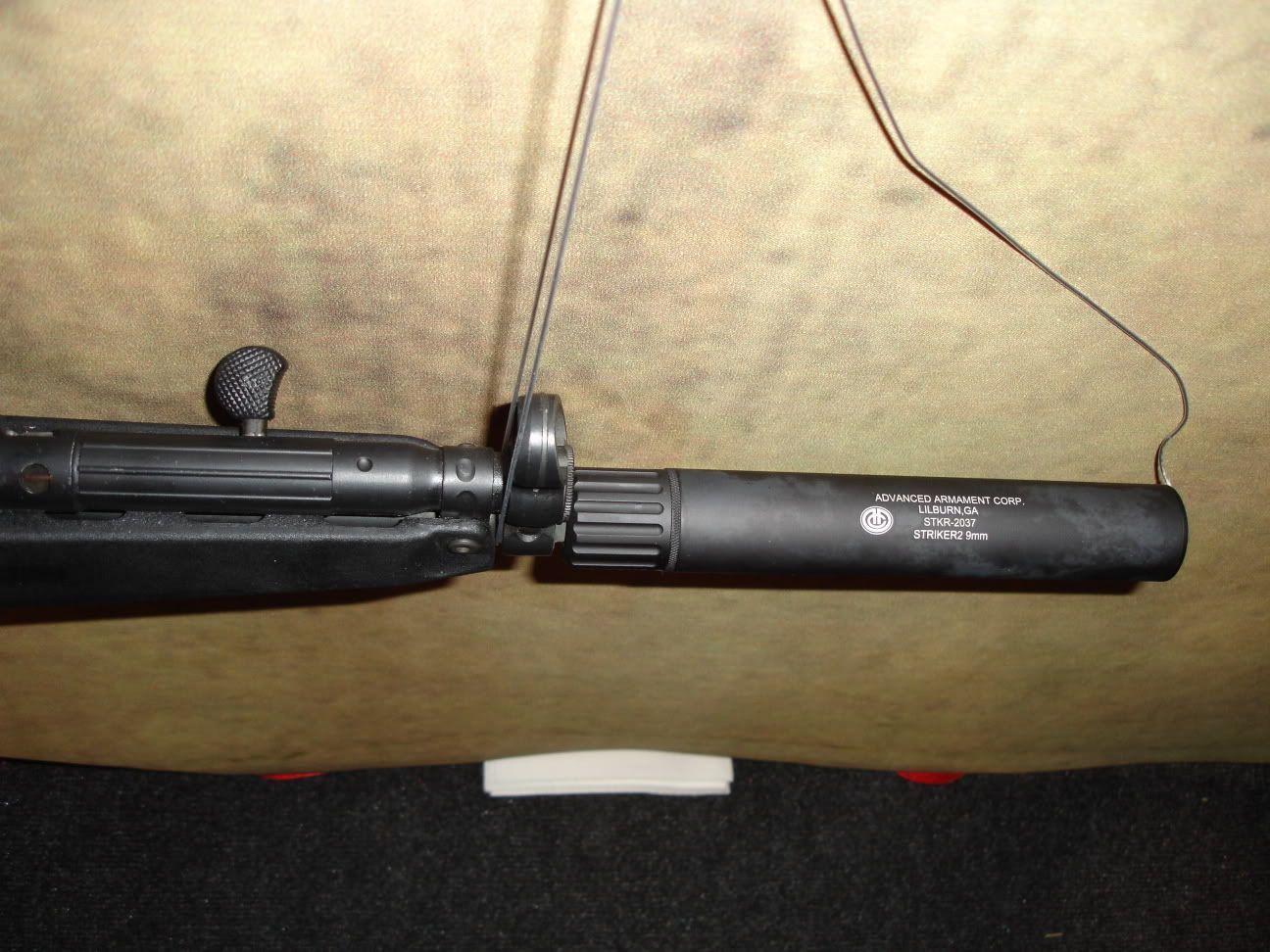 RRA carbine w/ Omni. The Omni is a one-piece can that mounts to a standard USGI A1 or A2 FH. It indexes off the wrench flats, so you get repeatable zero. Takes about 5 seconds to install or remove, and it's all one piece.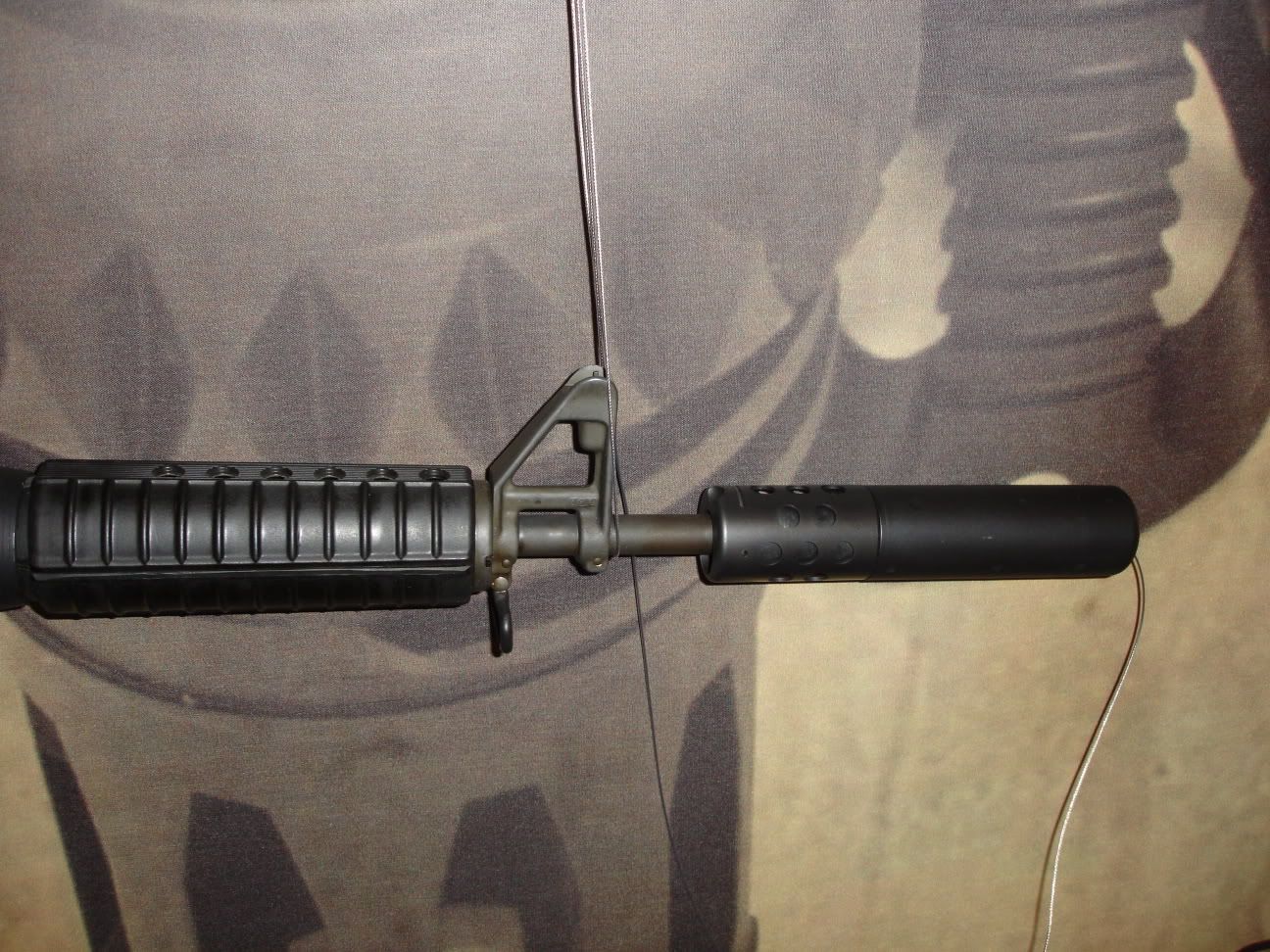 Sig 229R w/ EVO-9.
Armalite's SASS entry w/ S3R. Partial reflex can. This is the setup that Armalite will be selling as their SASS and Super SASS civilian models, and the suppressor they chose to go with it.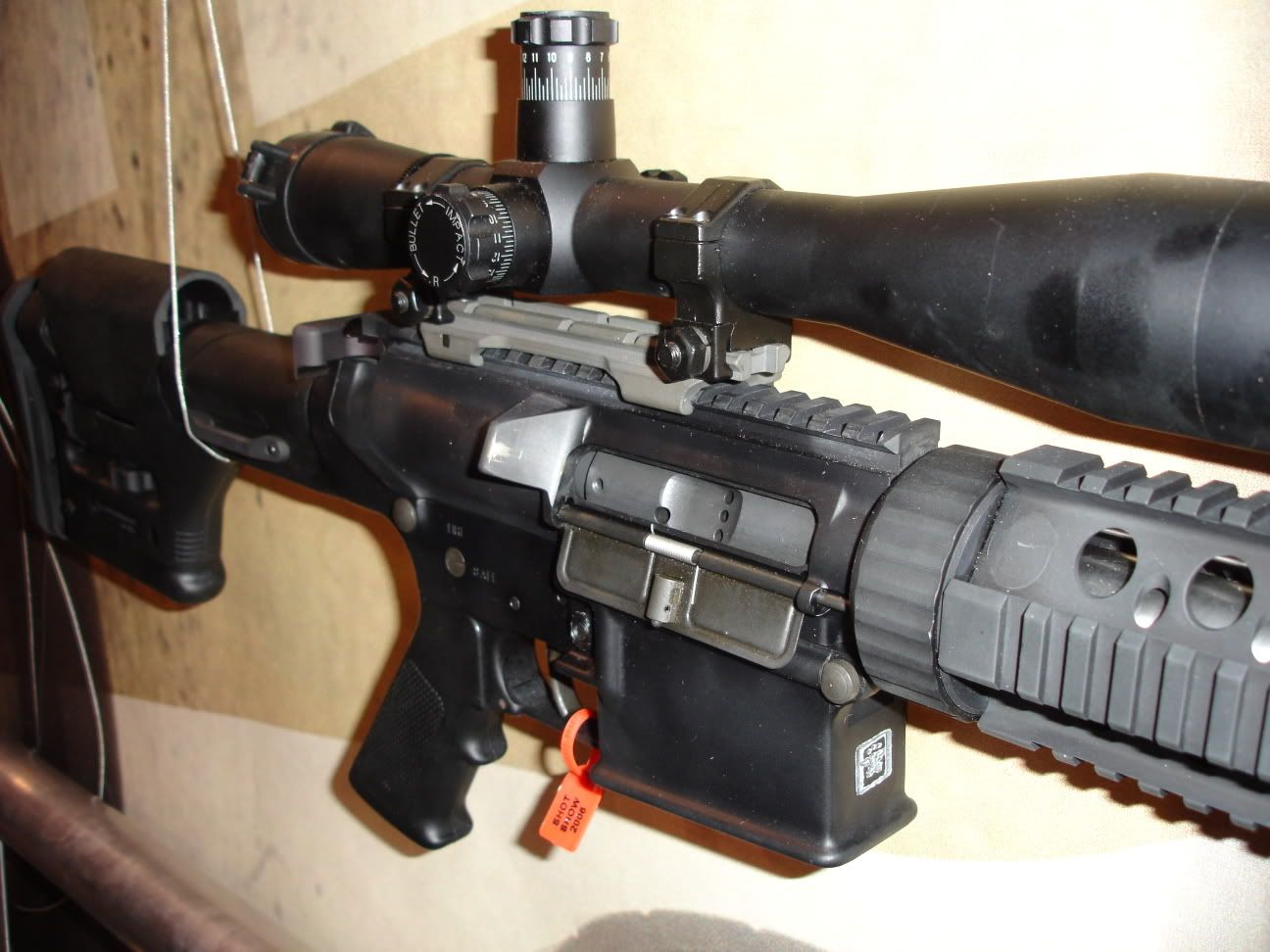 G19 w/ EVO-9.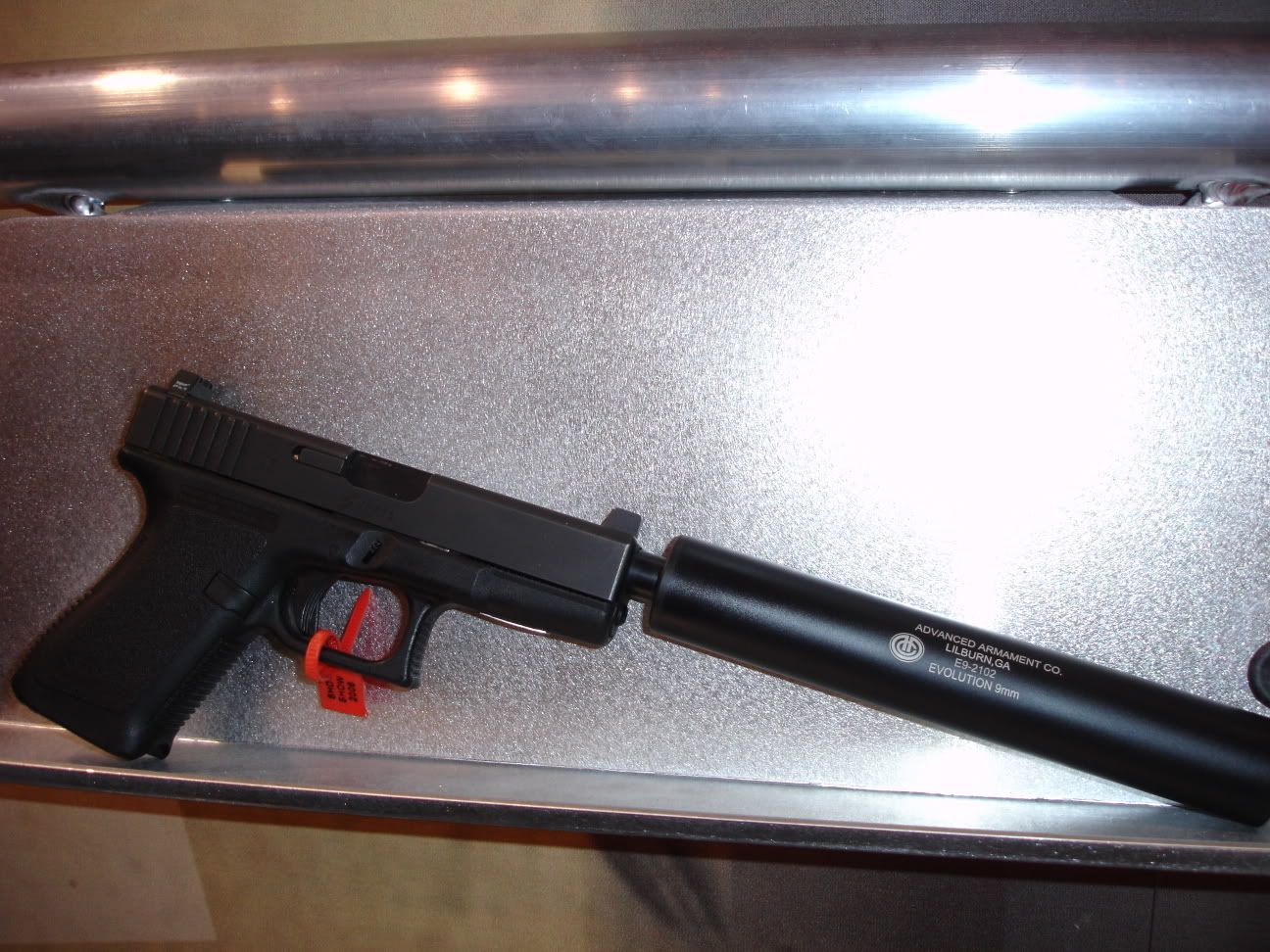 Now on to the HK section. Here we have the History area of HK's booth.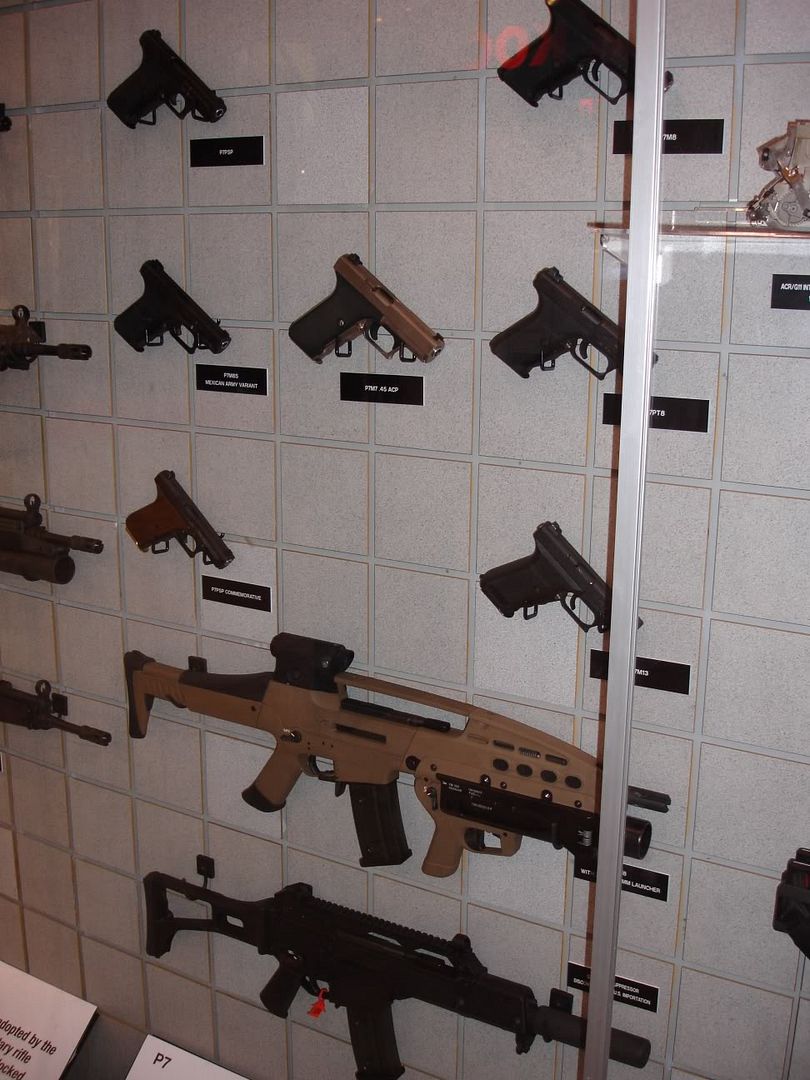 Then the G3 variants.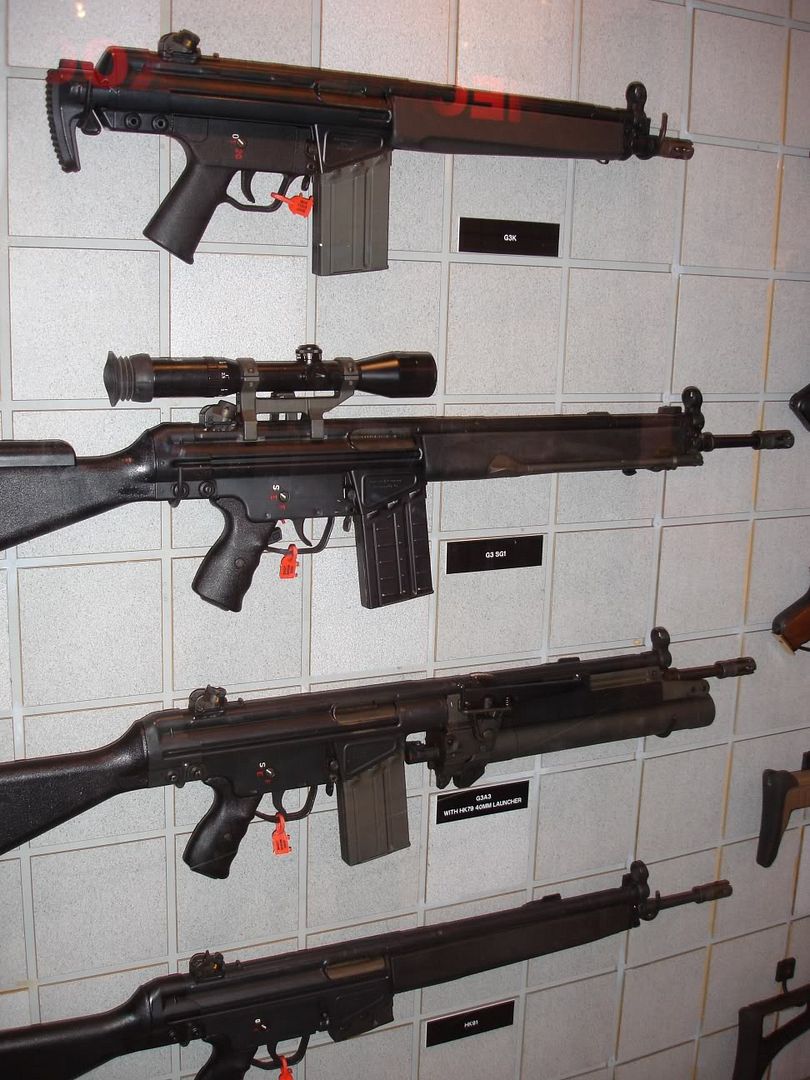 MSG90 with some PDW's.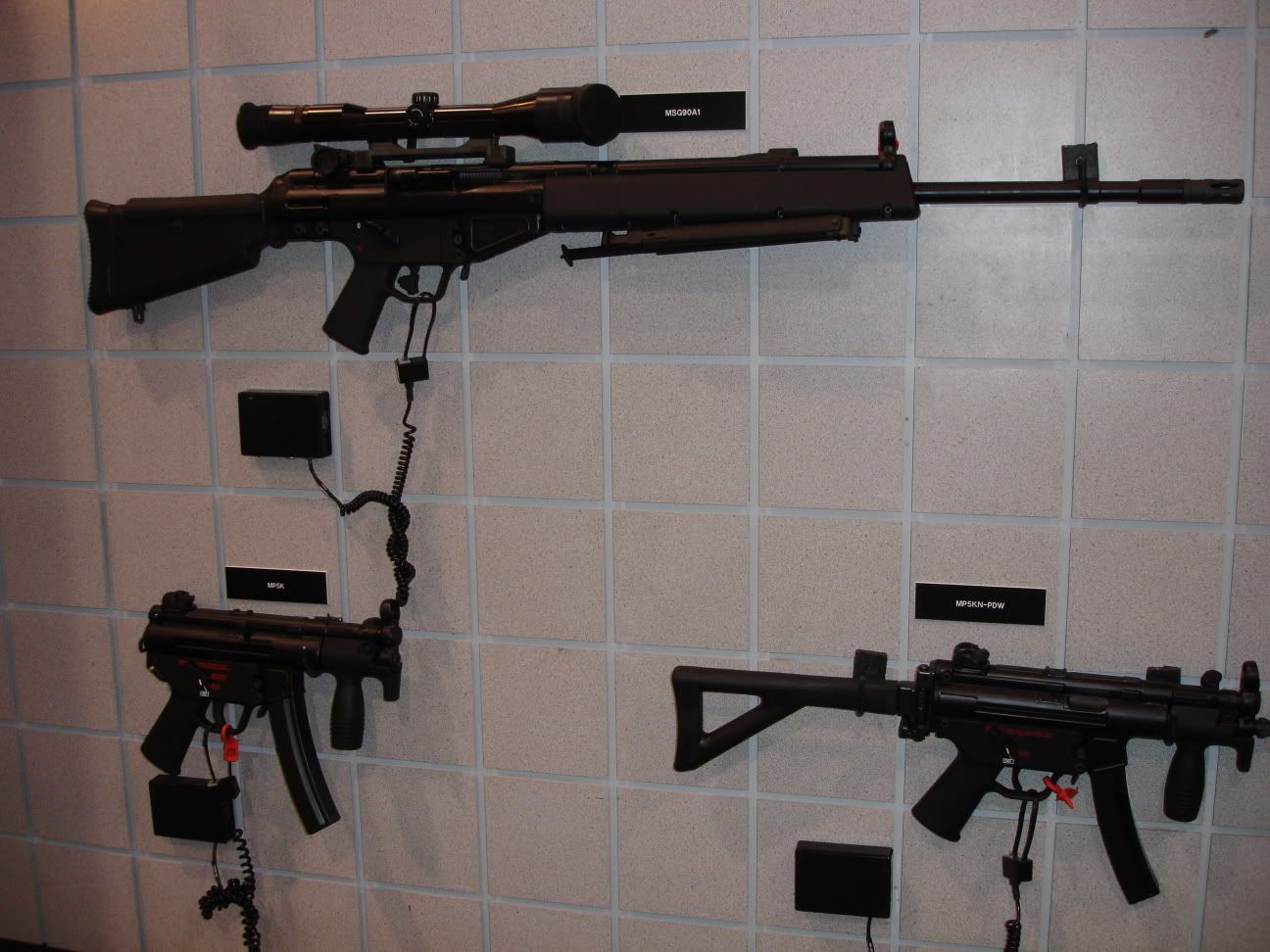 UMP's.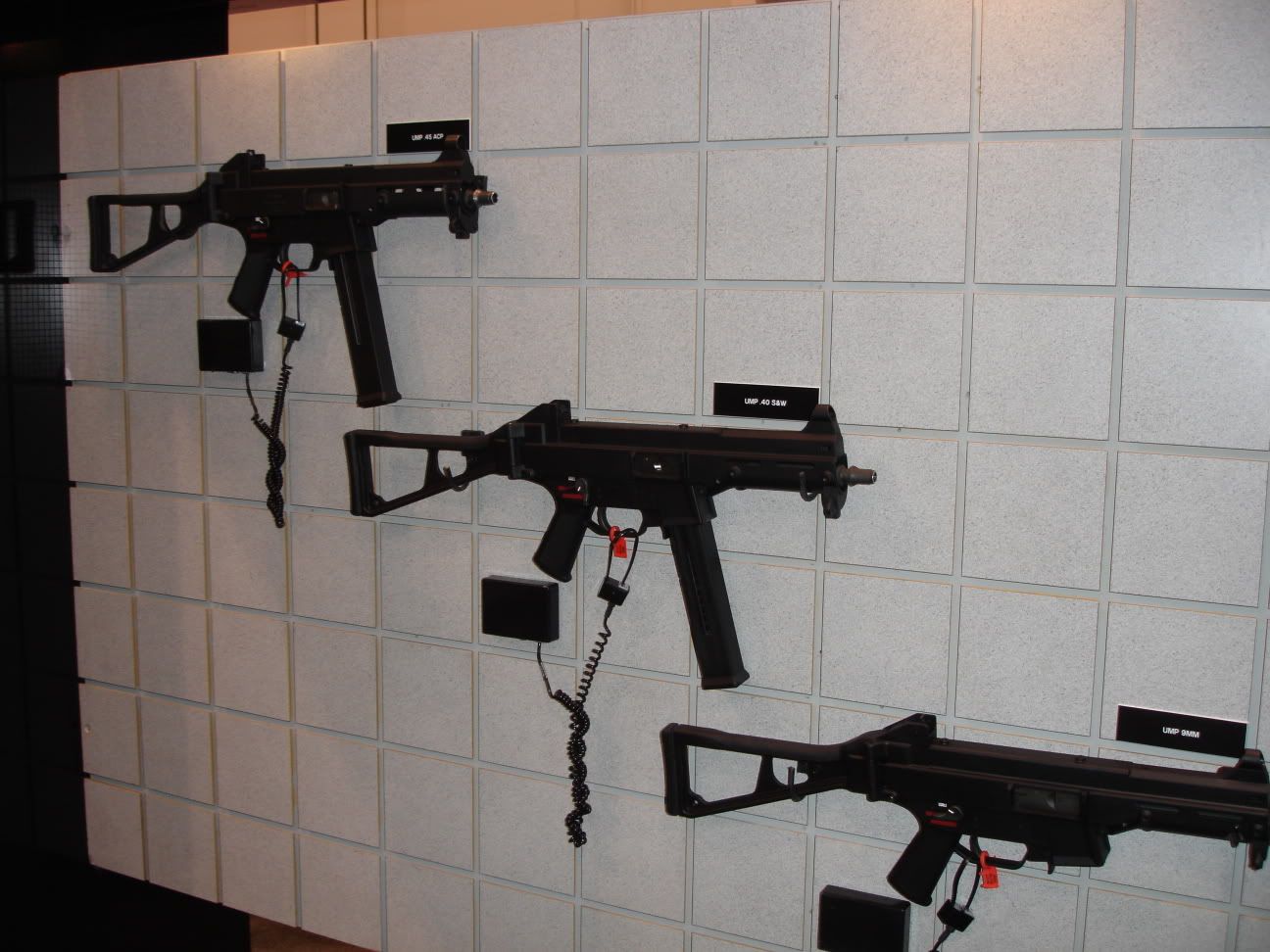 MP5's.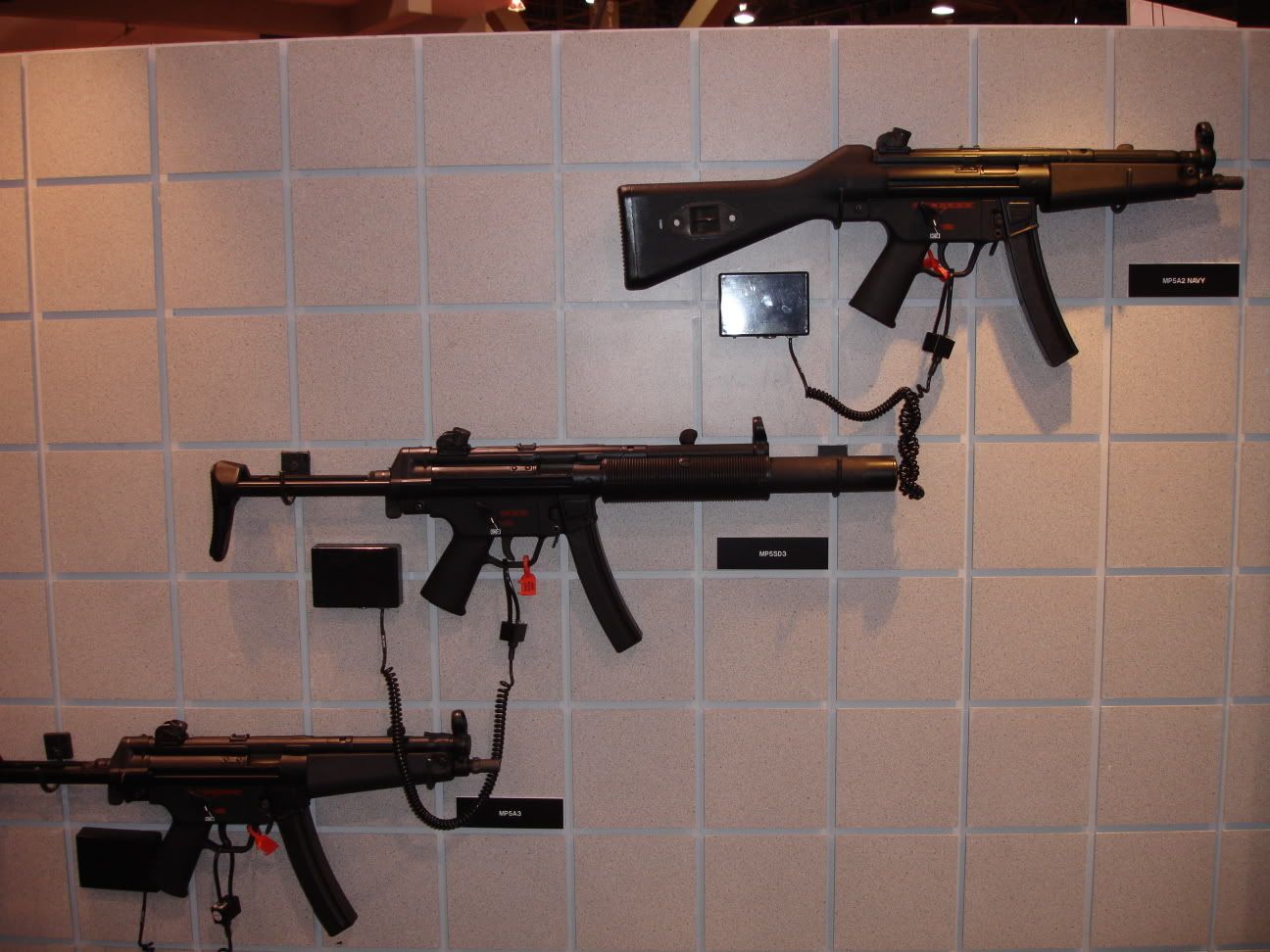 MP7's and a grenade launcher.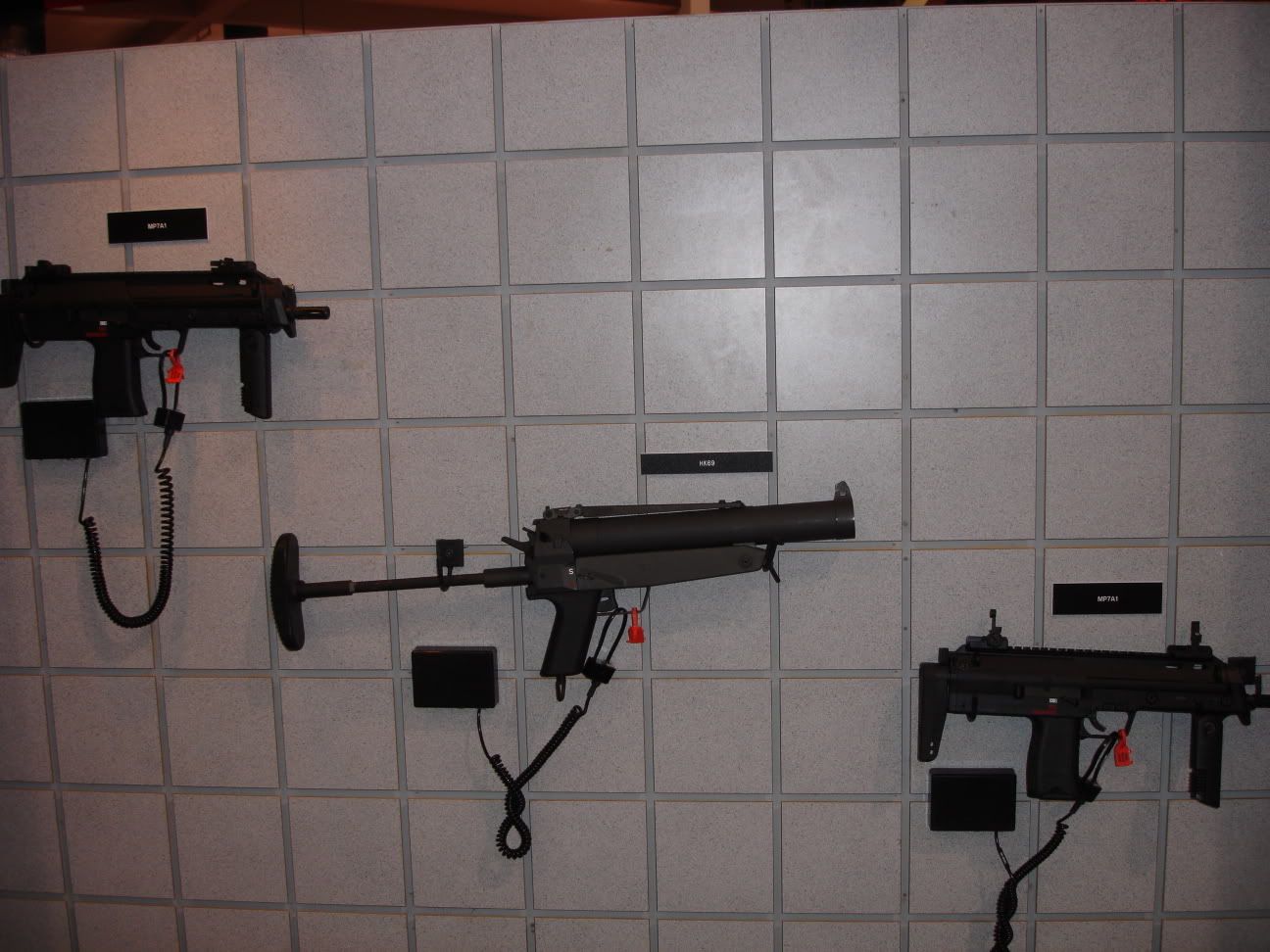 416's.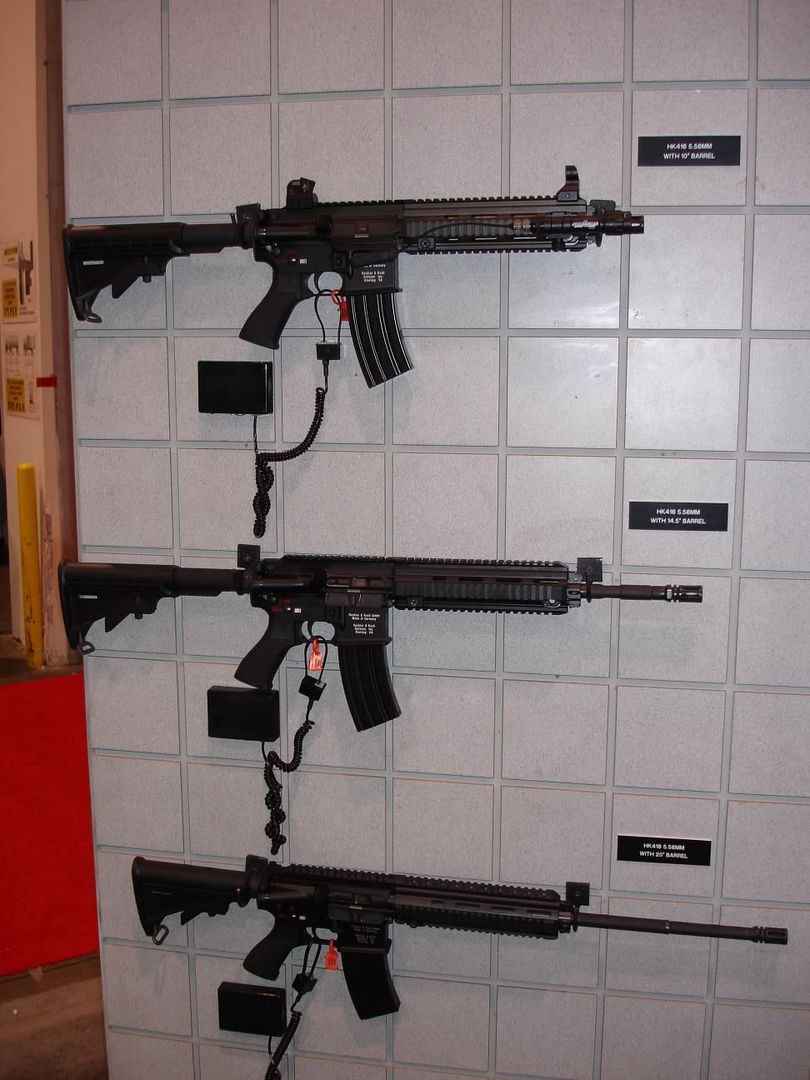 416's and a closeup of each one.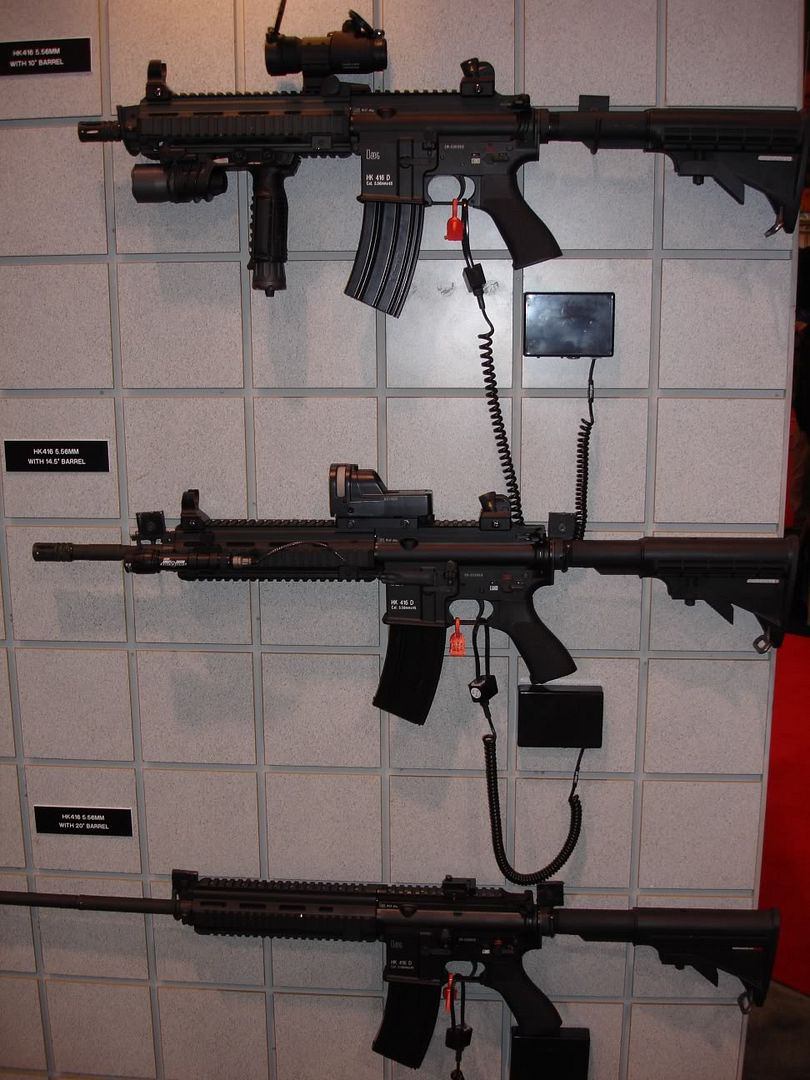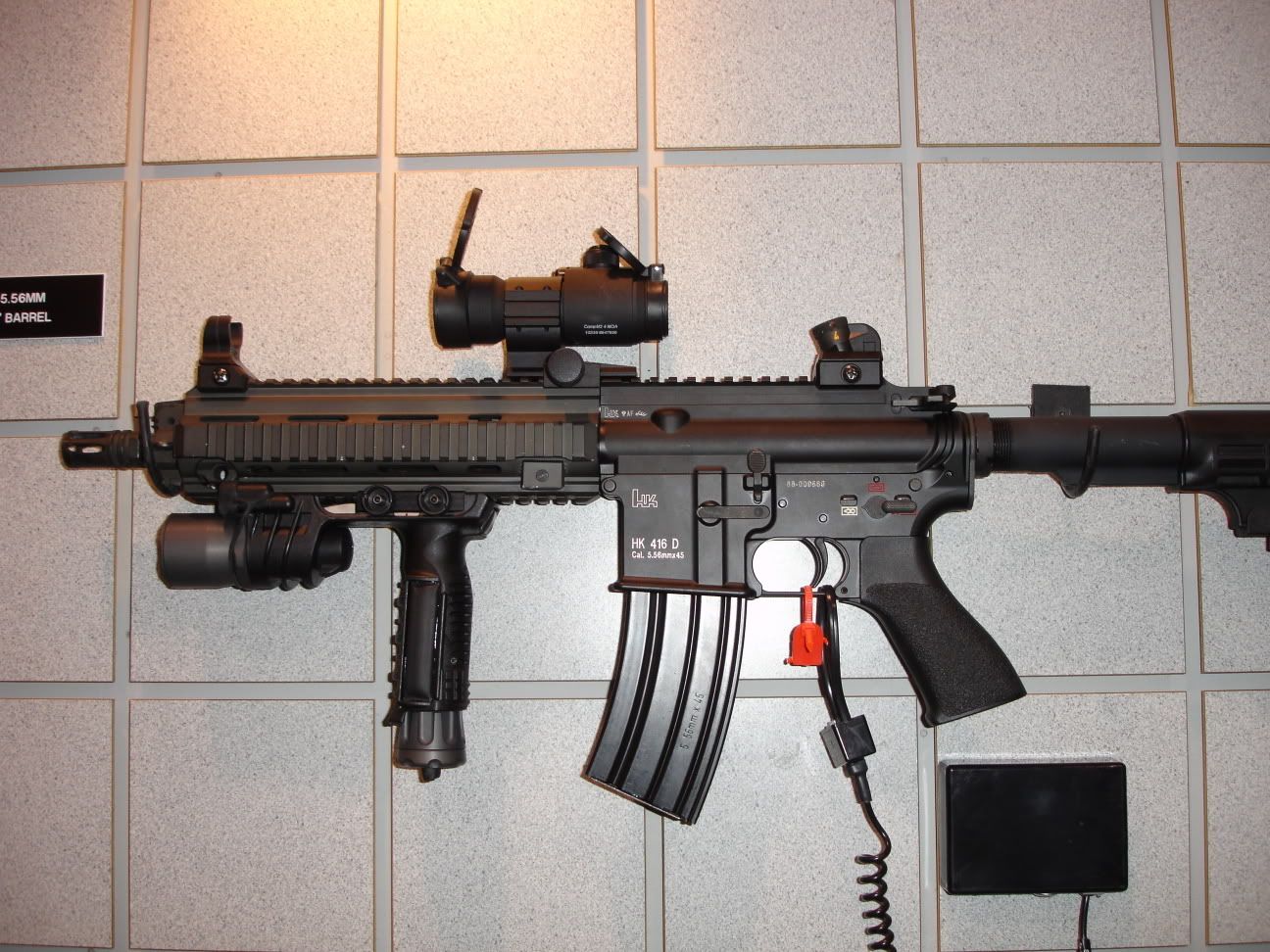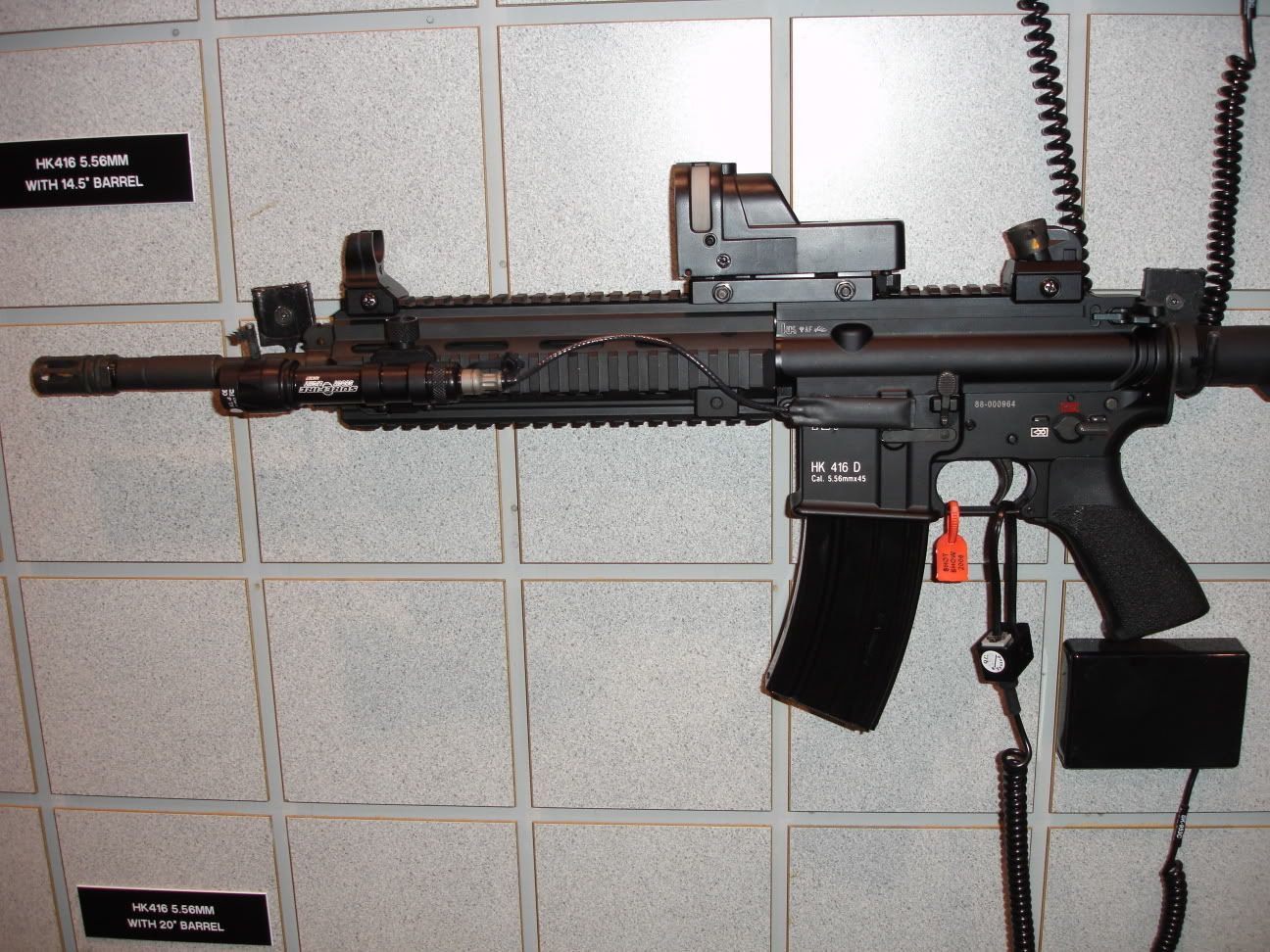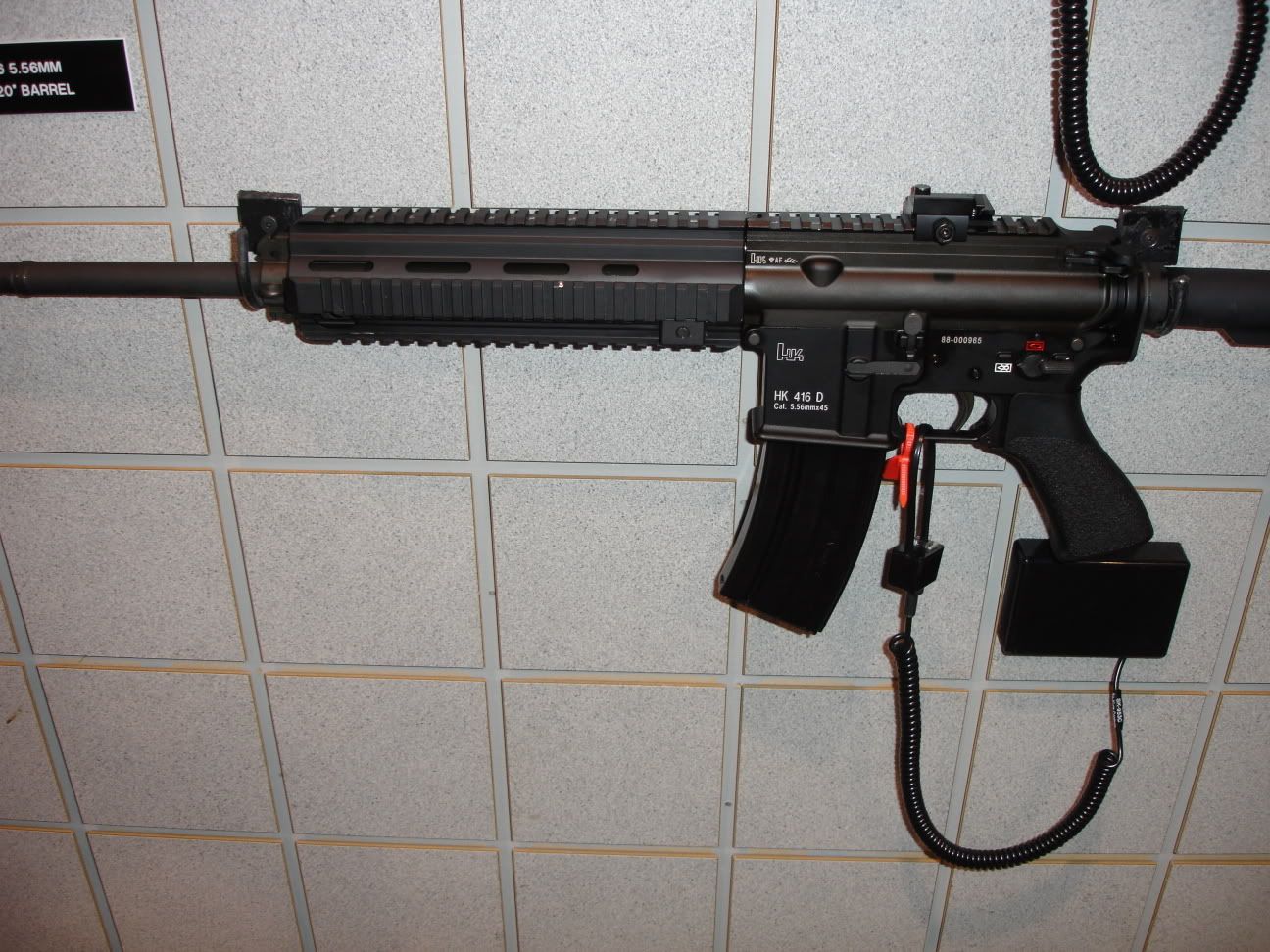 Another 416.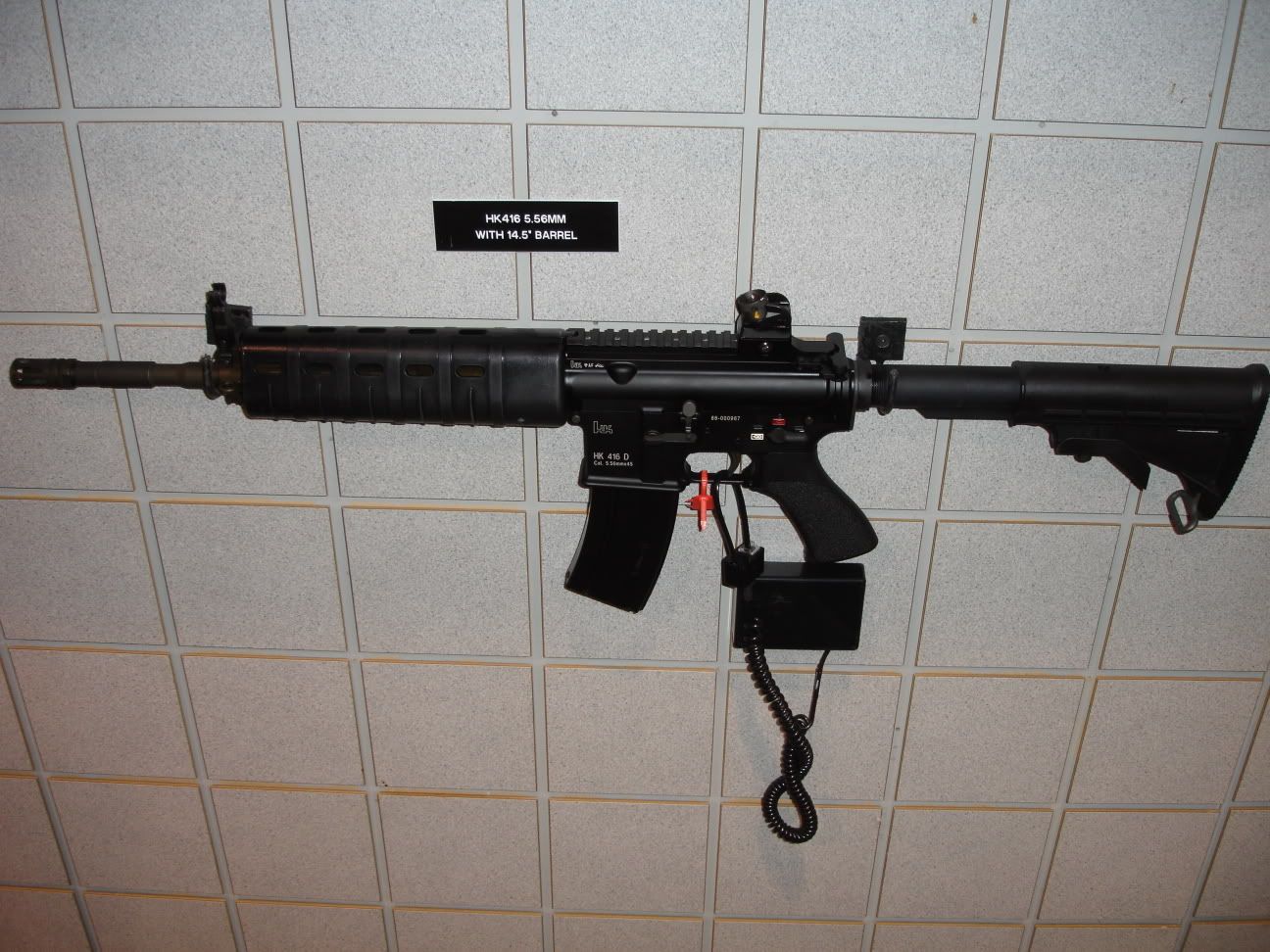 Remington's new eyeball camera. It's designed to be thrown through windows into a room. It bounces around, then rights itself. It's bottom-heavy and has little nubs on the bottom. It can rotate 360 degrees, and has regular, IR, and some other kind of cameras on it. You can throw it, spike it on a pole, lower it in a net, mount it on a tripod, whatever. It comes in a kit with two balls, a reciever, and some other stuff. Cool gadget.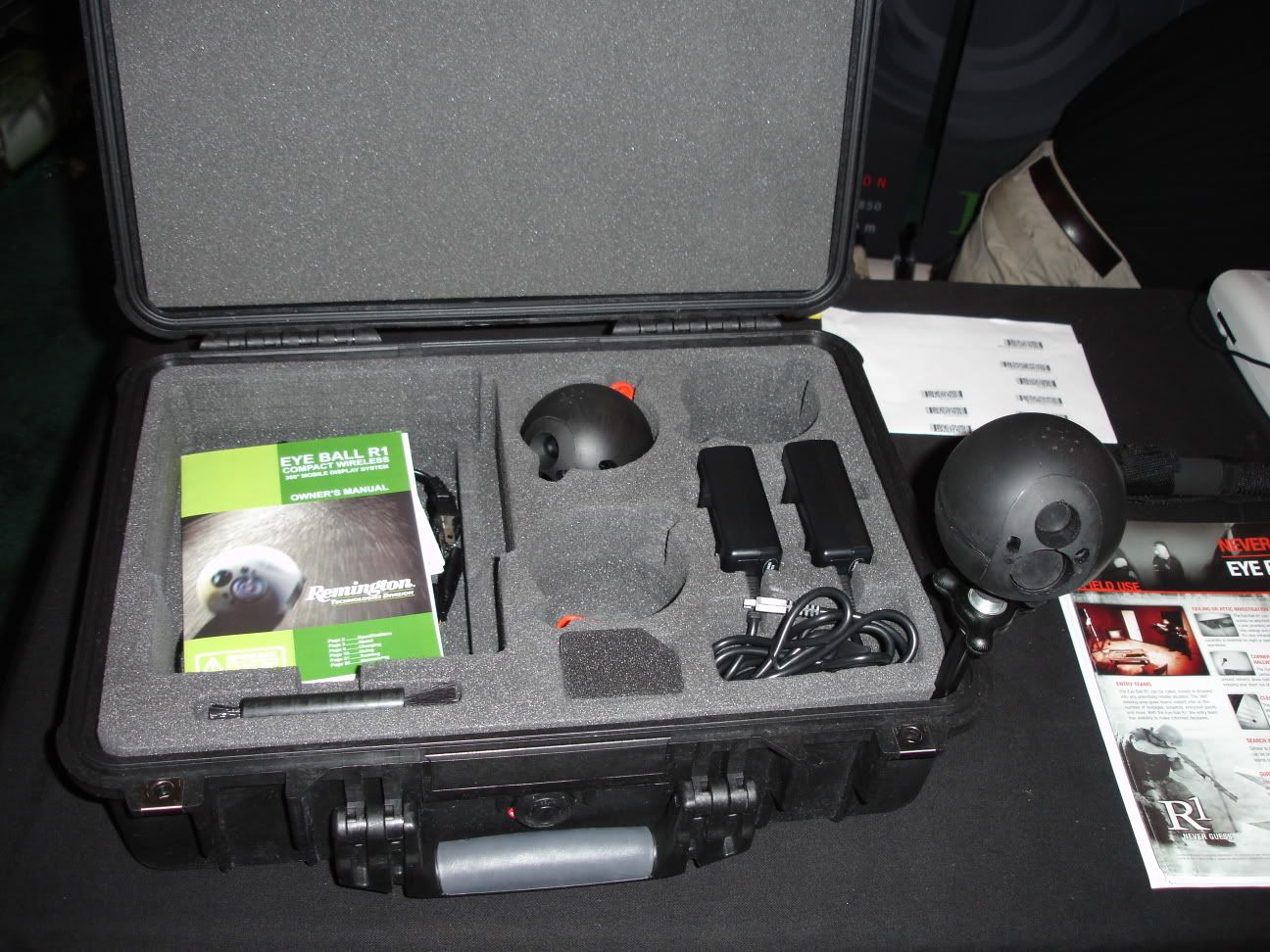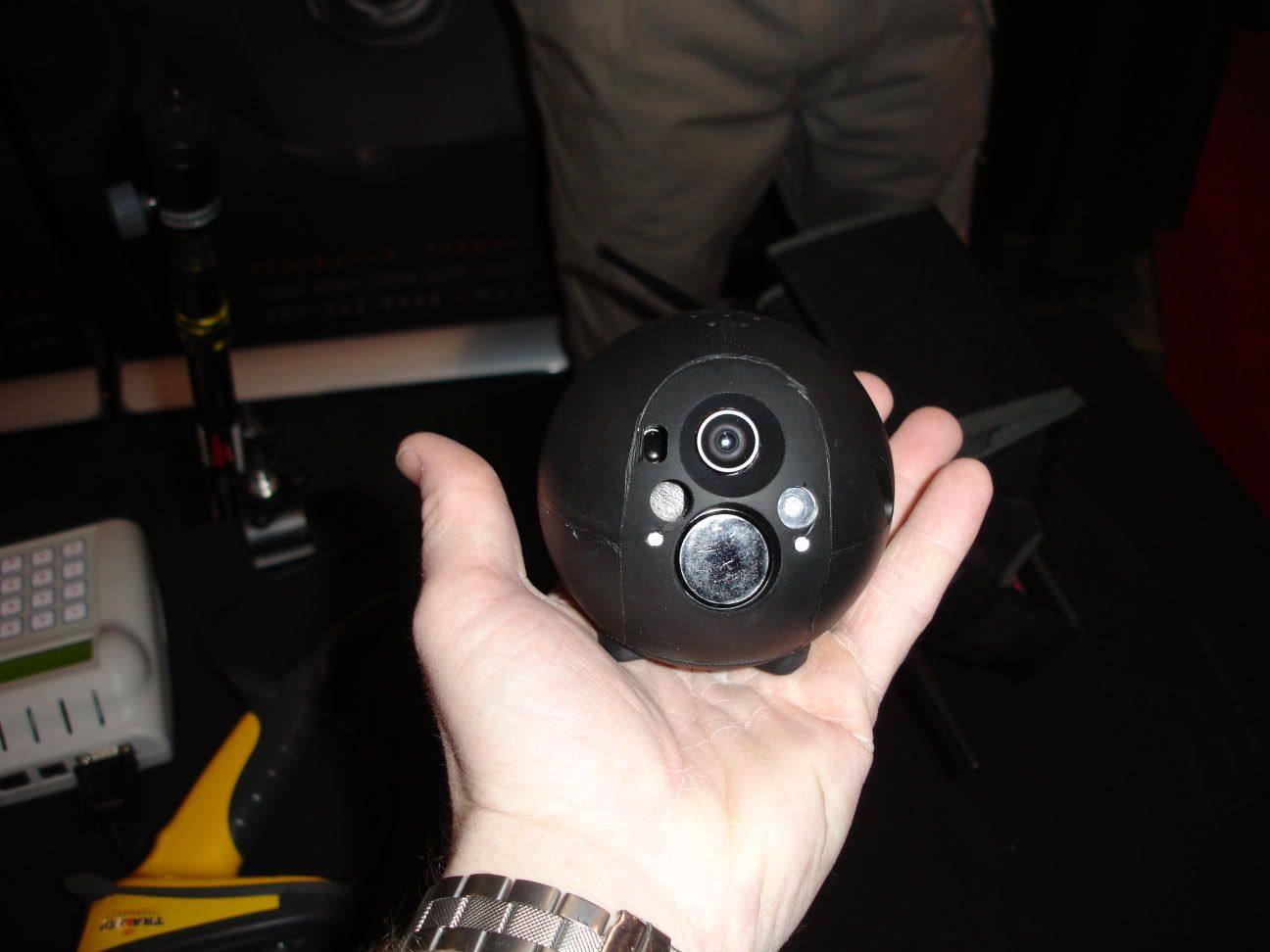 Next up is DSA's booth. A LOT of FAL's. First up is the cutaway FAL.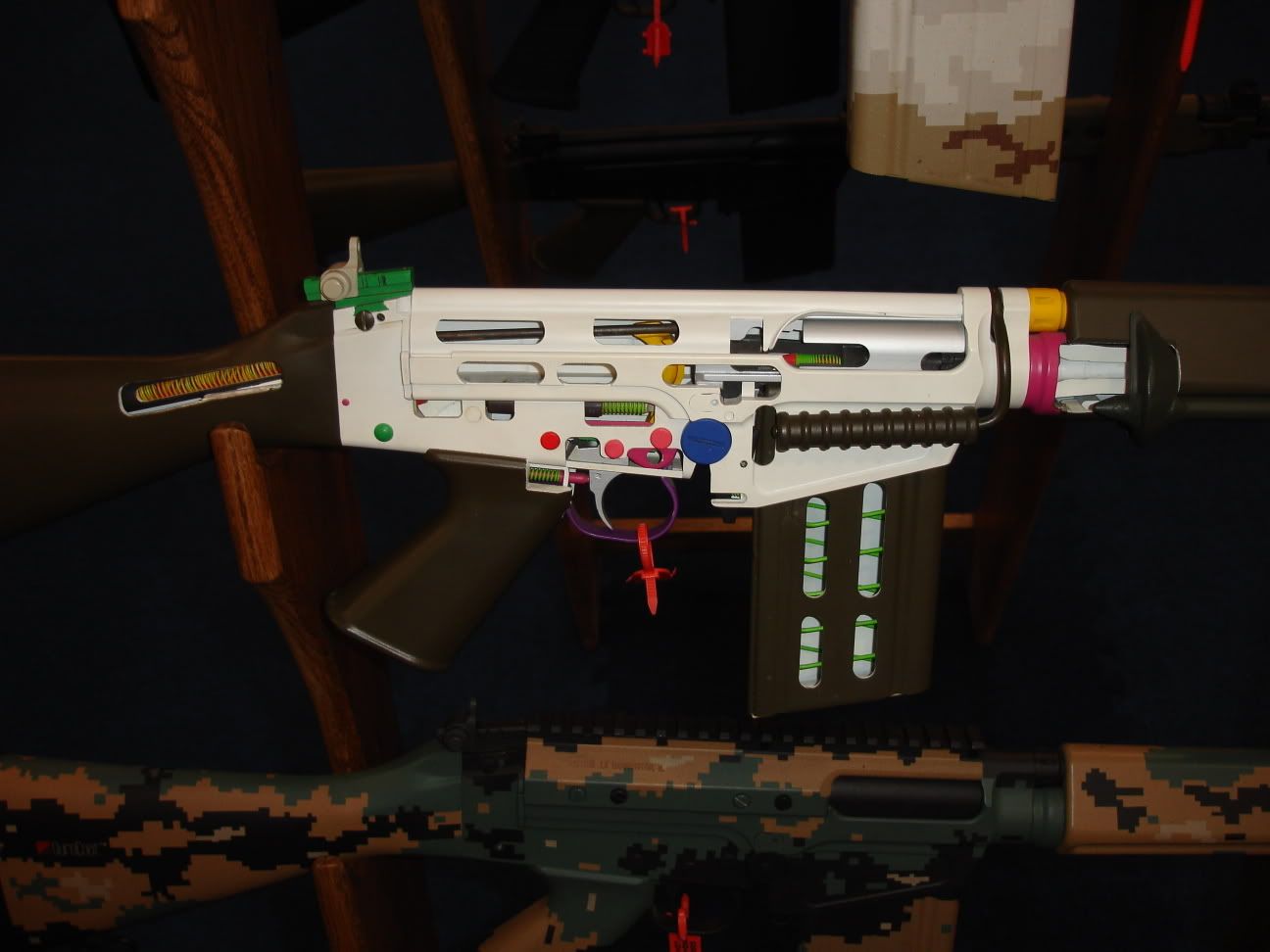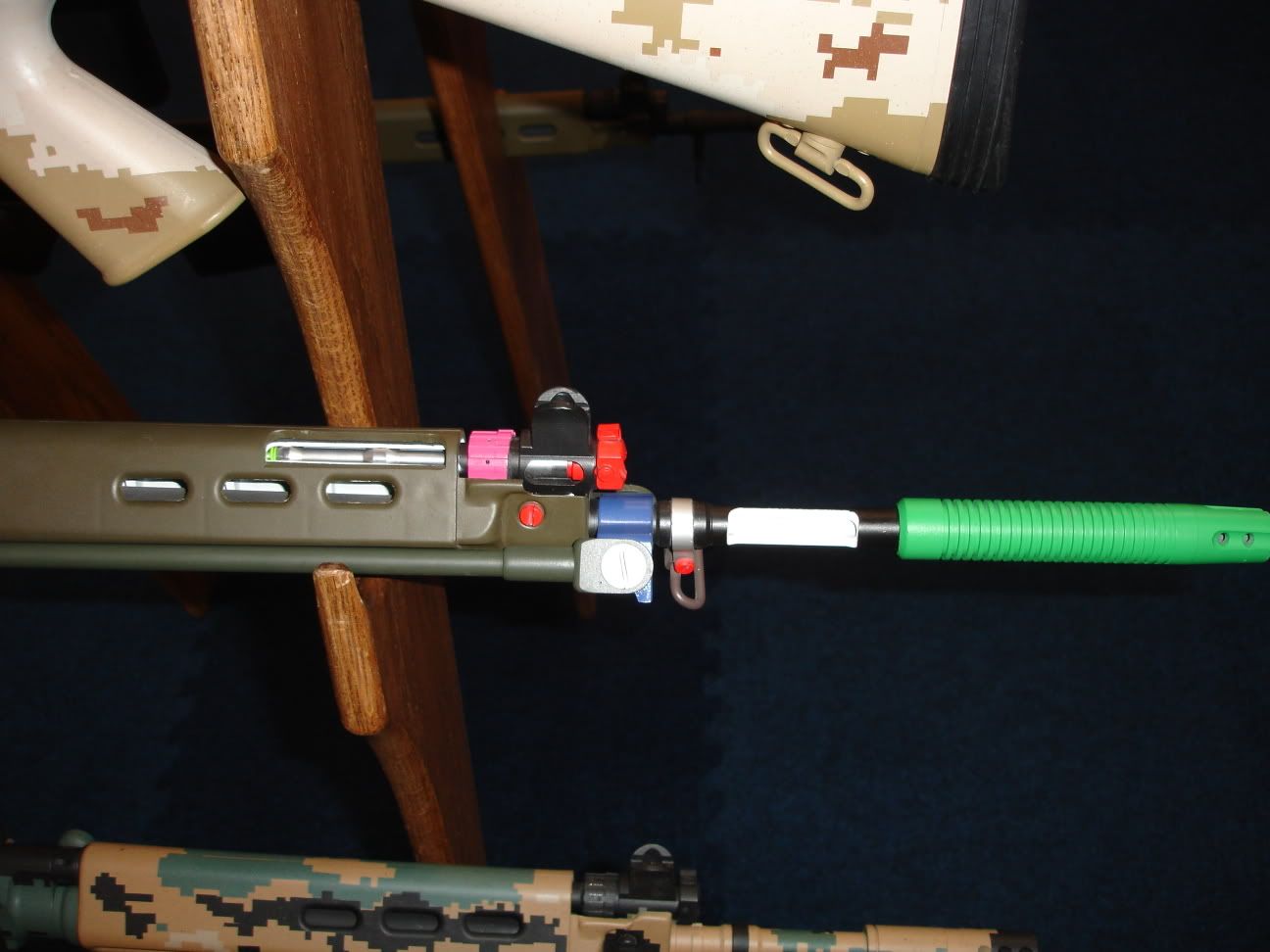 Then racks upon racks of FAL's of all sorts and finishes.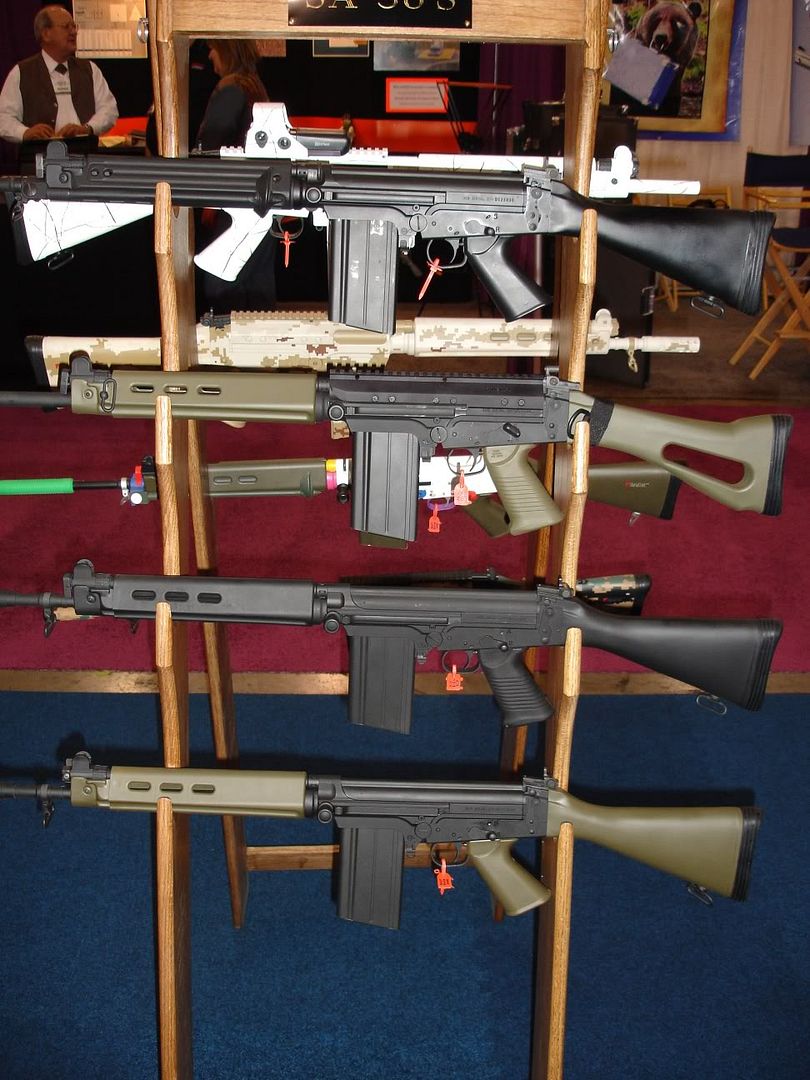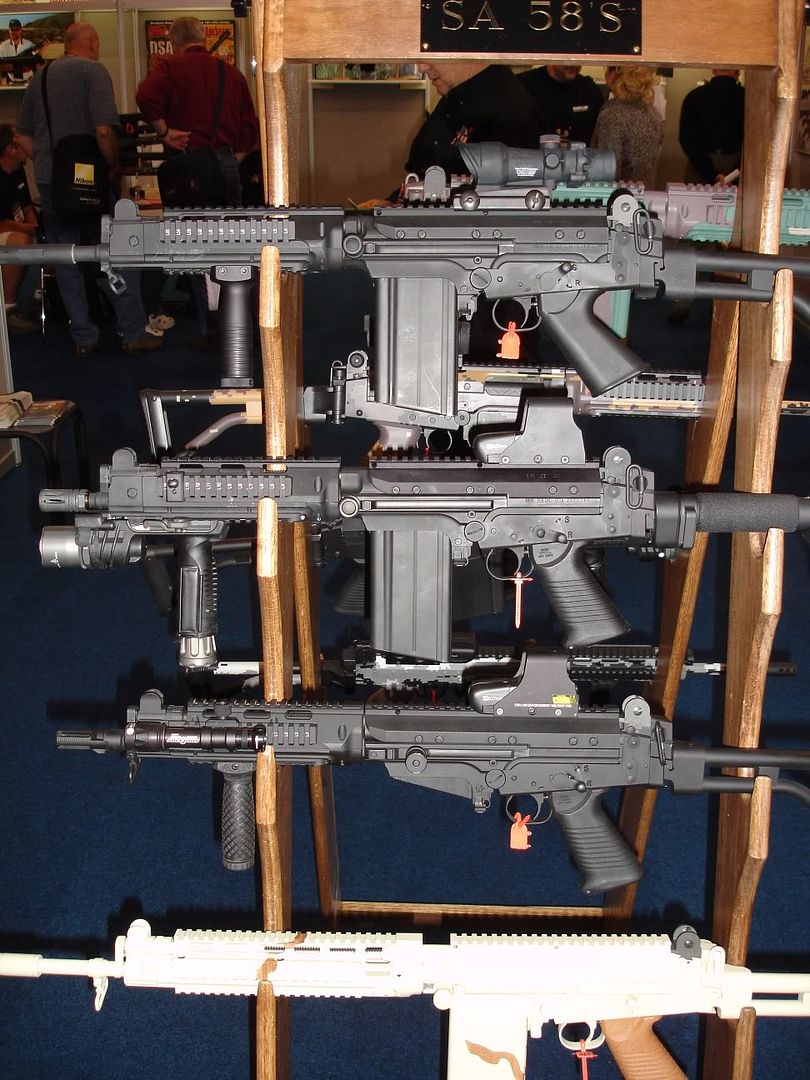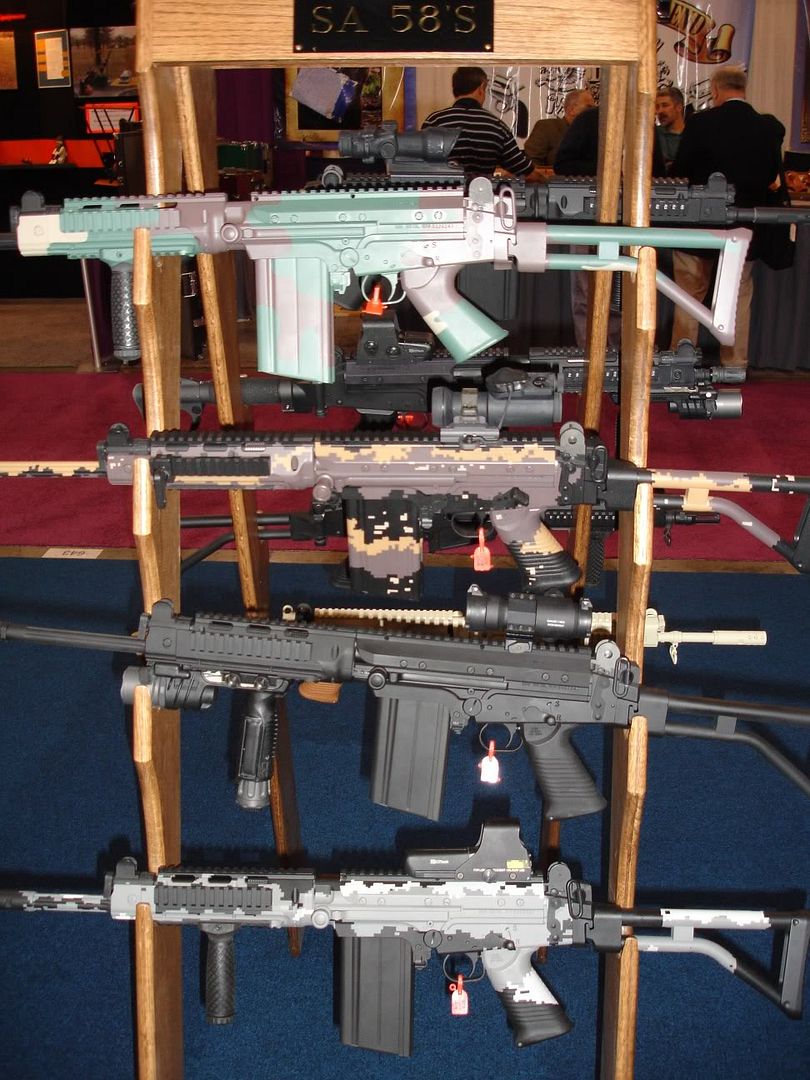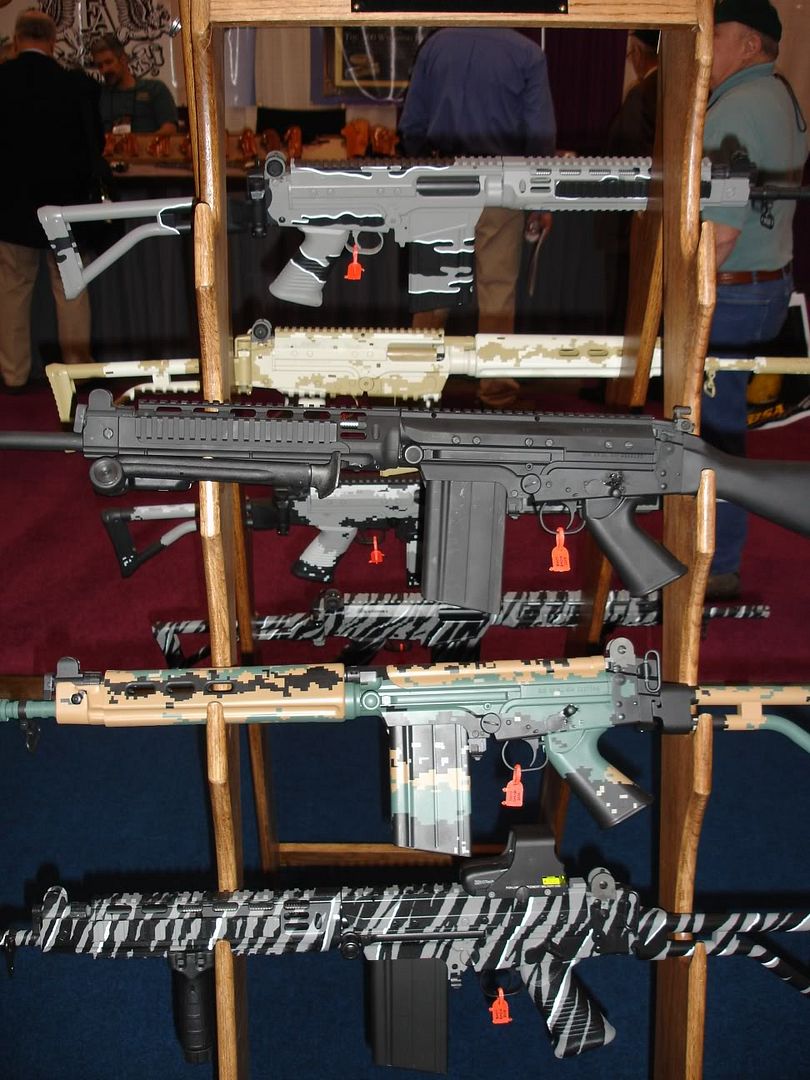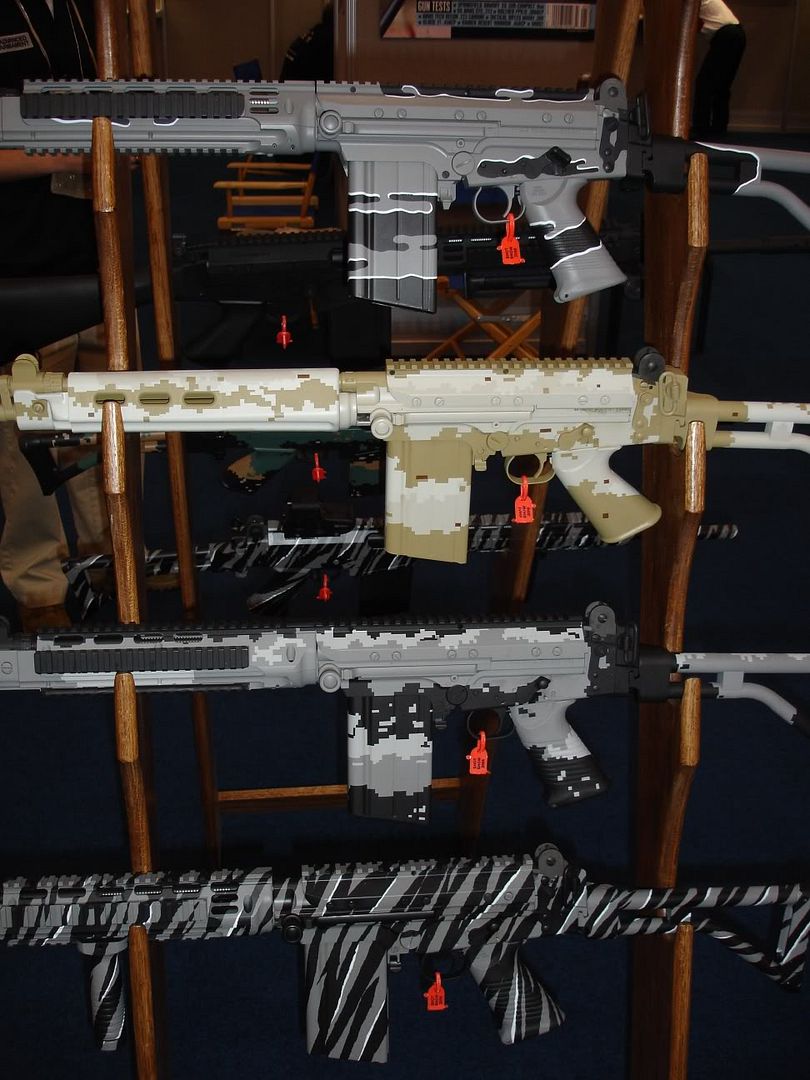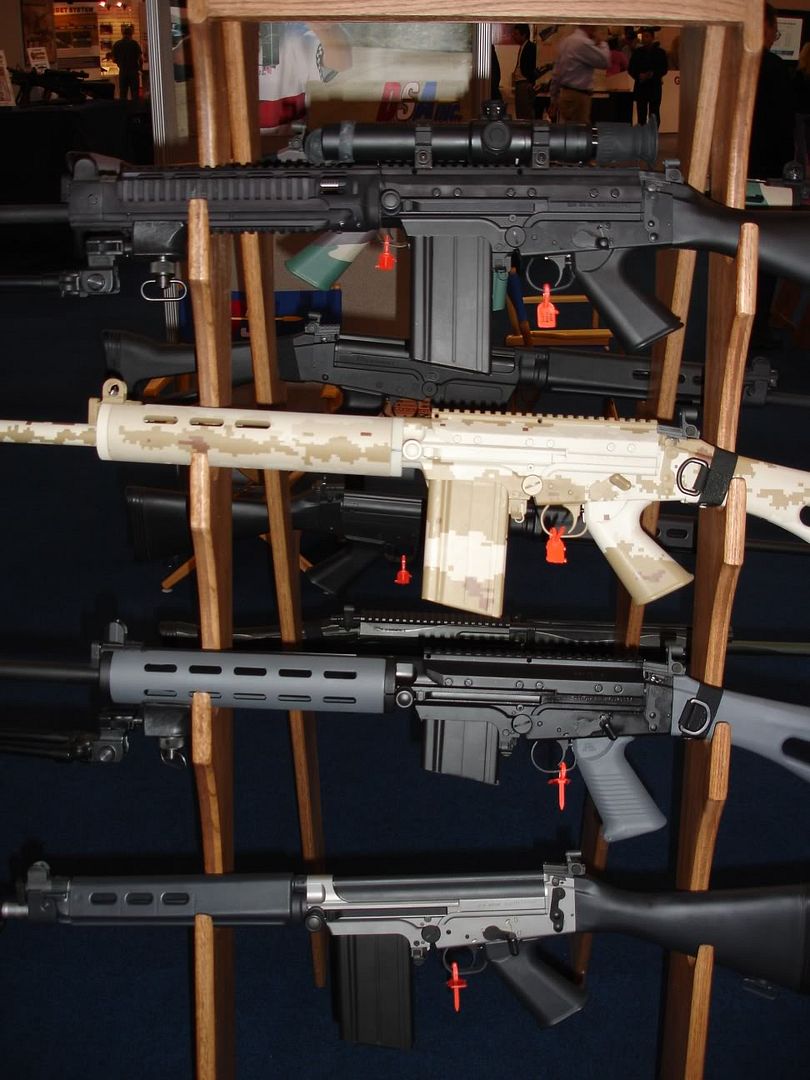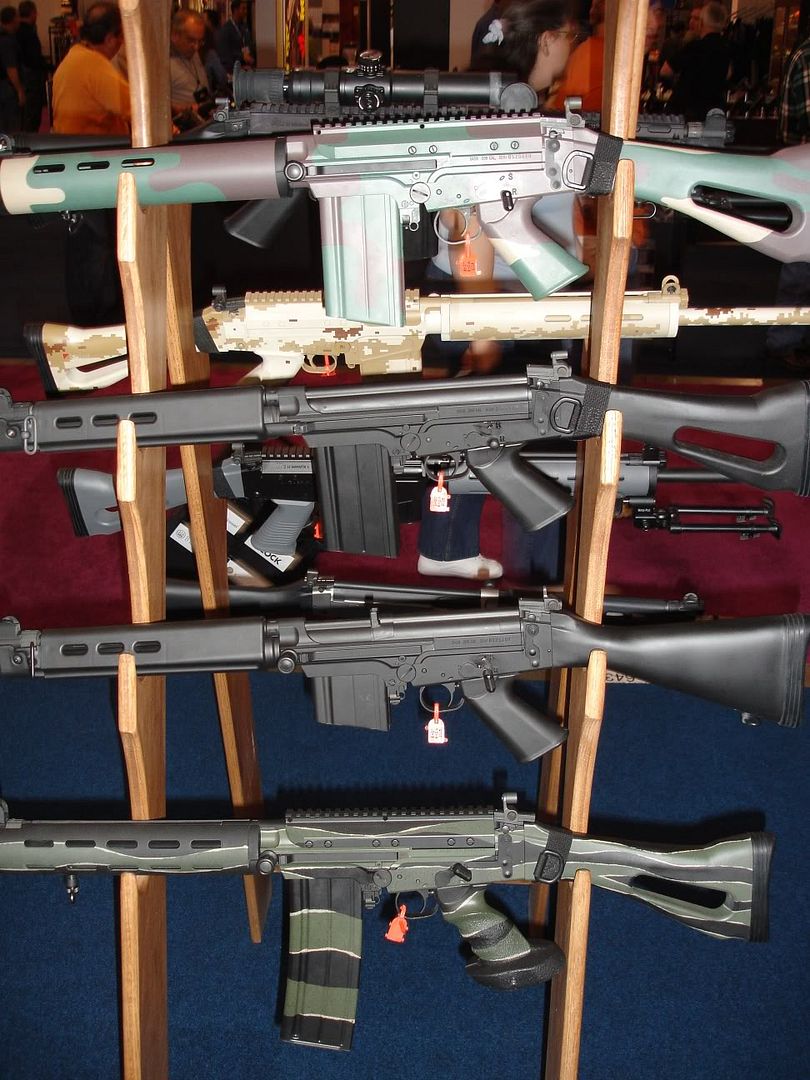 Then the AR's.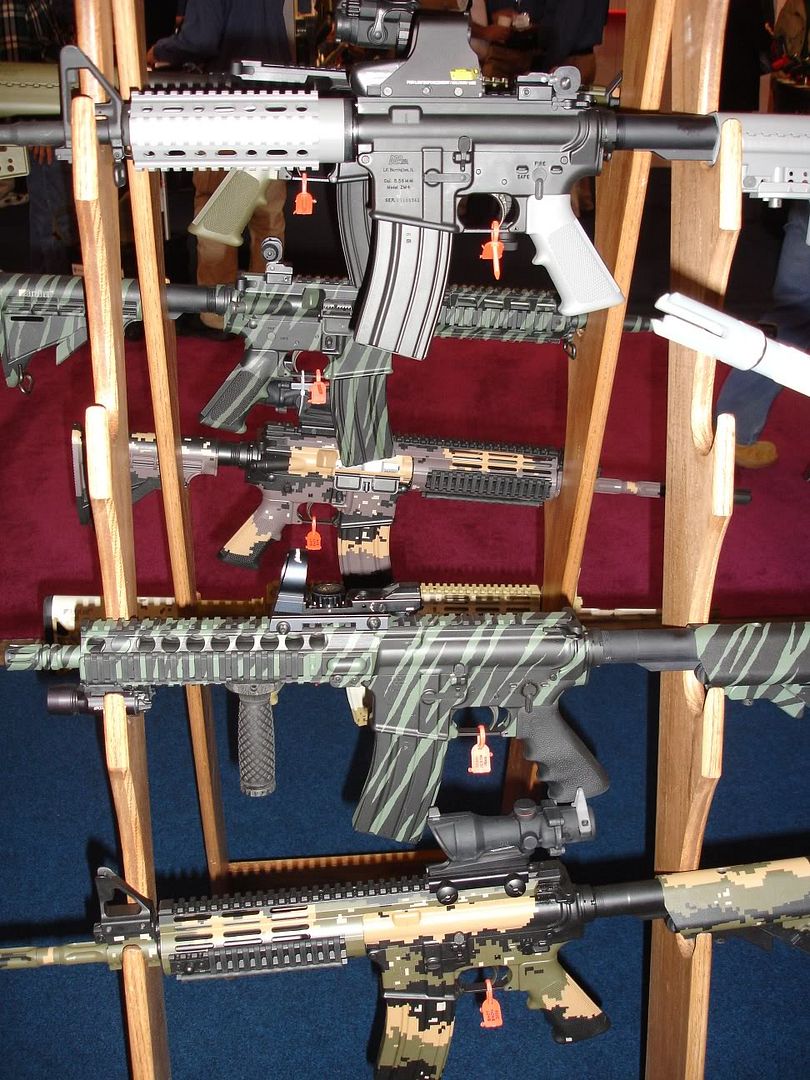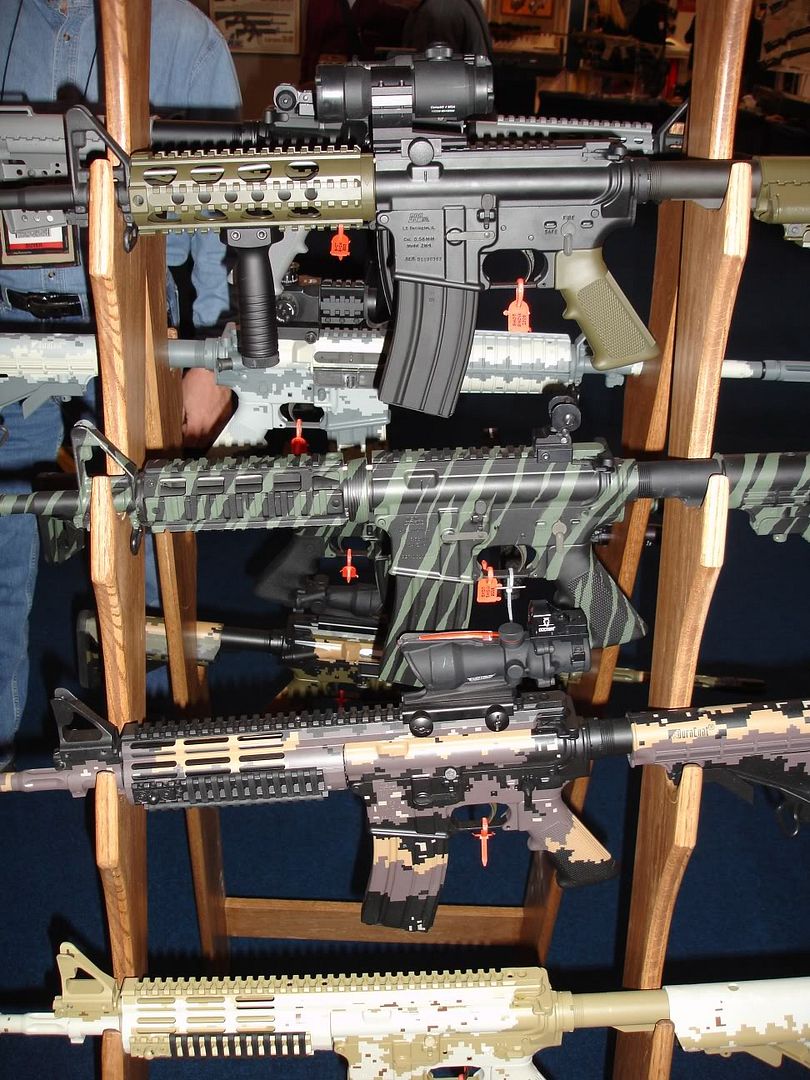 Little shorty Para.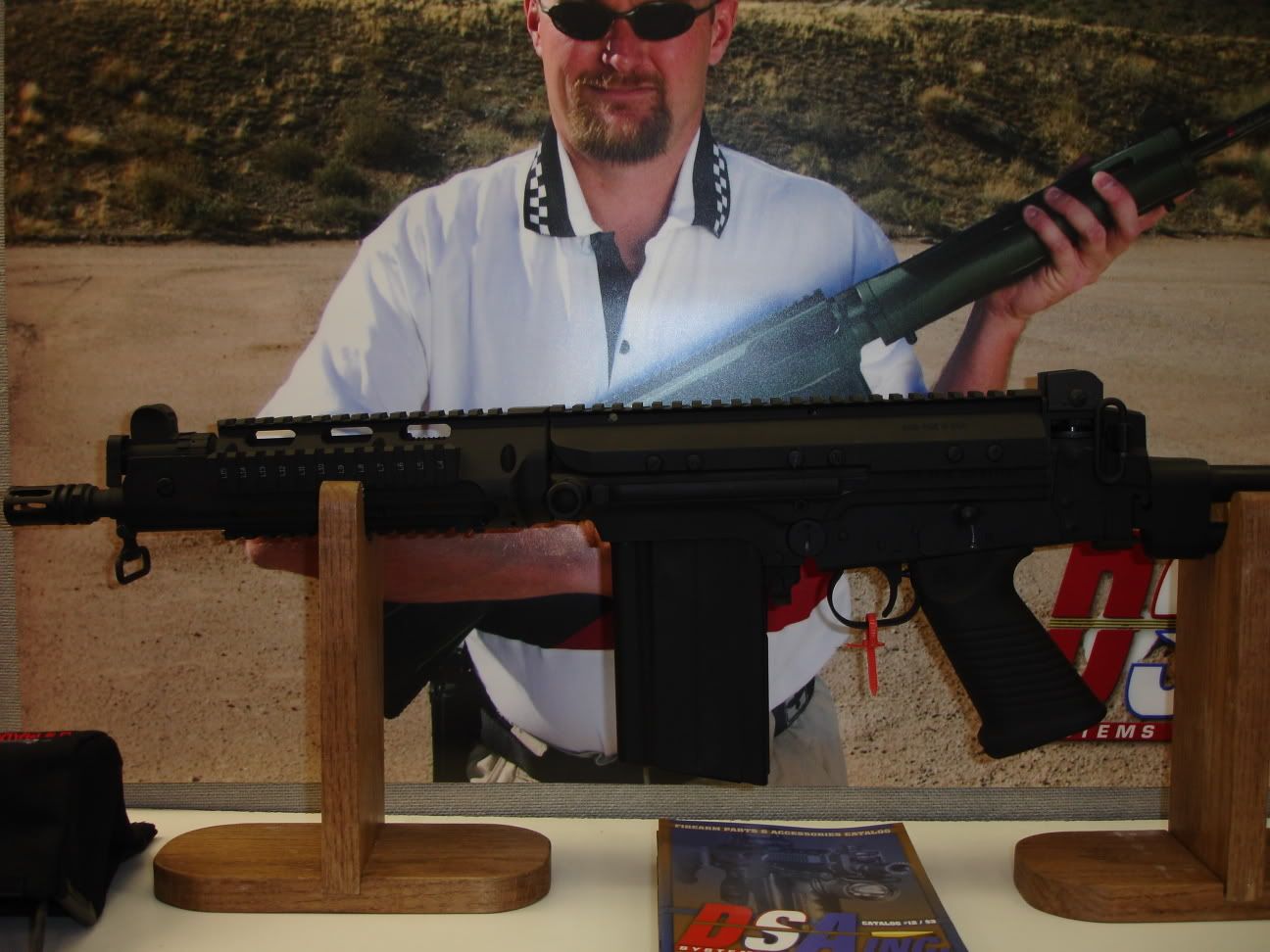 What appeared to be an FAL pistol w/ bipod and optic.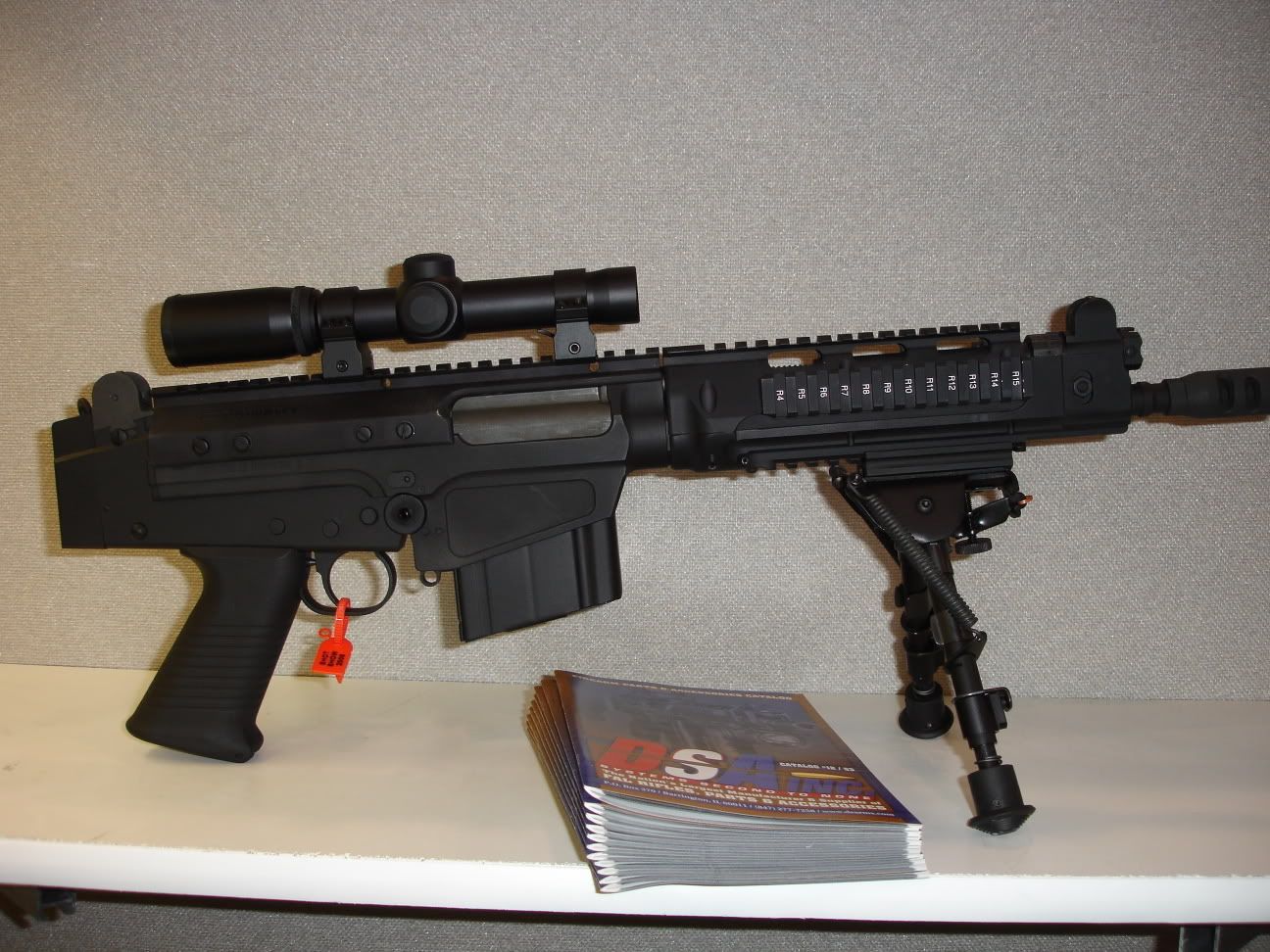 Then the Sig booth.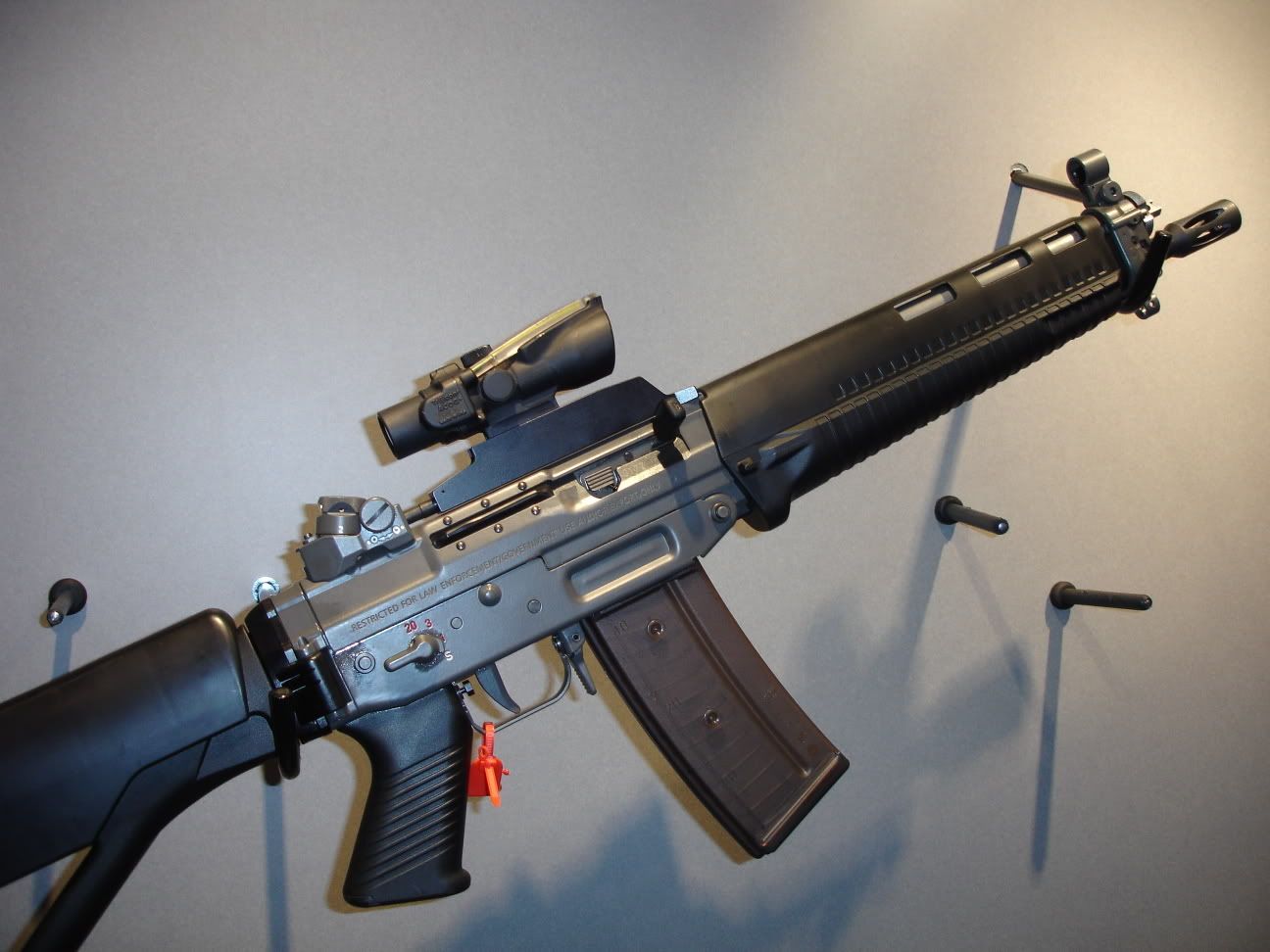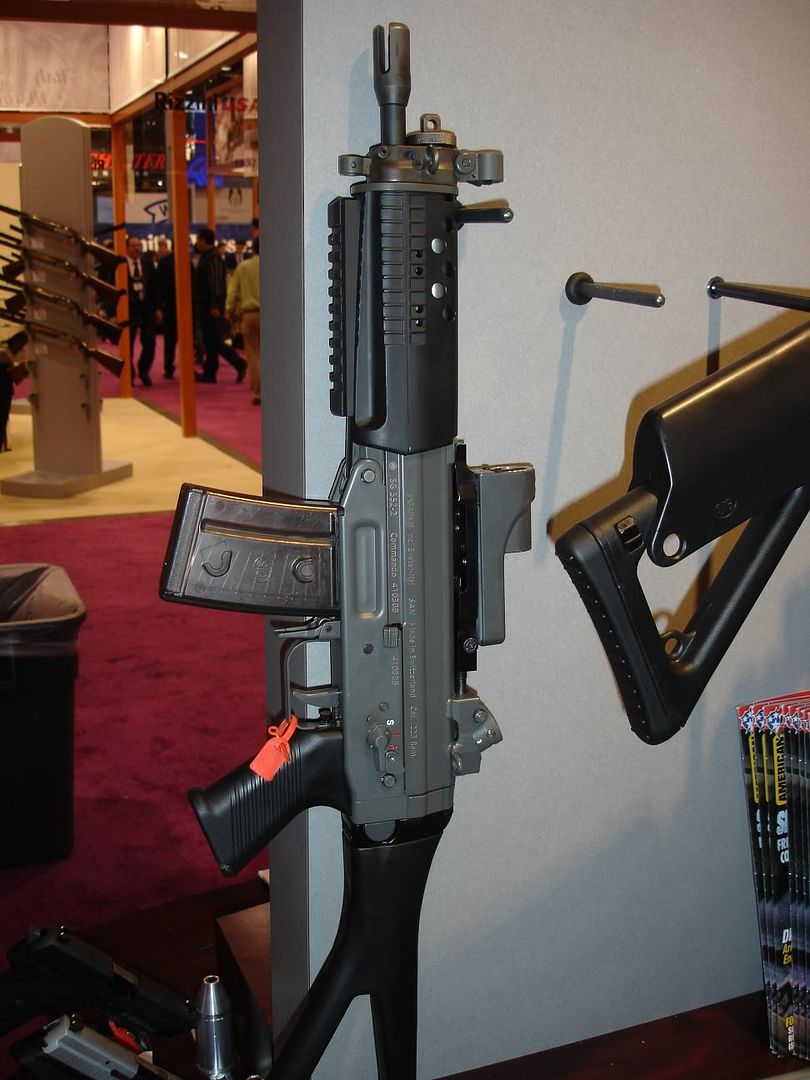 The new 556.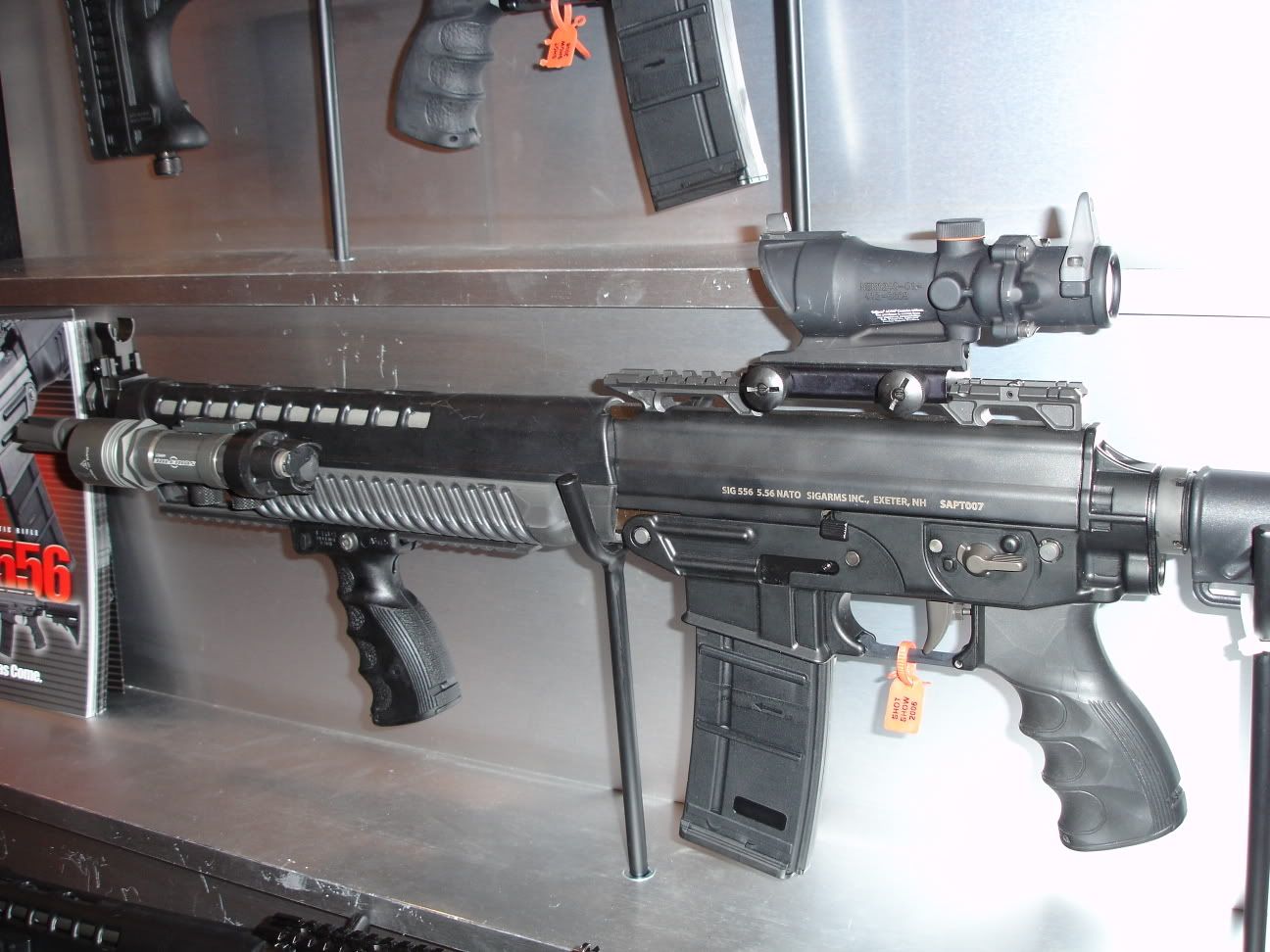 Closeups of the front and rear sights.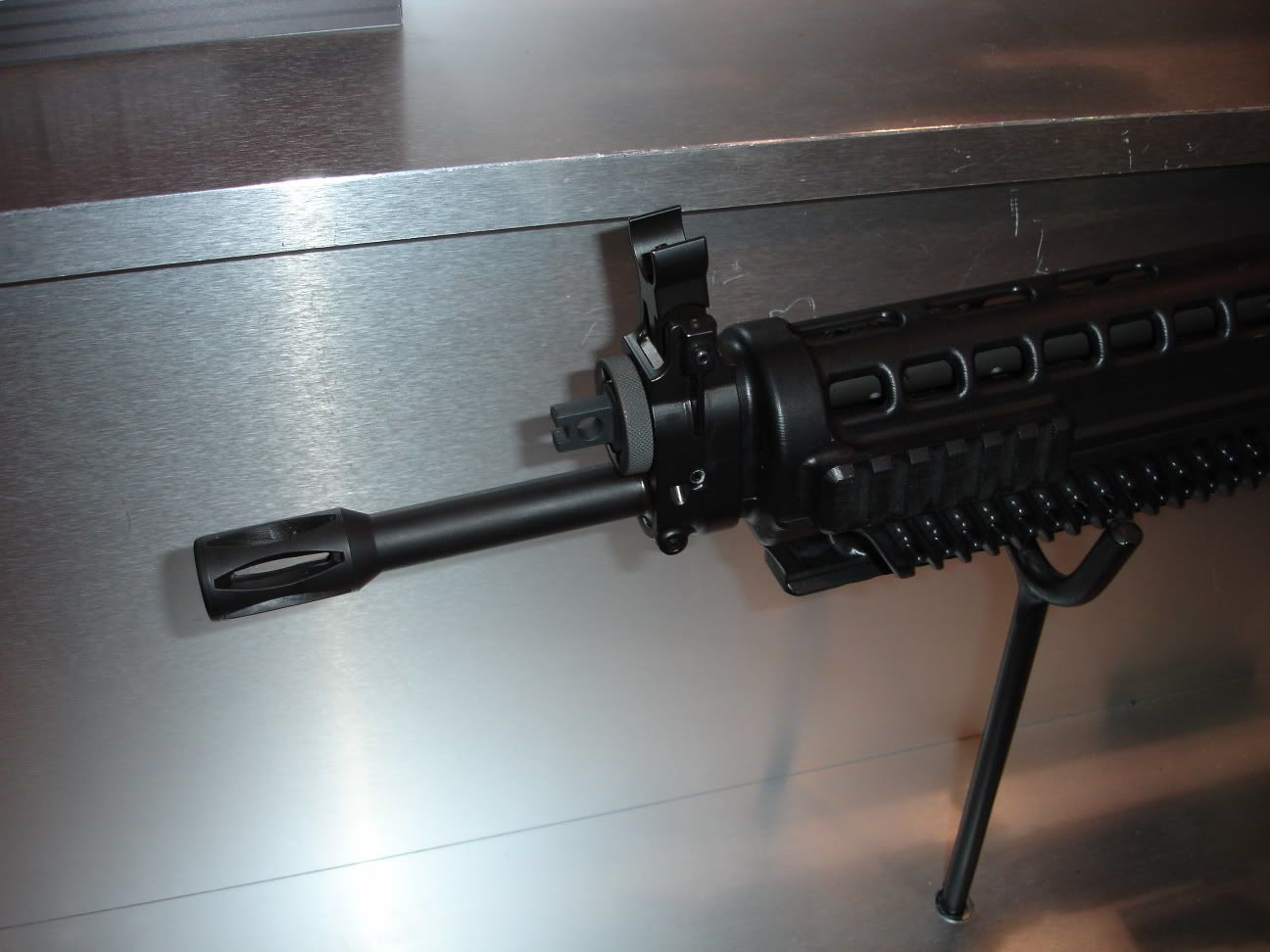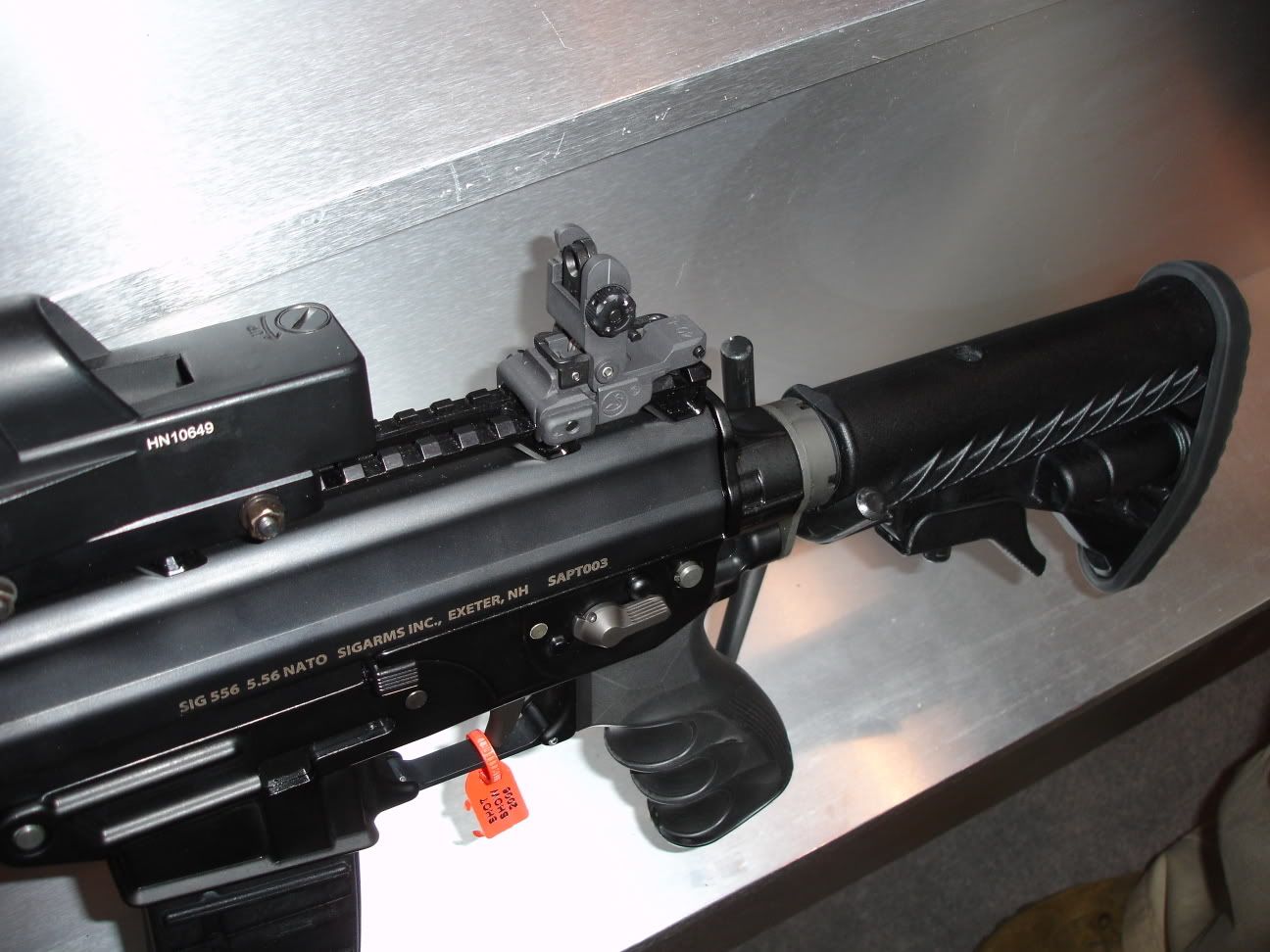 Oh, look! Sig likes AAC cans, too.
Steyr HS 50.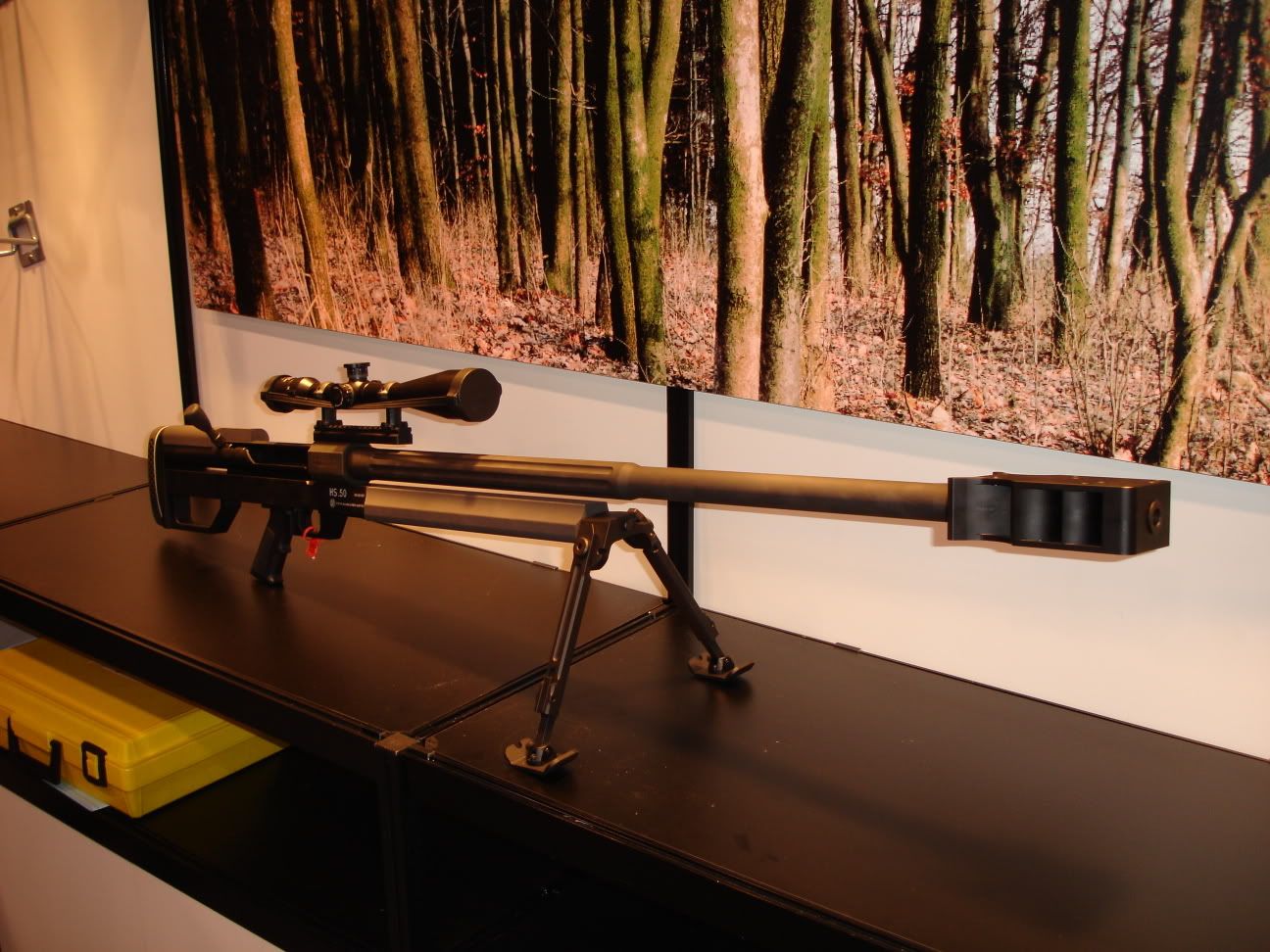 A couple of AUG's.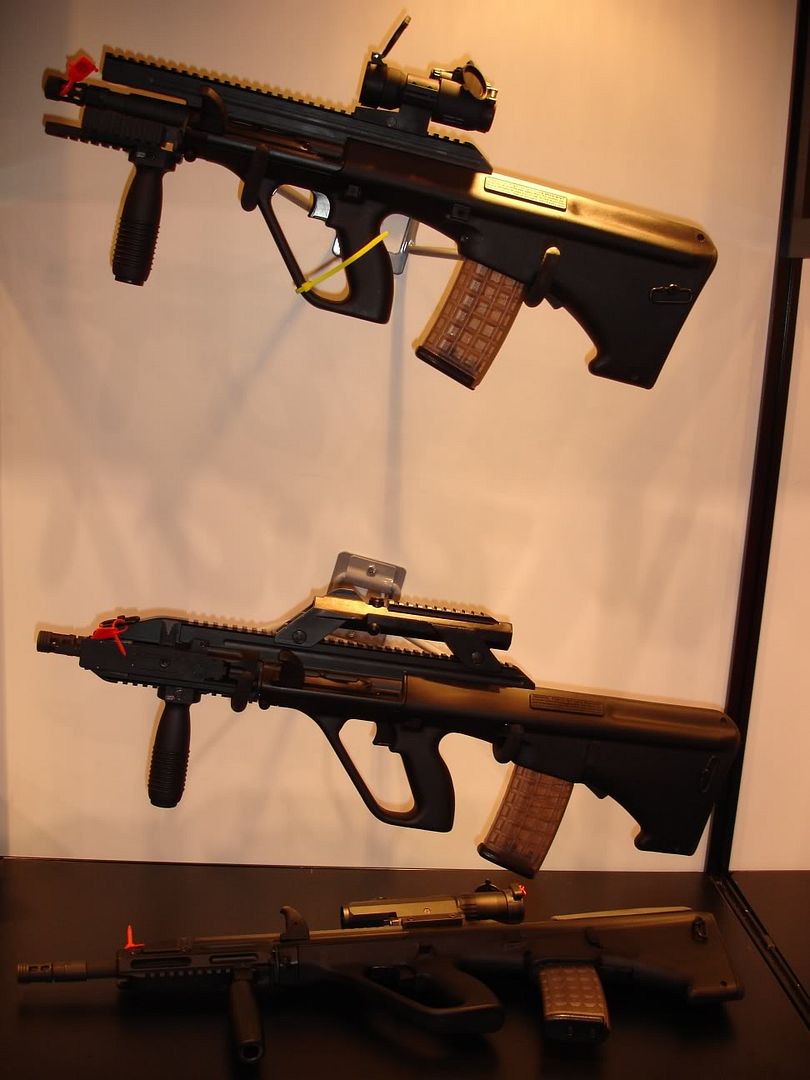 S&W's 460V.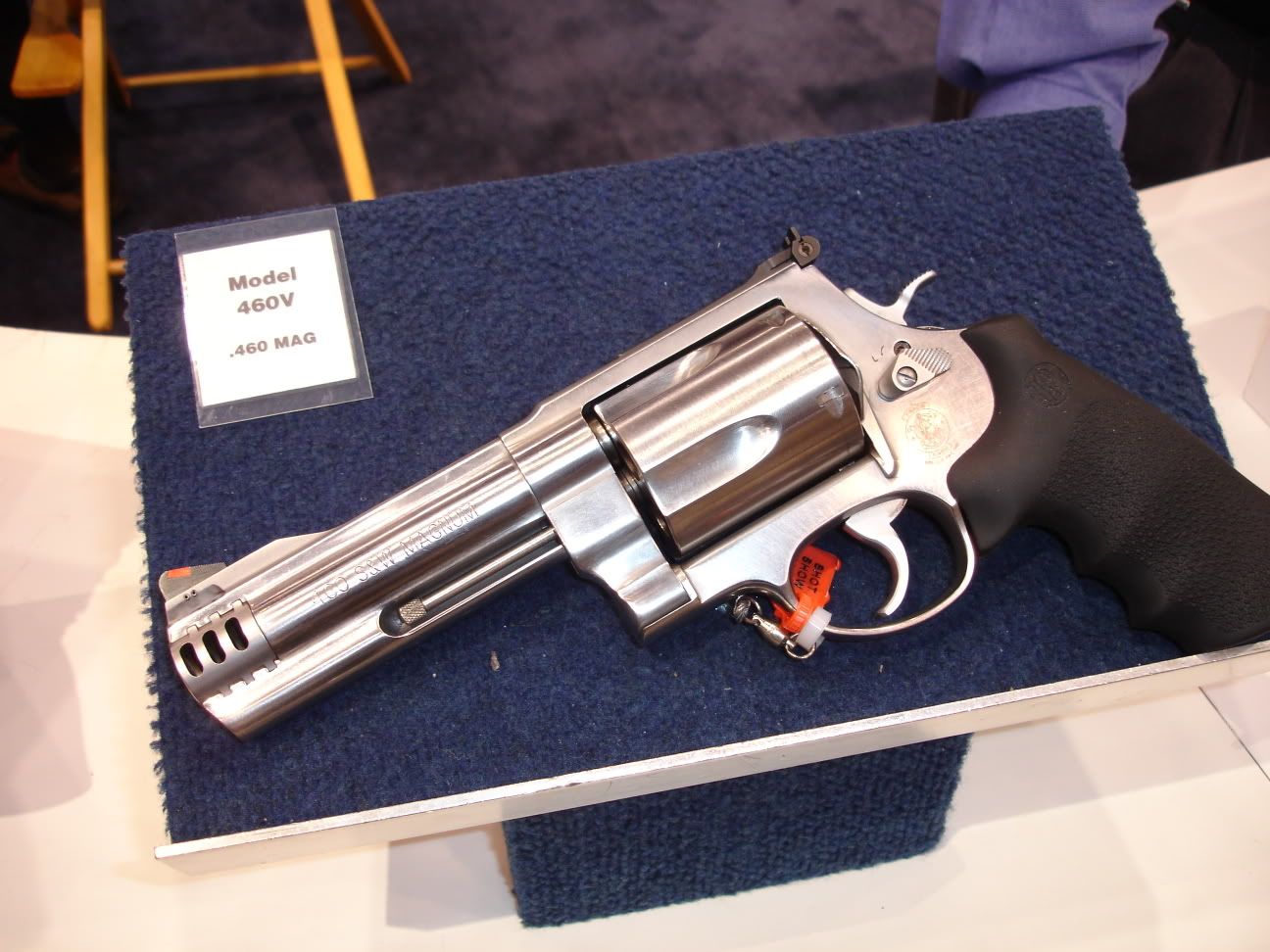 S&W's new AR's. They're actually a pretty decent deal. Saw one at the store last night. Priced right at $1300 with a Troy 9" rail and Troy front and rear sights. Granted, it's got a RRA non-milspec buffer tube and stock, but it was priced right for all the stuff already on it. I still don't know for sure who's making these for S&W.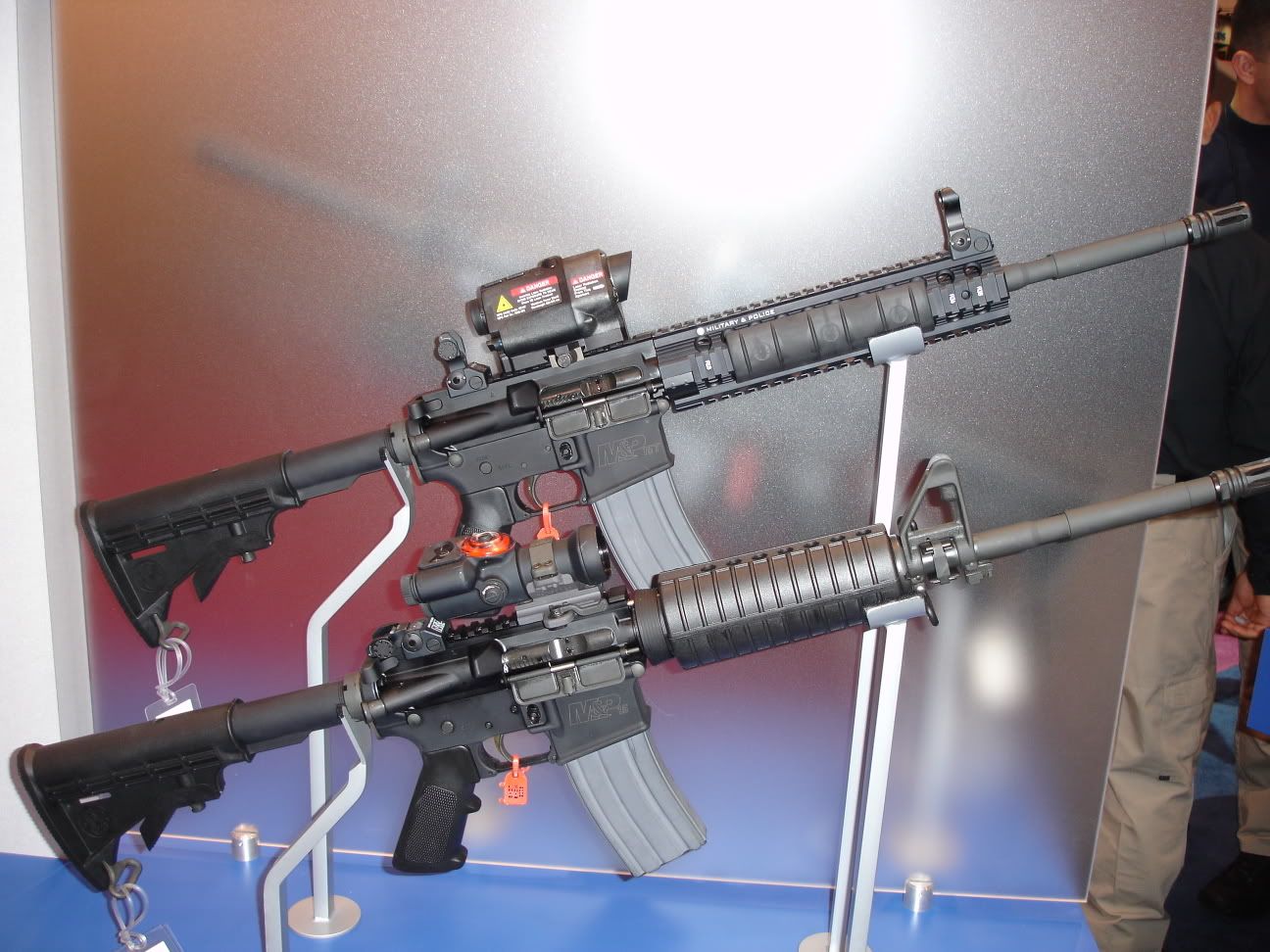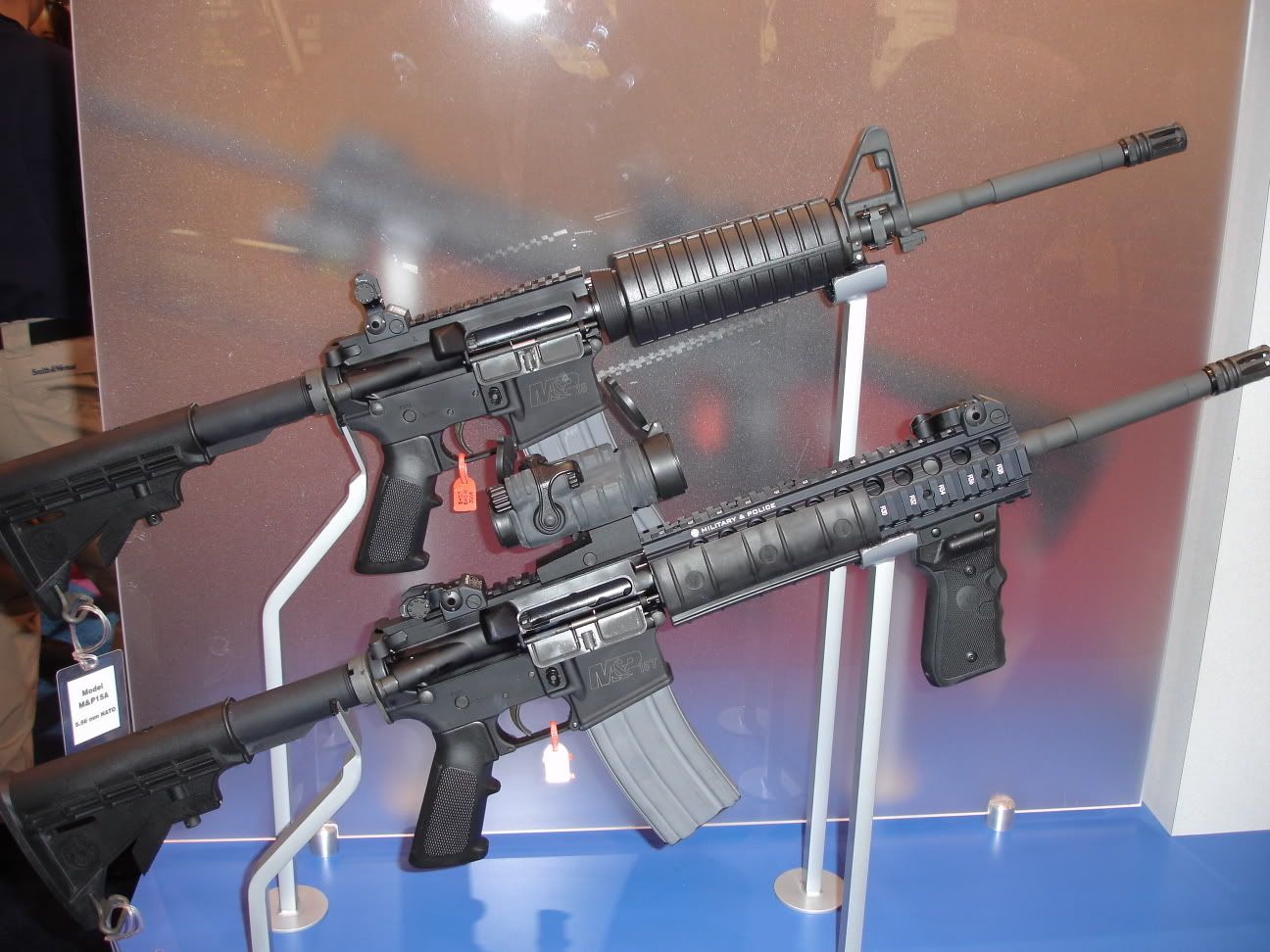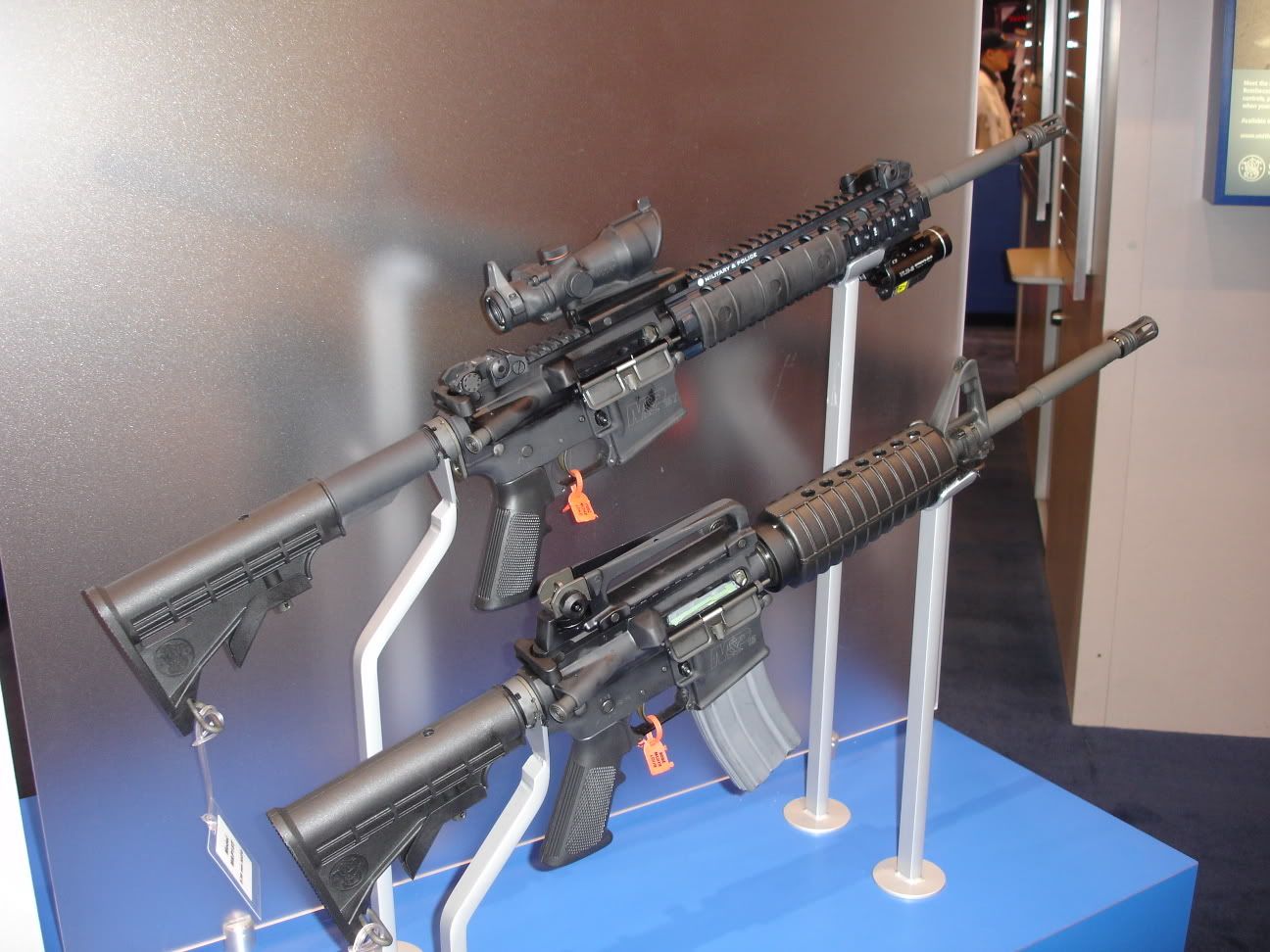 Oh god, my Glock exploded! Oh wait, that's the cutaway Glock.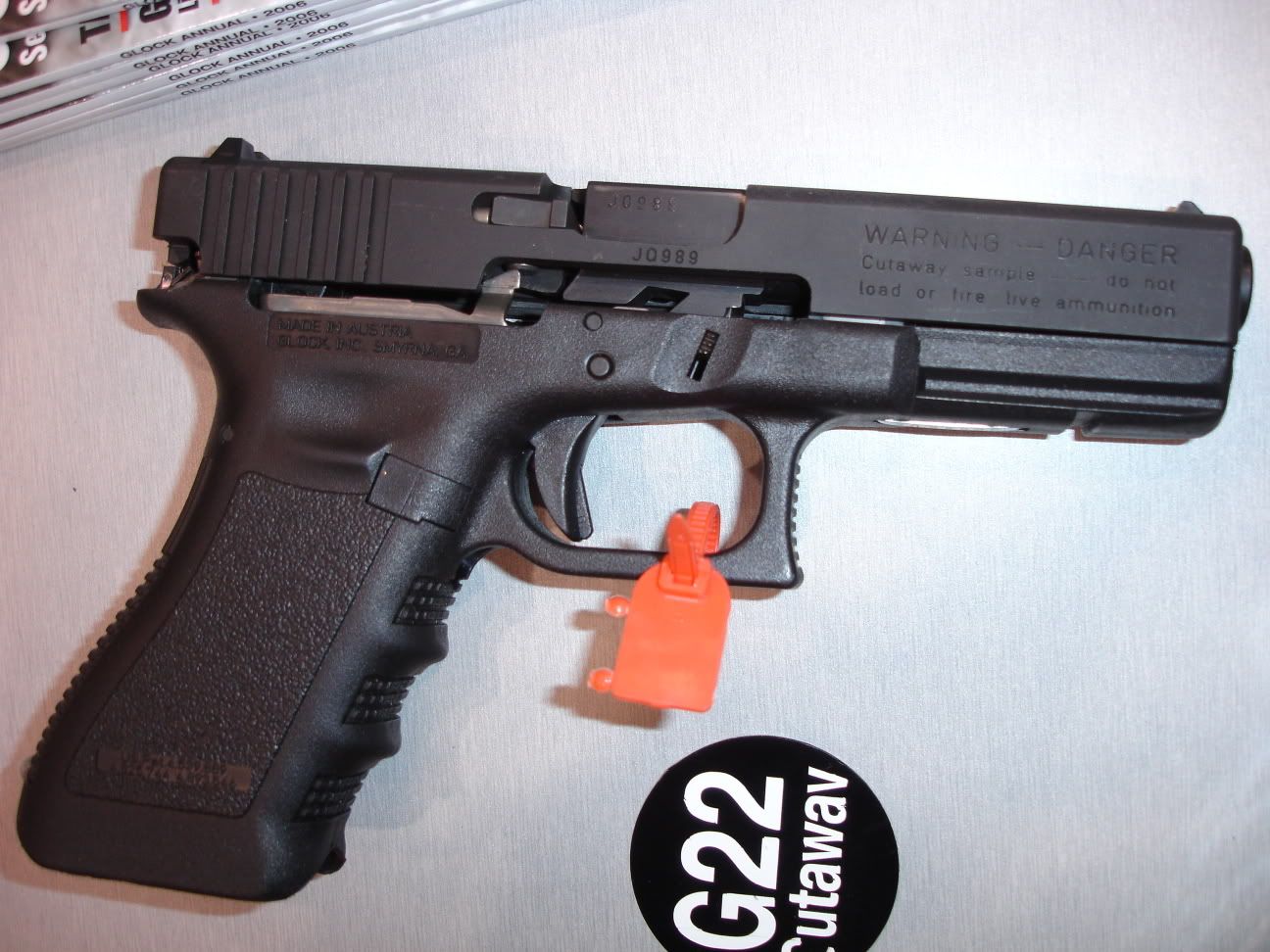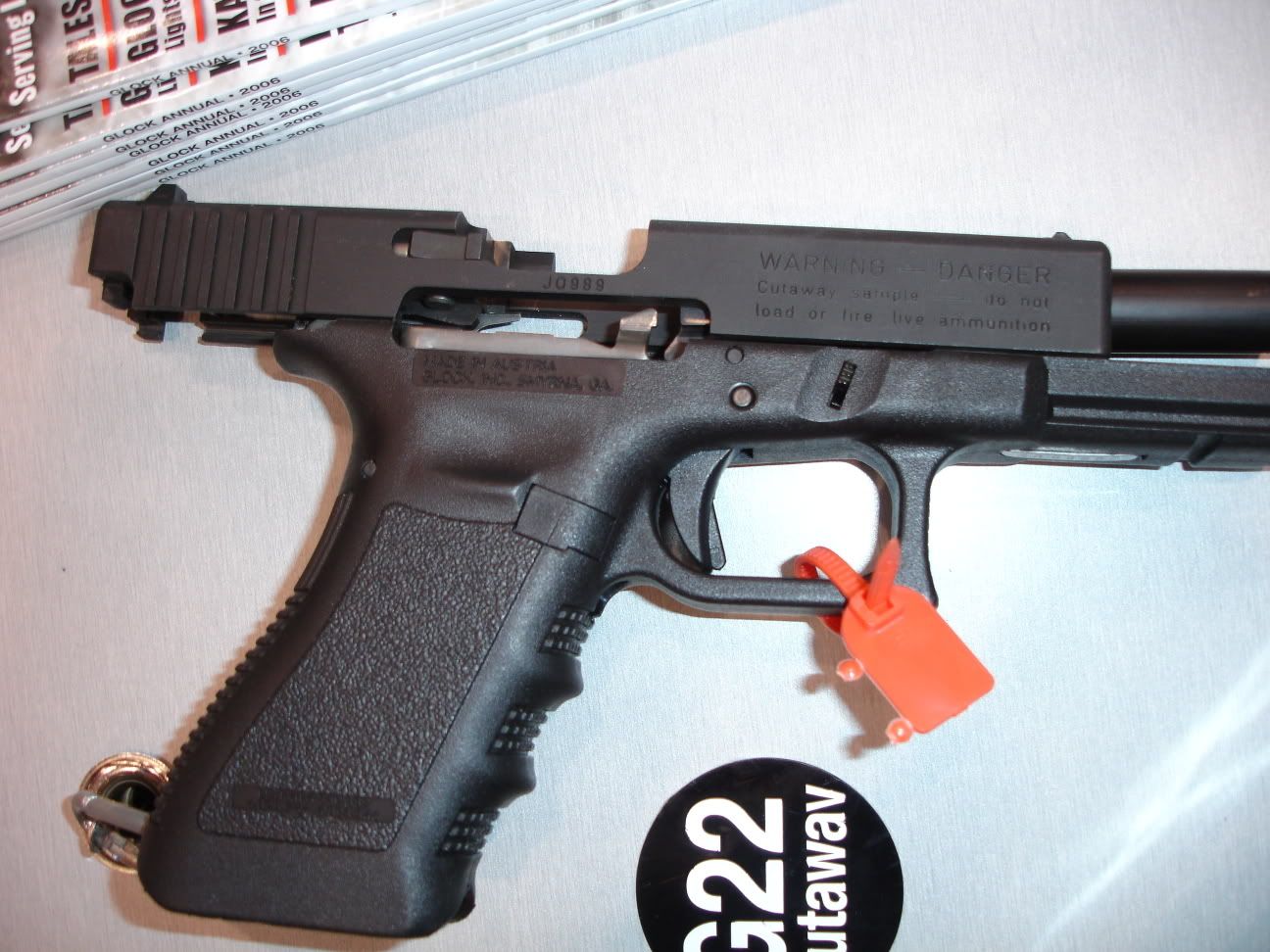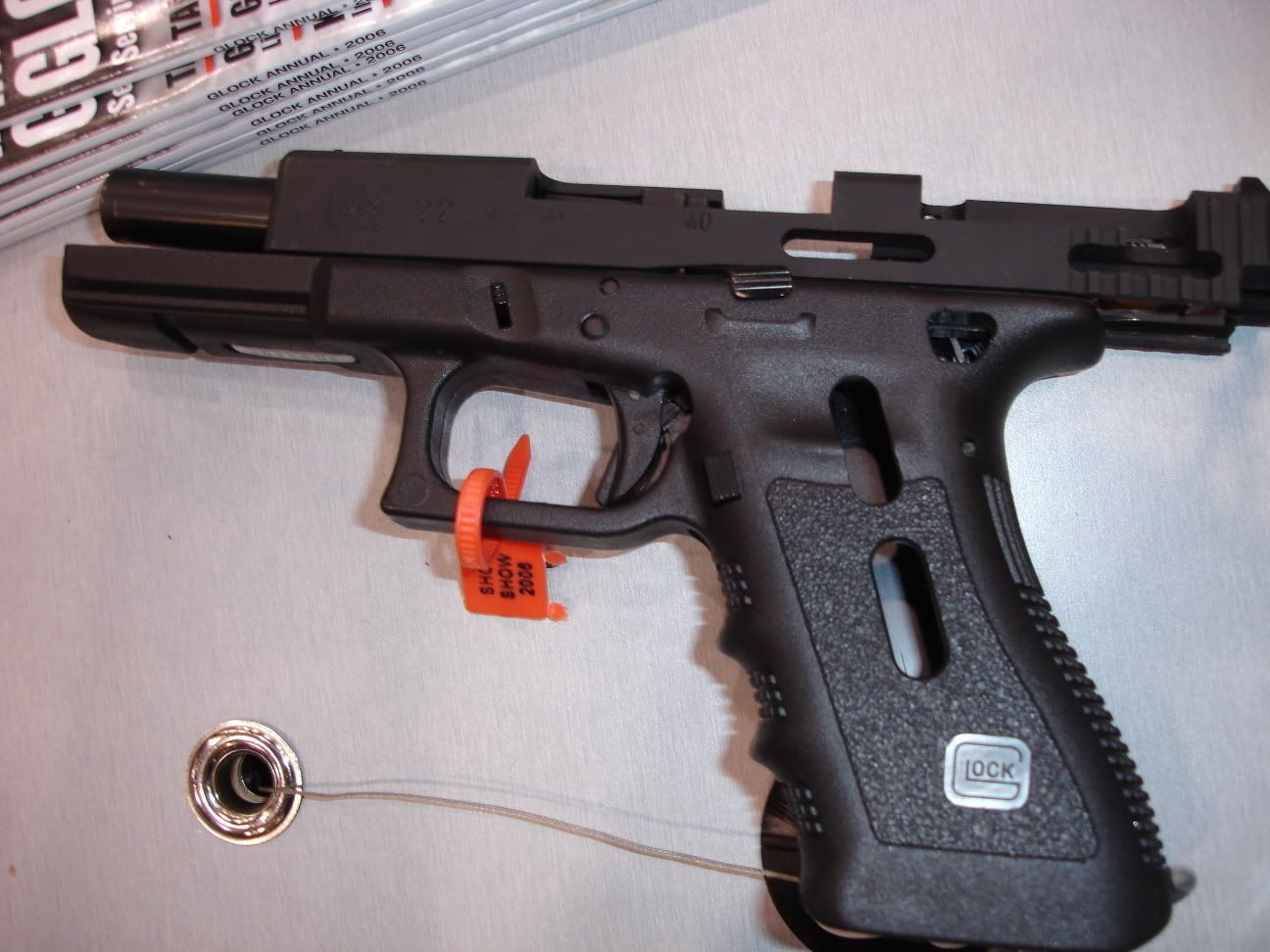 Armalite's booth. Here's their SASS entry, once again, with AAC's cans on them.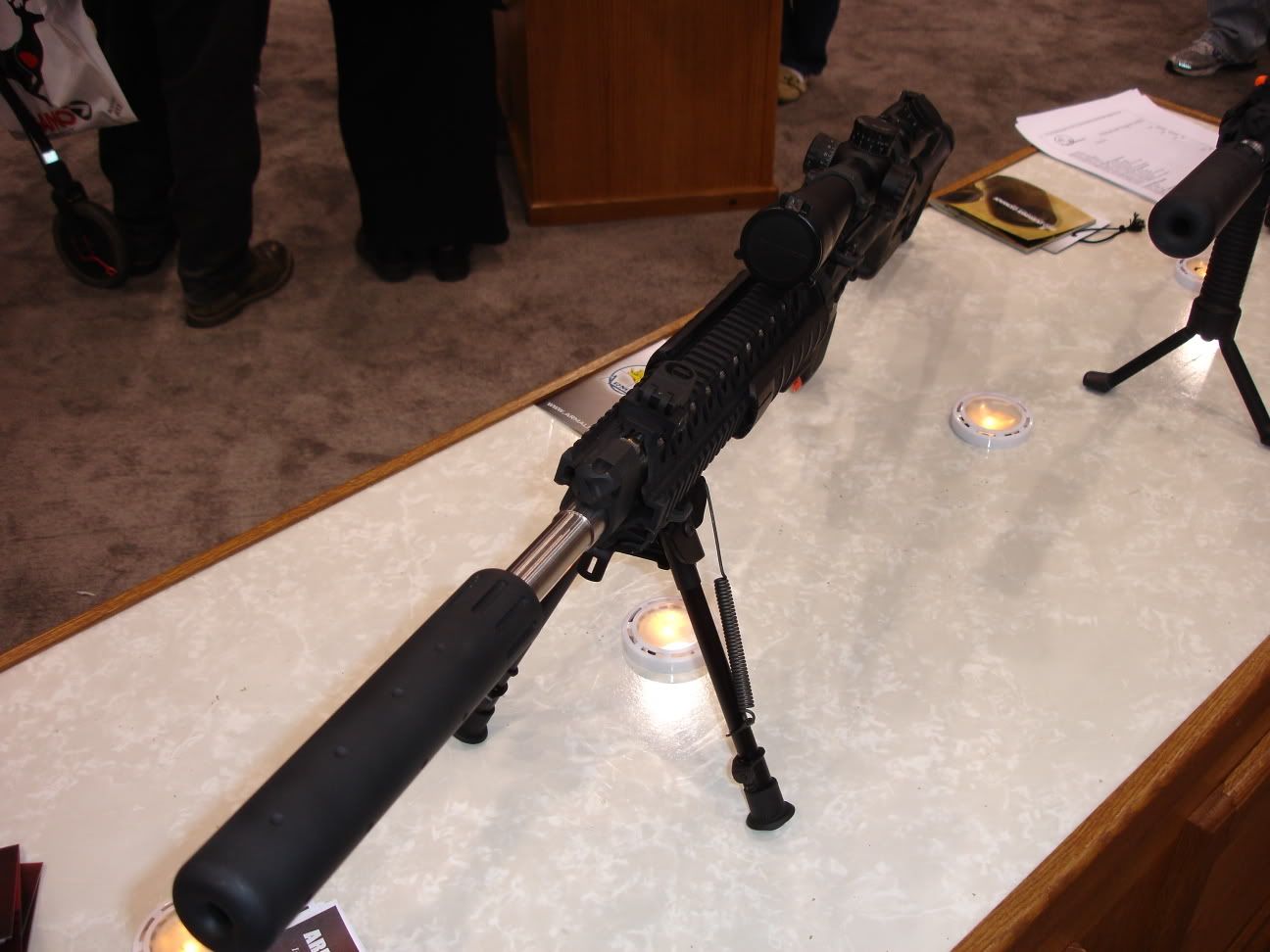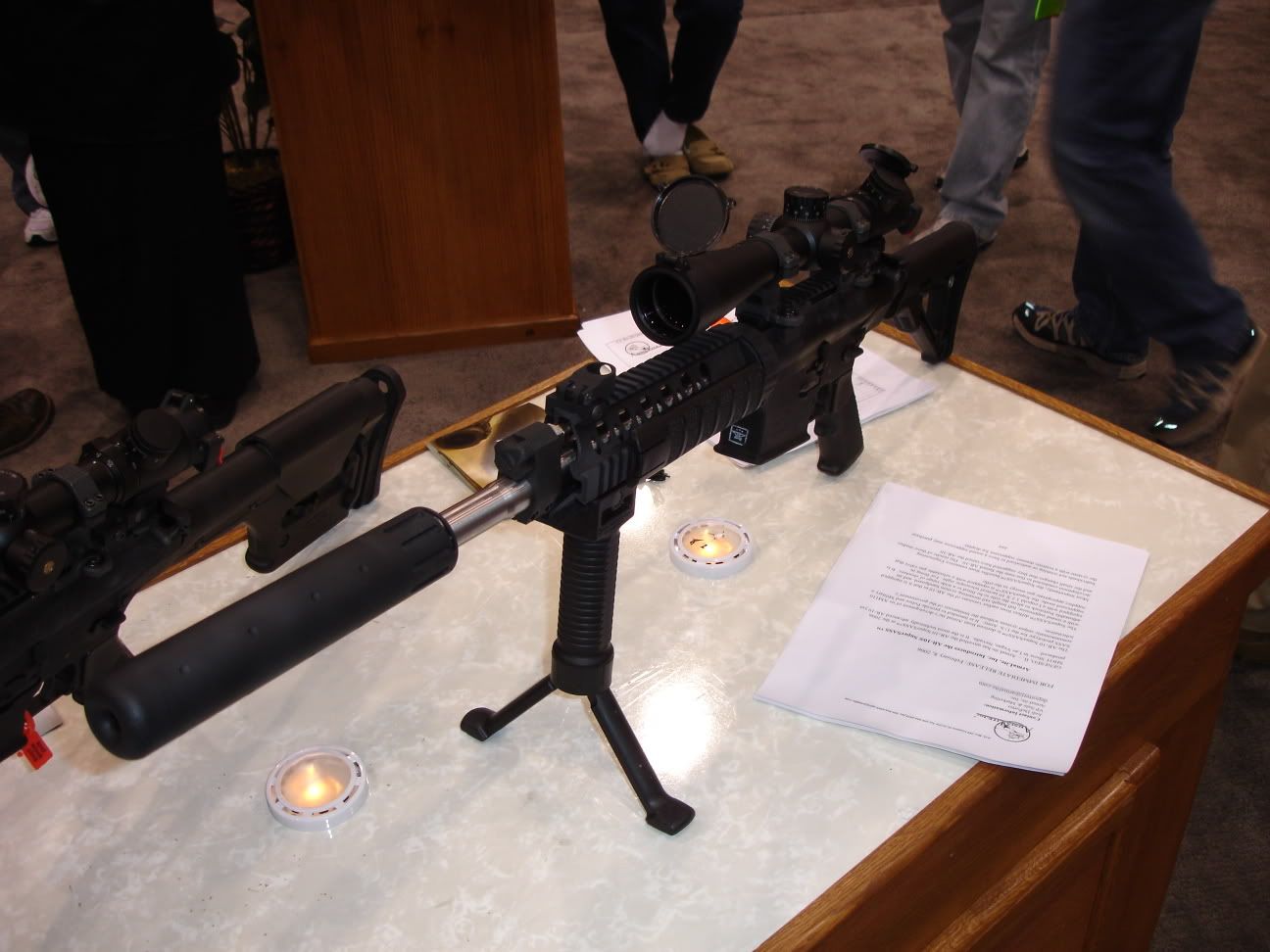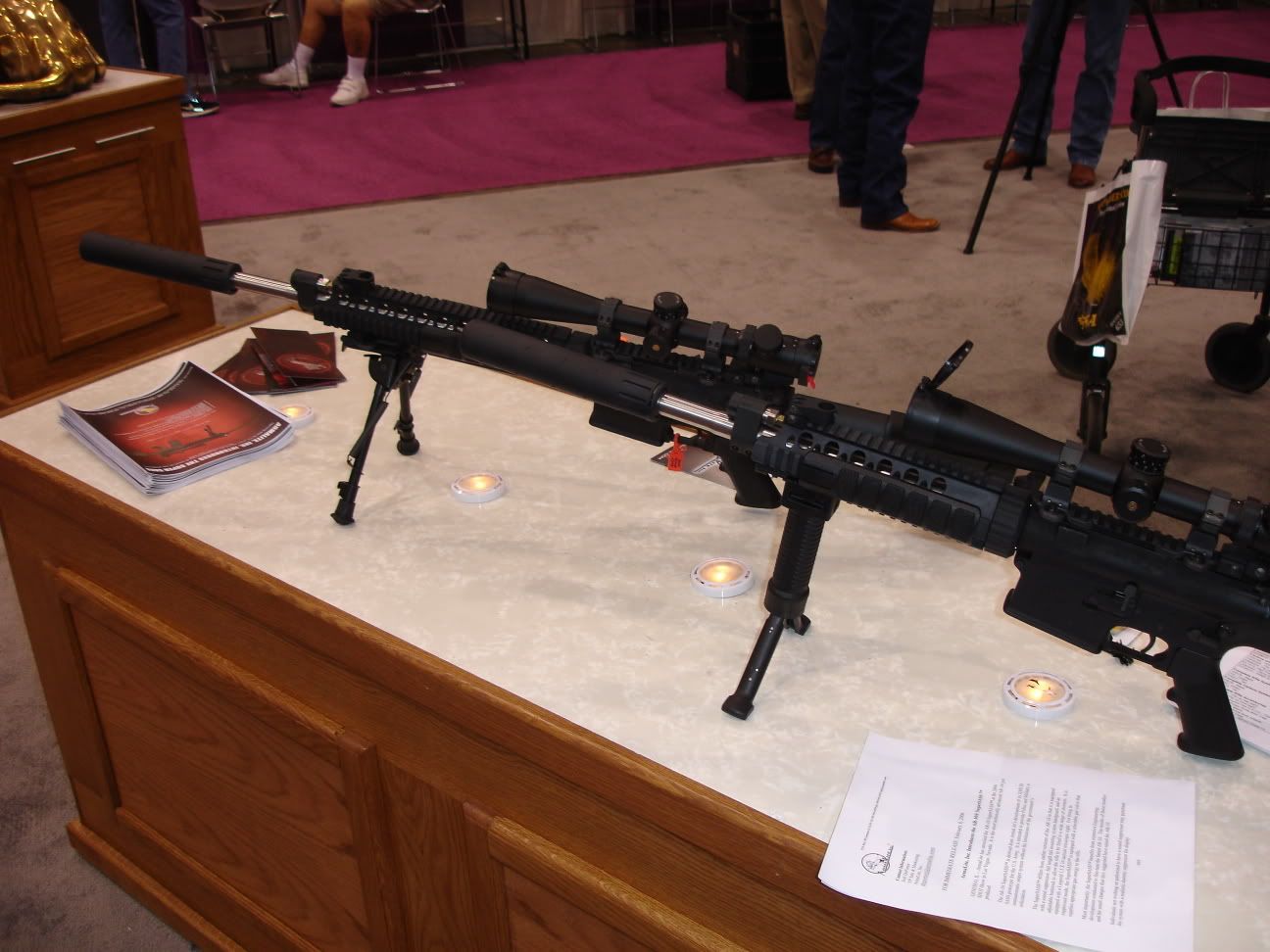 AR50 on a crazy mount.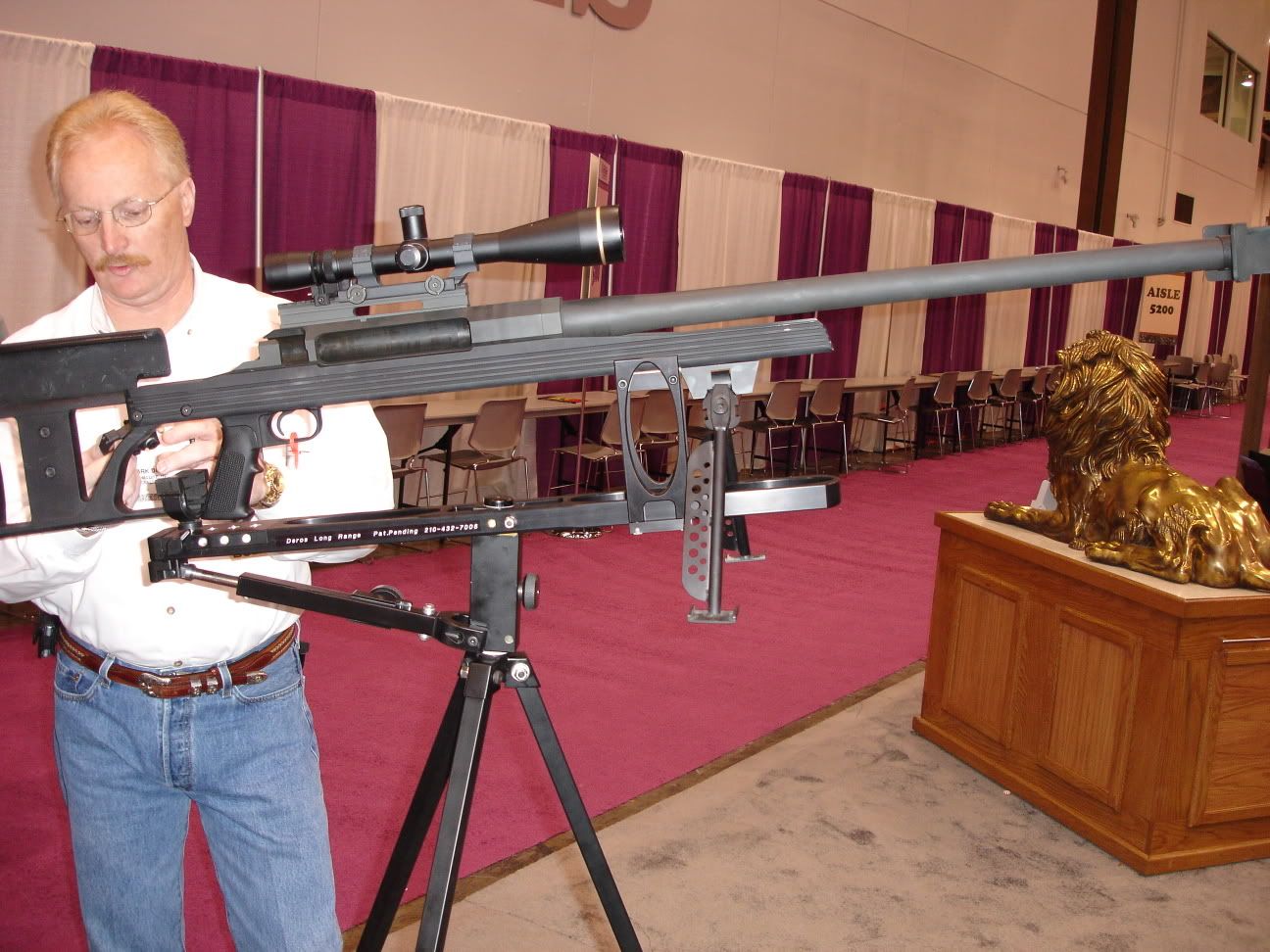 And the cutaway AR10.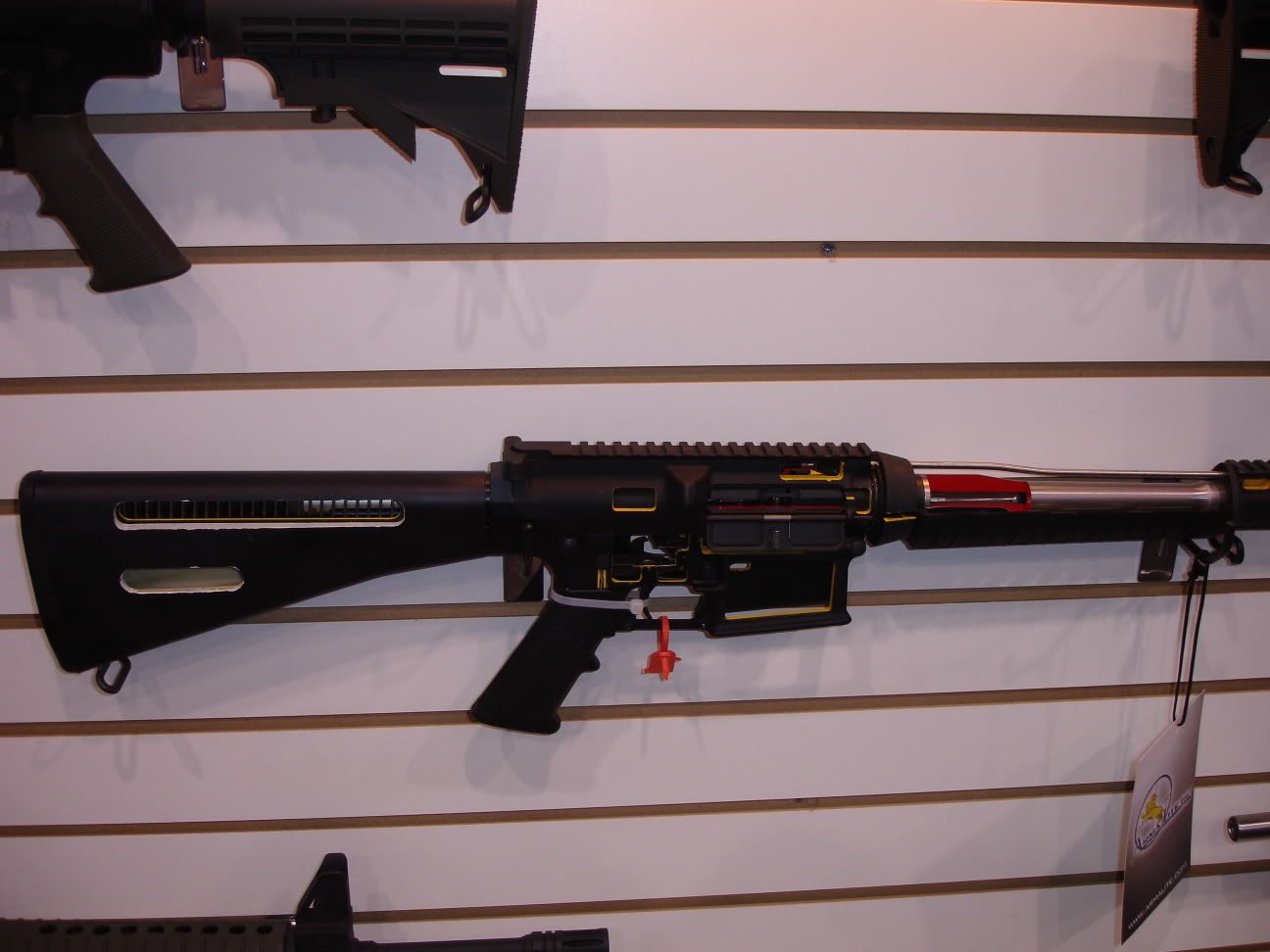 For people who don't believe that Colt would put this much shit on one reciever.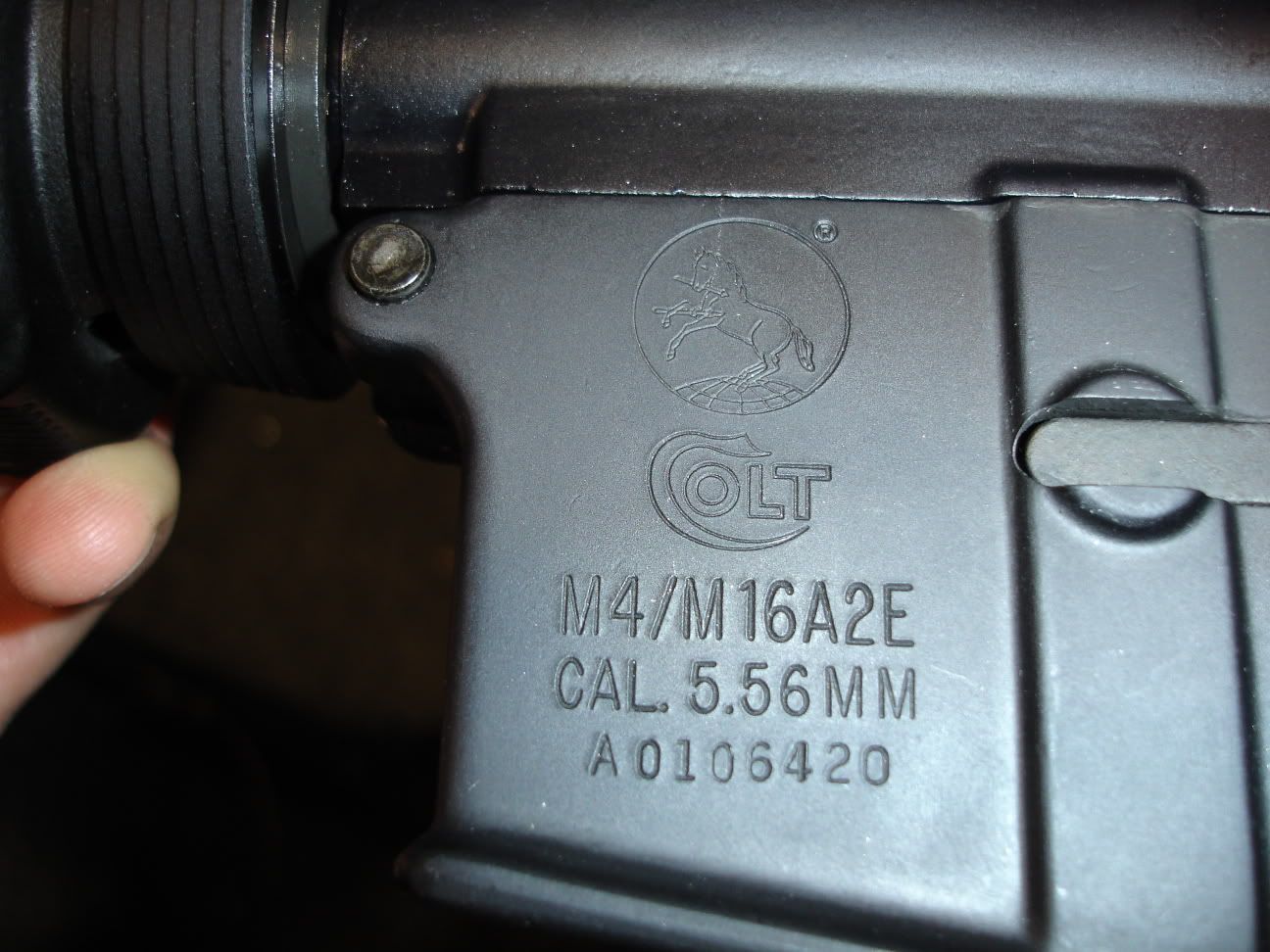 PS90. I got other shots at FN's booth, but they all sucked. Never got any shots of the SCAR rifles there, because I was too busy talking to Barbara, the FN Manager of something or other. She was cute.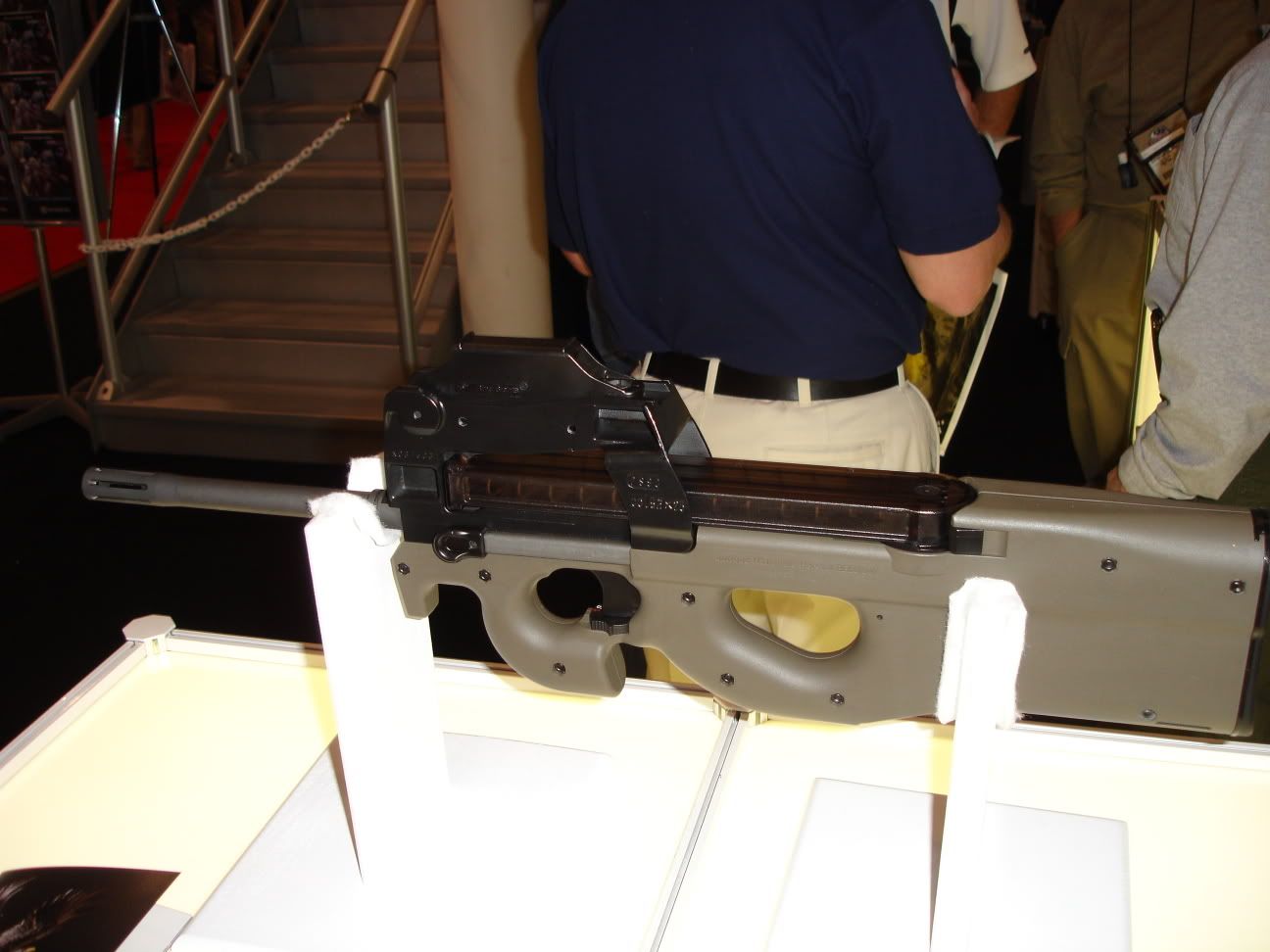 Wait 'til Wildey gets here...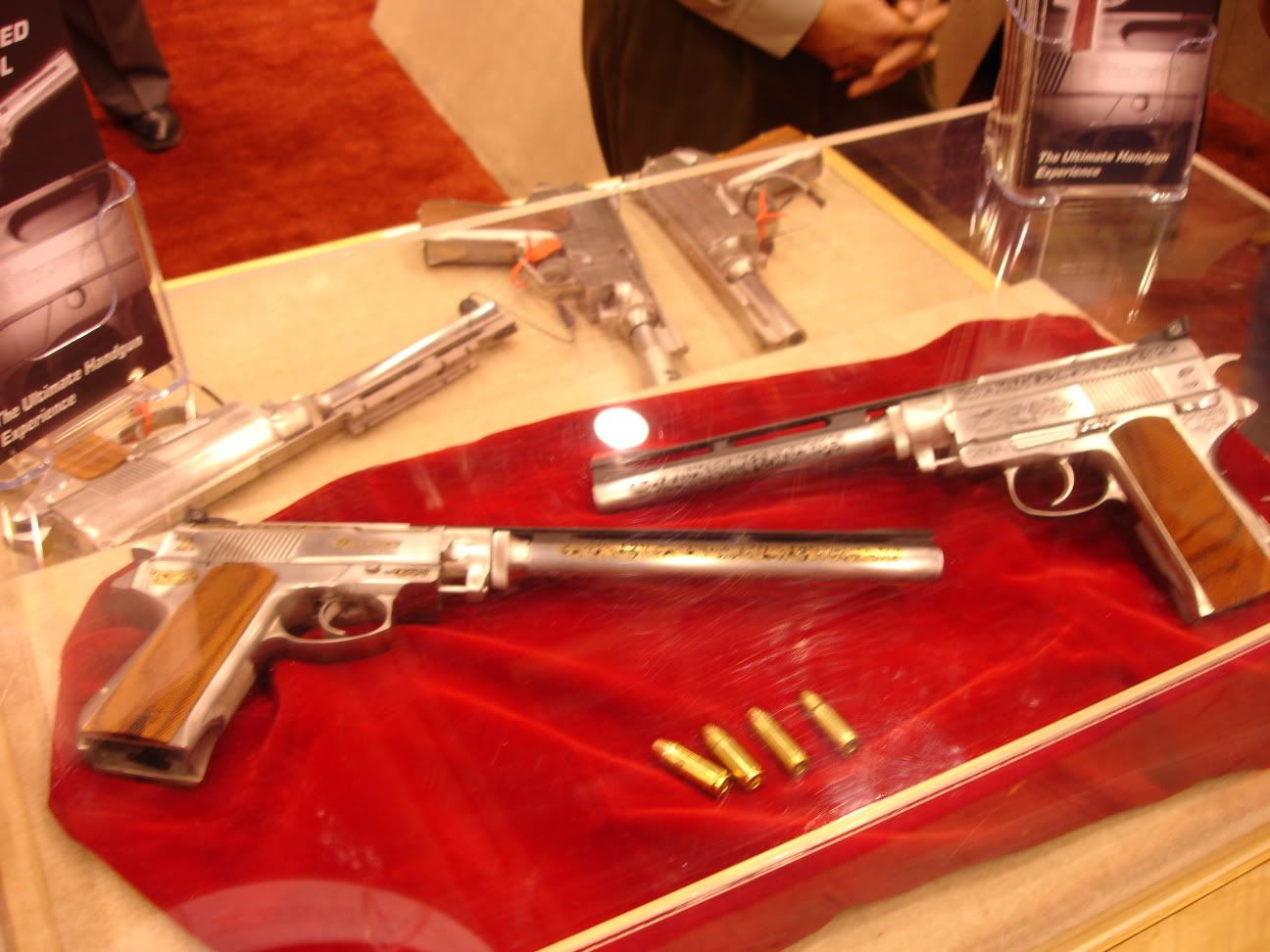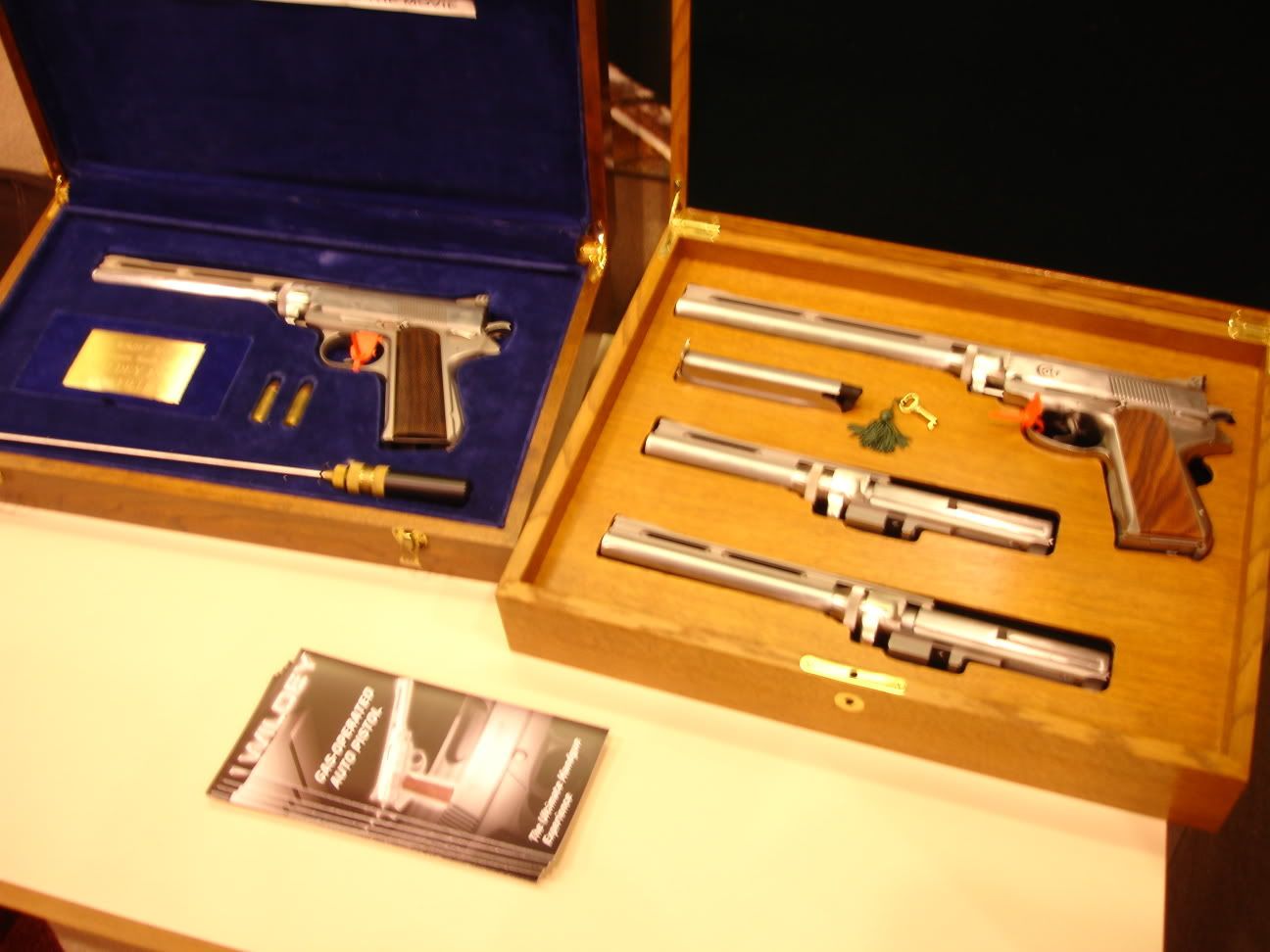 A Colt-marked Wildey. Unique.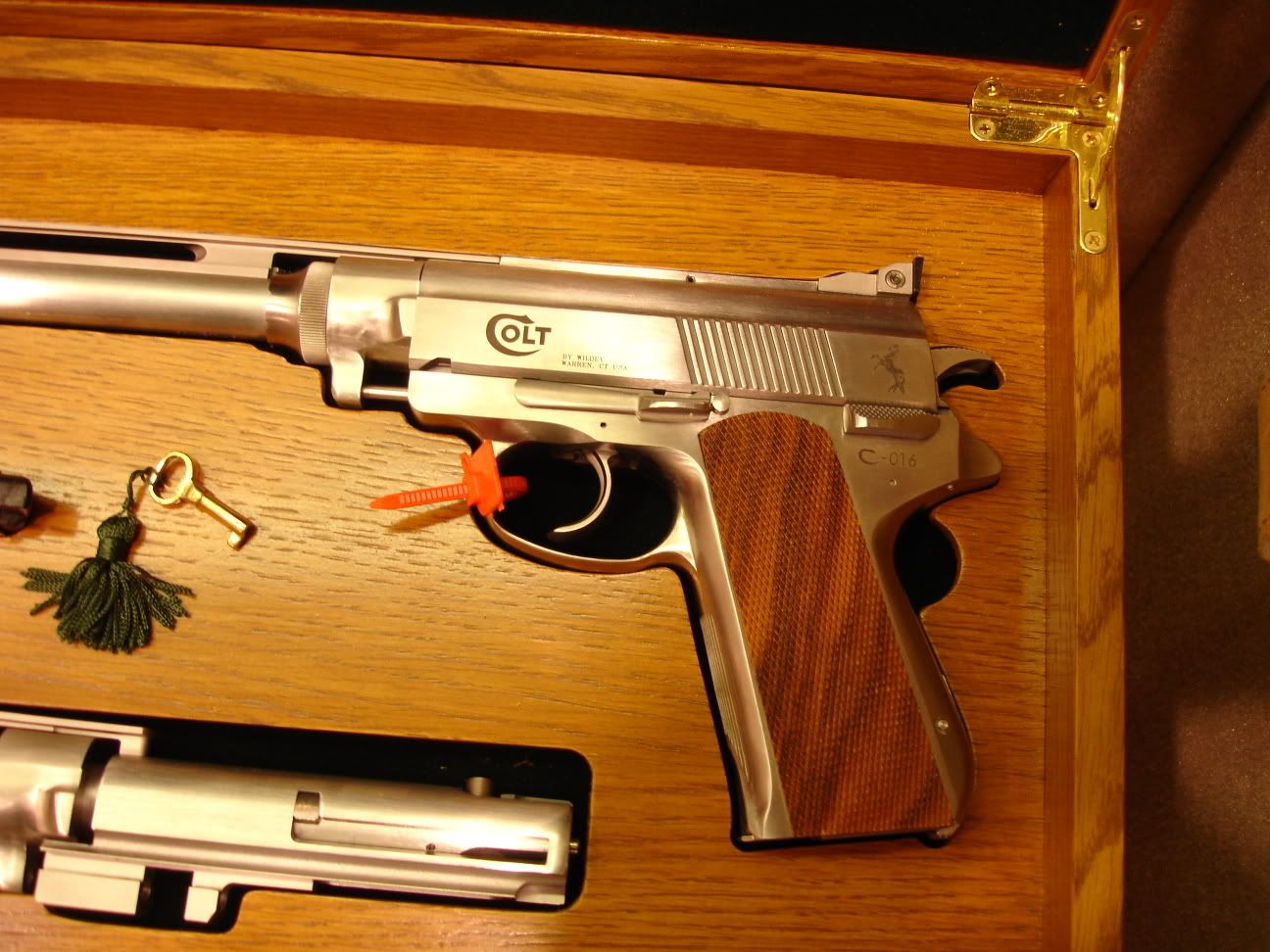 Death Wish III poster, and the exact Wildey used in the movie.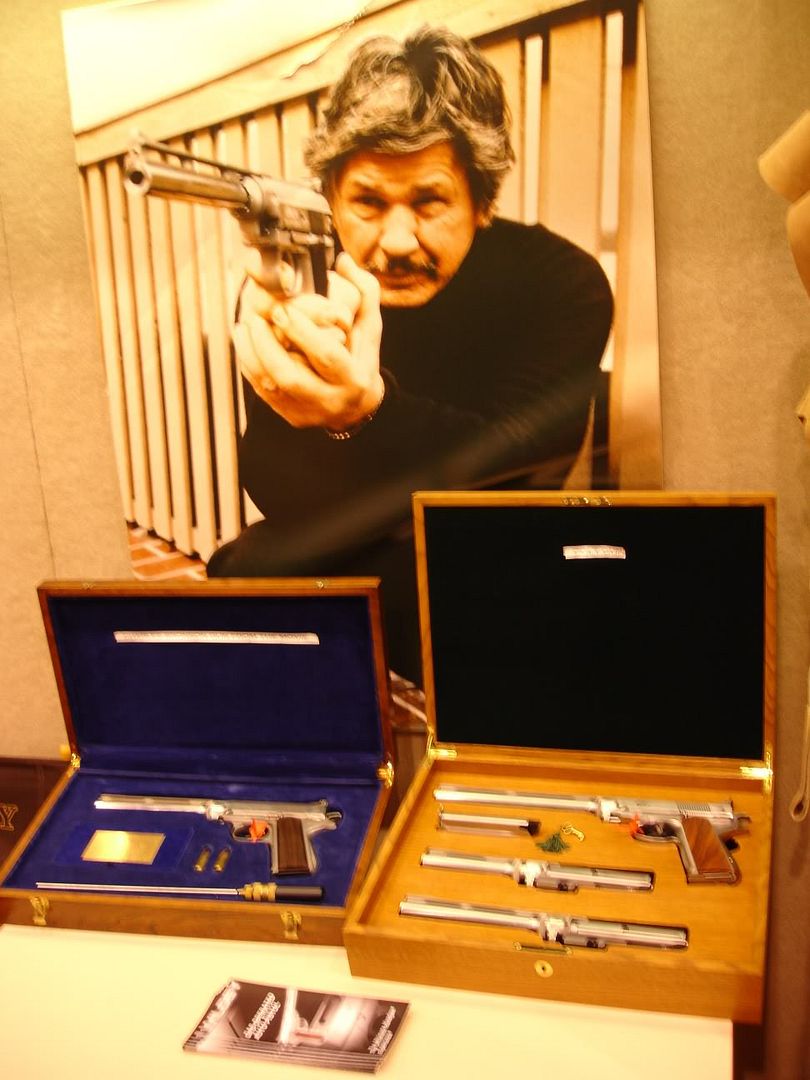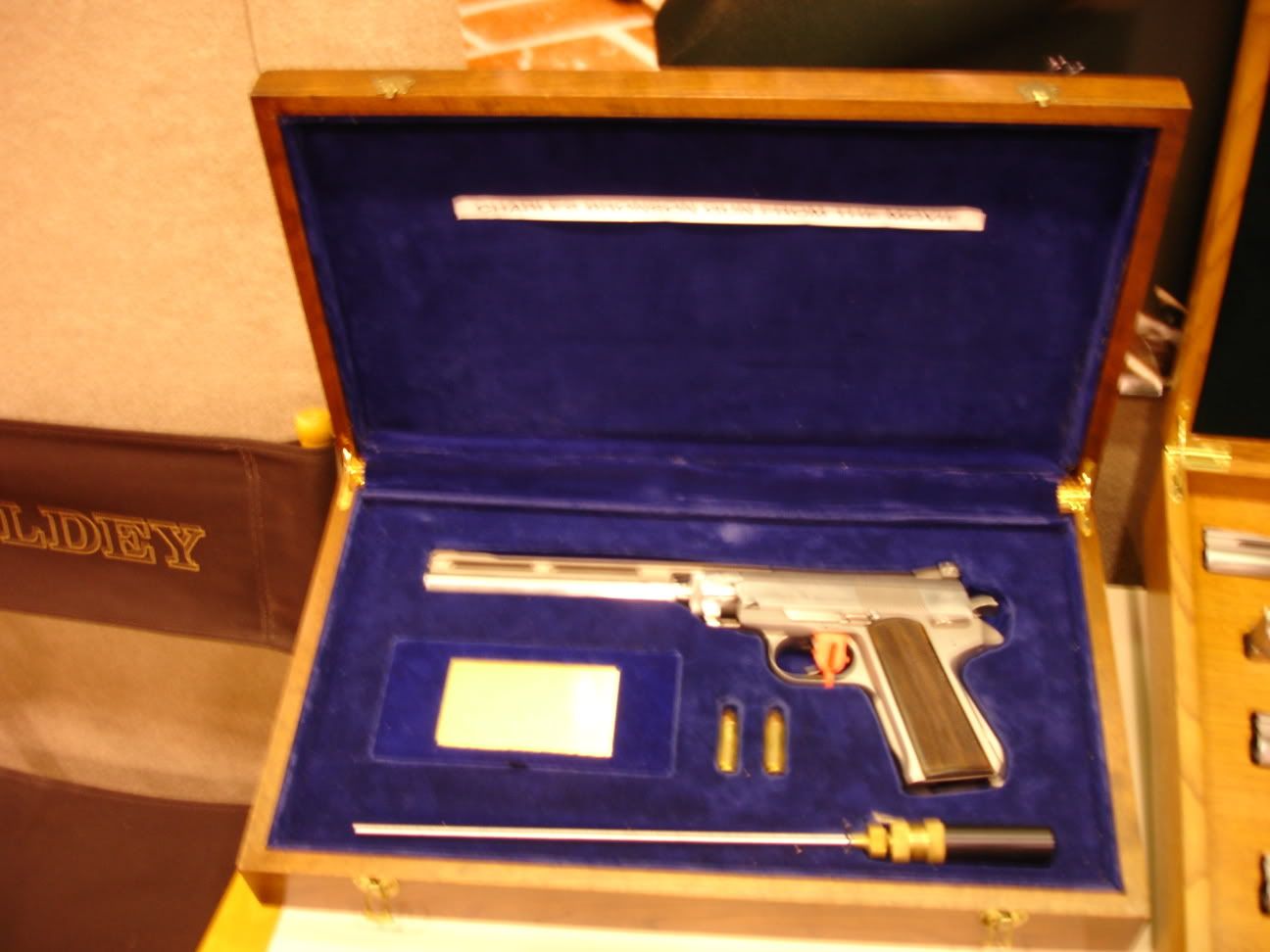 Cutaway Wildey.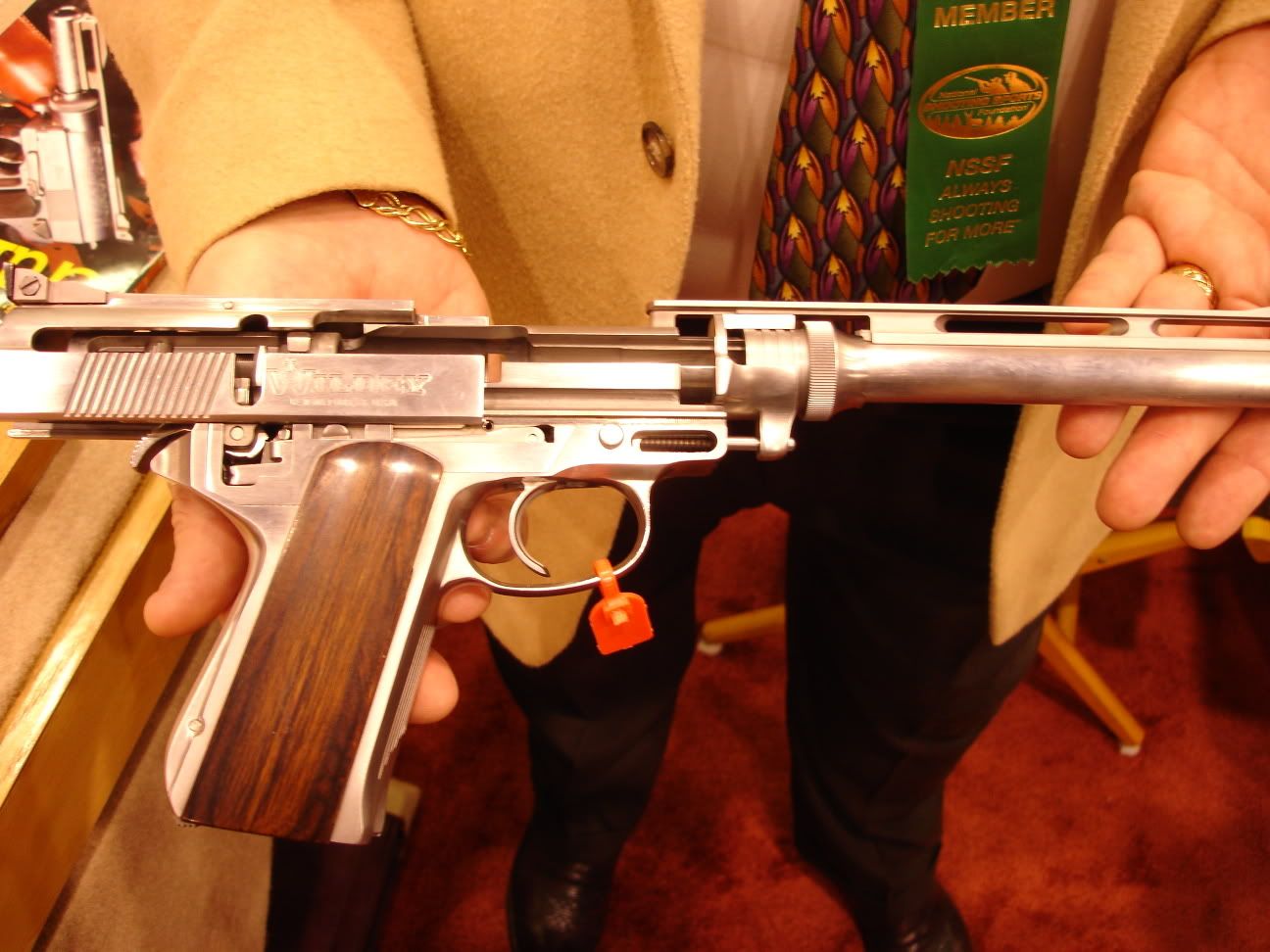 The snubby one is actually their "carry" model Wildey. They make holsters for it.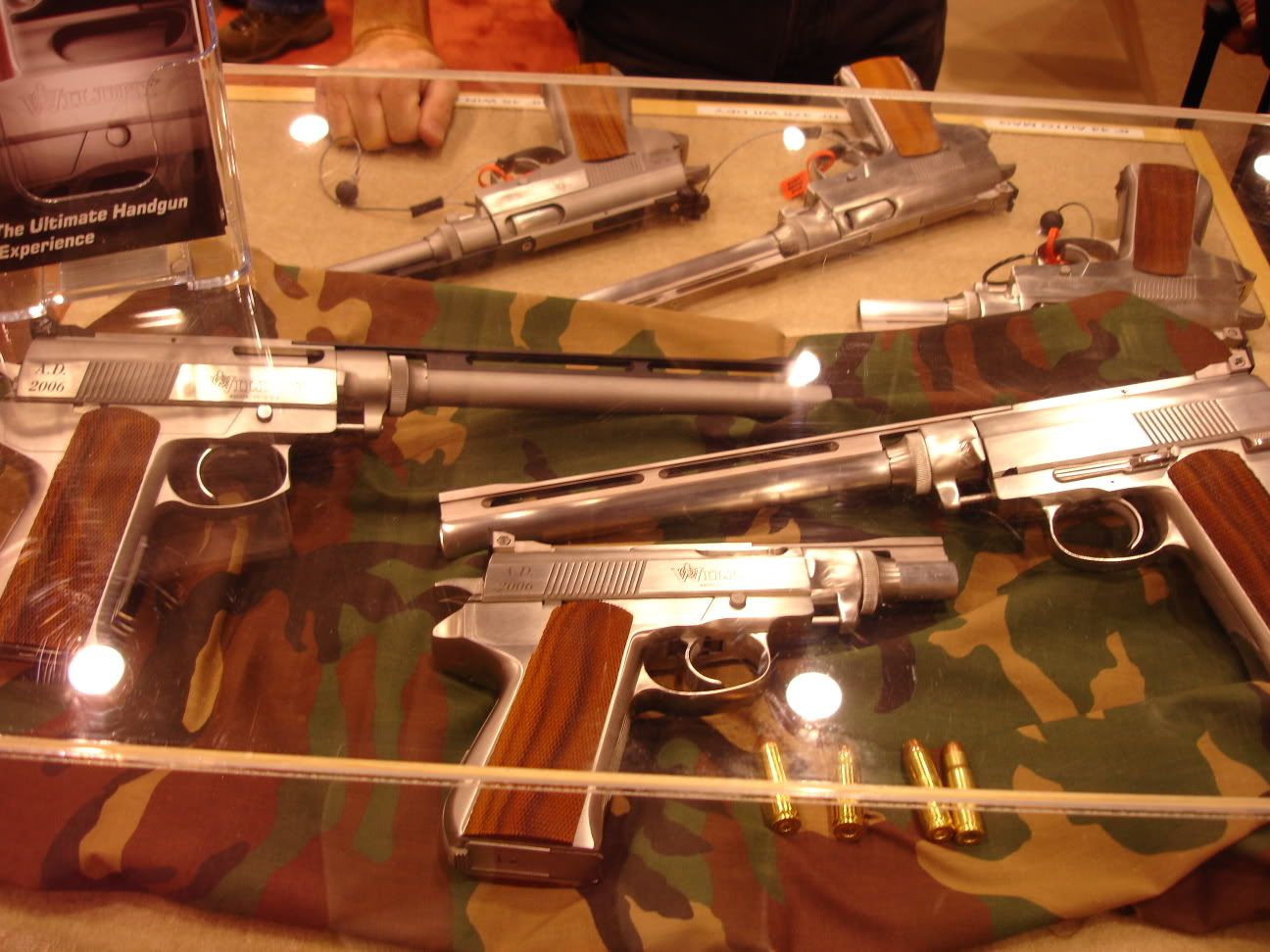 Arsenal's booth. Lots of cool AK's and an RPK.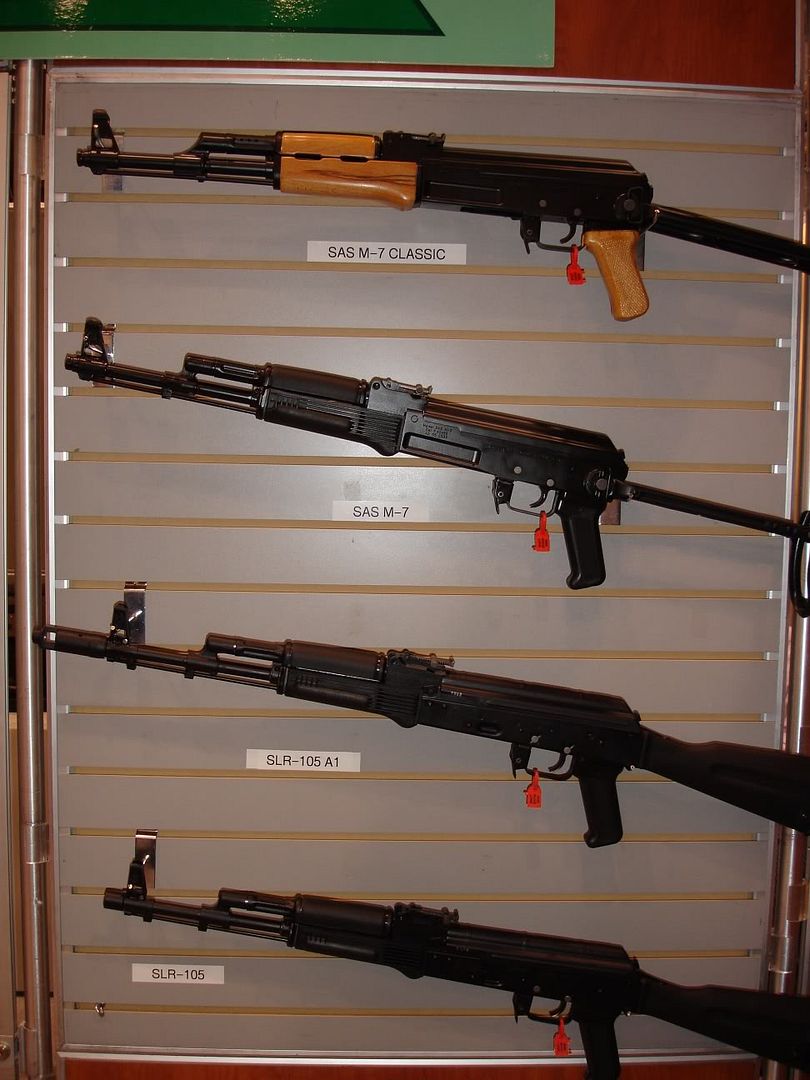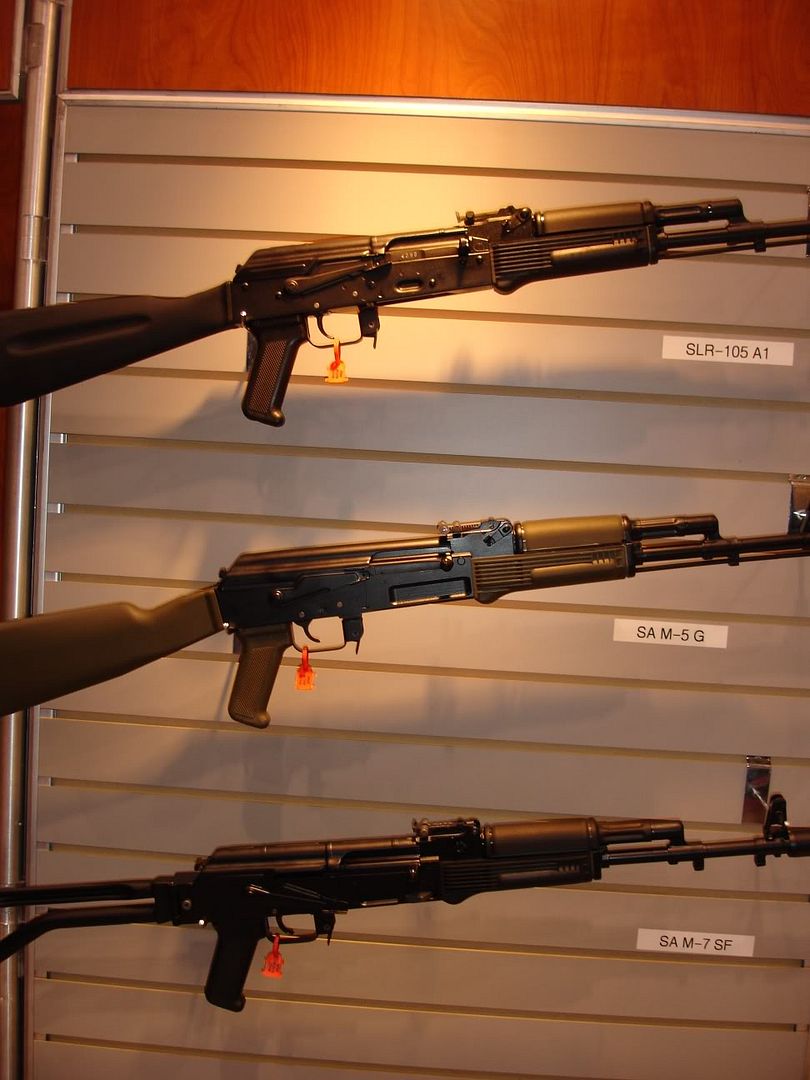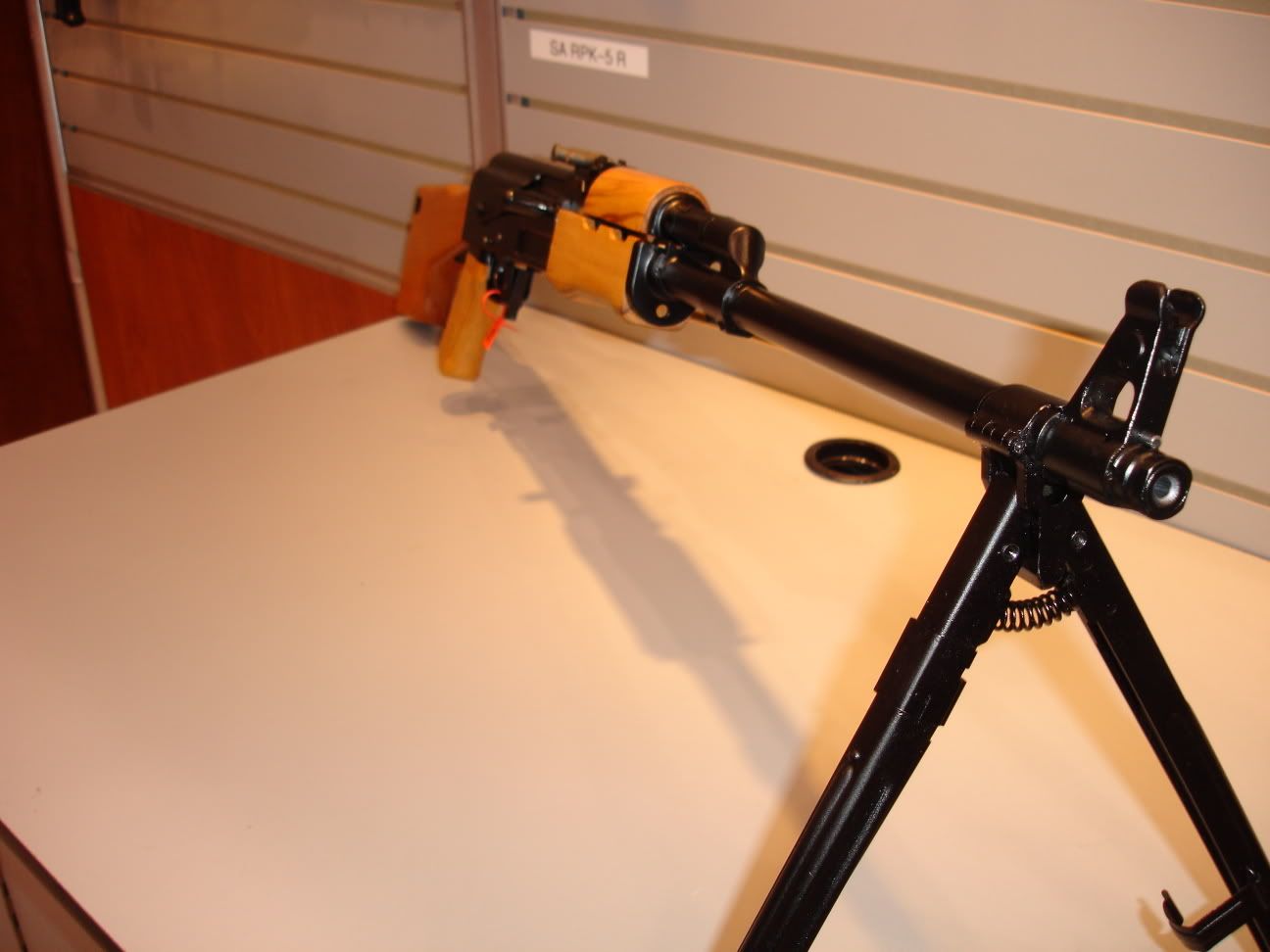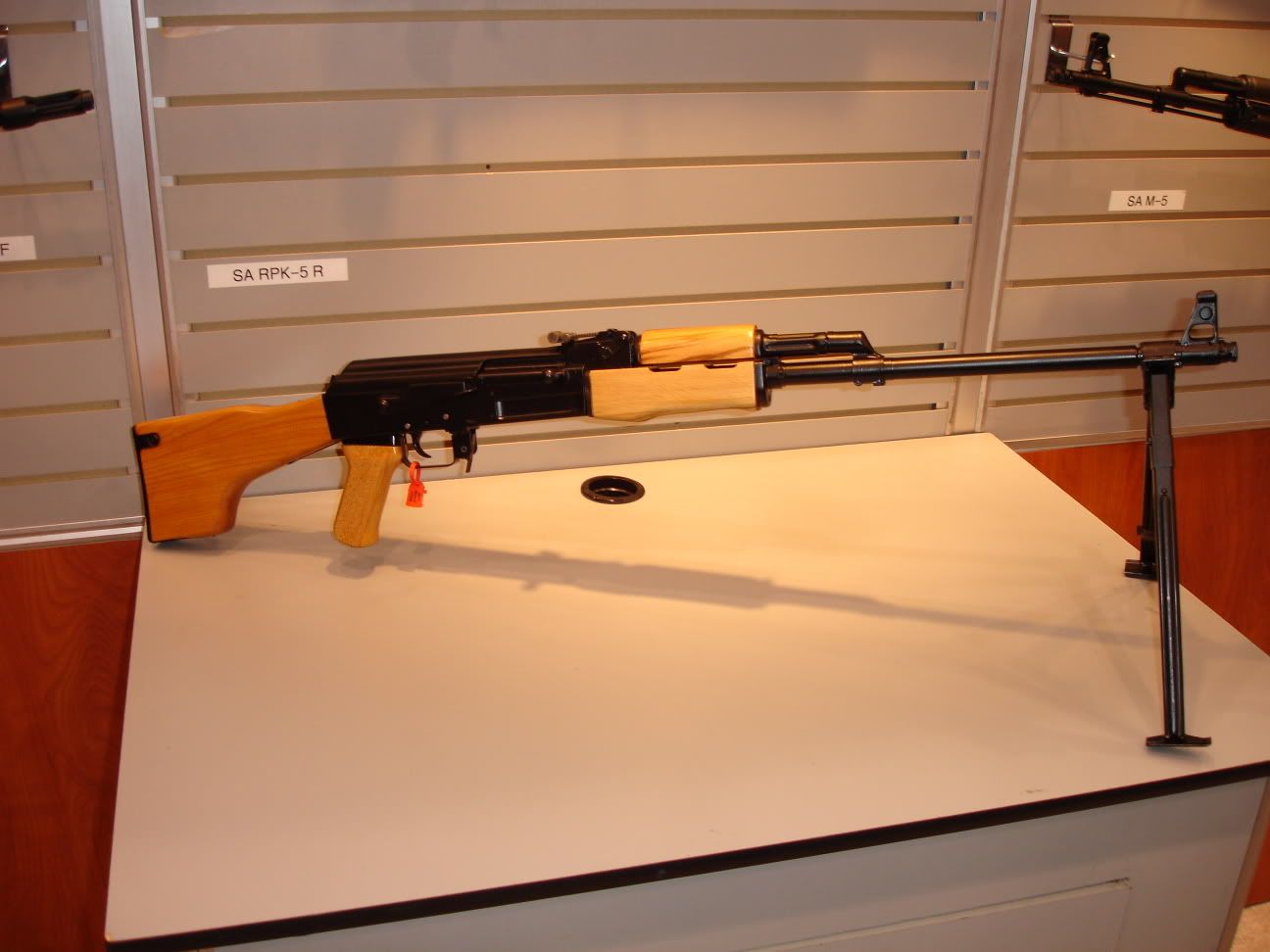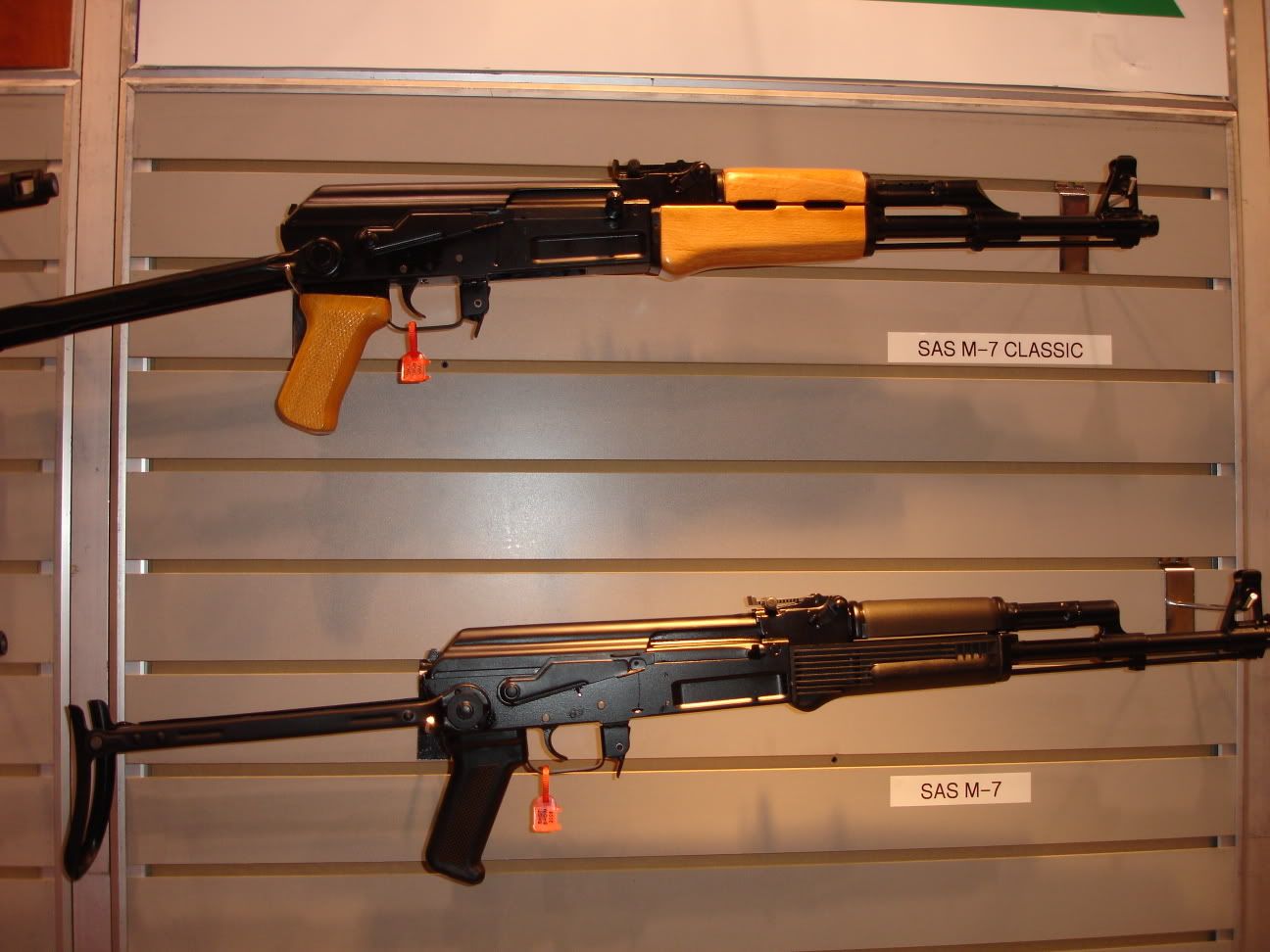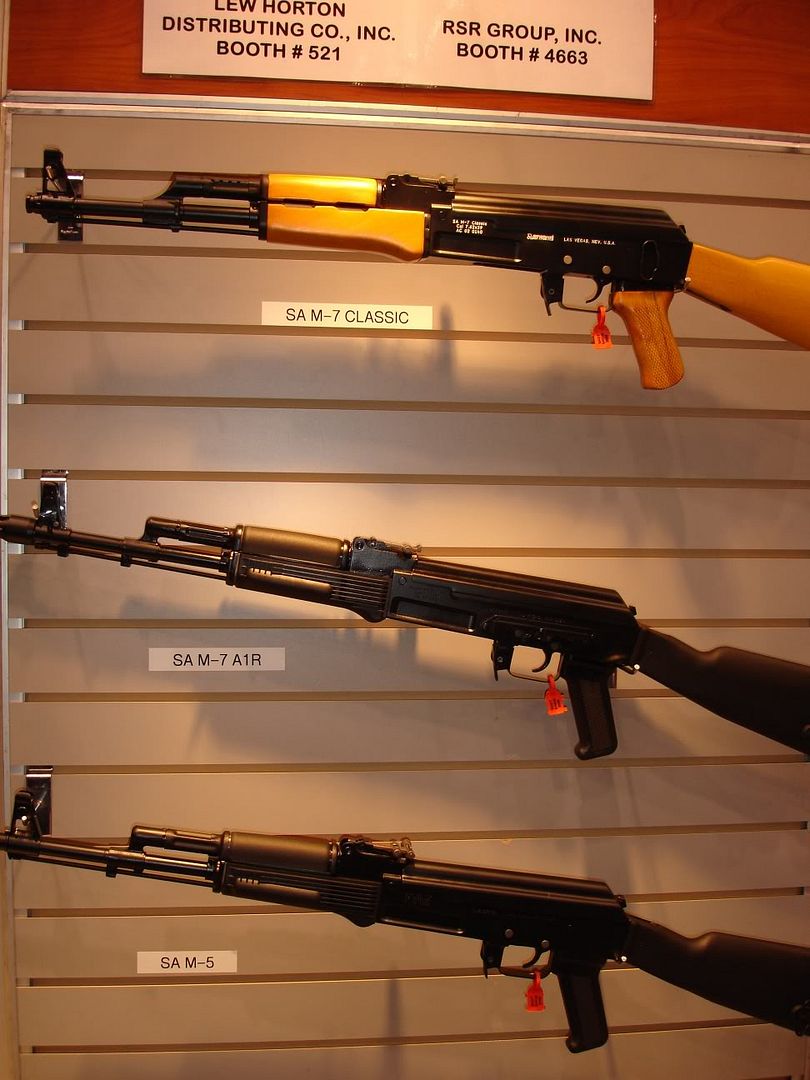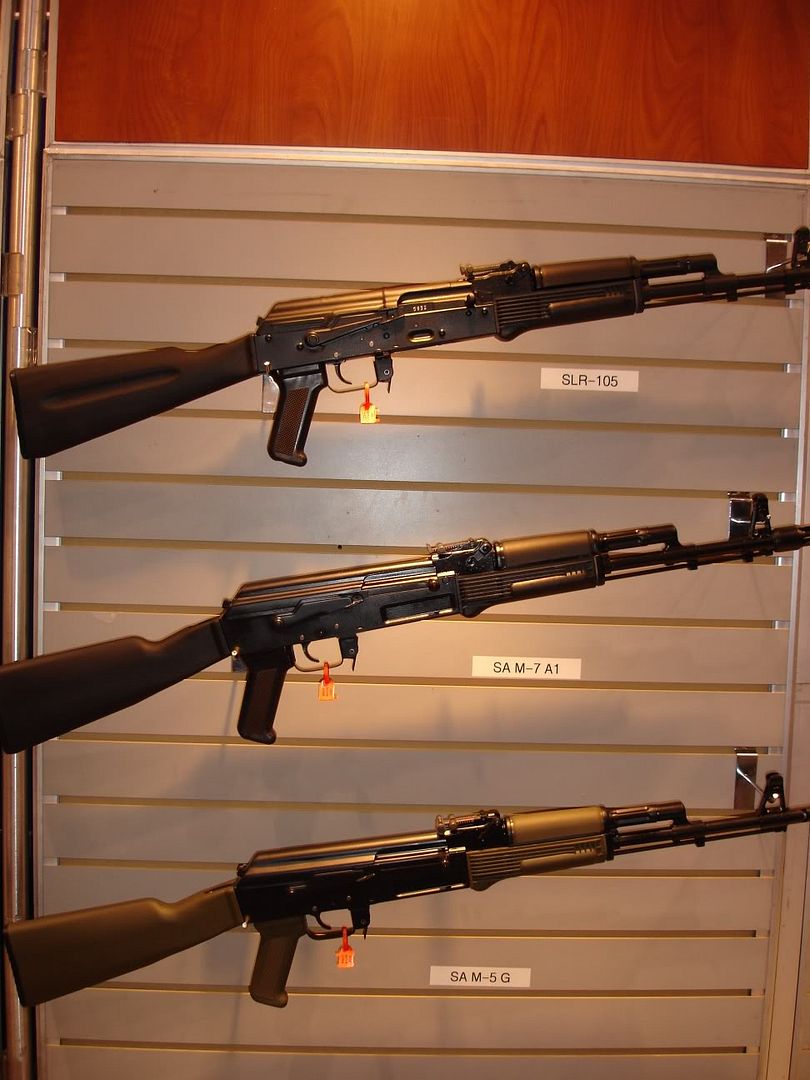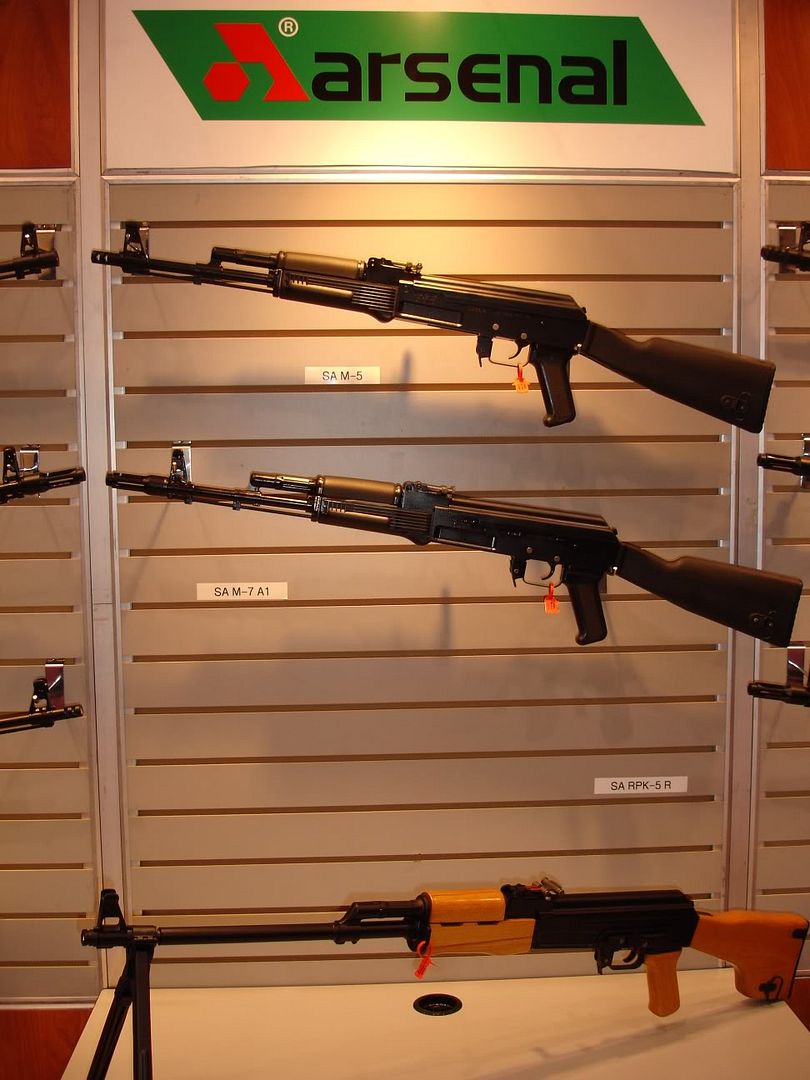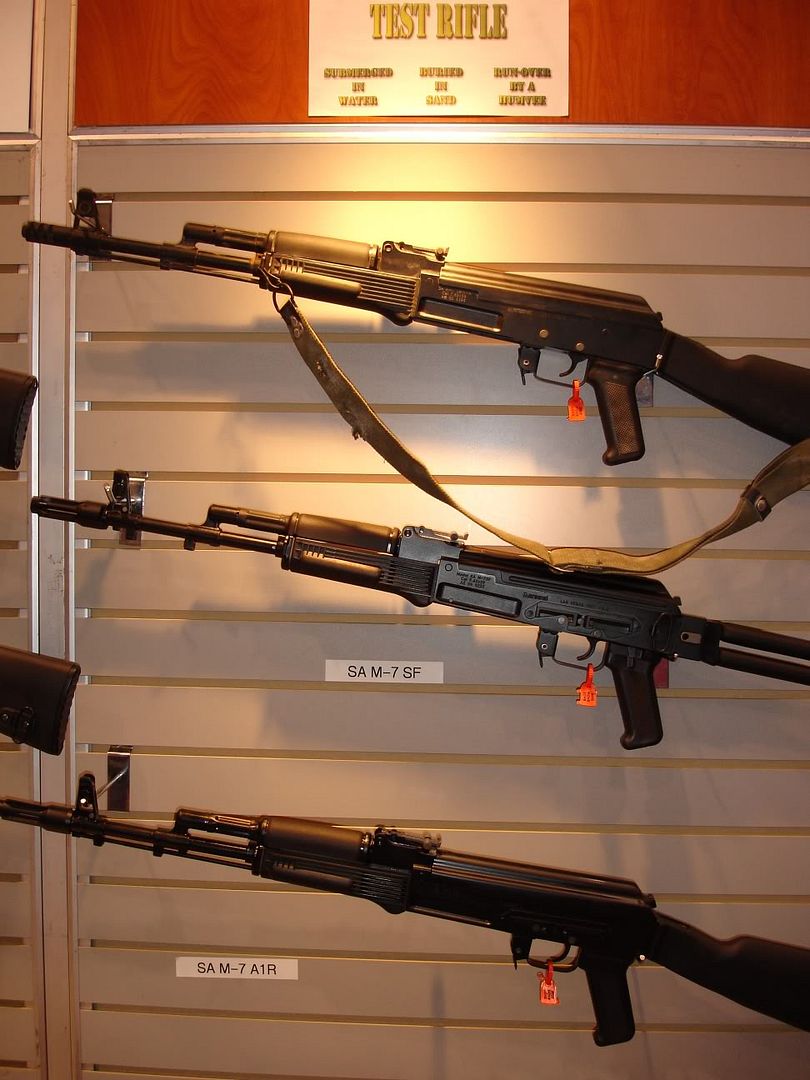 K-Var's booth. Lots of AK, RPK, and Krinkov kits.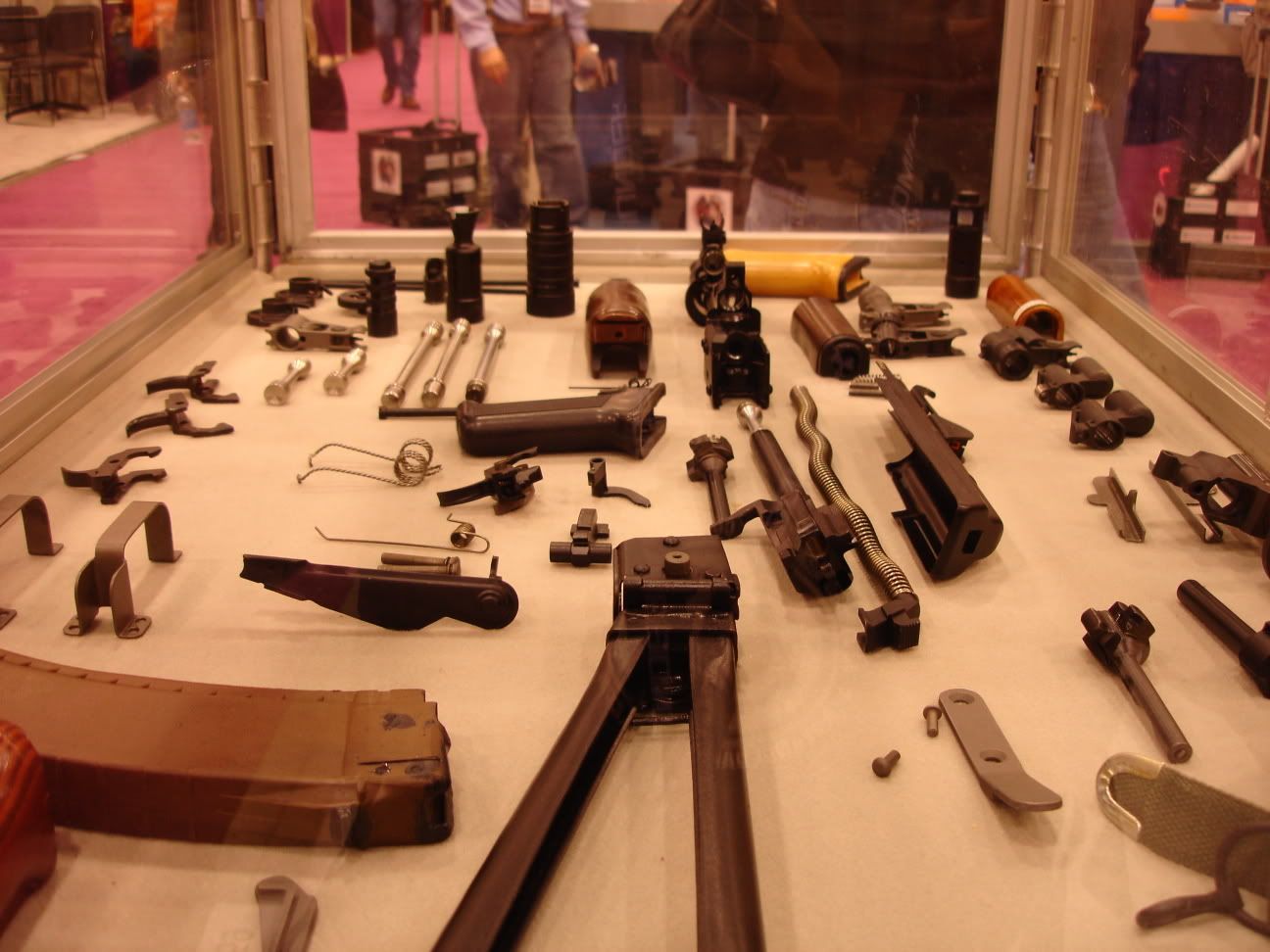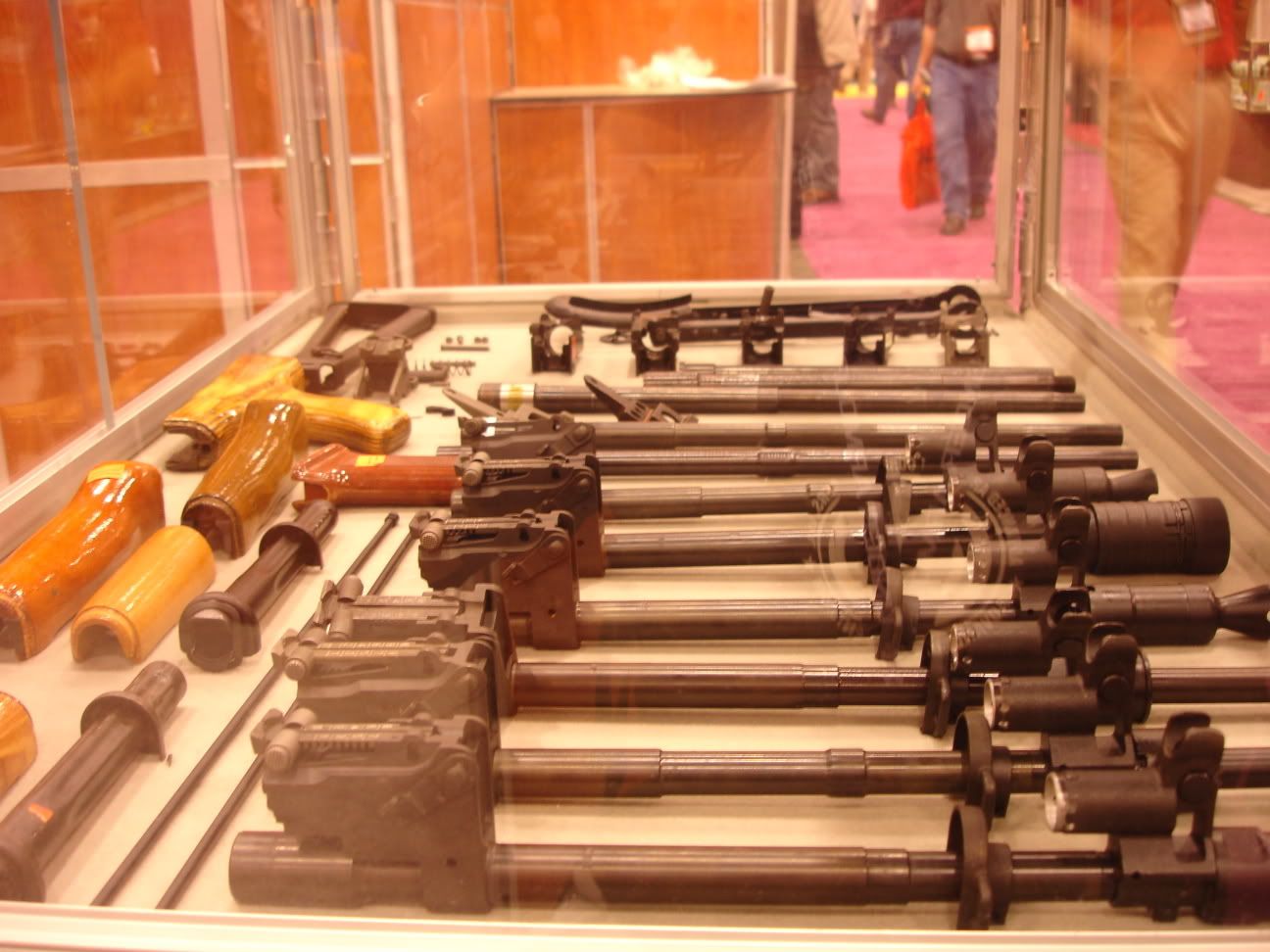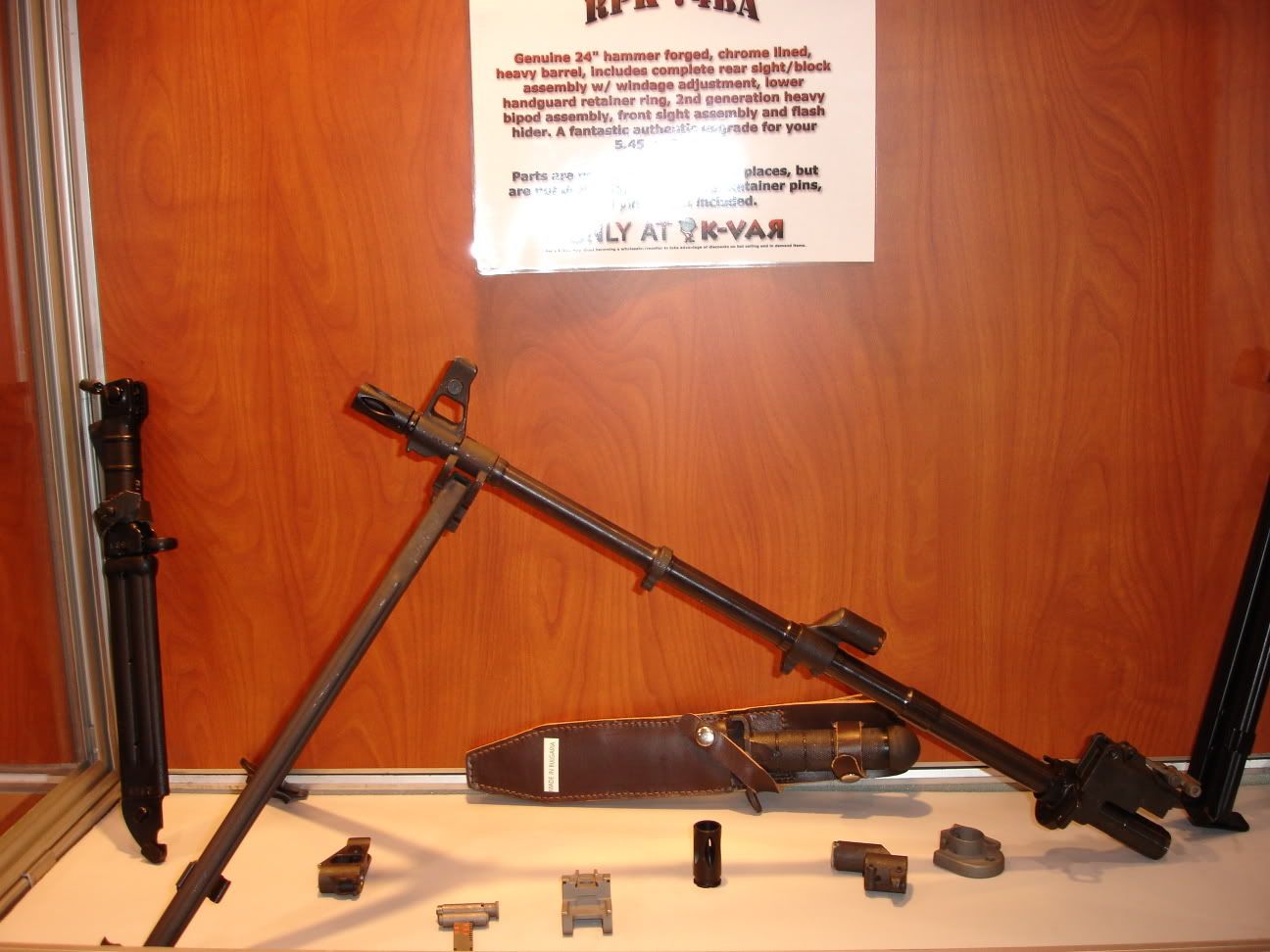 Some new products from Surefire. The Beast II.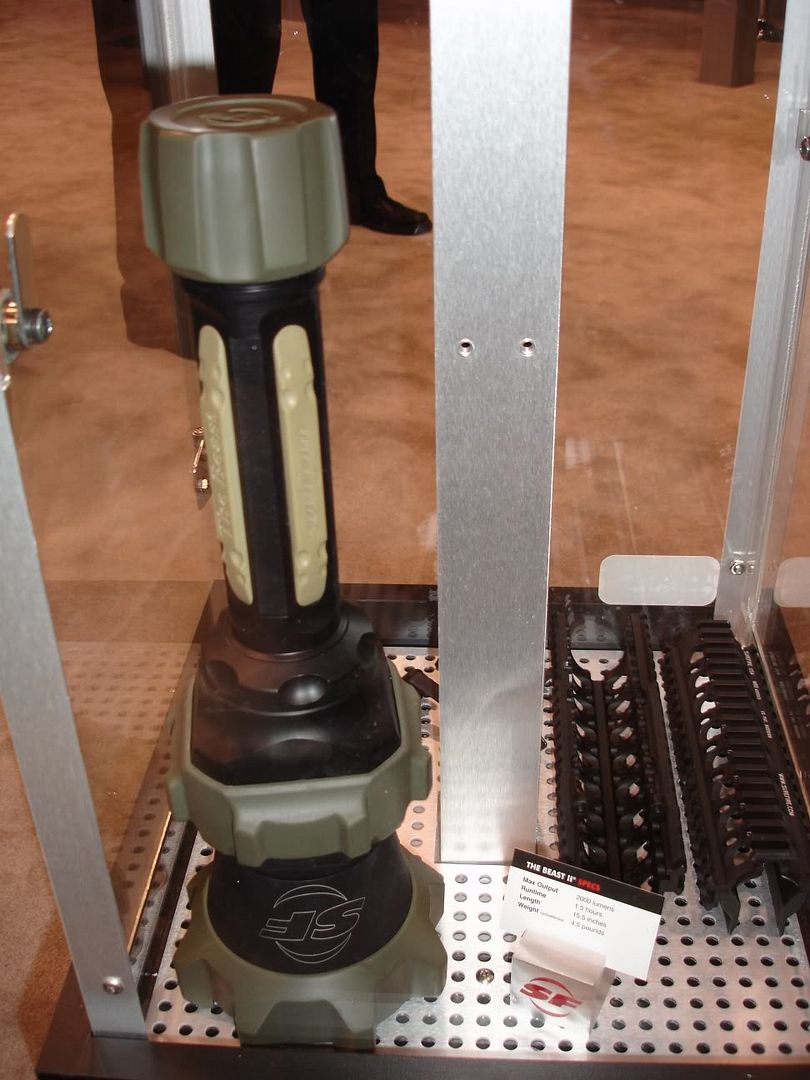 The Kroma. Has too many settings. I don't like it.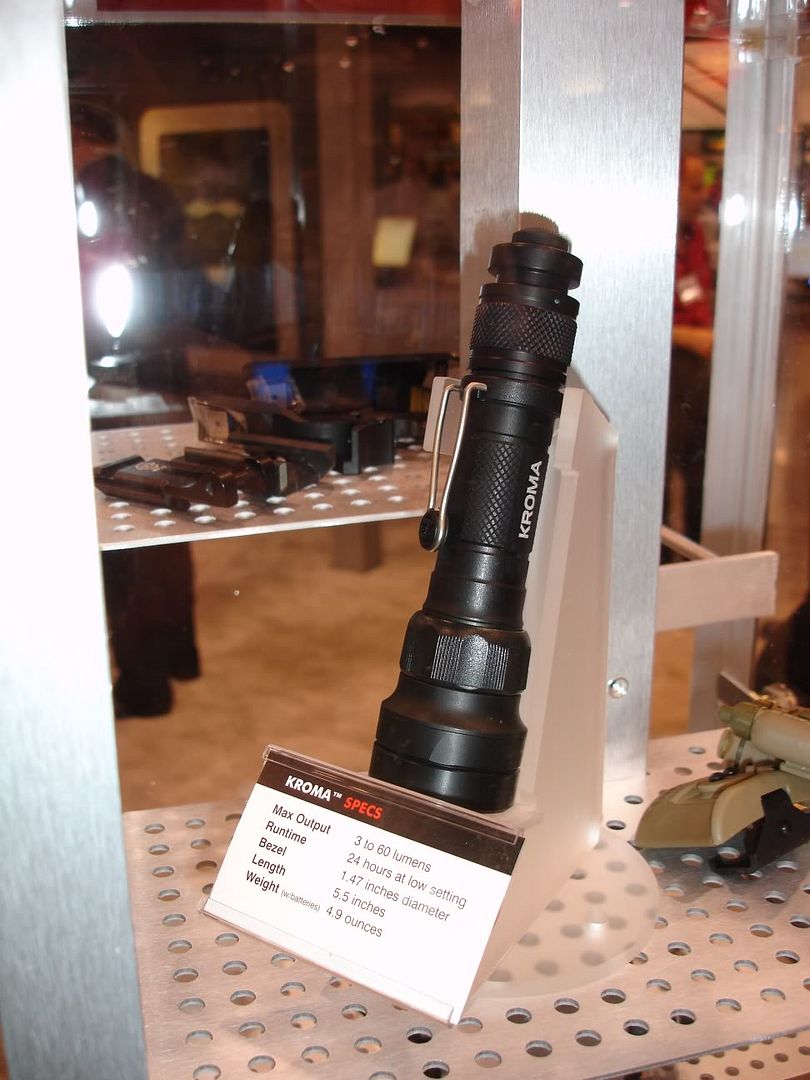 The new helmet-mounted LED headlamp.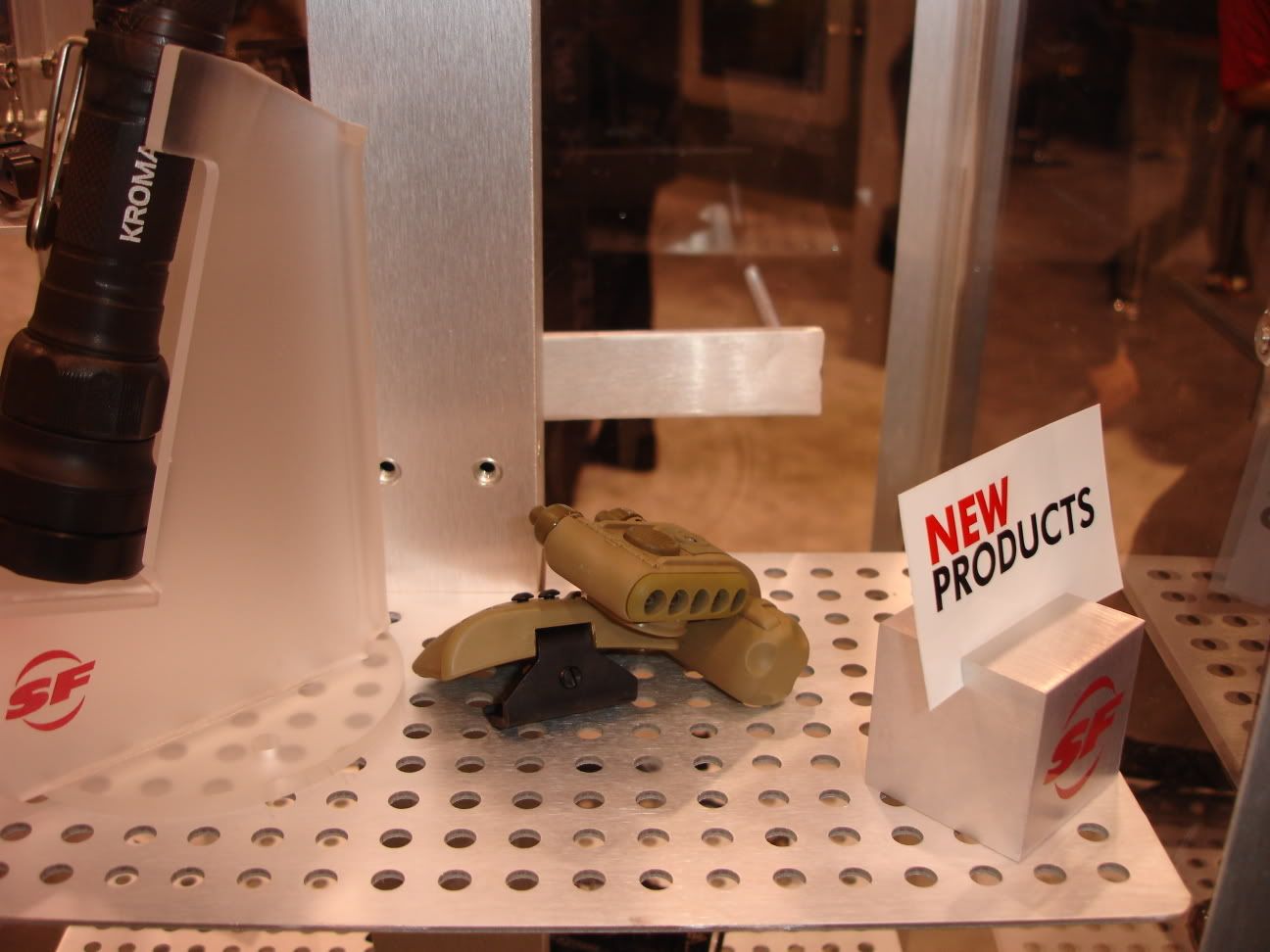 Colt's booth. This is what became of last year's M5. The new Colt pistol upper will be on sale to LE dealers soon, and will from there be available to anyone the dealer wants to sell to. They're going to cost a couple hundred dollars more than the current LE carbines. And they're going to have a monolithic rail platform. This is why the 416 is nothing special. The Colt piston system will squash the 416 (should the 416 ever dream of being a civilian-available model). It's Colt, so you'll actually be able to get parts for it, and it won't cost an arm and leg to begin with.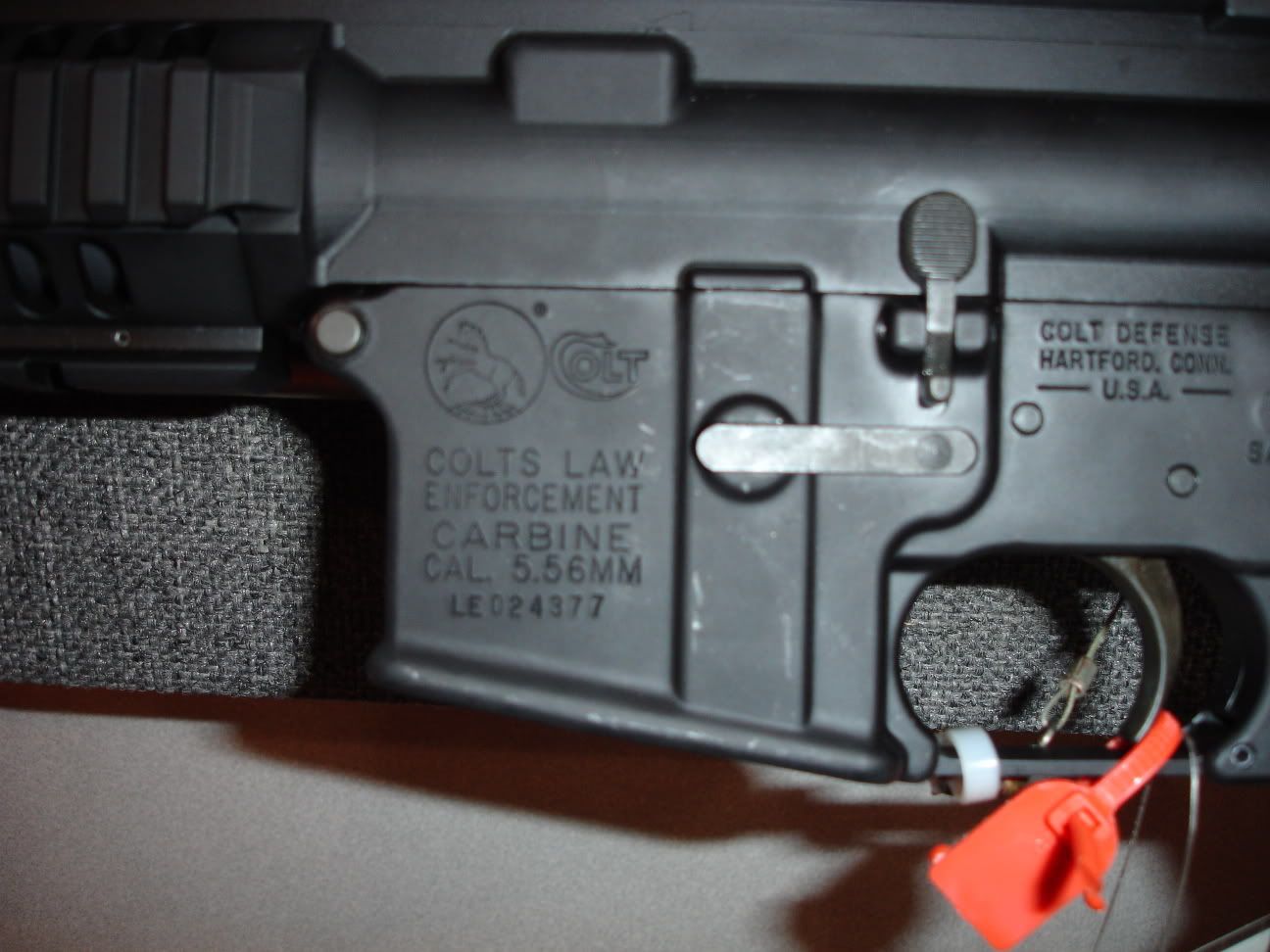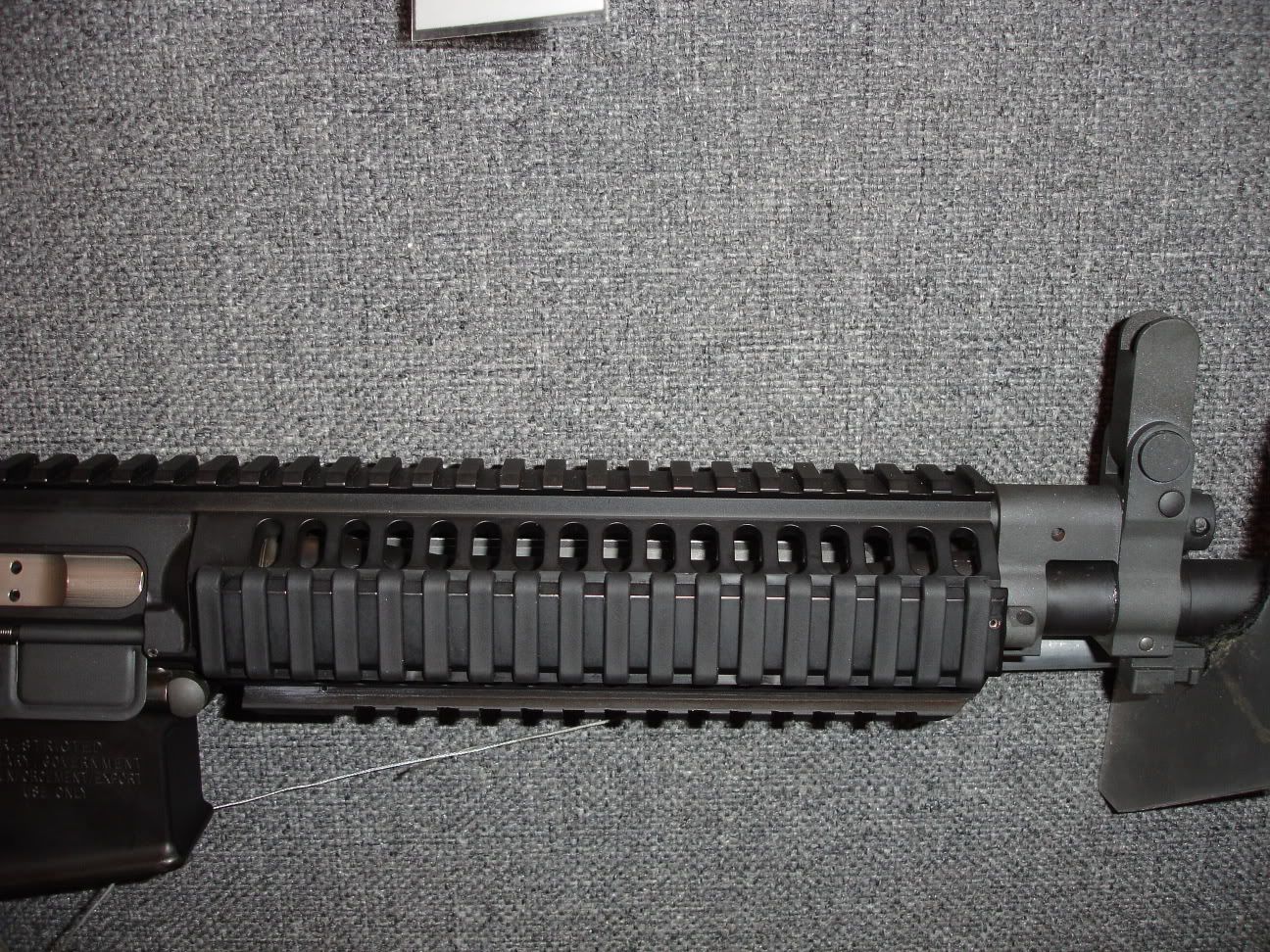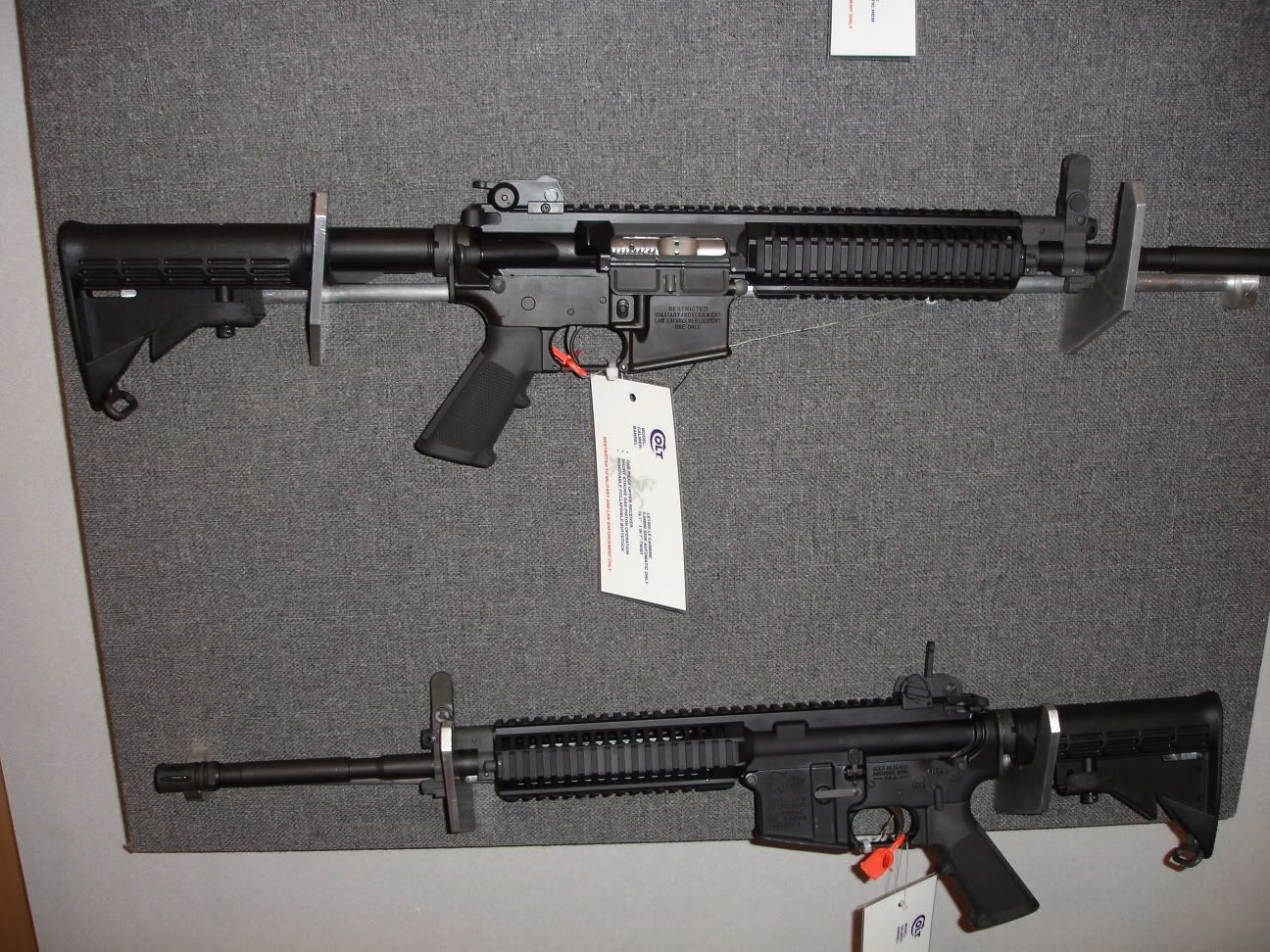 Just a cool 1911 and its group.
An awesomely engraved 1911 that I took about 10 minutes and eleventy billion shots trying to photograph, but the damned case and lighting sucked. Here are the best two.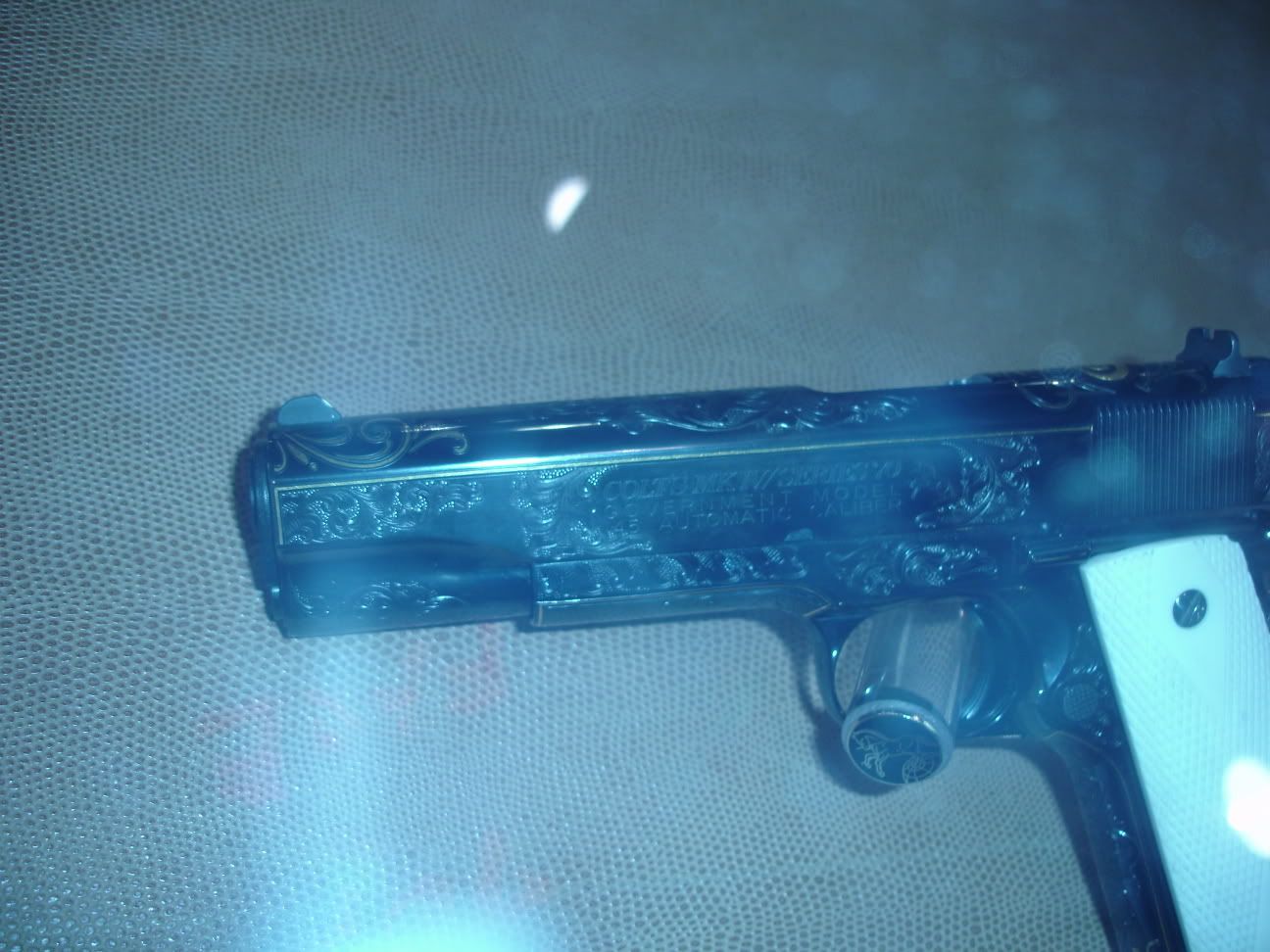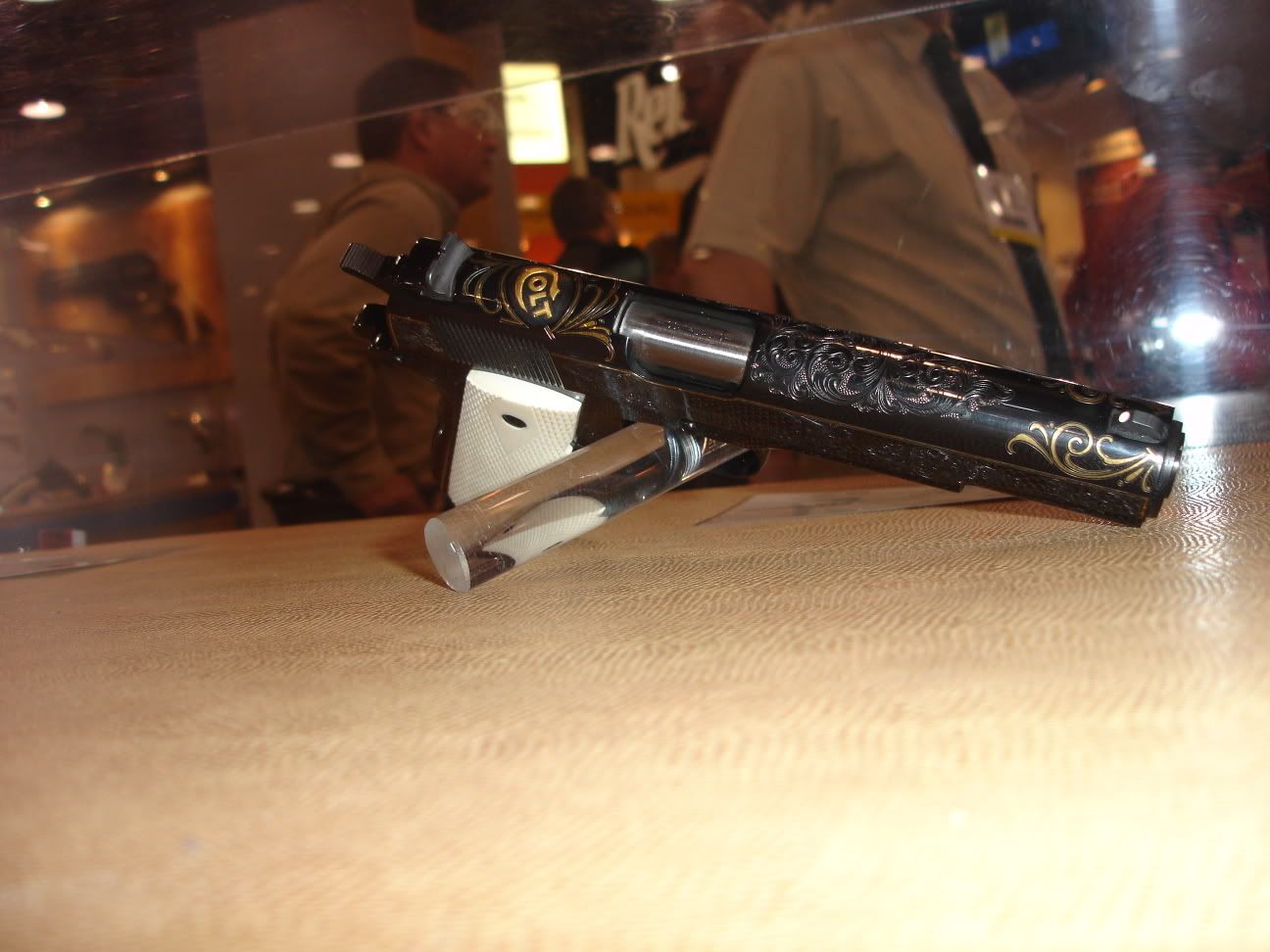 Some prototype Bates in a green color that they were doing up for the Air Force. They're not going to be produced exactly like that. USAF didn't like them either because of color, or something. Anyways, I don't think anyone saw these except a handful of people during one of the pre-show setup days.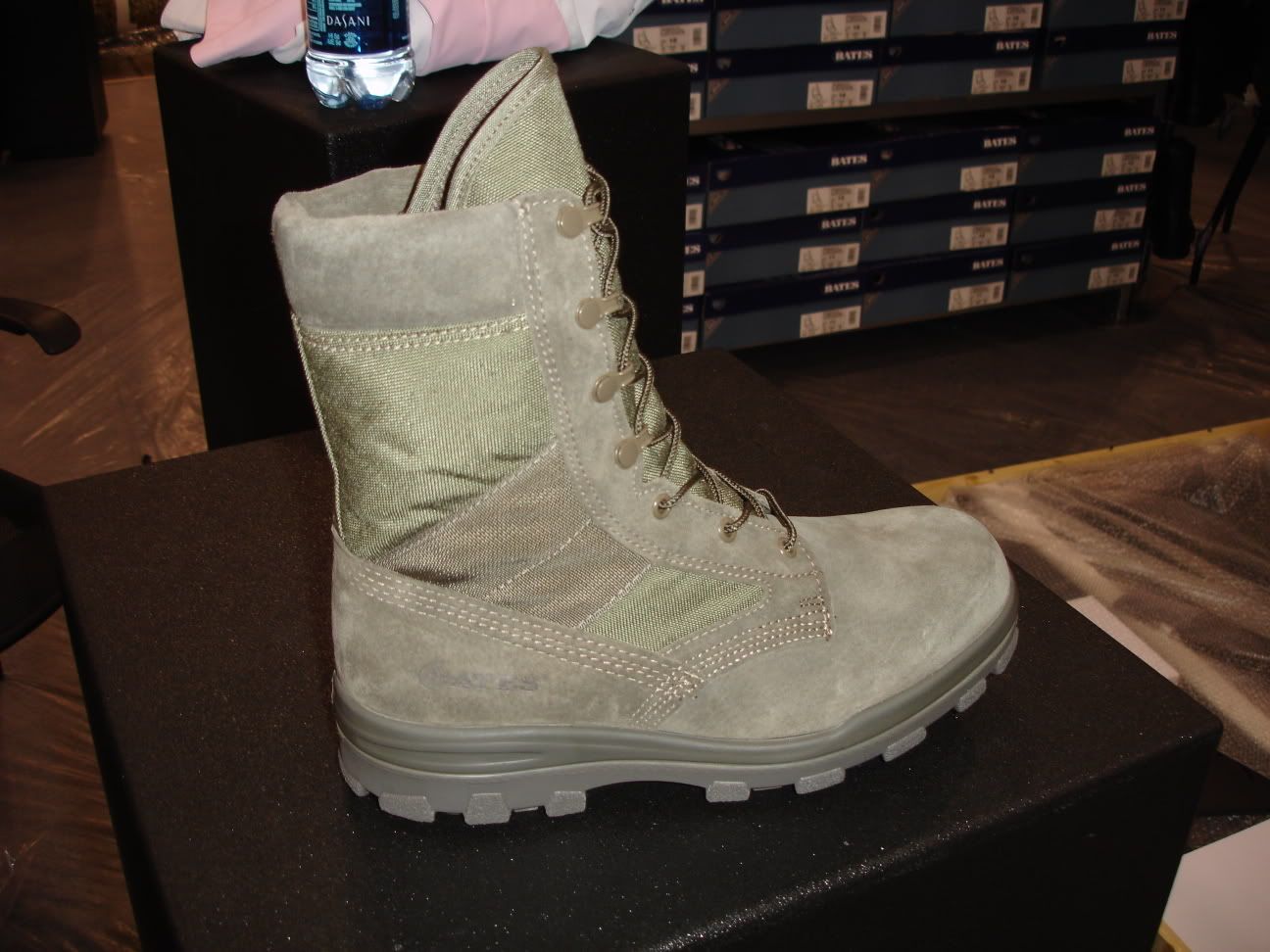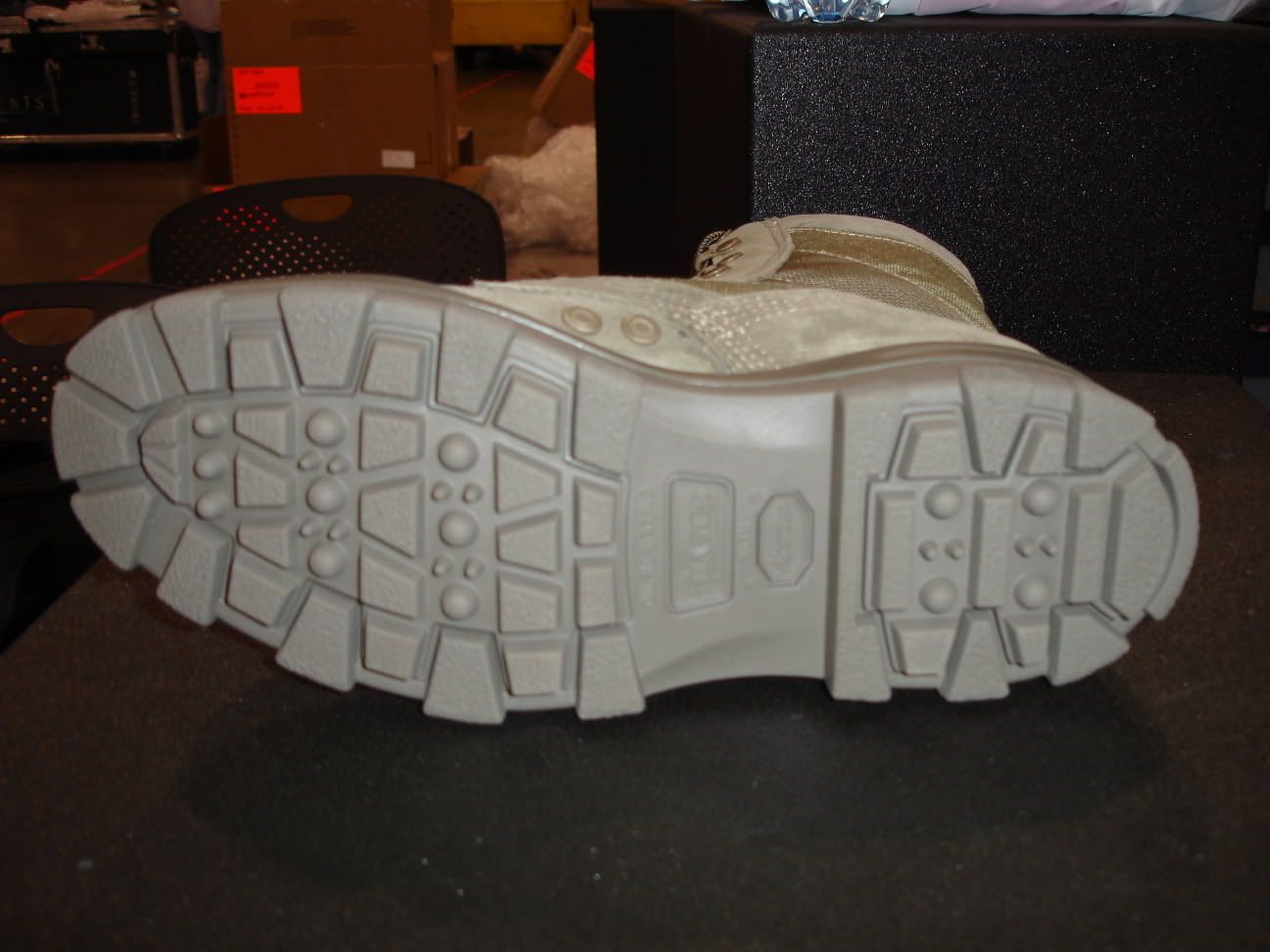 The new color of Bates M6's. It's more of a brown than a tan. They were giving them away, so I had to get some. I broke them in at SHOT, then worked them hard at Red Rock Canyon the day after SHOT. My review of a bunch of gear I used at Turtlehead Peak in Red Rock Canyon is in the Armory forum here.