---
Originally Posted By Stickman:
That picture has been posted here far to often.


Post pictures of your collection instead.
---
I know its been posted alot stick, i just wanted to know hom much that bling was all worth, and i dont really have a collection, im gettin the AR for my bday.
although i do have an old arscorp M1600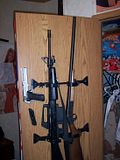 p.s. i hope this works, only 2nd time ive posted a pic