Today I finally got the chance to run out and shoot my coyote enhanced ACR for the first time. I was only able to shoot at 50 yards, but at least I got the chance to get it zeroed and broken in.
I'm still waiting for a tall mount for my Aimpoint T-1, so I slapped the Short Dot on for now. Had a mix of IMI and Guat M193, some 62gr hand loads I made several years ago, that shoot pretty close to M855, and some 75gr hand loads with the Privi bullets and TAC.
Shot about 150 rounds today, when the gas was set on U it ran perfectly with all the ammo. I put my Surefire 556K on, and switched over to S. The gun would either fail to cycle, or short stroke 100% of the time with the M193, and M855. With the 75gr laods, it would cycle about 25% of the time. When it did run, it was a blast with the can. Hopefully it's just a break in issue, or can be resolved.
I only have two real complaints, it's a heavy bitch, esp with the short dot and the can, but I knew that going in. And the position of the right side selector lever sucks. I've seen pictures of the Remington gun, with what looks like a cap on the right side, eliminating the lever, hopefully we will be able to get those at some point, or I'm going to shave it down.
The big surprise was how it shot with the 75gr loads, they grouped the best. Much better than my 62gr loads, and those have been an excellent performer in all my 1/7 guns.
Overall I like it. It's going to end up getting SBR'd, I think that will change the balance for the better.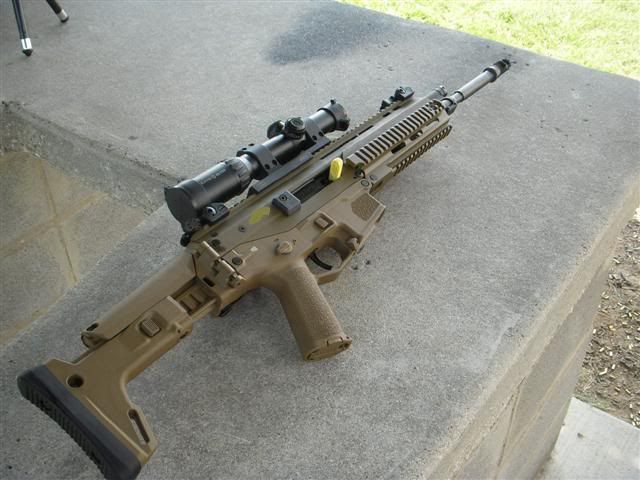 The groups with the 75gr Privi bullets, I know it's only 50 yards, but it seems to like the 75gr pretty well.