I didn't get all of the details, but it sounds like I got HIGH praises from BOTH the employees/owners of the work site I did my work shadow at, AND from my evaluation counselor.
It was with a:
Master Herbalist, Naturopathic Doctor, Iridologist, Homeopathic doctor (though I have my doubts about the veracity of homeopaths) and massage therapists. (6 different people, but most had more than 1 certification/degree/specialty.)
So, only one more "hurdle" to clear so I can do the whole college bit, Therefore with any luck in 18 months or less I can be BACK TO WORK! (Yea!) The degrees I WANT to complete, TECHNICALLY should be about 5,000-6,000 hours w/classroom + out of class.... optimistically speaking this means about 1 year. (1-3 for most folks). A LOT of the "in" classroom" is compacted, most of it will be independent study, given my special circumstances (the MS). It SOUNDS like MOSTLY, only the lab work will be in the classroom.
I'm HOPING that I can do the 5-6,000+ hours in about 10 months, I HAVE 18, but I'm hoping that they will also let me pick up Organic Chemistry at OSU or Central States College of Health Sciences if I can complete the other early, AND it'd be nice if they would also pick up the cost of the "Master Hrbalist" certification.... which MIGHT be possible, as they are getting off EASY $$$ wise w/me anyway. Usually they spend in excess of $30,000... if they pay for EVERYTHING it'll only be around $11,000 plus whatever the organic chemistry course costs.... at OSU/CSCHS.
So I'm hoping I can fineagle that.... <crossing fingers>
The evaluation counselor was really good... initially, I was a bit nervous about what she'd think... I can be TOO "direct"/blunt, which isn't always received well. (I CAN avoid/temper that, I'm not an idiot, but it feels too much like "lying" and I try to avoid that feeling at most all costs). Fortunately, she actually LIKED that about me I believe. The tpoic of "gays" came up the second or third day. I almost never bring it up, but a custonmer of the establishment we were in broached the subject, and was an ass about it. She (the counselor) made a comment about HIM (being an ass). If it had been MY shop, I'd have kicked him out, but as I was a GUEST in someone else's establishment, I just kept quiet, then she made the comment, and I replied, "I don't know if you picked up on it, but I am" (lesbian). "I just didn't see it as my place to call him on his BS, and for all I know, they (the employees he was talking to/owners) agree." Then we discussed that some. I said that I think I'm obvious, but few str8s tend to figure it out, and unless they broach it at some point, I seldom say anything. But as the subject came up, it didn't feel right to NOT say. I also said I didn't care who knew, but that I wasn't an "in your face" lesbian, unless someone was flaunting being het.
The owners/primary operators were GOOD Christian people, I liked that part a LOT. Most of the naturopaths I had previously been exposed to were typically other than Christian, which I'm FINE with, it's just that wouldn't go over so well in THIS area of Ohio, so it was good to see how THEIR practice differed from the practices I had previously been exposed to, usually Pagan/("New Agey"), or Eastern Religion-oriented, some American Indian, Hindu (Aruvedic), or Buddhist.
I'll likely go much more the Christian route than the "others" route... as I AM Christain.. but just as I'm not an "in your face obnoxious lesbian", neither am I an "in your face, obnoxious Christian". I doubt I will have as MUCH Christian paraphernalia as they did, but it will be obvious to anyone paying any attention.
I do know ONE thing I will DEFINITELY display, however, and it's not religious, per se, but it WAS said by a REAL Christian physician.... and it became a saying I have held dear for years... (okay, maybe 3 years
it's still yearS)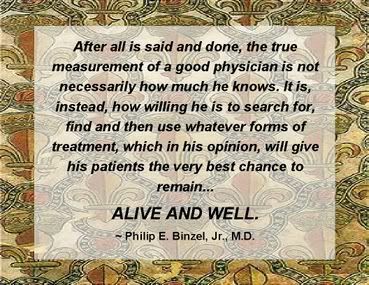 If more M.D.s were as intelligent and as open minded and not so restricted by knowledge, to the point where common sense is ignored, therefore more like him, we would NOT be in such a lousy fix as we are today with health care.
(Of course if people had some SENSE and would actually LISTEN to and HEED the physican's ADVICE, we'd also be better off
but I digress
)
Anyway... yippee! The BIGGEST hurdle is DONE! Now a LOT of bureaucratic BS and hoops. So headaches, but now I THINK it's pretty much all academic.