This is Flash circa 1994. I was a much younger man back then... Flash got cancer at the age of 6 and it got steadily worse rather quickly, R.I.P. I always swore I'd never get another dog after Flash.
This is Blackie a year ago at about one year old. He is now 2 years old (obviously, lol.). He's great with my two small daughters. He is very protective of our family and our property. He is truly a cherished member of our family and gives as much love as he gets. He comes from excellent stock (as you'll see below) and it shows. He's super smart (he amazes me with his problem solving skills at getting food that he's not supposed to have, lol.). Blackie loves sitting on the couch with me and the wife and kids just watching tv as much as he does playing outside.
I once thought I could never replace Flash. Well, I didn't really, but I've sure got a devoted friend for many years to come with Blackie.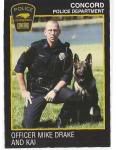 This is Blackie's dad, Kai. He was imported from Germany and cost my fair city approximately $38,000. Kai is now retired and his handler bred him with his A.K.C. GSD bitch and that's where I got Blackie.
Long story short, GSD's are a great breed of dog. They offer companionship and loyalty second to none. Beware of hip displasia problems and ask for X rays. It will save you a lot of trouble and heartache in the long run. Do your homework and you'll get a great dog. Good luck.