---
Originally Posted By John_Wayne777:
Bingo.

We aren't rebuilding what we destroyed.

I dare say that in MOST instances, we are building stuff that was never there. When you hear reports like "Still, there are many areas in Iraq that do not have electrical power" the reality is that those places didn't have power BEFORE the Marines showed up to kick Sadaam's chubby rear end.

We are building a civil infrastructure in Iraq that has never existed there in many areas, or that was in an advanced state of decay before our troops ever got there.
---
+10
I was a USMC Civil Affairs Officer and supported 3rd Bn 25th Marines in the city of Hit, Al Anbar Province, Iraq from June - Sept 2005. Everything we were rebuilding in that city was due to either Saddam's neglect of every city except Baghdad for the last 25 years, or due to damage caused by the insurgency and their IEDs and mortars. Being part of a civil affairs unit, I would estimate that 90% of the stuff we are rebuilding country wide is not due to the actions of the US. Maybe even 95%. The only city we truly trashed, at least from what I saw in Al Anbar, was Fallujah, and that was because the population allowed it to become an insurgent/terrorist stronghold.
From the very beginning the US Military went out of our way to prevent collateral damage. When I was in Hit, the insurgents used to fire mortars at our firm bases in the city and/or our FOB outside the city several times a day. When we started firing mortars back to the point of origin (POO) using counter battery radar and 81mm mortars, the insurgents started shooting mortars from people's backyards inside the city, and we stopped using counter battery fire to minimize collateral damage.
The bottom line is we are dealing with decades of neglect over there. Unfortunately I never made it to Baghdad, but it is supposedly a modern first world city. It has good hospitals, clean water, good power, etc. Saddam wanted it that way because the world saw Baghdad when they saw Iraq, and Saddam was all about perception.
Hit, on the other hand, and the other parts of Al Anbar, which are Sunni and Baathist and were "supposedly" Saddam's people and supporters, had antiquated electrical substations and distribution, water purification and distribution, telecommunications, roads, schools, municipal equipment, etc. In my city council meetings, when the mayor and city council used to try to tell me that things were better under Saddam and tried to blame the poor state of the city on the Marines being in the city, I used to explain to them all the patrols and surveys I went on, where I saw decades of neglect, and ask them, "Tell me... what did Saddam do for you? You don't have clean water. You have neglected schools, You only get power 12 hours a day in the summer. Tell me how he took care of you?"... and they had absolutely no answer for me.
Power wise, the country never had enough power production capacity. In Al Anbar, most of their power comes from a dam on the Euphrates called Haditha Dam. Baghdad has priority for power from the dam. Under Saddam EVERYTHING in the country went through and was controlled by Baghdad. All the power from the dam was controlled by Baghdad, so in the summer Baghdad got the power it needed and the other cities, like the city of Haditha itself, and the city of Hit where I was, got cut down to 10-12 hours of power a day so Baghdad would have its power. And, the citizens along the Euphrates in Al Anbar knew it. So, what did they do? When their power was turned off too much, they go and tear down the power lines from the dam to Baghdad. They know that the dam's turbines are going to produce power, and the power has to go somewhere, so when Baghdad is cut off, the engineers at the dam that work for the ministry in Baghdad send the power back to the cities like Haditaha and Hit. That's just one story of many on how truly screwed up the infrastructure of that country was and is. It will take YEARS to fix the infrastructure, and more importantly to fix the "system" and decentralize control of resources by Baghdad so that the other areas don't suffer.
Regarding the damage caused by insurgent/terrorists, the dam I just mentioned just happens to be guarded by a USMC boat company and at the time a company of Azerbajainis (not sure how they got there since Bush didn't build a coalition and we went into this war on our own...
) So, not only are we fixing insurgent damage, but we're obviously trying to prevent it.
Here's a picture of a road blown up by a SVBIED (suicide vehicle borne improvised explosive device) outside of the firm base I was at. It took down power lines within a 50 meter radius, busted a road, and busted a water main. Guess who's fixing it?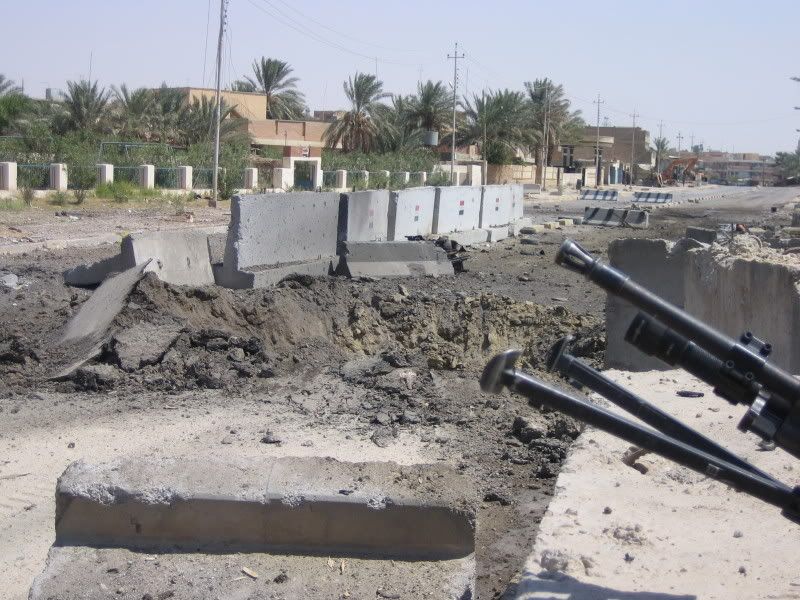 Same day (we had a series of complex attacks that day... it was a fun day), they blew up the only bridge in Hit over the Euphrates River. Guess who's fixing that? Here's the video:
Bridge VBIED
JDC