Well, I've never taken on a building project like this before. I got tired of working "in the basement" and after getting permission from my very cool landlord, I built myself a little studio. My projects are generally my own and other area bands doing demo work, and providing material for a local audio contractor called "sonic arts" for his use in training programs around the US.
Here is the first wall framed out. You can see my setup beyond it. Not very friendly working environment.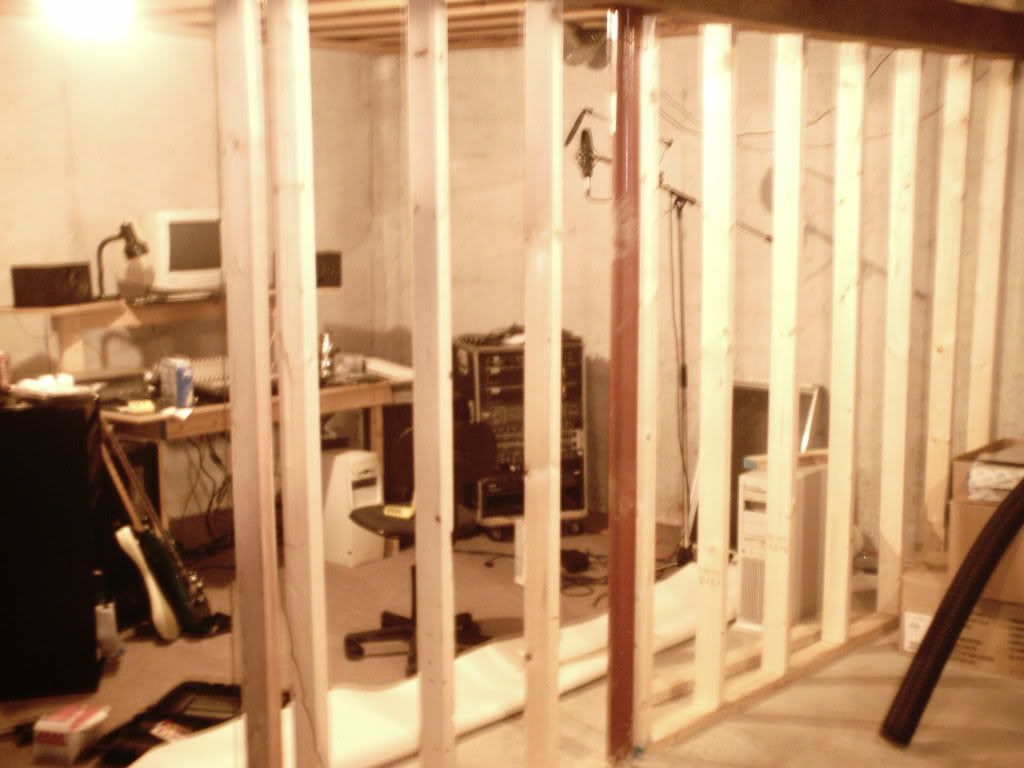 And here is a shot showing the drywall. Putting up drywall is easy. Doing it WELL, is HARD!!!! I also roughed in the outlets and a dimmer for track lighting. Dimmable lights are awesome. Our singer is a licensed electrician, he inspected my work, and did the actually wiring of the outlets and stuff.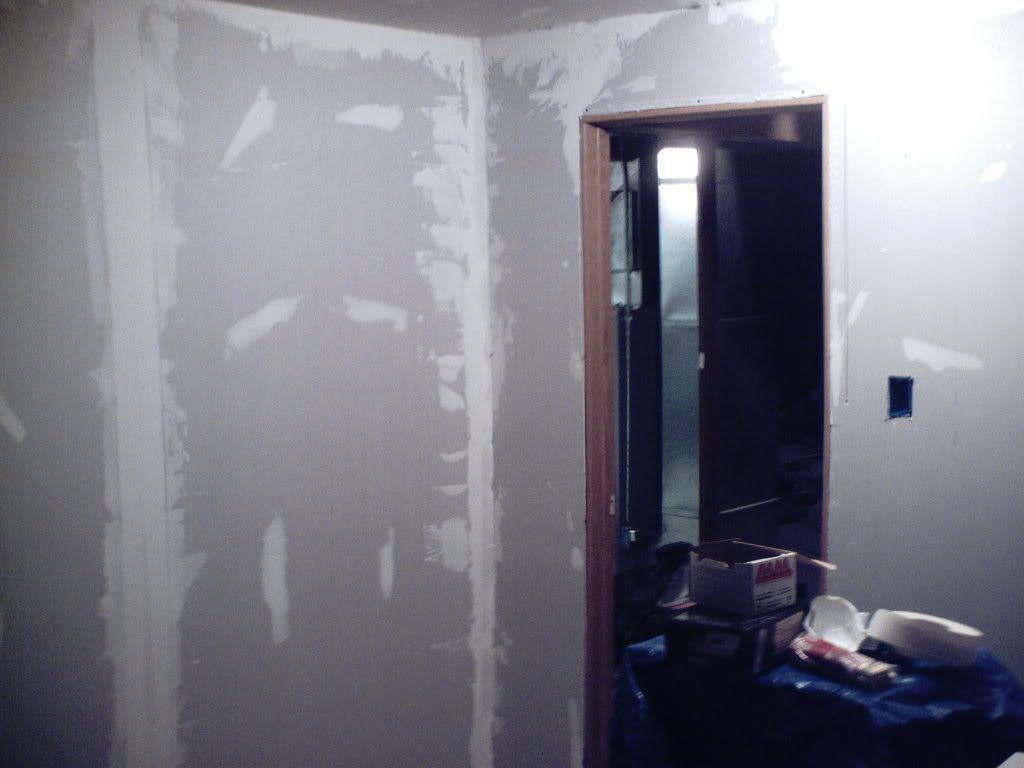 And here is "almost" done. I still need to seal up and paint the concrete (it will be white), but the stuff I want to use is oil based and requires a lot of ventilation. I do have a window, but it's too cold yet, so I'll have to wait until it gets warmer and just tarp the gear. Final step will be applying studio foam to kill the slap.
The big speaks are old Utah Electronics. Yes, they are flown in space. They are pretty decent, but the Motorola mid horns are TOTALLY teh suxxor. I have them taped off, just to tone them down. They are THAT BAD, and they are getting replaced. I don't mix on the big ones, they are mainly for low end and overall vibe. Mixing at high volumes gets tiring.
The gap behind the left hand speaker is there so I can finish the Cat5E wiring to the bedroom above it.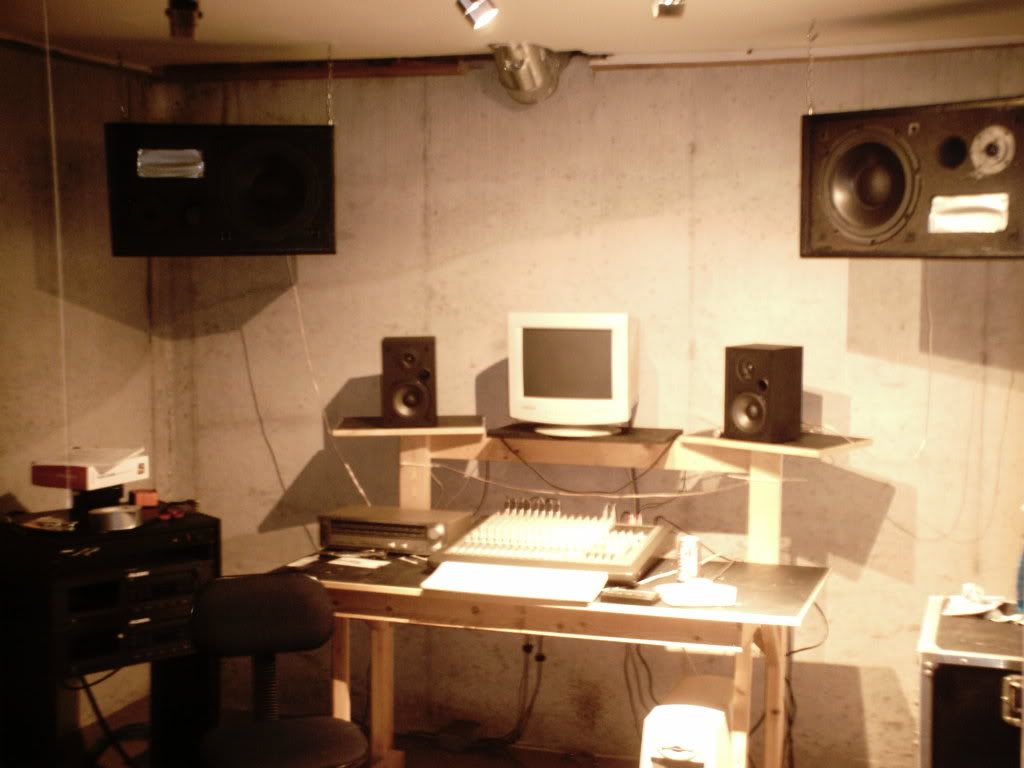 Equipment:
-Tascam 1516 desk. You will never see a Mackie in here.....evar. I just picked up a Tascam 2516, and will probably stick with it. Love the Tascam sound for some reason, and rather than expand channels, I am going to move to Pro Tools LE with the Digi 001 while retaining the ADATS. The Tascam preamps with the ADATS doing the A/D conversion will work out good to my ears. I like working linearly with tape (it's almost an art in itself, especially punches and stuff...and I'm good at it), and also so bands with small budgets can still get a great sounding demo they can be proud to put out there. Yes, I know it's only 16bit. Guess what, the final CD is still only 16bit. When I am spending moer than three days a week in here, I'll upgrade to a better sampling rate on the front end.
-2X Alesis blackface ADATs, total 16 channels.
-Outboard: 4 channels of DOD eqs, 6 channels of Behringer comps, 2 channels DBX 1066 comps, 1 -DBX 163A comp (I use this mainly on bass guitar or lead vocals), 5X gates, Alesis Microverb, and Lexicon. I mainly EQ kick and that's about it. I stay away from EQ as much as possible. If you know gear, and you are looking at my list, you know why!!! Actually, I prefer to get "the" sound at the mic. Can't polish a turd!!
-PC and Software: Currently I mix to the hard drive, edit, and master using Sound Forge Audio Studio, through a M-Audio 24 bit sound card. I have worked with earlier versions of Sound Forge, and really like it. I couldn't afford the full version, but will upgrade sooner or later.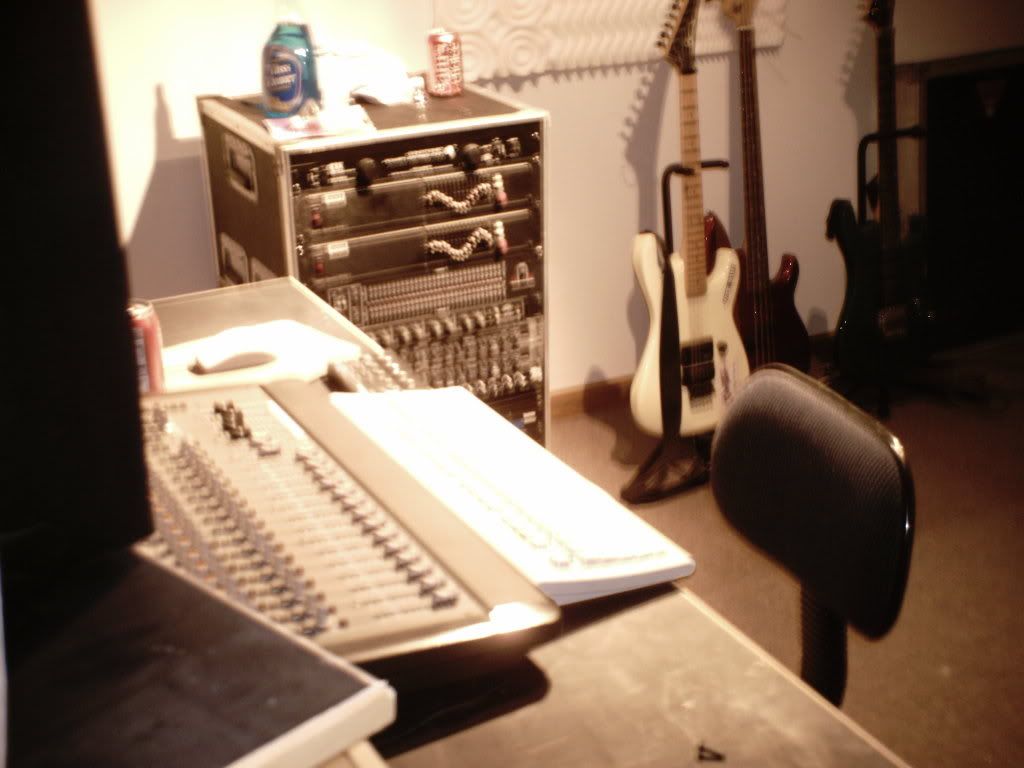 We will be doing a demo for our new band Category X here, and also recording stuff for live tracking (click track, some guitar stuff, and some vox).
www.categoryx.net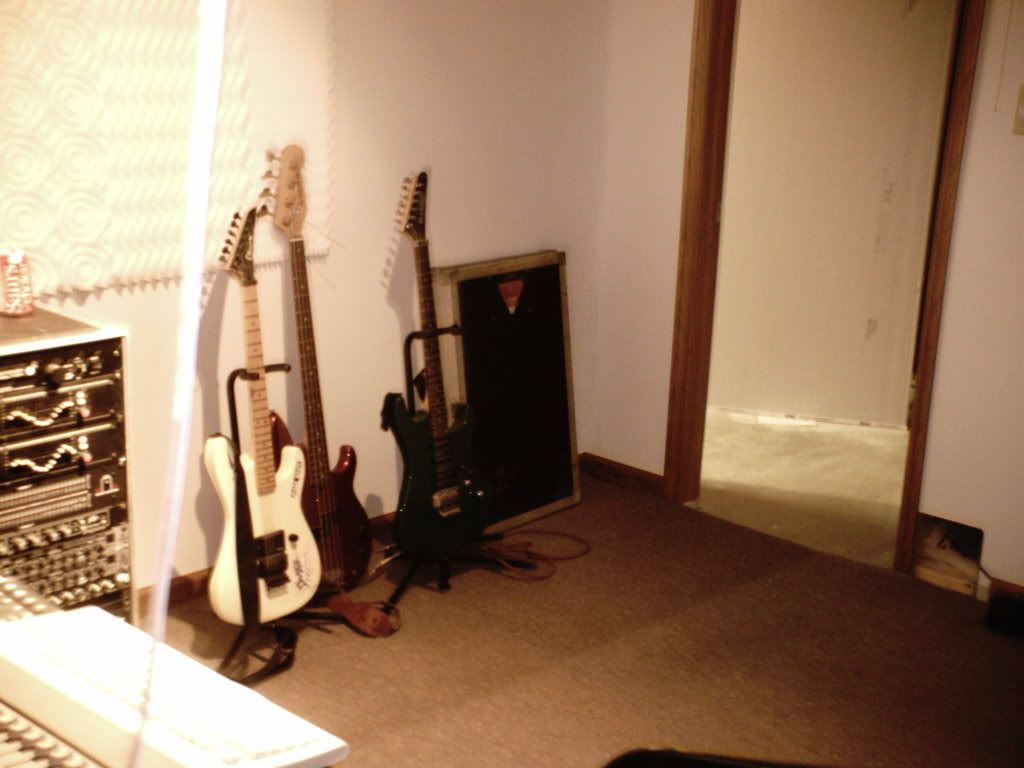 Guitars: early Charvel Dinky, Hamer Slammer, the bass is a Yamaha. I play all three. Looking at keys next, working with group vocals is so much easier when you have a good keyboard handy. The trapdoor is for the snake box out into the main basement where we do drums, guitars, sometimes all instruments together depending on the band and the budget.
This is going to be so nice!!!! I am pretty happy the way it turned out!!!
Lessons learned: Cut the drywall right. Don't think you can "fix it later". It applies to both recording, and drywall!!!!!!!
How many other ARFCOMmers have recording setups?