These things remind me of the smart gun from aliens.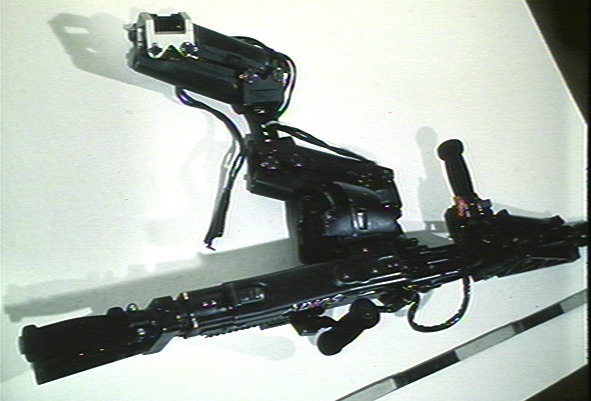 Geeks know about the smart guns IR system and camera mount. The Camera is above the barrel and feeds info to the eyepeice that the user wears. In fictional technical manuals, the smart gun was imployed as a mobile "automated" gun turret. The mounting bracket (from gun to the users hips) was capable of helping the soldier steer itself onto the COM of a target that was caught on camera through the IR. This was used when "on the run" and through the eyepeice the soldier would see a crosshair indicating where the rifles line of sight was. Once this crosshair was intersected with an enemy, the soldier would just need to pull the trigger. Again, the gun assists the user in placing the crosshair on the target. It could be counteracted by simply pushing the gun away from where it wants to go, then it would shift to the next target. The auto aim system could be turned off.
The user could switch to the IR camera from the headcamera or they could switch it to the IR camera over the barrel. This would allow the user to shoot over barriers by lifting the smart gun up to about eye level. They could then duck their head down and shoot over the bunker through the IR camera over the barrel of the gun. Similarly, they could lay down supine and tilt the gun downrange between there legs and let it pick out COM.
The gun was also mounted on the shoulders waist through a cam system that applied the weight of the rifle to the soldiers hips and waiste.
This thing could allow soldiers to employ some stout loads since recoil would be absorbed in the users trunk.
I wish bushmaster would make something like this for us just for shits and giggles. Elcan could miniaturize there IR scope too.
Price tag only $30,000