---
Originally Posted By tc556guy:

It costs a LOT to dress in period costume and do it right. Thats one reason why I have resisted going in costume as my family does. If we had to buy the various parts commercially, it would run several hundreds of dollars. Luckily my wife sews very well, so we're finally going to break down ad put something together for me, although some of the accesories, etc will cost a bit to buy up front.
---
You can do Rev. War reenactment cheaply, if you do it right from the outset. See:
HM 40th Regiment of Foot
That's me in the back, 2nd from left. We are dressed as British soldiers really were dressed in the American Revolution, not as "band box" soldiers.
Advamcing at the Battle of Rhode Island...
Enforcing martial law at Colonial Williamsburg...
---
To portray the Light Infantry soldier, the campaign uniform of 1777 is worn. The short jacket is made of madder red wool with a buff colored collar, cuffs, and shoulder wings. The trousers are made of hemp linen. Accouterments consists of the traditional military cocked hat converted to a round hat embellished with a horsehair cockade, tuft of black bearskin, and green ostrich plume. A black leather neckstock is worn with the linen shirt. Black leather accouterments hold the bayonet and ammunition. Slung on the back is a wool blanket with the knapsack rolled up inside it. A cloth covered tin canteen for water and a coarse linen haversack to hold food rations completes the kit.

The 40th has a uniform and equipment supply system to ensure that each member maintains the high authenticity standards at a low cost. The regiment has a supply of madder red and buff broadcloth for the making of regimental jackets. The regimental tailor can furnish a suit of clothes made to the 40th's standards for approximately $200. If a member wishes to make his own clothes, or have them made for him by someone of his own choosing he is welcome to do so, however the finished garments will not be allowed to be used unless it meets the regimental standards of fit and quality. The cost of accouterments is approximately $625.

---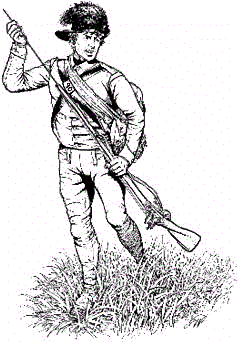 Musket runs about another 700-1000 dollars, depending on what is available. Loaner kits and guns are available for newbies to use in one's first year. We have members from all over the NE down to VA and NC.
It's cheaper than most "impressions" and still done right. Get good shoes, trousers, shirts, gun, etc., and you can use them and sell them to other units too,if you want to get out and do something else.
Don't do what I did- go out and join another group (previously) who have you buy tons of cheap, farby crap in a false effort to save the recruit money. When you leave, they offer you a pittance for it, because nobody else wants it either. My closet is
still
full of that stuff. I left them and joined a better group- this one.