---
Originally Posted By StonerStudent:
I was thinking about a pocket holster....after watching a guy get his dental work kicked out reaching for a ankle holster it kind of turned me off on them.
---
Pocket carry is, I believe, the best method of carrying a backup piece.
I personally pocket carry one of the below firearms as a backup: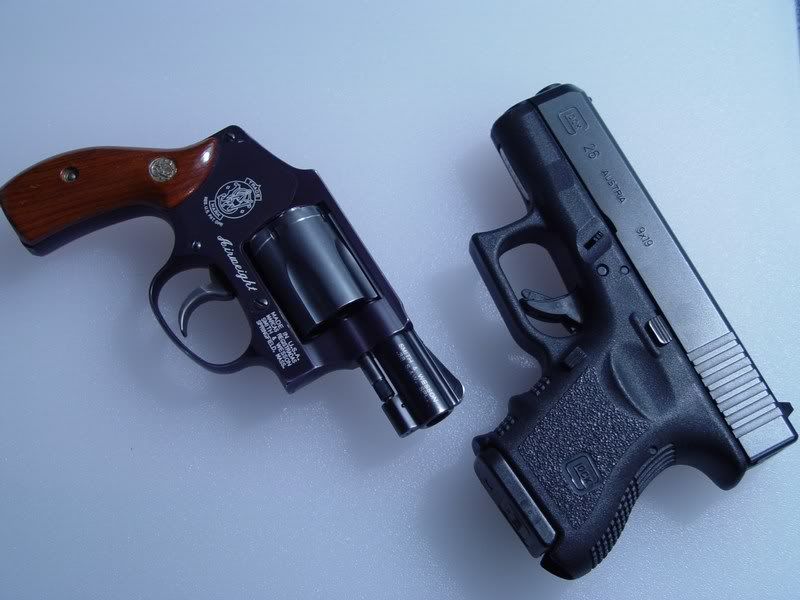 Sometimes I carry them as a primary when I can't pack something more substantial.
The Glock 26 is pushing the limit of a pocket concealable firearm. Even a big guy like me with Royal Robins pants can't put anything bigger in a front pocket without it being obvious. As it is, the G26 in a Galco pocket holster looks like a square object, a bit like a PDA or something.
The 442, however, conceals very well. I use a DeSantis Nemesis holster for the 442 and it works like a charm. I personally like the small S&W revolvers because they can be loaded with ammunition that makes them superb defensive pieces. With the new 135 grain Speer Gold Dot +P loading specifically designed for these little revolvers, you don't really give up anything in terminal ballistics for the concealability of the weapons.
Revolvers are extremely reliable even with all the lint and crud that accumulates in a place like a pocket. They are most likely to go BANG when you need them to, an important consideration for a BUG. The little S&W revolvers have stiff triggers sometimes and their sights aren't the best, but that is true of all pocket eligible handguns. With practice, however, you CAN effectively use one at all handgun distances. I used mine to shoot the reactive steel range at Blackwater while I was there during a break in the day. It was slower and harder to do than using my 1911, but I was still able to effectively and quickly engage targets out to 20 yards with the little revolver without trouble. (And I am talking dead center hits on 6" plates with half second exposures here...)
I have handled the Kahr PM9 and it is a compact little piece, but I have not had the chance to evaluate one for reliability. It doesn't seem like it would be a very reliable piece by looking at it and handling it, but I will leave the reliability assesments to those who have actually tested them.
Frankly for a backup I would stick to a minimum of a +P capable .38 revolver. Guns purchased for strict BUG duty have a way of becoming a primary carry gun at times, so I think it is wise to carry as much gun as you can.
Small autopistols are appealing, but in my experience they are never very reliable. As a rule (and there are exceptions to every rule) they are the most likely to jam and the least likely to tolerate the conditions they will find themselves in. They are sensitve to how they are held, what type of ammunition is used, etc. Good little revolvers don't have those problems. (Except the inability to use lead bullets in the titanium and scandium S&W revolvers, but that really isn't a problem...)
When considering a backup weapon, consider the conditions under which you will be using it. Odds are that you will never need to pull out your primary weapon, and if you do, the odds are about 99% smaller that you will never have to pull the trigger.
If you do have to pull the trigger the odds of a malfunction on a decent modern handgun are smaller still. So if you need to whip out a backup piece you are already taking it up the tailpipe from Mr. Murphy. He isn't suddenly going to stop sodomizing you when you reach for the BUG, so make sure that you purchase a piece that Mr. Murphy can do very little to thwart.
Pocket carry of a BUG is one of my favorite ways because I can be walking around with my right hand casually in my pocket without people having any idea that I am gripping a weapon that I can pull out in a flash. A good tactical advantage that has come in handy on more than one occasion. There are numerous situations when I am packing a 1911 but because of the dynamics of the situation the BUG might be the primary weapon employed.
Just some things to consider.