From a Chicom site:
www.chinadaily.com.cn/english/doc/2006-01/04/content_509150.htm
China commentator urges tougher line against Japan
(Reuters)
Updated: 2006-01-04 09:31
China should prepare for enduring conflict with Japan and embrace nationalism as a source of social unity, a senior commentator with the People's Daily wrote against a backdrop of steadily worsening bilateral ties.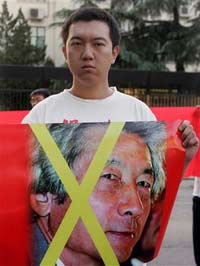 A Chinese protestor holding a banner with a portrait of Japanese Prime Minister Junichiro Koizumi stands in front of the Japanese embassy during a protest in Beijing October 17, 2005. [Reuters]
The unusually forceful comments in a new magazine came at a time of renewed sparring between Beijing and Tokyo -- this time over the suicide of a Japanese diplomat in Shanghai in May 2004.
Japan says the diplomat killed himself after he was blackmailed by Chinese security agents over a liaison with a prostitute. On Friday, a spokesman for China's Foreign Ministry, Qin Gang, said Japan was "deliberately vilifying China's image."
Lin Zhibo, a deputy director of the commentary department at the People's Daily writes the conflict between the two countries is about their future status, as well as their past.
"The fundamental conflict between China and Japan now is that China is rising, and Japan does not want to see China rise. This conflict is long-term and cannot be altered by the will of the Chinese people,"
writes Lin.
On Tuesday, the Global Times, a newspaper owned by the People's Daily, said the new quarrel had "cast a shadow over any improvement and progress in Chinese-Japanese relations this year."
Lin's comments appeared in a new Chinese journal, China and World Affairs, issued by Tsinghua University in late 2005.
Lin argues that the conflict between China and Japan is set to deepen. The two countries' economies are increasingly competing for export markets and energy supplies, and past Chinese attempts to foster friendship have failed, he writes.
"Our one-sided efforts for friendship have been totally useless," Lin writes. "Chinese-Japanese relations will be better handled only if China's stance is tougher than now."
In April 2005, Chinese cities saw fervent demonstrations against Japan. More than one million Chinese signed an on-line petition denouncing Japan's bid for a permanent seat on the U.N. Security Council.
China especially objects to Japanese Prime Minister Junichiro Koizumi's repeated visits to the Yasukuni Shrine in Tokyo, where major war criminals are interred, and has denounced a textbook whitewashing Japan's invasion and occupation of much of China from 1931 to 1945.
More recently, the two countries have had angry exchanges over disputed boundaries in the East China Sea and China's military budget -- which Japan accuses lacks "transparency."
Lin says such friction is sure to continue as China's influence expands.

"China wants to rise. If that's the goal we've settled on, then we can't be a sheep. We've got to be either a wolf or a wolf-hunter."