or not.
Here is the link to the video of "our town". They didn't include the Veterans' Memorial in the on-air piece this morning. The producer said that the execs chopped it. This was delayed for several weeks, while the producer Jim Mietus tried to get the whole thing included. He failed, but did get it on the website.
Here is part of the interview. I'm dissapointed that they did not include the part with Clerence Reed, one of the veterans who worked so hard with us to make the memorial happen. It was very touching.
www.cbsnews.com/stories/2005/12/19/earlyshow/series/main1134875.shtml
---
The CBS morning show, "The Early Show" is coming to do a profile of Powell, WY, my home town. While they are here, they want to do a piece on the Veterans' Memorial that I was involved in helping to build. I think most of you saw the threads about it before.

The producer called me today and set up a time on Friday to interview several of my students, myself and a Veteran that was a co-chair on our committee. It is due to air on Dec. 1st.


Ok, so it is CBS, at least it is one of the "big three".
I'm not sure how much will be included about the Veterans' Memorial when the do the profile, but we'll see. Thought you would like to know that a fellow Afrcomer will be on national TV.


Yes, there is grass now, but it is covered with snow at the moment....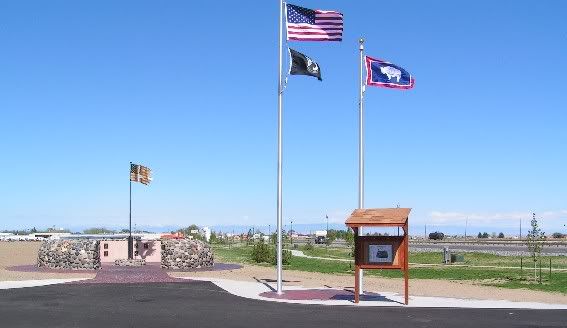 ---