So my first ever fly rod was an older 8' 6" Orvis Henry's Fork 5wt that my father-in-law gave to me. After he passed away in late 2007 I tried to minimize the amount of time that I fished that rod as I didn't want to chance breaking it. Ultimately my wife purchased me another rod and I stored my first fly rod in my closet.
After a long week at work I needed to get out for a little bit to decompress. However my wife also had a lot of school work to finish. So a compromise was reached. I would go on a short fishing trip on Tuesday and she would go study when I got home. I informed her that I wanted to take her father's old rod out as I have not fished it in a long time. She was a little concerned but then said "please, just be careful with it".
Last night I got all my gear together and packed the car for my short trip this morning. I hit the shower then went to bed. After what seemed like 12+ hours of sleep my alarm went off. I got up got dressed and I was out the door. On the way to the river I ran through the drive through for a little "breakfast of champions".
A short time later I was on the turnoff and headed into the canyon. Once in the canyon I noticed how clear the water was on this river. That is a little odd as this river is always very murky; oh well no time to worry about water clarity there are fish to catch.
I made it to the spot I wanted to fish, parked and started getting geared up. It was a pretty cool morning in the low 40s' with a slight breeze. The sun had not cleared the mountains by the time I headed to the water.
Once I was in the water I stripped off some line and made my first cast. I thought to myself man this rod is really smooth maybe I should buy another one off ebay.
I was working one section when I had my first take. I set the hook and the fish took off like a bat out of hell. He immediately ran and started to strip line off of my reel. From the fight I could tell this fish had some power. When he broke the surface the first time I saw that it was not a small fish. Unfortunately as luck would have it I ended up LDRing this guy after a fairly lengthy fight.
Oh well I though, in this river I know there will be others. I went back to working the water when I got my second take. This fish had nowhere near the power of the first. I kind of laughed as I hand stripped the little guy in. What was funny is that fish was the smallest brown that I have ever caught I am guessing he was in the 5-7 inch range (I didn't bother to take a measurement).
I decided to wade upriver and try out some of the faster water.
On my way up I noticed a nice size fish feeding by a rock. I made my cast and the fish took the fly. This was no small fish. He put up a good fight and made several nice runs. The rod was really flexed deep as I was fighting this fish. Fortunately I didn't LDR this guy and was rewarded with a couple of photos.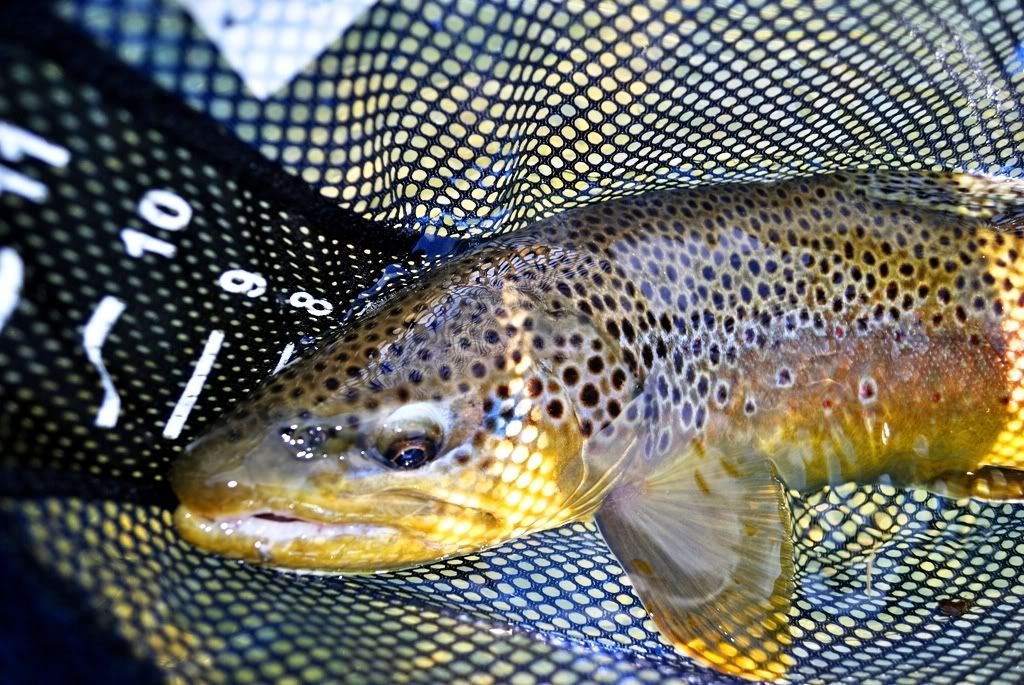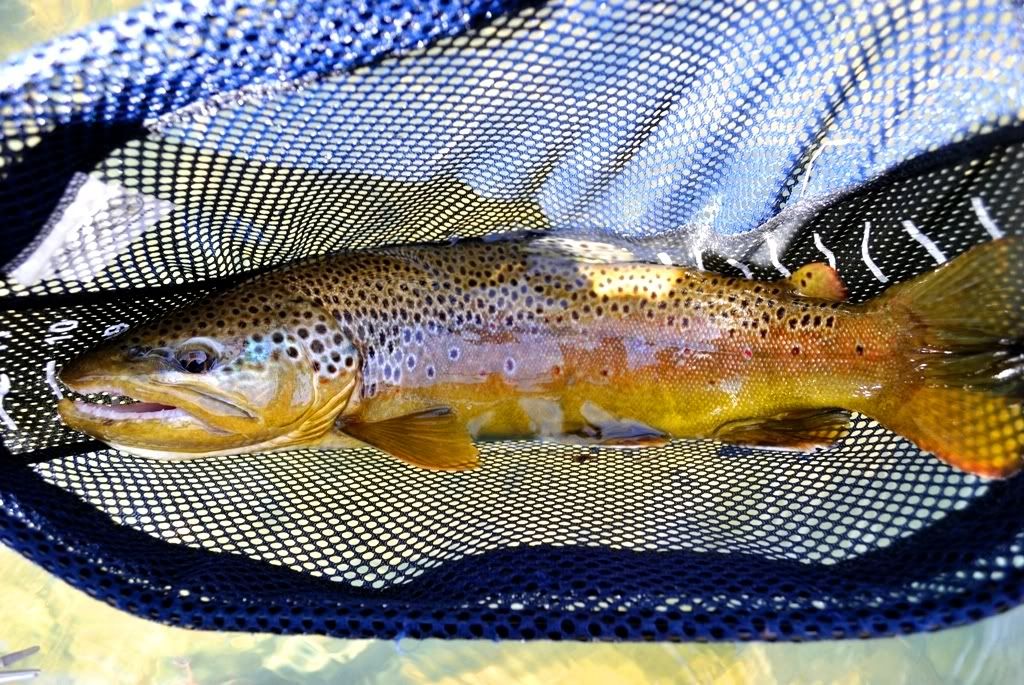 I worked this part of the run for about an hour longer. In that time I was able to pick up 3 more that were around the same size. At that point I decided to get out for a bit and grab a quick snack. During this time I also took some scenery shots.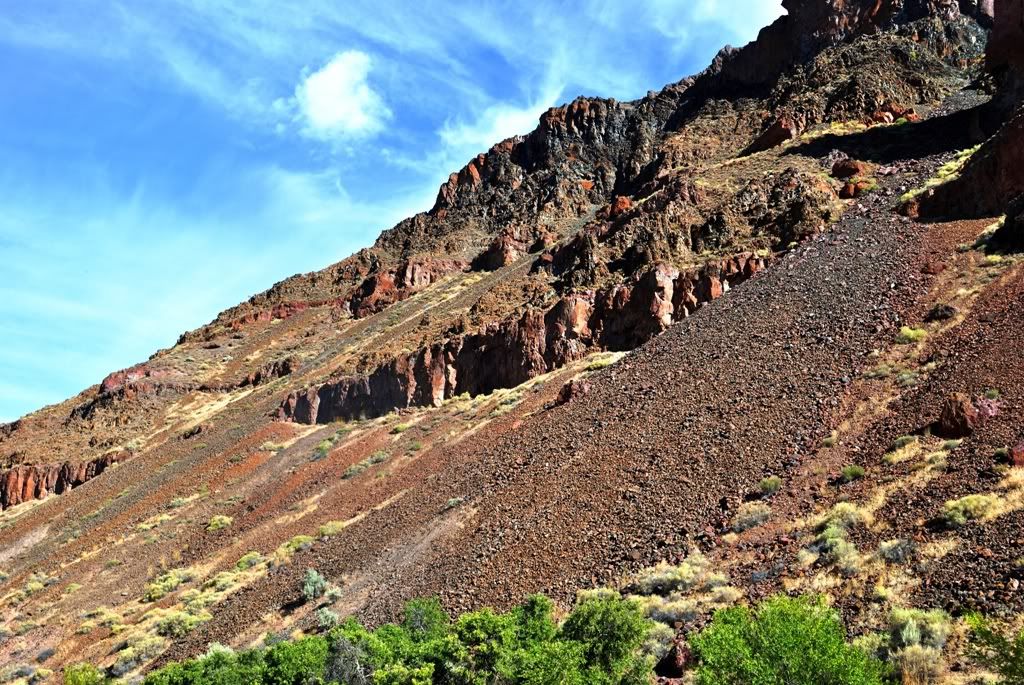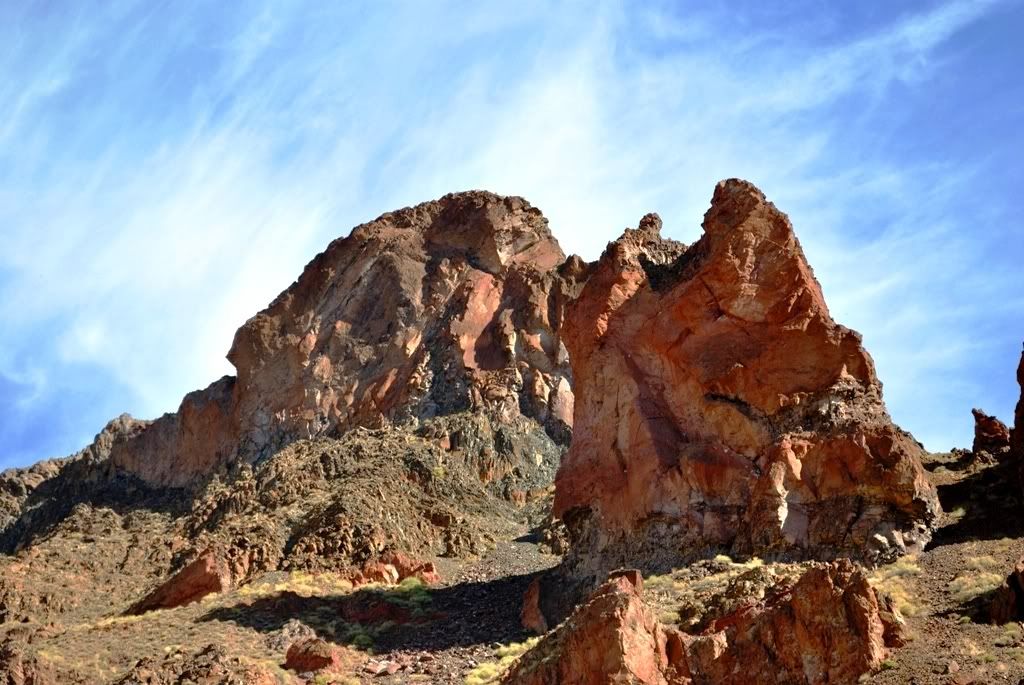 After the quick breather I decided to go right back at it. I waded out into the middle of the river to work the other bank. This turned out to be a productive decision.
On my third cast I had a fish take my fly and I set the hook. This guy was not as powerful as the previous fish but he sure had a lot of spunk. He darted, head shook and jumped for the duration of the fight. While the tug was not as strong the fight was almost more fun than it was with the 20+ inchers. Once in the net he measured between 16 and 17 inches. I took a couple of quick shots and sent him on his way. The nice thing about DSLRs' is that unlike some of the point and shoots you can get off some quick shots as opposed to having to wait.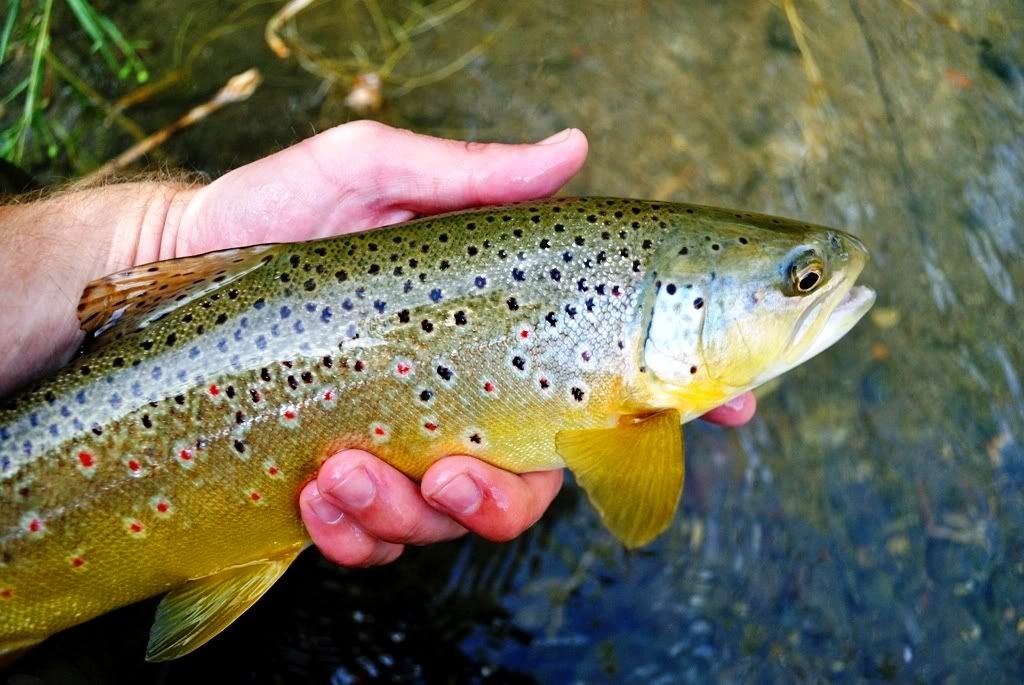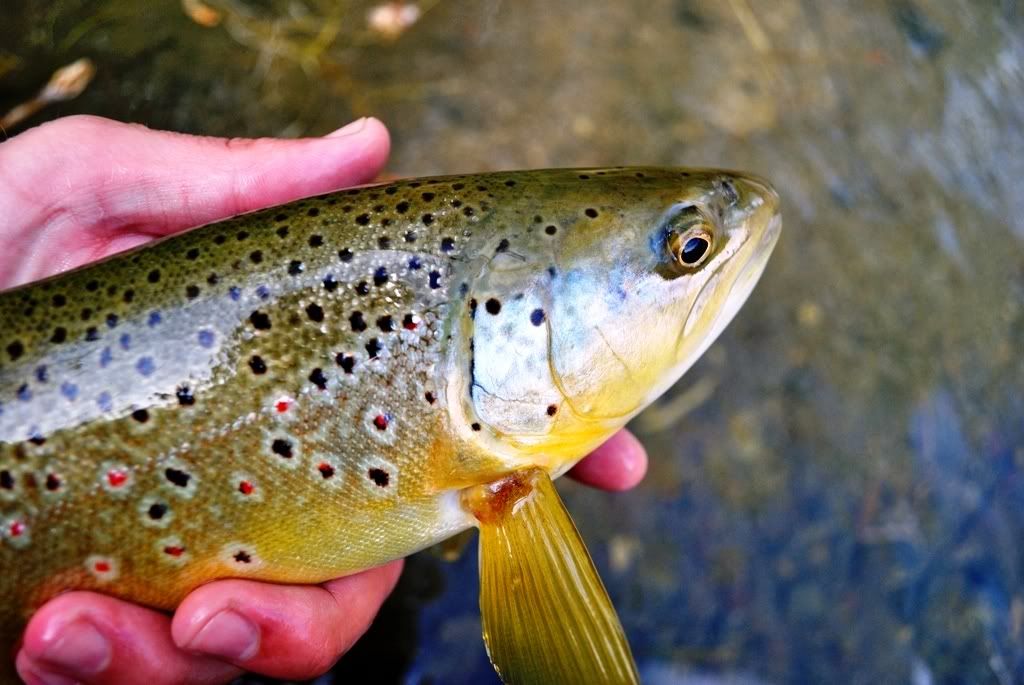 I fished the run for about 90 minutes after catching that fish. In that time I was able to pick up 3 more ranging from 17 to 22 inches.
I was pretty impressed with the old Orvis rod. When I last fished it I thought that I didn't like it. Now that I took the time to fish it again I am happy enough with it that I might just have to look for another on ebay. After I made it back to the car and got my gear off I decided to snap some more shots for you guys. Hope you enjoyed the report….