Originally Posted By NEJDAT223:

Have any of you guys installed any kind of filter on your super siphon?

I would like to put something on there to keep from sucking up junk off the bottom of my fuel cans. I thought I had them totally cleaned out, but I sucked up a few chunks of the red gasket that deteriorated when I put gas in the can (grey lined water can). That problem is solved with a new gasket, but it made me think some sort of filter would be a good idea.

Any thoughts on how to stick a filter on one?
I looked into this a couple of months ago and found the following - Mr. Gasket 2526 - Mr. Gasket Chrome Canister Fuel Filters, link below. It has 1/2" hose barbs which should match to my siphon tubing. I'm a little worried about the back pressures it will create while siphoning but I found a link to another fourm on the internet where someone did something similar except their tubing was the smaller size, not 1/2.
http://www.summitracing.com/parts/MRG-2526/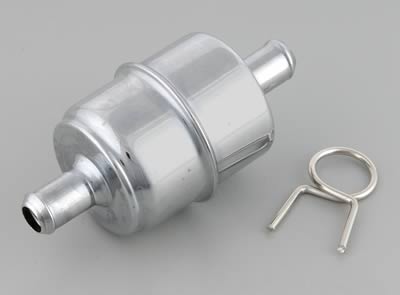 I have not purchased it nor installed it because the only parts store stocking Mr Gasket stuff in my AO is out of the way for me. I figure now that I have a part number a parts store should be able to do a cross reference or I buy over the web and pay shipping. Summitracing had the best prices if I remember.
If you try this post back and let us know how it worked out.
.