I work around the country and I mostly travel by air. For the last year I have been modifying and adding to my cross-continental GHB.
My threat scenarios include natural and man made disasters. I am fairly familiar with both; Rodney King - day 2, WTO from the start, NOLA from day 5, a couple fine African countries during violence, and Iraq.
I am not prepared for full scale or near full scale nuclear war. Nor am I prepared to be at ground zero for a CBRNE attack, but I have basic equipment to try to get out of a fallout area.
My GHB must also be everyday useable and provide comfort during inconveniences, as I have limited space and weight with air travel and at least one full checked bag must be work stuff and half of another minimum for normal clothes and such.
I have set it up to provide comfort for power outages, multi-day airline delays (stuck at the airport in snow, etc) and any other small situations I could think of.
The bag it all goes in. For flight the side pouches (SAW pouches) come off and go in my checked luggage) the bag is a SDS "conflict". I like it overall but it may go away and become something smaller and my checked bag may become a larger more comfortable ruck. The bag has a 3L bladder in it.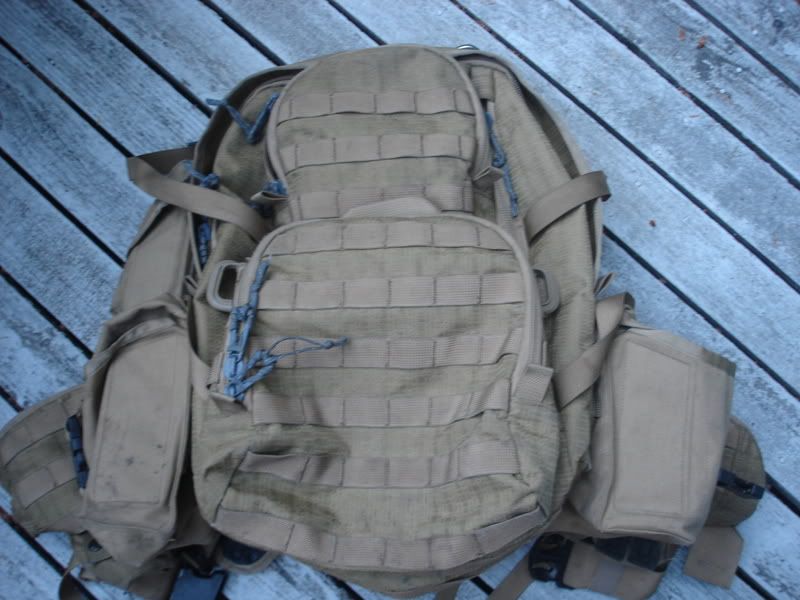 Repair kit (9.8 oz) that goes in the bottom of the ruck. Sewing kit with iron on patch and lots of safety pins, crazy glue, gorilla tape, McNett sil fix and field repair kit put in a airborne canister wrapped with 20' of 20ga wire covered with gorilla tape, platypus patches, bicycle repair patches, and a air mattress hot bond repair kit, and 16' of 550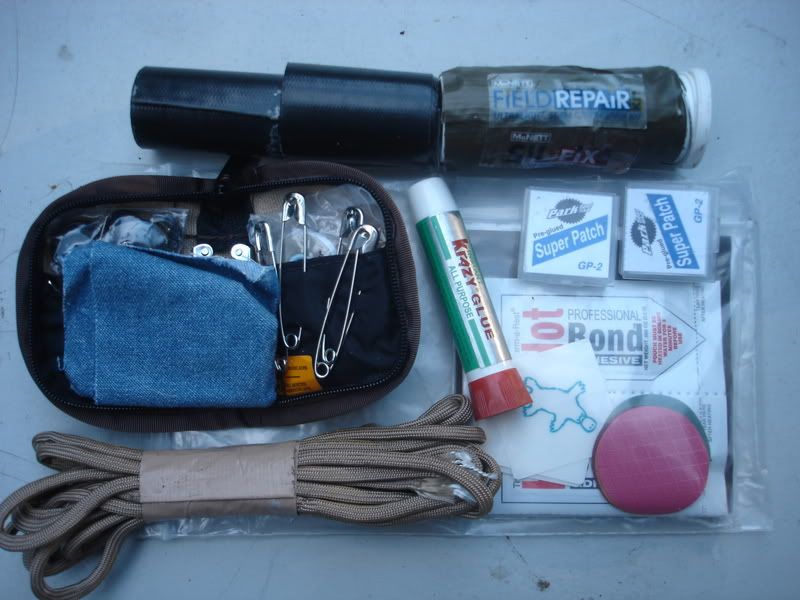 Hygiene kit (9.3oz) moist wipes, toilet paper, body glide, deet, sunblock, lip balm, tooth brush, soap, signal mirror. All in stick form, so no security problems. Not in the picture – purification tabs.
Snivel kit (6.8oz) bunch of blister stuff, iodine pads and antibiotic ointment, alka-seltzer, band aids and tape, cough drops, pills: pain, diarrhea, sleep, allergy, vitamins, probiotics.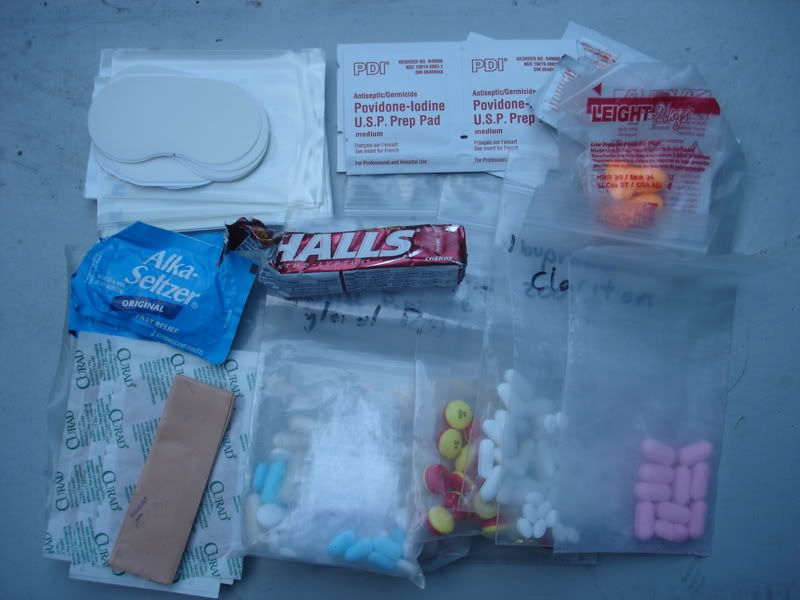 Early warning kit (6.3oz) two personal alarms, trip wire, nails and eye screws.
Trauma kit (1lb 5oz) CAT, 2 curlex, 2 nasal airways, dressing, cravat, gloves, 2 needles, 2 ashermans, coban. (need a epi pen and need to reduce the weight of the bag)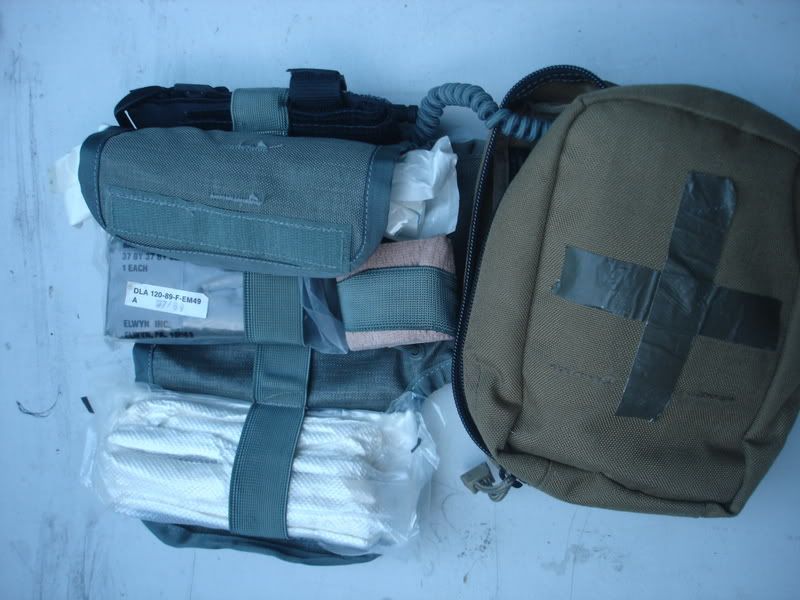 Burning plane and hotel escape (7.9oz) nomex gloves, wool balaclava, breathing mask. Gloves and balaclava are obviously useful for more than getting out of a fire. (I try to wear natural fiber clothes, to include underwear, on the plane)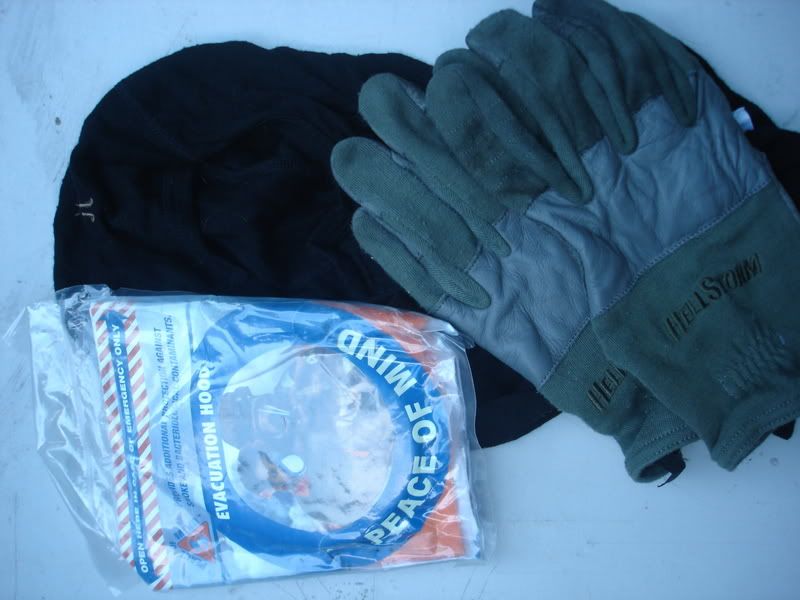 Radio (2lb 11oz) kenwood w extra battery and AA battery pack, antenna, 12v charger, notebook, space pen, photon light. I'd like to make this a lot lighter but it's what I have and I don't want to spend any more money on radios right now.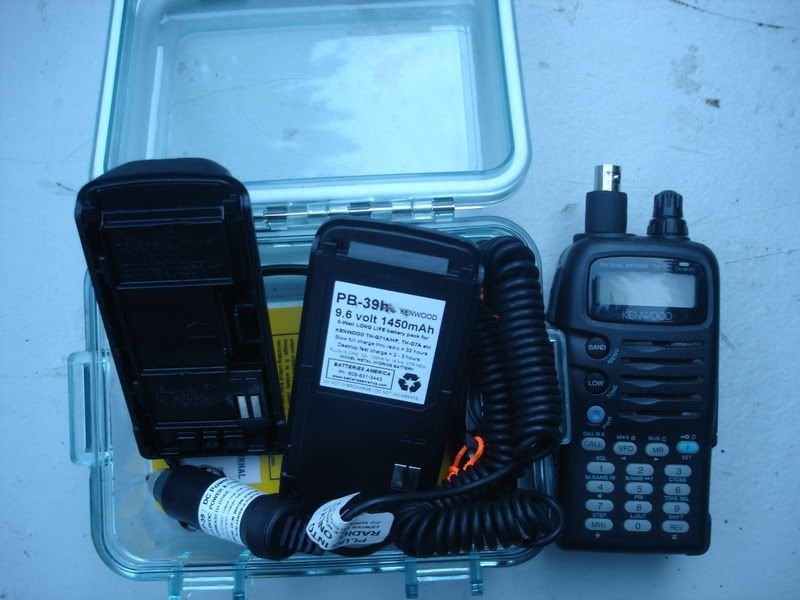 Misc electronics and B&E (3lb 11oz) 12V chargers for everything, long wire antenna for radio, alligator clip cigarette lighter (Even after a major event there will be plenty of car batteries and I can charge everything I carry off of 12v) large lock pick kit, hot wire kit.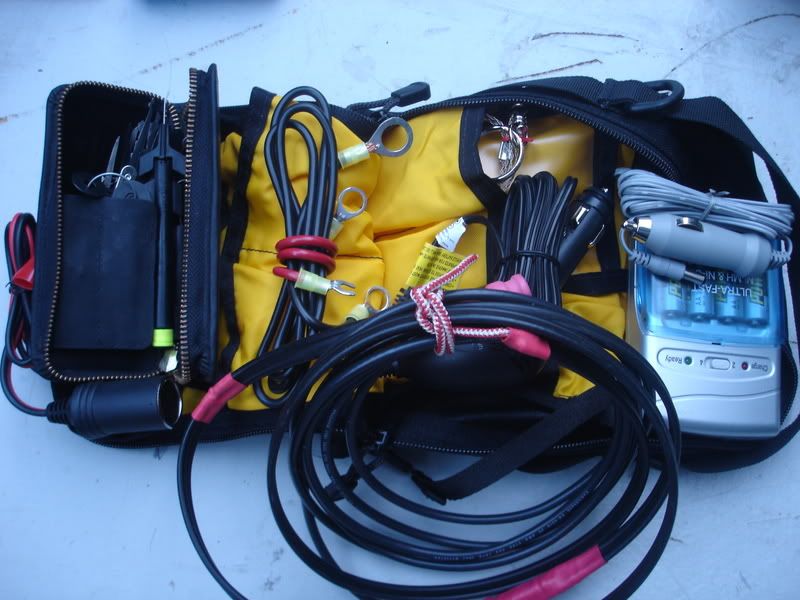 Cooking: 2 T-cups, T spoon, 2oz alcohol stove, esbit, alcohol, lighter.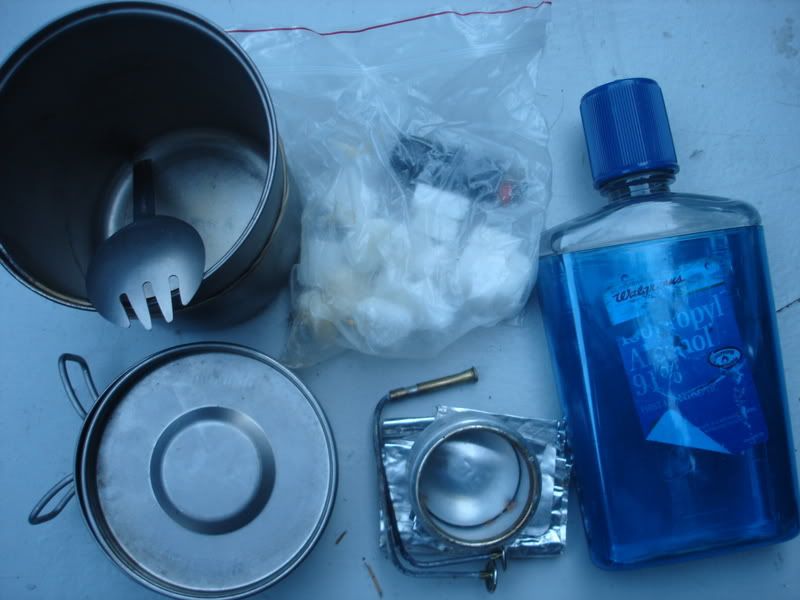 Shelter: what I take depends on the season. Snugpack jungle bag, Integral Designs 5'x8' poncho, T stakes, spectra line, Thermolite sleeping bag liner (I usually sleep with this in hotels and take it with my in the airport), Heatsheets bivy, gossamer gear R2.27 ¾ length 8oz pad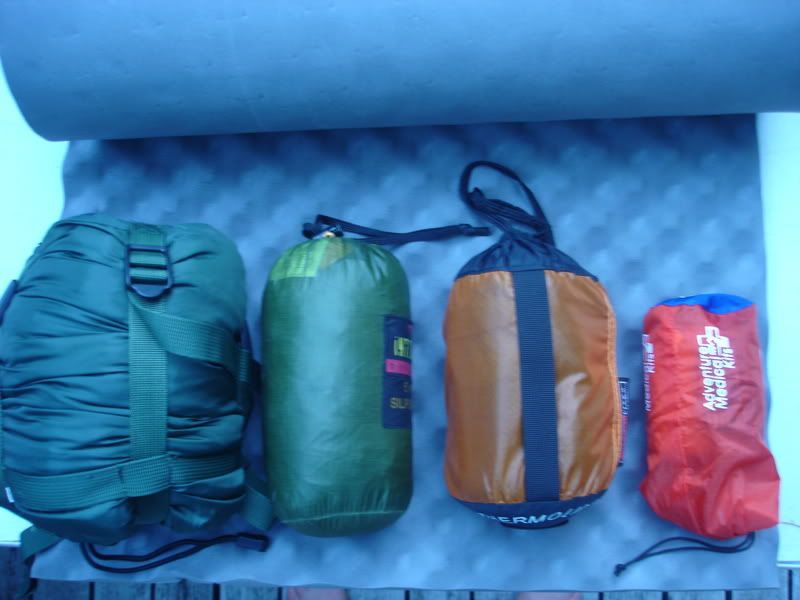 Misc: Full size travel towel (I use it as my on plane blanket also), inflatable neck pillow, head-over bug net, puffy jacket (primaloft w/ hood) this is my main in-airport shelter and my second pillow for on the plane.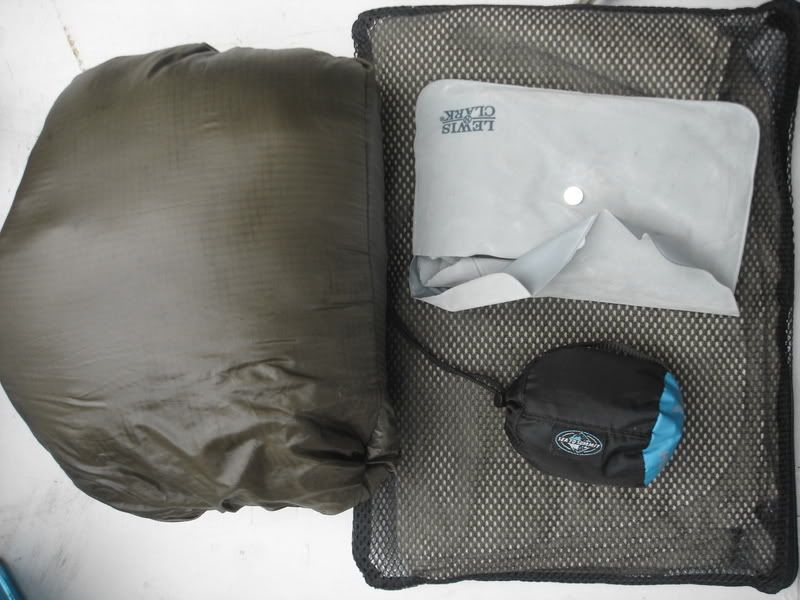 Other stuff in my ruck: nalgene bottle w/ coffee filter, e-lite, surefire, water heater, monocular, airborne container w $10 quarters, aviators' signal panel, fire starter, whetstone, spork, disposable poncho and 2 breathing masks, 123 batteries, scrub pad, visor ID flag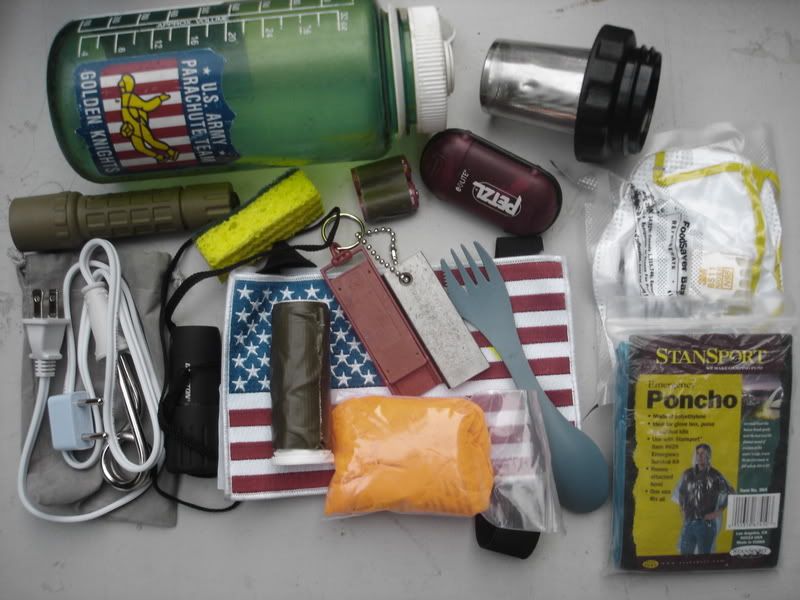 All the stuff I normally have on my person or in my jacket/vest:
G19 /x mag, Kramer leather, 2 spydercos, aviator, cingular 8525 w internet, leatherman, small pick kit, small snivel kit, compass (my watch also has a compass and altimeter) storm lighter, notebook & space pen, cloth zip ties, and money ( I try to always travel with at least $1000 extra cash just-in-case – I've been in a no-power situation were I ended up renting a car from a third rate type place for cash, if you have enough you can do most anything. I should up the amount.)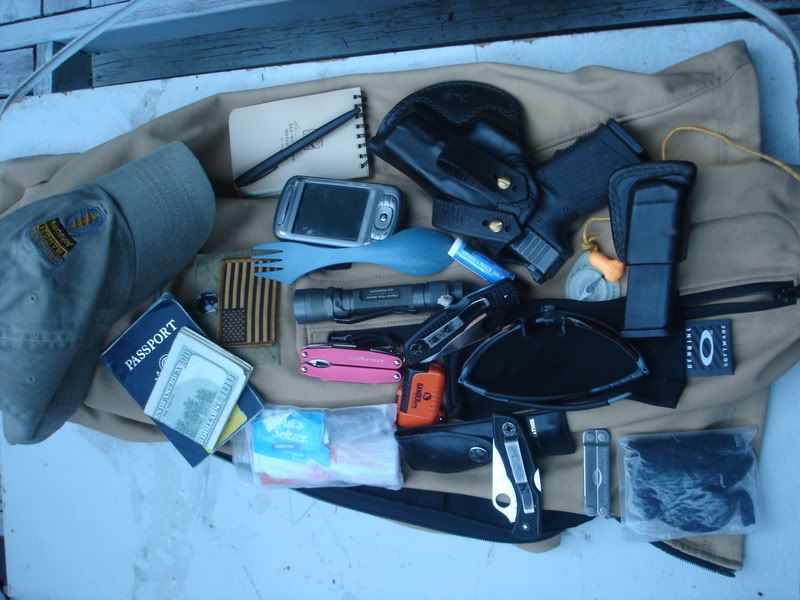 Things I will add, but have been to lazy to get: GPS kit for 8525, full database of everyone I know around the country, database of repeaters; 80GB Ipod for said databases, movies, computer files, maps, etc.
Things I have that I have considered adding: G19 AA 22lr w archangel, PVS14 w headmount.
.