Here's the BOB and a list of items so far.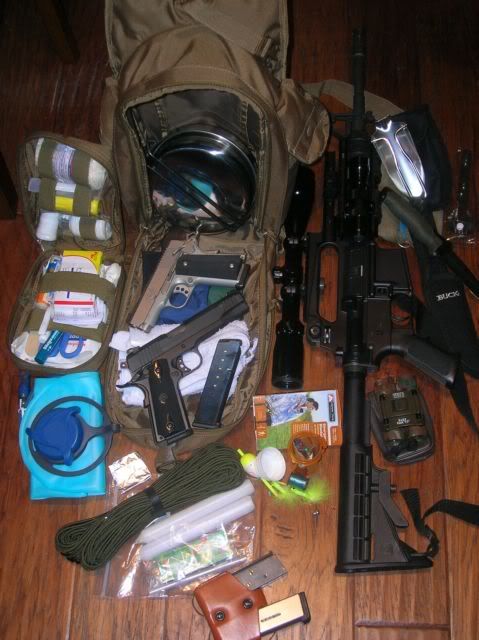 1st trauma aid kit, I added a few things to it such as bug bite treatment stick, bug repellent w/sun screen, small snake bite kit, a few bandages that weren't in the kit, finger splints and a few other things.
2Liter water bladder.
100' para cord.
water proof matches, candles, I know some of you will say ditch the candles, I may not sure yet, I was thinking about getting one of those candle lanterns, that'd be nice to use inside a tent, not sure on that yet though.
Small fishing kit, split shot sinkers, hooks, float line a few jigs, may make some flies.
Emergency blanket, there's also a fleece blanket not in the pic.
Small set of binos.
Buck sheath knife.
small fold up spade for a shovel.
Fork, knife, spoon set.
1 piece of 10x10 foil folded up to about 2x2.
2 small terry cloth towels.
small mess kit for 2.
zip ties and a few small velcro straps.
3 small compression stuff sacks,
a combination compass, thermometer, magnifying glass, mirror, whistle. It's a cheap one for now, will get a better one when money allows, I will be getting the mil spec one that was in another thread.
2-.45s and 1- AR-15 just to give ya a little gun porn, but in a quick BO at least one of the 45s and the AR would be bugging out with me.
I'm thinking about using this one for a truck bag and getting a 3 day pack for a real BOB with the camping items stored in it.
Still on the list to get is a 1 or 2 man tent, some freeze dried food and nutrition bars etc. may get a fire starter, but I have the water proof matches for now, but don't want to depend on them alone. I guess this bag would at least get me to where I need to go for at least one day.
So any suggestions, any and all welcome as usual.