Originally Posted By Bulldawg:
FYI - LCI carries replacement caps for $5.99/ea in tan and OD. Just search "water can cap".
I searched before and didn't find them but you are correct, they have them! I ordered three more of these cans (that will get me upto six) and I also ordered 3 replacement caps so I can modify the one I have where the pour cap leaks and have two extras for now.
I also went shopping last night and finally found the type of setup I wanted in the first place. I will post pics of the new valve and setup when I get a chance but basically I bought a piece of galvanized 1/2 pipe, a 1/2 ball valve and finally a 1/2 to 3/8 Barb fitting. The ball valve I bought also had a threaded drain that had a knurled thumb removable bolt to make it much easier to drain water from the hose ( I am a microbiologist and I know how well things grow in water so it was a worthy investment in my oppinion).
Note the drain on this similar valve:
Here is a pic from the web that basically shows the same setup except I needed the pipe between the cap and valve to get space for the valve handle and to connect the female to female ends. I didn't check if I could have just reversed the hadle and if I can then I may not need to use the pipe extension at all.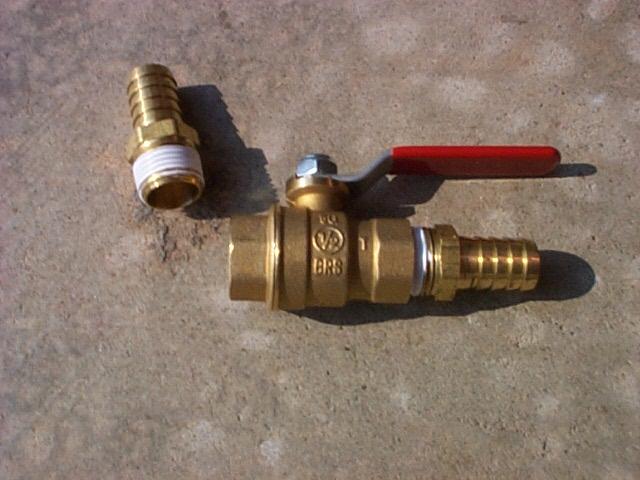 I don't mind spending some money to put the hardware away as if I ever had to rely on these jugs it sure will be nice being able to set them up where they will be easy to use. The valves were the expensive item at about $10 but finding a solution when SHTF would be much more difficult!
Heck, just the barb fitting so you can hook a piece of flexable plastic tubing to a regular water faucet might be VERY IMPORTANT in SHTF and I think I need to buy a couple and add them to my BOBs (pic posted above)
Thanks again for the info on the caps!
Here are the parts numbers (You can search for these numbers!)
600409 - Plastic Water Can - 5 Gallon, OD Green - $16.99
906396 - Plastic Water Can - 5 Gallon, Desert Sand - $16.99
600118 - Replacement Cap - Desert Tan - $5.99
906841 - Replacement Cap - OD Green - $5.99
So, I am upto 30-gal in very robust and portable water cans... perhaps next month I can get three more and then I think I will have enough of these