ACR observations and range report
INDEX
Barrel p.2 , 4
Weights p.3
Disassembly p.3
Lower Receiver & Trigger Pack p.9
BUIS Comparison p.10
Bolt Carrier p.11
Barrel Return To Zero (RTZ) Test p.12
300 yd Range Report w/ long bullets p.14
Piston disassembly p.15
Suppressed p.16
Charging Handle p.17

Where to begin……
Having had my first ACR delivered yesterday, March 30, I spent about 3.5 hours getting oriented, shooting and testing. It was like the first day of school. I will be posting my observations in parts as I get time rather than one long narrative. It would take a day to write up what I learned in 7-8 hours last night.
My purpose in this thread is to share info about the ACR as I learn about it. I am not here to try to sell you on the system, just to give you my information to make an informed decision as to whether you want to buy one. You should definitely take any opportunity you get to shoot one. I'm not an expert on the ACR, I just have one, am interested in learning about the system and want to inform other members of the forum. Any cogent comments or questions by you will help in that learning process.
A little background….
I first saw and became interested in the ACR system at the SHOT show in Orlando in 2007. Magpul unveiled their Masada prototypes. I spent a couple hours studying them over the four days of the show. I was interested but wondered if it would ever be produced. At SHOT in LV in 2008, Magpul announced their agreement with Bushmaster to produce the gun. In 2009, the ACR was absent. In development, we were told. Maybe arriving in late 2009 or early 2010. In January, the new ACR announcements hit. We were all disappointed in the pricing. Even with the lowering of the price during the SHOT show, many customers dropped out of the market. At the show, BM reps said the standard/basic version would ship in March 2010. It did.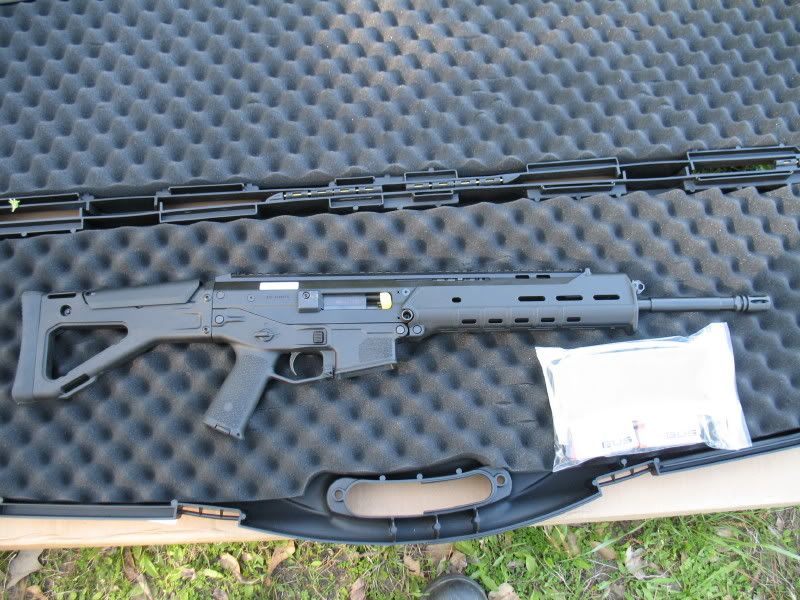 As you have probably seen on gunpoker, the ACR comes in a nice , large BM hardcase. It has one BM marked Pmag, a set of Magpul MBUS sights and a users manual. The serial number on this gun is BL003xx.
The user's manual is online here…..
Bushmaster ACR user manual
When I first opened the box and let my UPS guy check it out, it did not feel heavy at all. The standard/basic version has a very nice balance with the center of gravity slightly forward of an AR's CoG .
Inserted from an earlier post of mine:
Fit and finish is great. Everything is very clean and very tight. The top part of the buttstock that raises to form a cheek piece is very tight. I had to lever it back and forth to set it in place. It will get easier with use.
The finish of the plastic parts is standard Magpul. Very good, not much flash on the exposed mold lines.
The finish on the extruded upper receiver is a nice black anodizing. Much like you will find on a BM AR , maybe even nicer. And NO PURPLE !!!!!
The controls are really sweet. Nice, nice, nice and smooth.
At SHOT, Jarrod told me, "you guys will love the trigger, it's really sweet." Yeah right, I thought , just part of the sales pitch.
Well it's the nicest factory AR trigger I have seen short of a custom or semi-custom gun. I do my trigger jobs. After about 50, I began to find exactly what I wanted. I planned on pulling the BM parts out and stone them and tune them the way I like. After shooting today, I think I'll leave them in place.
The pull is about 4.5-5 lbs with no creep and a fairly smooth break. I will ,when I tear it down later this week, put some action grease on the sear surfaces and that will smooth things out a bit.
At first the bolt release was VERY sticky. First time or two it took both hands pulling down to get it to move. Well actually the first time I had to pull the bolt back to relieve some pressure to get it to move.
After about fifteen cycles it got much better and by the end of my 15-20 mag changes it is pretty smooth.
About three out of 15 times, the bolt catch did not lock back when the mag was empty. All three were using 20 rd Pmags.
I shot every kind of mag I had with no problems.
When I hit the mag release, all mags dropped but being a new gun, they
did not drop all the way out everytime.
The selector lever is very smooth and Ambi. But I knew there was something from SHOT that I did not like about the selector. Today I figured it out.
AS a right hander, I flip the left side selector lever with my right thumb.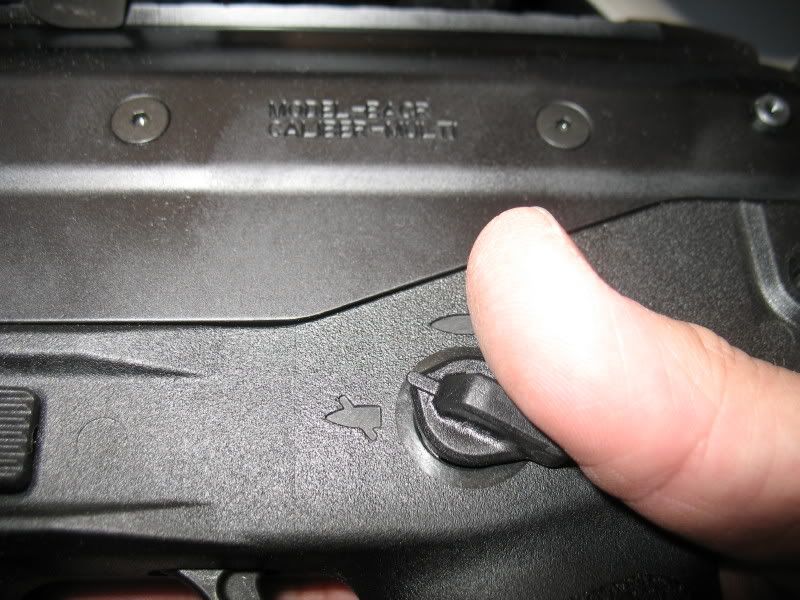 When I did this, the right side lever hits the top of the trigger finger before I could move the trigger finger onto to the trigger.
See update to this on P.4. for correct trigger finger positoning. J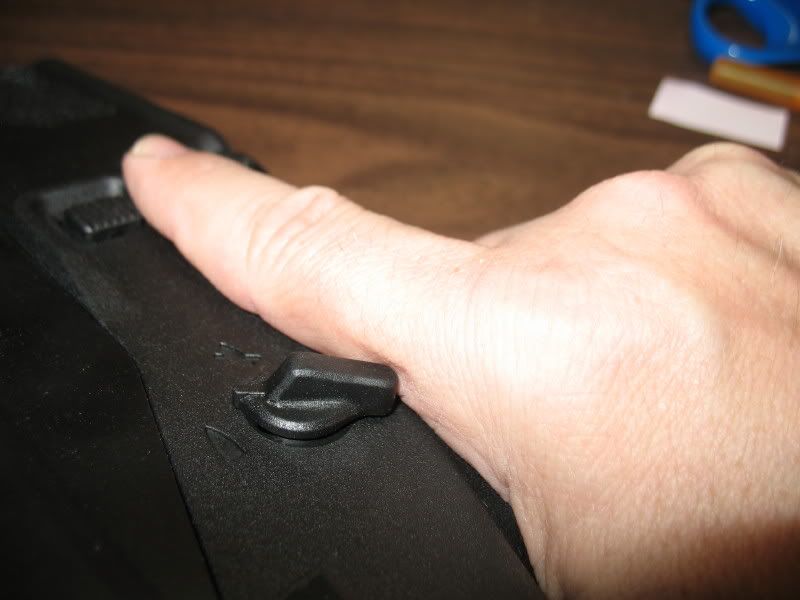 It's a little disconcerting to move the selector and have it rotate down into your trigger finger between the knuckle and first joint. That's why the thing is cut so short. If the lever was any longer it would really be a nuisance.
The charging handle is VERY smooth and easy to pull back. It's a real winner.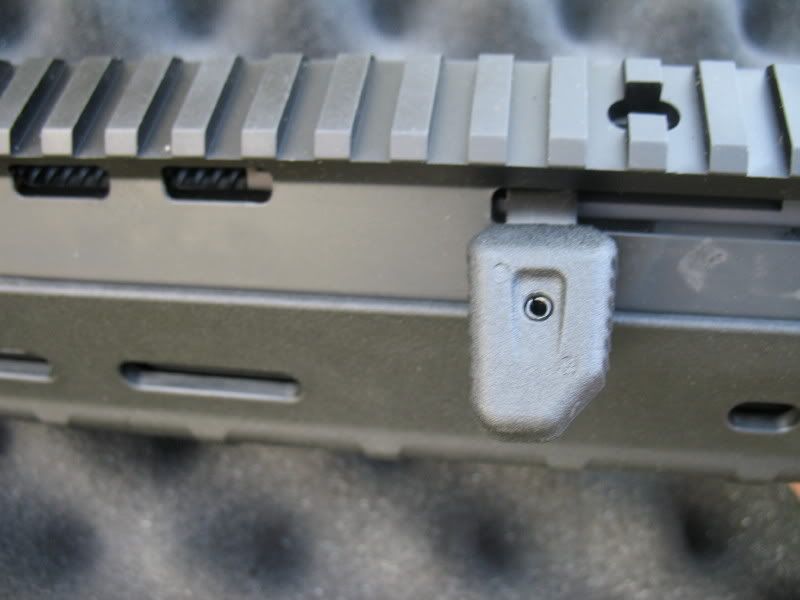 But if you are used to shooting AR's and shot with your thumb high, you're going to get whacked when you do a mag change and release the bolt. Twice I had my thumb get nailed when chambering a round using the bolt catch. Also the cocking knob cams back about 20 degrees before it pulls the bolt back. A little weird at first but once you get used to it, it makes for a smooth retraction to the rear.
Overall, it's a quality piece. Good finish, tight. I like it.
BUT, and here's the big caveat.......this is a very different system from the AR. If you want to be a real serious operator ( LE, .mil, home defense, or into tactical) and do some serious training, you will have to choose one or the other. The systems are different enough that you can't overcome the muscle memory of your primary system.
Example: When shooting 5 shot groups today, 3 times when the bolt failed to lock back on an empty mag, I seated the new loaded mag and reached back for the AR charging handle. Oops ! Not there. Try that knob up front dude!
I have long thought it strange that nowhere in any Rem MPD or BM info was there a picture of the left side of the gun until somebody posted a photo with an auction.
It was nice to finally see that there is a steel single point sling loop on the left side.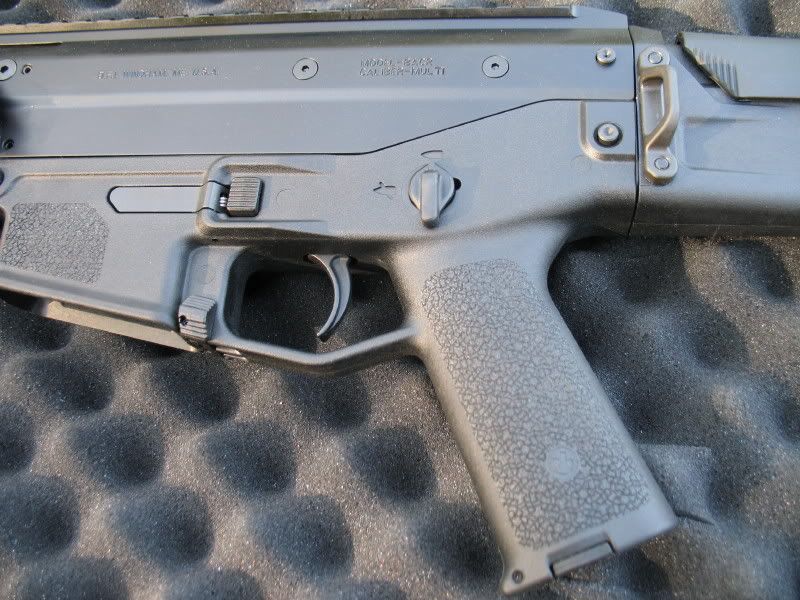 These early guns are only shipping with the 1 in 9" twist barrels . BTW, the grains on the barrel is pollen. Spring has hit East Texas.
Upon opening the case, within 10 seconds the whole gun was dusted.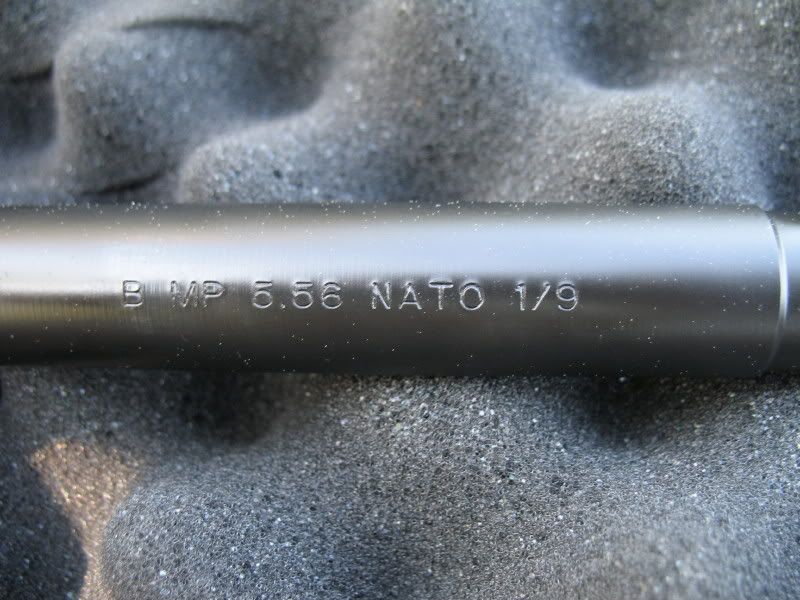 In a later post (hopefully tonight), I'll put up my range report. I tried 8 different kinds of ammo. The 69 grain and 75 grain bullets used, did as well out of the 1 in 9 barrel as the other bullet weights ( 55 gr and 62 gr). I'm going back for a second session after a poor first showing. Turns out the ACR arrived with the barrel very loose. More tonight.
Love to see that brass on that case deflector !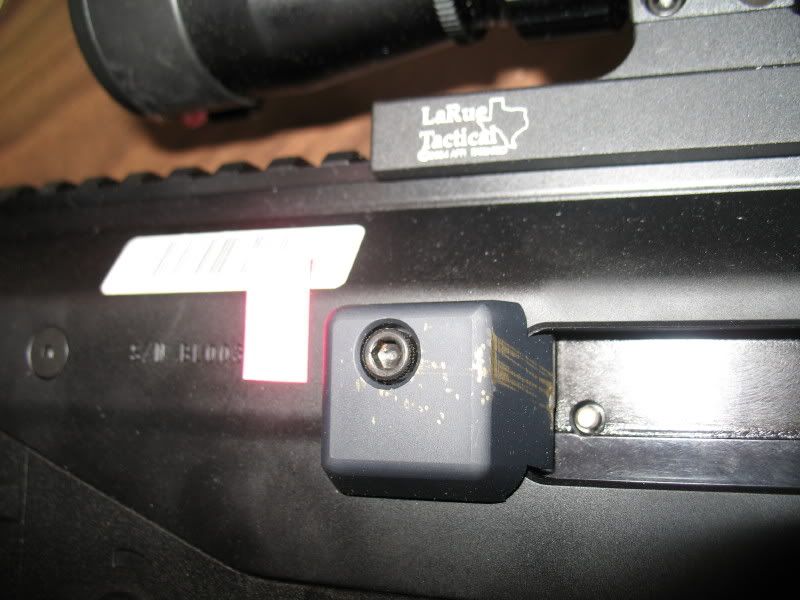 J