Vortex StrikeFire Red Dot Riflescope
When the situation demands fast shooting...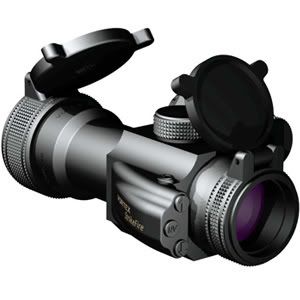 And a big scope with a narrow field of view won't cut it, the StikeFire red dot riflescope lets you shoot with both eyes open!
With unlimited field of view and eye relief – nothing gets you on target faster than this tough, shockproof and waterproof compact little red dot scope.
* Red or Green light option
lets you switch colors and adjust dot intensity (diameter of 2 MOA) according to the surroundings and viewing conditions.
* Unlimited eye relief
allows for quick target acquisition.
* Parallax free
past 50 yards.
* Optical 2x doubler
provides for more detailed viewing.
Solid performance in tough terrain.
The rugged StrikeFire red dot is perfect for hunting with shotguns, rifles, handguns, and compatible with Night Vision optics. Ideal for Turkey and Brush hunting.
* Waterproof and fog proof
with nitrogen purging for reliable work in harsh weather.
* Shockproof
with rugged one-piece 30mm aluminum alloy tube.
* High recoil caliber rating
– tested with .375 H&H Magnum for 1000 rounds.
State of the art circuitry enhances battery life:
* 3000 hours for 125 days
on lowest setting.
* 2000 hours for 83 days
on highest setting.
Included with the Vortex StrikeFire Red Dot Riflescope:
* Choose between standard low ring mount, or high ring mount (for co-witness on the AR-15)
* Flip-up lens caps
* 2x Doubler
* Vortex Limited Lifetime Warranty
See the StrikeFire on the Vortex Website
Video Update 8/29/08
Last week we took some of the production StrikeFire's out to the range and did some shooting. Here's the video:
Video