Ahh - that is refreshing. It's not 9 months in a Federal 'pounding-in-the-ass-prison', but it'll have to do. He has to pay I believe $16 a day for the privelage of Hubering.
---
Chvala sentenced to 9 months in jail

Madison - Former Senate Majority Leader Chuck Chvala (D-Madison) was sentenced today to nine months in jail for misconduct in office.

Dane County Circuit Judge David Flanagan ordered Chvala to begin serving his sentence Feb. 13. The sentence exceeds the six months in jail recommended by prosecutors.

Chvala will serve the time in the Dane County Jail, with work-release privileges. Flanagan also ordered him to pay a $5,500 fine and to serve two years of probation, during which the judge barred him from working as a lobbyist.
---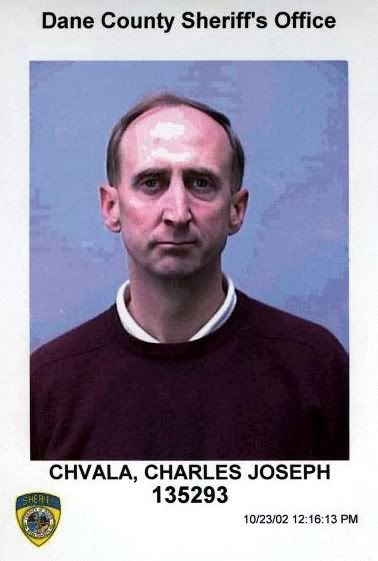 DIE SATAN!!!
Count 1 943.30(1) Threats to Injure/Accuse of Crime Felony D
Count 2 946.12(2) Misconduct/Office-Act/Excess Authority Felony E
Count 3 943.30(1) Threats to Injure/Accuse of Crime Felony D
Count 4 946.12(2) Misconduct/Office-Act/Excess Authority Felony E
Count 5 943.30(1) Threats to Injure/Accuse of Crime Felony D
Count 6 946.12(2) Misconduct/Office-Act/Excess Authority Felony E
Count 7 946.12(3) Misconduct/Office-Act/Inconsistent Duty Felony E
Count 8 946.12(3) Misconduct/Office-Act/Inconsistent Duty Felony E
Count 9 946.12(3) Misconduct/Office-Act/Inconsistent Duty Felony E
Count 10 946.12(3) Misconduct/Office-Act/Inconsistent Duty Felony E
Count 11 11.24(1) Unlawful Political Contribution(Intent.) Felony U
Count 12 11.26(2)(b) Intent. Comm. Campaign $/Senator(>$100) Felony U
Count 13 11.27(1) Intent.FalseReport/Campaign Off.(>$100) Felony U
Count 14 11.27(1) Intent.FalseReport/Campaign Off.(>$100) Felony U
Count 15 11.27(1) Intent.FalseReport/Campaign Off.(>$100) Felony U
Count 16 11.27(1) Intent.FalseReport/Campaign Off.(>$100) Felony U
Count 17 11.26(2)(b) Intent. Comm. Campaign $/Senator(>$100) Felony U
Count 18 11.27(1) Intent.FalseReport/Campaign Off.(>$100) Felony U
Count 19 11.26(2)(b) Intent. Comm. Campaign $/Senator(>$100) Felony U
Count 20 11.26(2)(b) Intent. Comm. Campaign $/Senator(>$100) Felony U