The story:
The day after SHOT, Monday, February 13, 2006, Chris (Umpota on the boards) and I went up to Red Rock Canyon, a few miles west of Las Vegas. After circling the park once, we decided on Turtlehead Peak as our destination for this journey. We chose this trail for its short duration, high difficulty, and the fact that we'd be over a mile high over a valley, and the view would be awesome. One of my other main purposes in conducting this hike was to try out a bunch of things that I had either purchased or gotten for testing and evaluation. I figured this trail would be the ultimate test for a whole bunch of stuff I hadn't yet had a chance to put to work.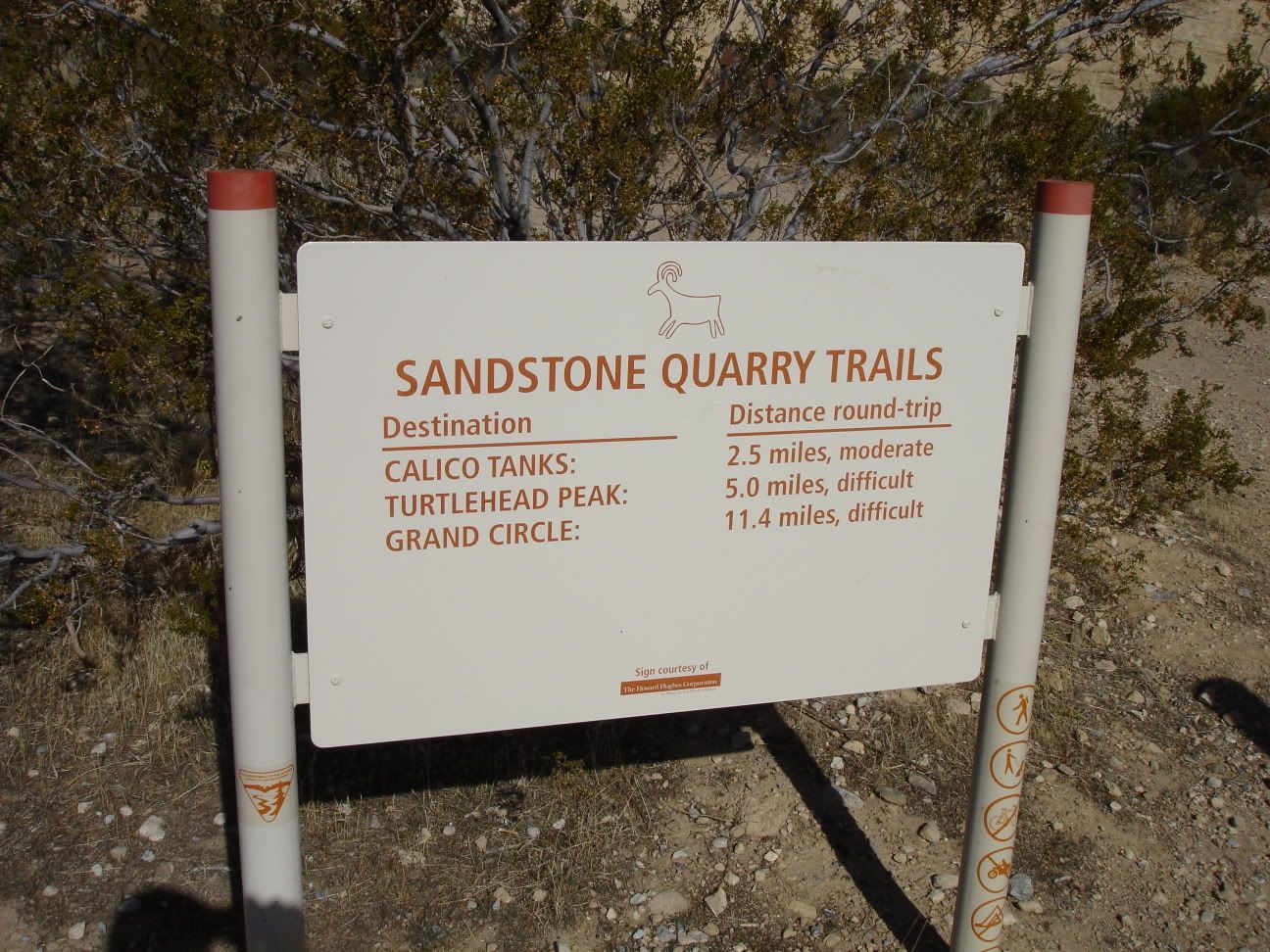 Turtlehead Peak Trail is 2.5 miles from start to peak, so 5 miles round trip. The peak is 6,323 feet above sea level. The elevation gain is about 2,000 feet. Most of that elevation is in the last mile of trail., with one 250m stretch gaining 500m of elevation. The terrain started out as dirt and loose gravel of various sizes, and became a mix of mostly steep rock and gravel with sporadic packed dirt stretches. The weather was sunny, very clear, very dry, and very mild. As a Georgia native, it's hard for me to estimate temperatures in such a dry environment, but I'd say around 65 degrees Fahrenheit or so. It was warm enough to wear shorts and a t-shirt if one were so inclined.
Prior to embarking on this hike, I had worked and walked the SHOT show for 5 days (one day of setup, four days of the show). I tried to hydrate myself the whole time, with this hike in mind. I would say that I was just a hair on the dehydrated side going into the hike, but as dry as it was out there, it's hard to tell for sure. My lips were lightly chapped the whole time, but I think they would've been that way in the desert anyways. I had been eating fairly well, in spite of the busy schedule the whole week prior. That day, I had no breakfast, but had a lunch of a hamburger (1/2 lb., all beef, mayo only) and water at the Burger Palace inside the Imperial Palace. Decent burger.
We started the hike off really well. The terrain was easy, the weather was nice, all my gear was comfortable. The pace was brisk. Once the terrain got steeper, things started to change for me. My quads just above the knees and the lateral sides of my gluts became tired. I found myself taking more frequent breaks, where I am not used to taking breaks at all. I could tell that the lactic acid was building up in my muscles. I also realized that part of the effects on my body was coming from the increased altitude. While I have hiked mountainous trails before, I've never done it with this sort of weight. My legs just weren't in shape for it. Nevertheless, I pressed on. Chris had very little weight to carry, and was able to go much farther, much faster, and without as many stops as I.
At about the last quarter mile or so, the sun had started to go behind the mountains. I decided that a little more haste was necessary, so I dropped my main ruck, removed my E&E bag and the pouch all my food was in and docked them together. I popped a couple of Cyalumes to mark my pack and the tree under which I left it so that I could find it if it got dark before I came back to it. I also pulled out my fleece, since we were in the shade of the peak at this point, and the temperature there was roughly 10-15 degrees less than in the sun. With my load lightened to nearly nothing compared to my main ruck, my legs had very little problem completing the trip to the peak. I had to stop once on the way because I had started running to catch up to Chris. My legs disagreed with this course of action.
Once at the top, I took a much-needed break, despite Chris's repeated requests to descend rapidly and immediately. I had a feeling that due to the copious amounts of water I had taken in during the trip, and the complete lack of food eaten along the way, my electrolyte levels were off, causing me more leg problems than normal. I ate a few MRE items from my food pouch to help counteract this and get my sugar levels back up to normal in case they were low. With all the new surroundings on a desert mountain trail, it's hard for me to tell exactly which factors are causing problems, so I sought to cover all my bases.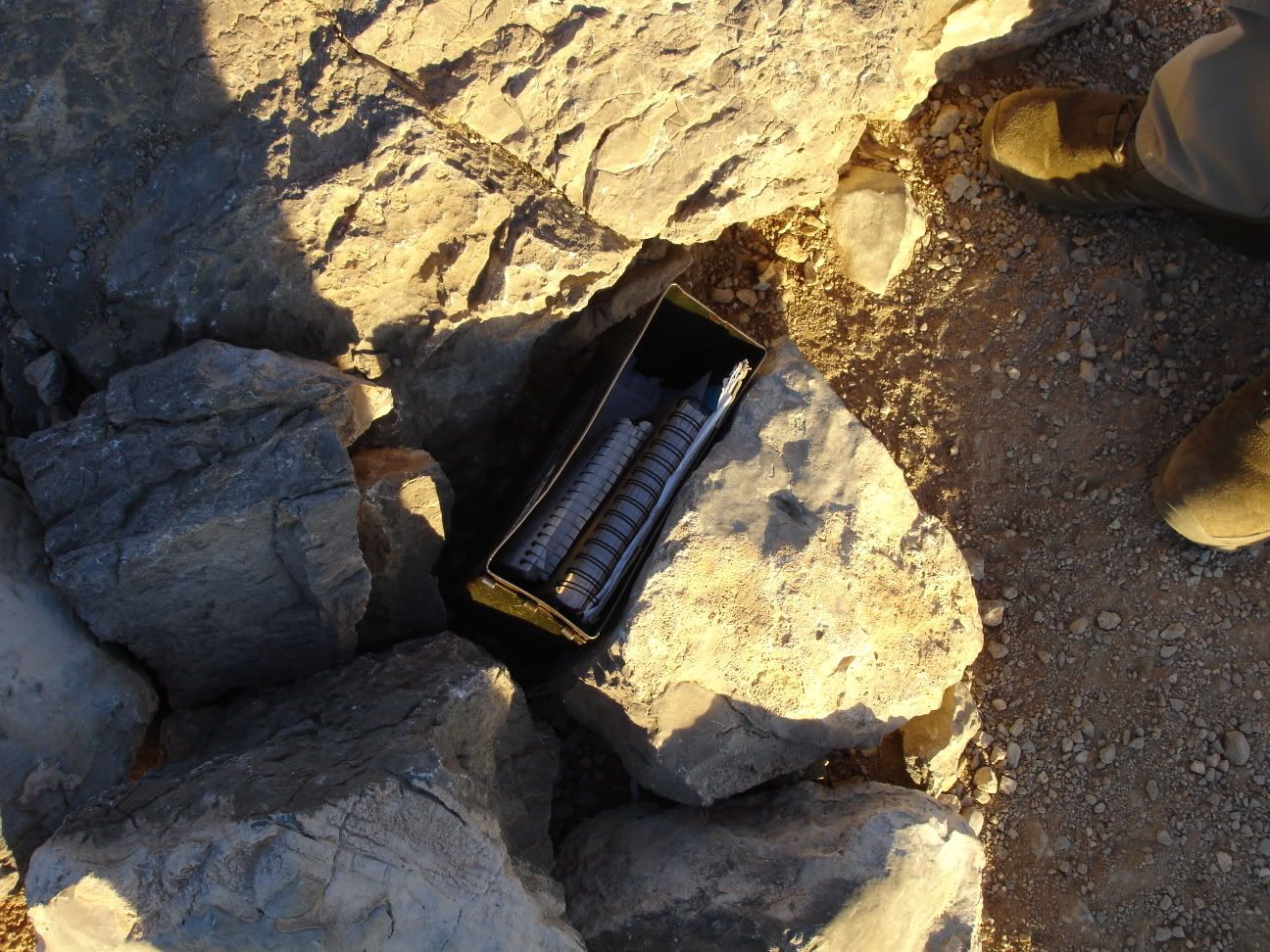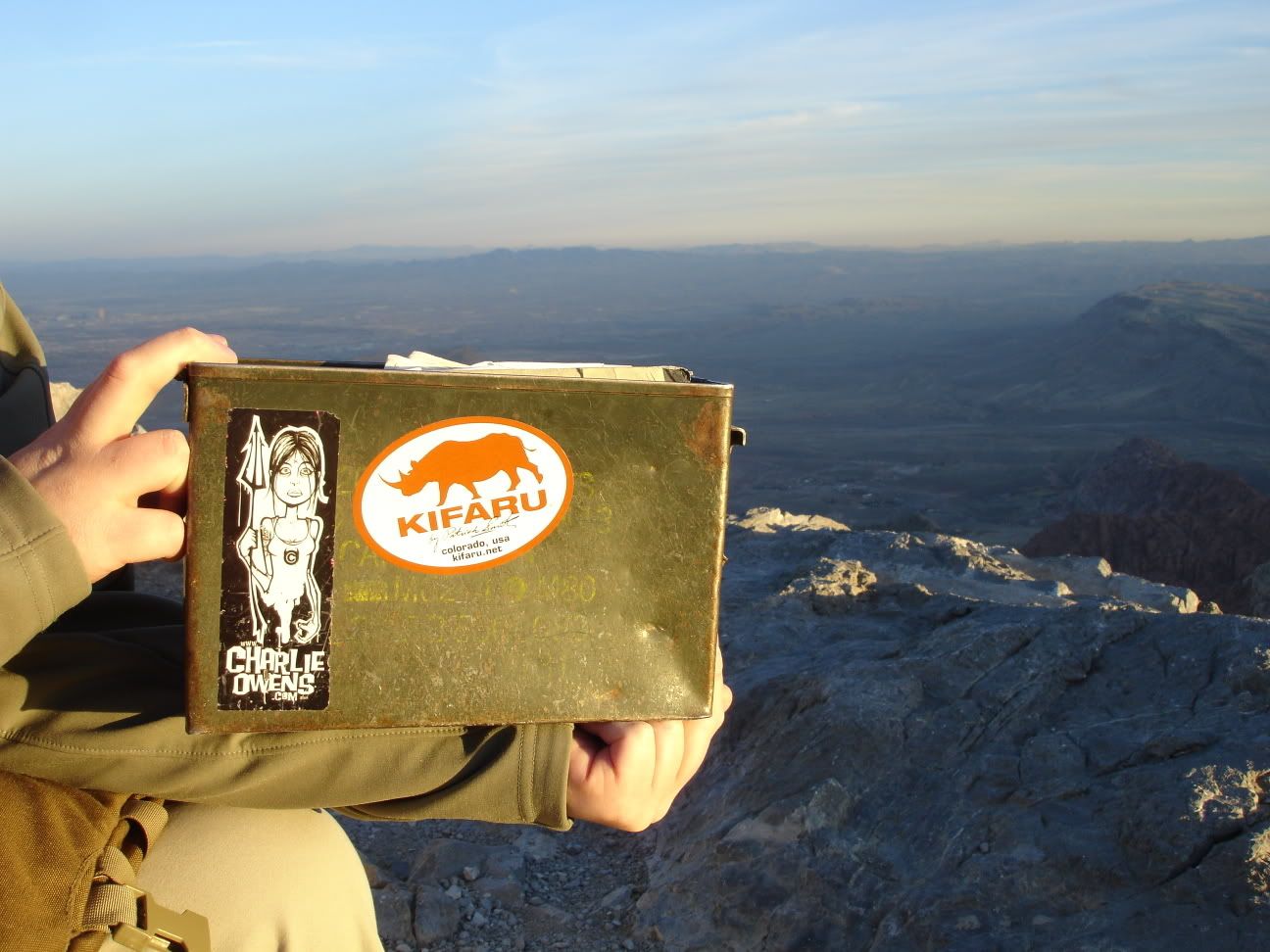 At the peak, we found an ammo can filled with notebooks upon which previous ascendents had written their names, the date, and often messages for other hikers. We signed one of the notebooks, then took some pictures of the spectacular views all around the peak. After our brief rest, and noticing the late hour and decreasing daylight, we picked up the pace for the descent.
We proceeded back to my ruck, gathered up the glowsticks and trash, and redocked my pouches to the main ruck. We then finished our descent. As we approached the bottom of the steep section of the trail, the twilight started to fade into darkness. Our eyes adapted to the dark, and we were able to follow the trail almost all the way back. Within the last quarter mile of the trail, we managed to lose the trail and wander off in another direction. This was easily corrected with the utilization of illumination tools, and we found that we were actually only a few hundred yards from the parking lot where our rental car sat.
All in all, the hike was awesome. I would do it again in a heartbeat, though, earlier in the day, and with less weight. The round trip is supposed to take about 3 hours for an adequately in-shape hiker, and due to the breaks and my slow pace, we did it in roughly 4 and a half hours. Keep in mind that I have carried heavier weights than this for farther distances in shorter times. I have never hiked a trail this steep and difficult with this kind of weight.
The Gear:
I approached a number of product representatives at SHOT, requesting from them items for T&E. Many of them were very helpful and either gave me samples right then and there, or told me to email them after the show for samples. I used as much of the product obtained at the show as possible. This next section will outline each piece of gear I used, and how it performed.
Boots:
The boots I wore were Bates M6's, size 10R in the new brown color. I got these from Jim at the Bates booth at SHOT. I had previously tried on a pair of M9's that were a half size too small, but I could tell how comfortable they were. This was my first chance to really wear this series of boot for any real length of time.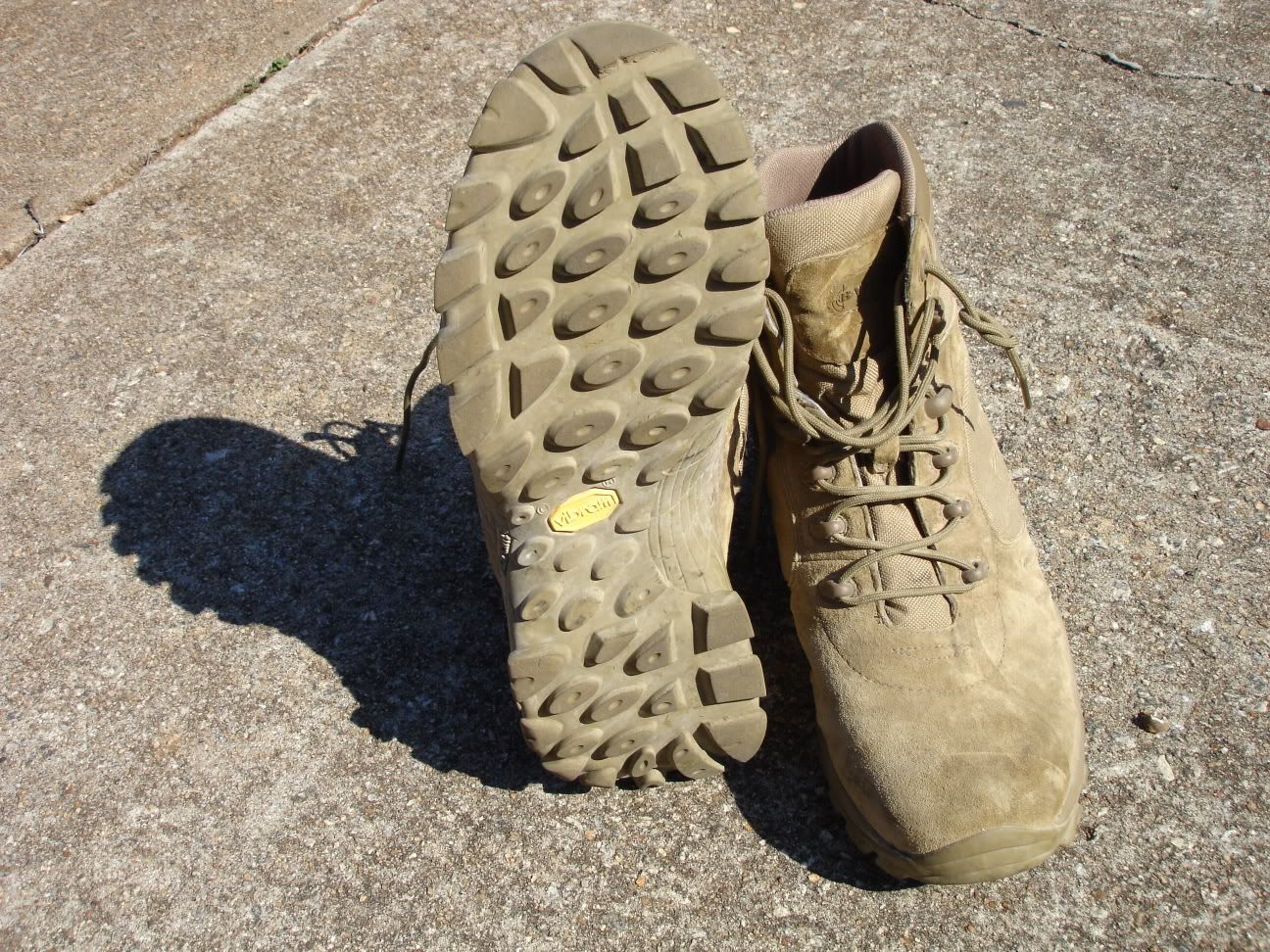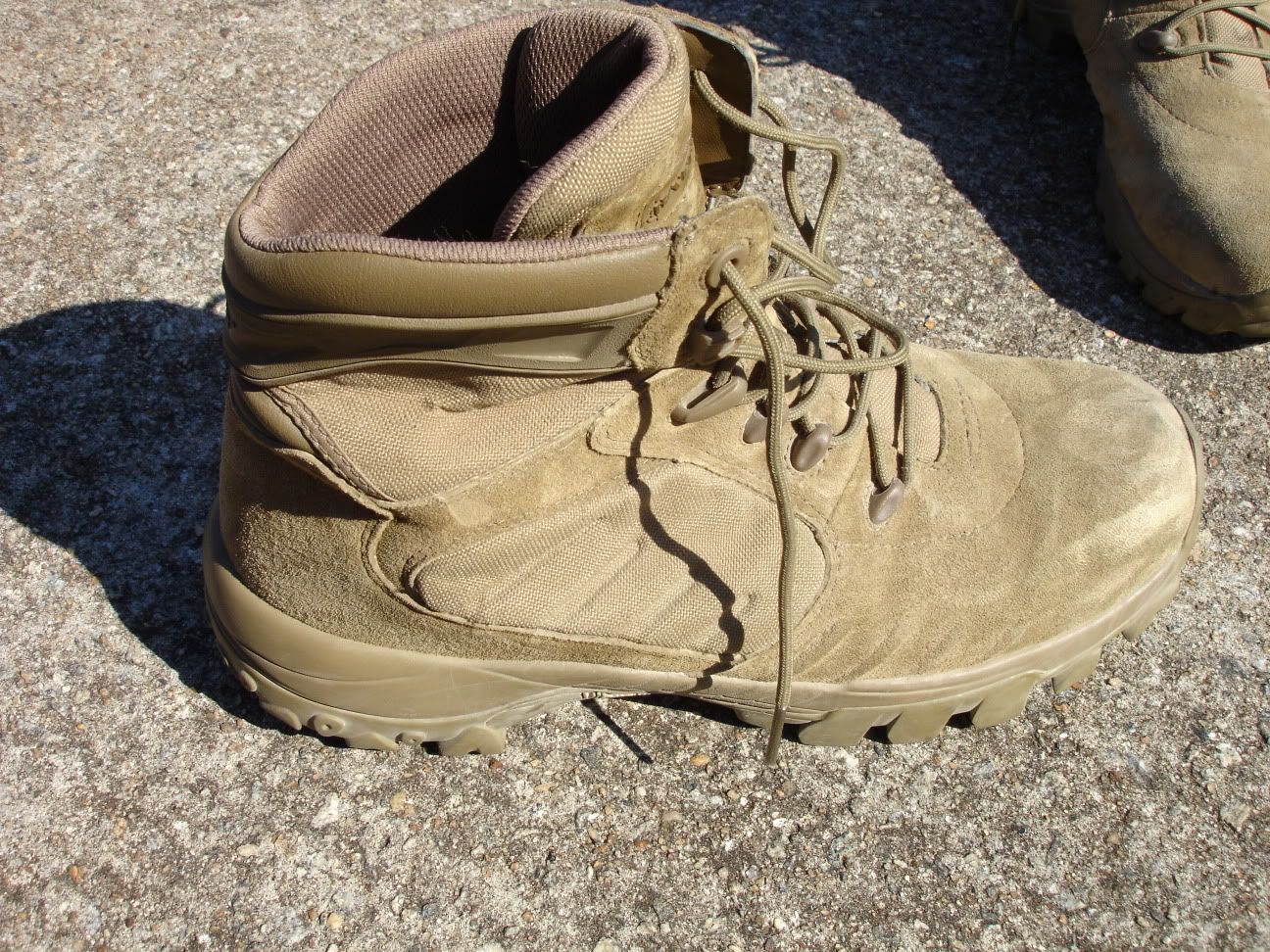 My first impression of the boots was that they felt more like tennis shoes than normal boots. I was not used to the 6" length, as all my previous boot-wearing life has been dominated by 9" boots. I like the 6" boots. I broke these boots in during SHOT by walking the eleventy-billion miles of aisle there, as well as out and about in the city of Las Vegas at night. By the time we went to Red Rock Canyon, my boots were well broken in. I had gotten three blisters on my right foot from my Belleville boots prior to wearing the Bates. While my blisters did not get any better wearing the Bates, they did not get any worse either.
My feet were a little sore in the contact points, such as the balls of the feet and the heels. I think that the insoles could use a little more cushioning. Something with some sorbothane inserts would do well for a boot like this, since the wearer is likely to put a lot of stress on his feet. I felt like the arch support was adequate, but my arches are a little on the lower side. Chris advised that his arches needed more support and backed my assertion that more cushioning was needed in the balls and heels of the feet. I did not recieve any additional blisters during the wearing of these boots, but during the hike, I did feel a hot spot on the back of each of my heels during the ascent. No discomfort there upon descent. The descent was fast-paced and over rough terrain. My big toe sticks out farther than any of my other toes, and it was constantly hitting the toe of the boot on the way down. I have never owned nor worn any shoe or boot that prevents this, however.
I have a feeling that the hot spots and toe-jamming might've been somewhat lessened if my boots were a bit tighter. There is one major obstacle to this on the boot, though: the mid-tongue loop through which the laces pass. This piece pretty much keeps the wearer from pulling the laces tight in the front or middle of the boot. I would advise taking this piece off or lacing OVER it, rather than through it. It just gets in the way and serves no discernable purpose.
The soles are EXTREMELY grippy. This is a warning. If you do not want your feet to stay planted to a surface, don't put this boot down on that surface. The only thing I've found that these boots don't absolutely cling to like mountain goats is dirt. Smooth rock, rough rock, wet rock, tile, concrete, pant legs, everything...this boot sole grips it. The soles are Vibram, but I've never experienced a Vibram sole like this. My Bellevilles have Vibram soles, and they aren't anything near this grippy. I even tripped myself a couple times because my foot passed my other leg, and the sole stuck to my pant leg.
These boots are intended to be a desert assault boot, for which they are adequately suited. They were neither hot nor cold. My feet sweat in tennis shoes, so of course they were sweaty in these boots, but the boots did a great job of maintaining comfort in such a rough environment. Even with all the extremely sharp rocks and gravel they were scuffed on, the leather hardly looks touched. The Warrior Leather was a good choice by Bates. All in all, kickass boots. The best I've ever worn.
Socks:
I wore Danner 15" Coolmax socks under my boots. They are a medium thickness, thicker than the crew-length Danner socks I have as well. I started off with one of them pushed down to the boot, and one pulled up all the way to the top of my calf, just to see which was more comfortable. I found that when pushed down and bunched up, my leg gets hot and sweaty in that spot, so I quickly pulled them both all the way up. These socks did a pretty good job of keeping my sweaty feet dry, given what they were working with. I dusted my feet with Gold Bond from the green bottle before putting the socks on for extra moisture control.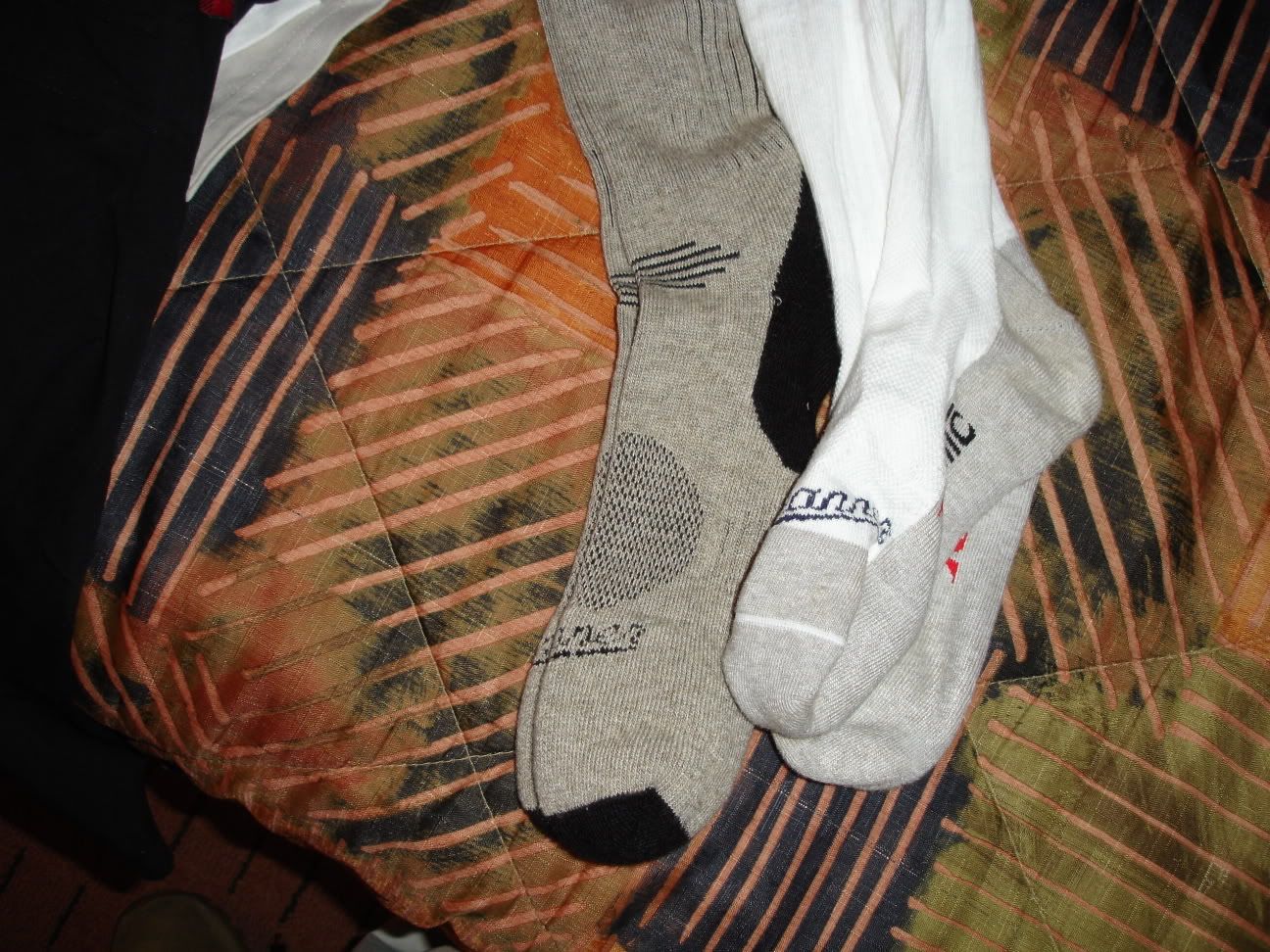 While hiking, the socks went unnoticed, which is good. They didn't feel loose or tight. They didn't shift or move in any way, and didn't cause any discomfort. There were no seams to rub, which I liked. These socks were intended to be boot socks, and they did it well. When I pulled them off, I found that the foot section was indeed damp, even though I never felt it while hiking. It was not soaked, however, which tells me that they were at least somewhat effective. The leg portion of the sock was totally dry, unlike most socks that I wear during such exertion. I believe these socks are also treated to reduce odor, at which they were REALLY effective. There was a faint foot funk, but not much. I was pretty pleased with the socks overall.
Britches:
My pants were a 100% synthetic hiking/trail pant from REI's own brand. They've got a zipper around the legs to convert them into shorts, but the shorts that they become are a little TOO short for my liking. Since it wasn't really hot outside, and there was a lot of rough scrub and rock to cover along the trail, I kept them in long pants format for the hike.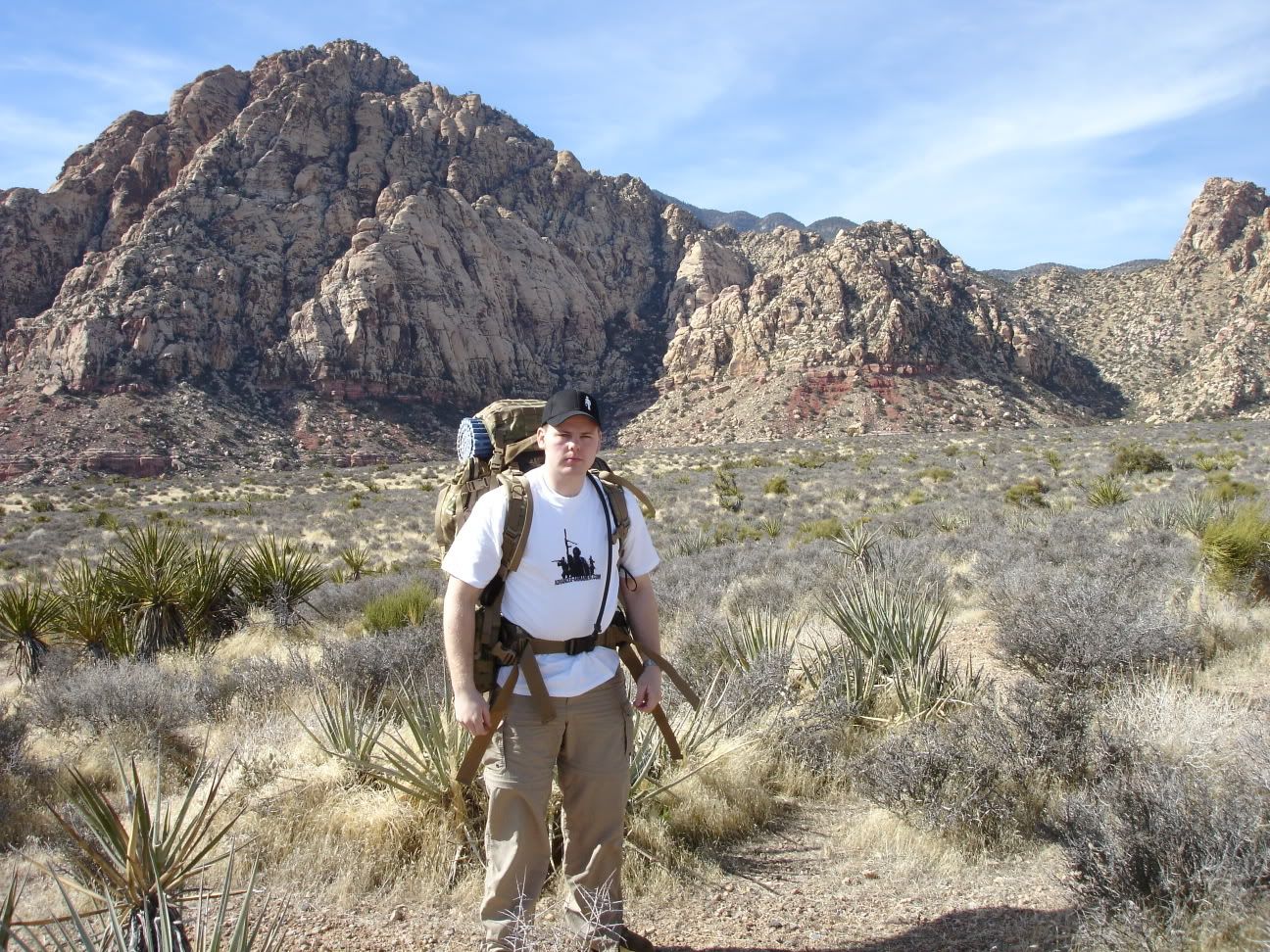 The pants are thin and light, but decently durable. I experienced no compromise of the fabric during the trip, despite catching cacti, scrub, and rock on all areas of the pants. The pants have no belt loops, which I don't like, but they have an internal 3/4" wide belt with a side-release buckle to support the zipper and snap fly. This was adequate for my journey, but I still prefer belt loops. Lack of belt loops renders these pants useable only for trail duty, because I can't carry a holster on them without a real belt.
The pockets are all kind of small and somewhat difficult to access, but they all held up to my club-hands forcing themselves in to retrieve items. I can say that I did not lose any items from the pockets, though. The pants were neither hot nor cold during the trip, but when sitting around indoors, the synthetic material does make my legs hot moreso than does cotton. The synthetic material dries much faster than cotton, though, and I never even noticed any sweat or moisture saturation in the pants. This is one of the main reasons I got these pants: to be winter pants for quick-drying. They seemed to perform about how I expected. They could use some pocket improvement, and some hardware improvement. Make both bigger and stronger. Great synthetic pants for $40, when the North Face version of the same thing is double that.
Undershirt:
My undershirt was made by PolarMAX, under their new XGO line. The material is their Acclimate Dry fabric, which is a synthetic. The particular garment I wore that day was their Phase 1 Technical Silk t-shirt. This shirt is VERY light, very comfortable, but very thin. It was advertised at the show as being better than Under Armor, and with a quick demonstration on the part of Trey, XGO's, Marketing Director, I was mostly convinced that it might be a better wicker of moisture than UA.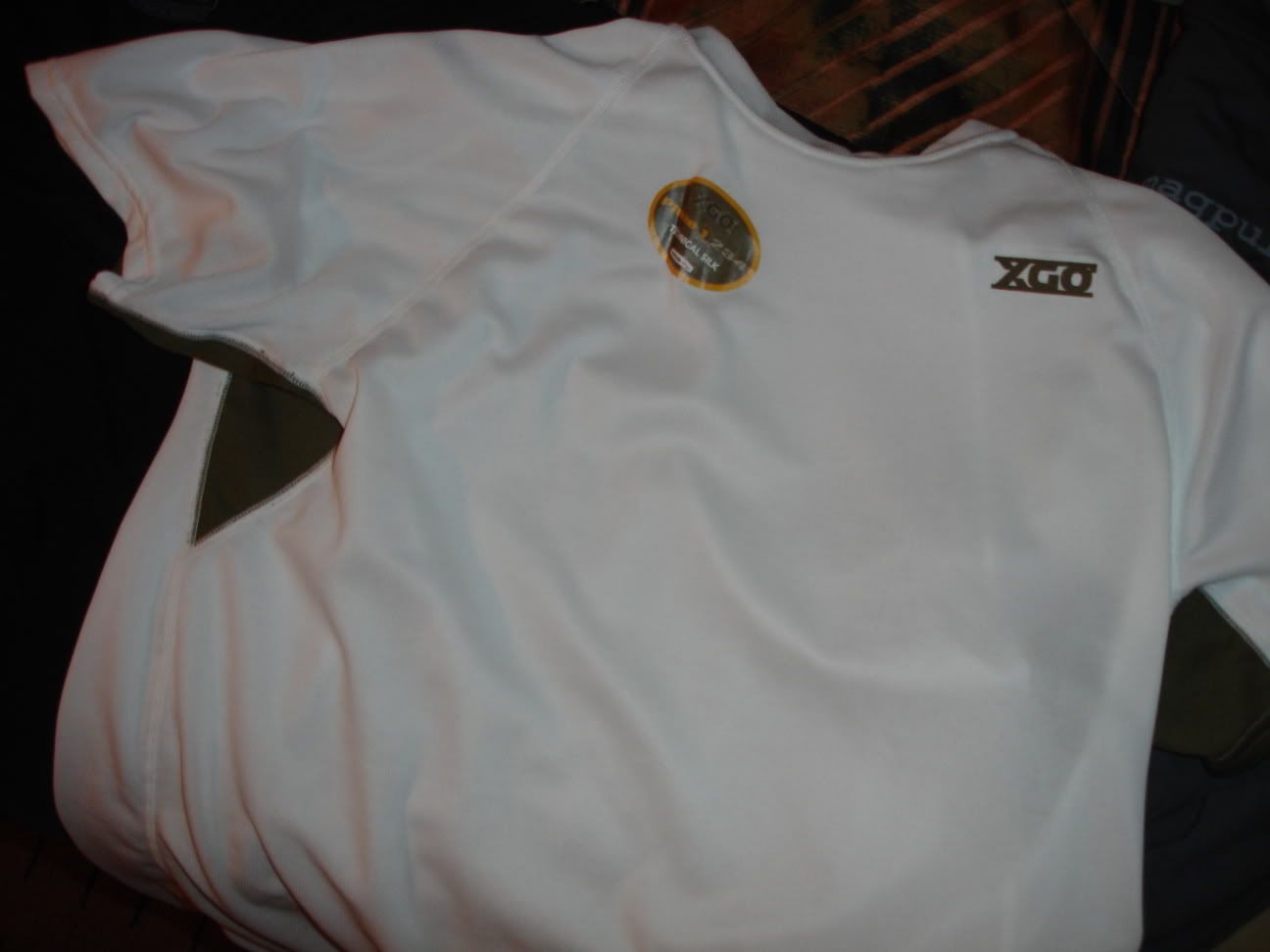 In the past, when wearing Under Armor (UA), I have been less than impressed. It didn't seem to do much for the cost. A little bit better than pure cotton, UA was the only product I had tried until this XGO shirt. The XGO was markedly better. When wearing a cotton t-shirt over it, and a fully loaded ruck over that, this shirt performs beautifully. My ruck is set up to leave a little gap between the frame padding and my back at the shoulder area. In doing so, more air flow is allowed across my back. During the whole trip, I noticed very marginal sweating on my back. When I did notice wetness, it was because my pack had been contacting my back more than normal, causing me to sweat a little more in that region. What I found was that the moisture I felt was actually in the cotton shirt, not the XGO shirt. The XGO was totally dry, and any time I moved the pack back again, my back felt instantly cool and drier.
Basically, the XGO shirt wicked all the sweat away into the cotton, where it was harder to evaporate. Had I been wearing a heavier XGO shirt or a second XGO garment over the first, I think that there would've been less of an issue. The straps of the ruck were decently soaked with sweat at the end of the trip, as expected, but my shoulders were relatively dry. This tells me again that the XGO fabric did a pretty good job of wicking the moisture, spreading it out in a larger area, and allowing it to dry. I definitely want to find more stuff from XGO to try, especially thicker shirts. I think I could've gone with one thicker XGO shirt instead of the very light XGO and heavier 100% cotton. That would've helped me stay warm against the wind, but still cool and dry against the sun.
The other advantages to the XGO shirt for me are that it's loose and easy to wear like a normal t-shirt, not tight and elastic like UA (though the XGO shirt is very stretchy, it doesn't feel like spandex). The seams are also flat, so there's no rubbing or discomfort under pack straps. This is a great product that I wish I'd found before purchasing a couple of UA shirts that didn't work. For referrence, I have both the UA Heatgear and Loosegear, and neither worked like the XGO shirt did.
Ruck and all its accessories:
My ruck was a Kifaru MMR in Multicam. I docked and locked three things to it: A Kifaru E&E and two Kifaru Hybrid Long Pockets, all in Multicam. I never got to weigh it before the hike, but without water, without the bedroll, and without the long pocket containing food, it weighed around 40 pounds. I'd estimate close to 48 or 49 pounds once loaded up for the hike. The Long Pockets were docked on the sides of the pack, using the intended loops from the MMR's sides and the PALS webbing on the back. The E&E was docked to PALS webbing.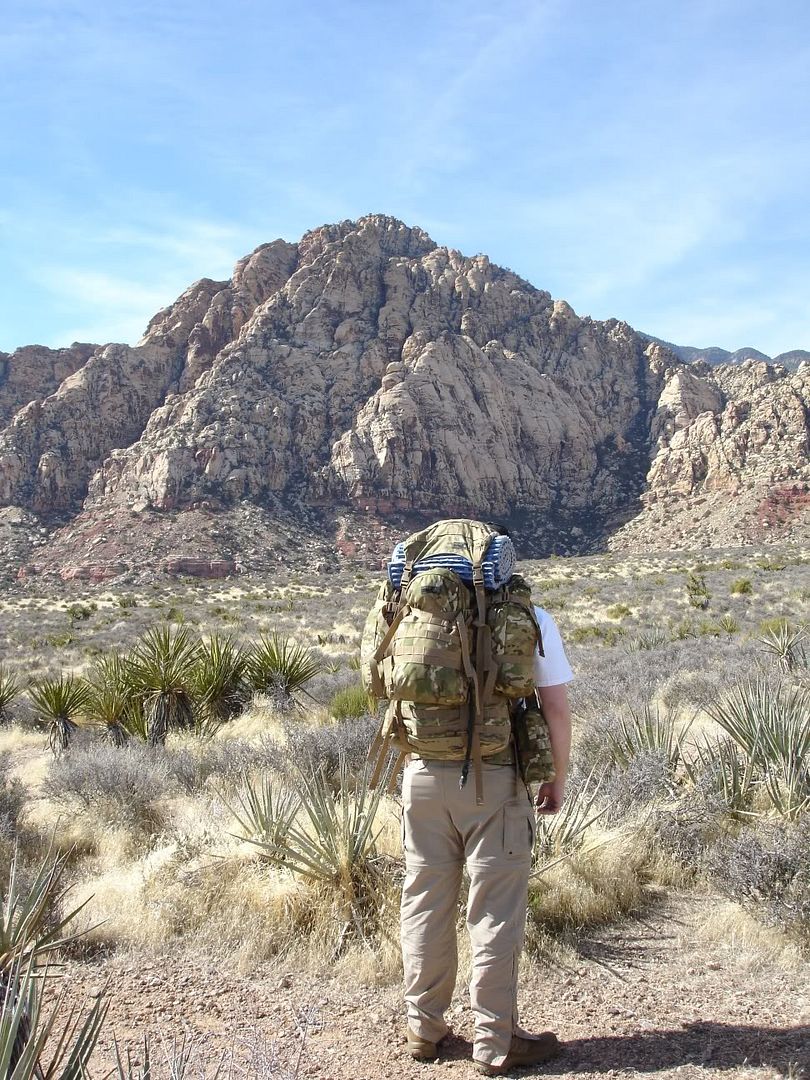 First off, this pack is incredible. I've worn it on 7-mile jaunts through rough terrain, but nothing like what I traversed on this hike, and never with this much weight for that long. I can honestly say that this pack system is the best I've ever tried. I've used a Tactical Tailor Malice 3 with Tactical Tailor straps and belt, I've used an Arcteryx pack, and I've used a Marauder, all with various weights over various terrains and distances. The MMR is without a doubt the king of large packs.
The frame and waistbelt are designed in such a manner that you really almost don't even need the shoulder straps, even for a heavy load. for my load, I could totally release the shoulder straps and support the weight with no problems on just the waist belt. The pack tilted back a little, of course, but there was no discomfort and no failure on behalf of the pack. For normal use, though, you can load this thing to the gills and still be comfortable.
For guys that have never worn a Kifaru ruck, this is a strange concept. People that have only ever experienced an ALICE-type pack don't know what it means when I describe how easy it is to carry weight with the MMR. Basically, I can carry what I carried with my MALICE, but I can carry it farther and faster due to less strain on my upper body. The pack is supported by a thick, moderately stiff waist belt. The belt doesn't need to be tight to provide support, just snug, and in the right spot. Too low, and the weight is on your shoulders. Too high, and you're squeezing your belly. Kifaru frames are built to the size of the customer, so it takes a little while longer to get one, and they're quite expensive. And completely worth the money. The waist belt has what Kifaru calls the Power Pull, which is basically just a couple of slot-type buckles which act as pulleys for the waist belt straps. It helps you cinch the waist belt down quickly and easily. The waist belt is also covered in PALS webbing. For me, this is great. It allowed me to put a Nalgene pouch on one side, and a small pouch for my cell phone on the other. Both pouches are located to the rear of the belt, out of the way, but still accesible. I find the PALS webbing toward the front of the belt to be less than useful. Any pouches mounted there have a tendency to poke the wearer in the stomach and limit bending at the waist.
With the waist belt properly adjusted, you can use the load-lifting straps on the shoulder straps to adjust how closely the pack clings to your back. There were sections of the descent where I had to bring the pack in against my back because I was scaling down a rocky section, back first. I actually ended up dropping the pack on one occassion from about 15 feet. No giant distance, but there are lesser packs that wouldn't even take THAT short fall when fully loaded. The MMR just laughs at such a drop. The quick-release buckles are awesome, and they came in handy for just that purpose. I got halfway down the section, realized that the pack would compromise my descent, and ditched it right there with the quick-releases. It fell to the rocks below, and was fine.
I have found that if you distribute the weight vertically in the MMR, it rides better than if you put all the weight in the bottom or top alone. I believe it is designed with this in mind. If you do not intend to fill the pack or somehow distribute the weight as such, you should probably find a smaller, more suitable pack.
During no time while wearing this pack did I experience any numbness or tingling in the arms, hands or fingers. No back, neck, nor shoulder strain. The only pain I ever felt during the whole hike was in the lower body, due to the weight and not being in shape for the kind of climb I did. The MMR made the weight feel like nothing to my upper body, even if my legs knew the real truth.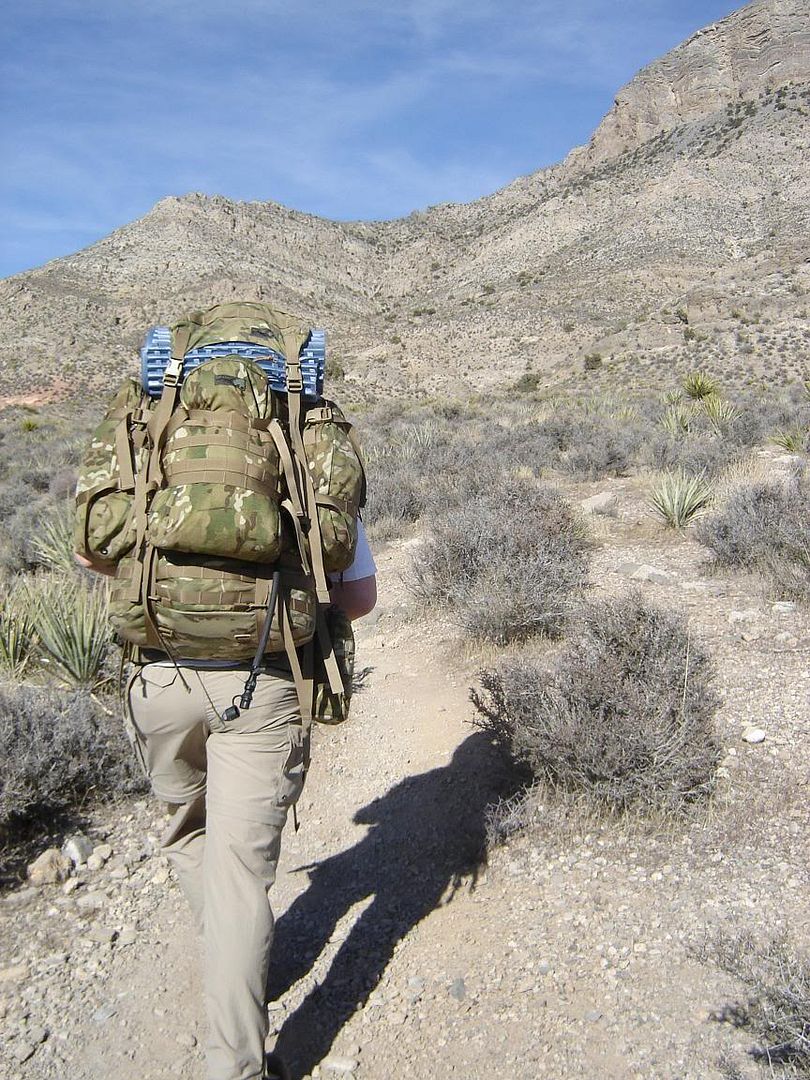 On to the Long Pockets. I use the long pockets to separate things out of the pack that I want quick access to, or to be able to pull off and reattach to other, smaller packs in the same manner for which I used them on this trip. I have one Long Pocket for hiking-oriented medical supplies (I'm an EMT, so that runs the range from IV supplies to simple bandaid/booboo stuff), and one Long Pocket for food. I have roughly 5 MRE's broken down and crammed into that Long Pocket. When I ditched the pack, I just popped the buckles on the food-holding Long Pocket, and then docked it to the buckles on the E&E, cinched the straps down, and went on. The Long Pockets are decently big, but not overly so. They're not designed to hold everything in the world, but heck, 5 MRE's is a lot to shove into one pouch. The Hybrid Long Pockets that I have are top-zip, with the dock and lock straps as well as PALS webbing for MALICE clips if you want a more permanent attachment method.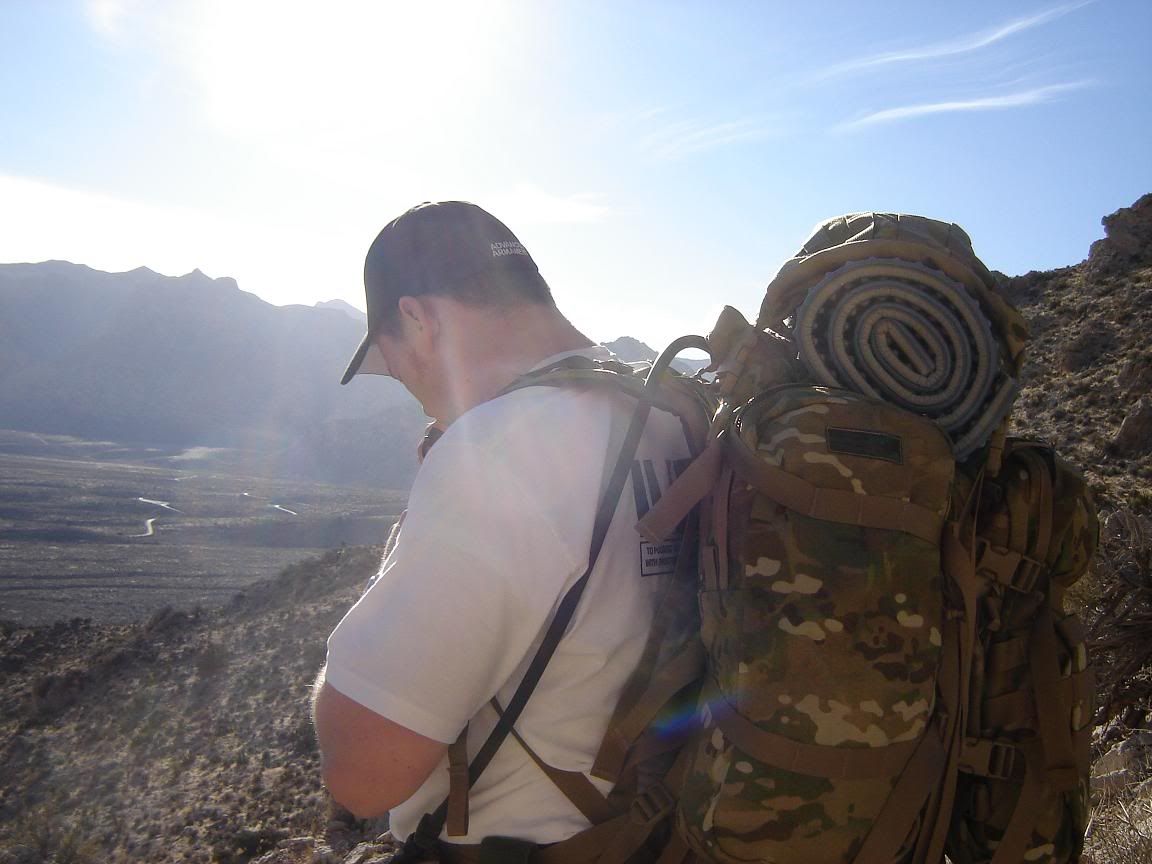 The E&E is awesome. It's big enough to hold a 72 oz. bladder in the rear, outside pouch, or a 102 oz. bladder inside. I run mine with a 102 oz. CamelBak ChemBio bladder inside, as well as a whole bunch of other stuff. My E&E is set up as a true Escape and Evade type of bag. It has basic survival supplies, including but not limited to: survival blanket, Iodine tablets, magnesium firestarter, waterproof matches, one MRE, gloves, balaclava, Surefire M3, spare batteries and bulb, etc. It holds everything that most people put in a butt pack and more. I like it because you can dock it to the back of a pack, then unbuckle it, pull out the shoulder straps, and run off with it like a small pack. Even loaded full with another pouch docked onto it, the straps are comfortable. Great piece of gear.
Inside the pack:
I had a bunch of stuff inside the pack that I didn't use on this trip. I'll just go into what I did use.
I carried one CamelBak 3L bladder in the MMR and one in the E&E. I drained both during the trip. I brought a 1L Nalgene that I gave to Chris. Chris only brough a 72 oz. CamelBak, and he definitely needed more water. Even I could've used more water. Looking back, I could've used up the amount of water that Chris and I carried put together and still been fine. I was slightly dehydrated going into this, and I came out about the same, but I was playing catch-up the whole time. Electrolytes were also an issue. In the future, I will make sure to fill that extra Nalgene with diluted Gatorade or Gookinade or another similar electrolyte replinishment substance.
The CamelBak bladders functioned flawlessly, as usual. I've used them countless times, and they're great. The one thing I wish I had is a second bite valve cap. My uncovered bite valve kept getting covered in dust and sand from the desert, while my covered one was clean the whole time. Even when I dropped my full pack from the 15-foot height directly onto a nearly-full bladder, there was no hint of a problem. No leaks, nothing.
I brought a Polartec fleece and watchcap made by Peckham in case it got cold. It got a little chilly in the shade of the peak, so when I ditched the full pack, I pulled out my fleece. It's a 100-weight half-zip fleece in Coyote Brown, as issued to Marines. I bought it straight from Peckham. The watchcap is of the same material, also by Peckham, also in Coyote Brown. It is like your typical beanie-type head garment, but better. Unlike a baseball cap, the watchcap covers your ears, forehead, and the top of your head. This was awesome up on the peak, where the wind was blowing a little, and the sun was starting to go down. The other advantage to these Polartec fleece items is their resistance to water. Being polyester fleece, they resist water, and dry quickly when wet. It was quite dry this trip, so I didn't have to test that one out. The half-zip was plenty warm when walking around at the peak, but was too hot once I put my pack on. I found myself unzipping it, pushing the sleeves up, doing everything to cool off. I eventually just took it off and was fine, even in the cooler air.
The MRE pieces I ate were the grilled hamburger patty, a piece of wheat bread, a piece of pound cake, and some Skittles. Taste the rainbow. Having had only a small lunch that day, I was quite hungry. On a normal day, that MRE hamburger would've been disgusting. Shaped like a NASCAR Superspeedway, this elongated patty was covered in jellied fat. I slung the excess off, slapped it on the dry wheat bread, and proceeded to eat it in about three bites. Washed down with some water, it wasn't too bad. Still hungry, I ate the pound cake. It was very good, and would make a delicious snack any day of the week. The Skittles were a little hard, but still very Skittley. I ate them to pass the time and increase my blood sugar. The side effect was making my jaw sore.
That's about all I really used up on this hike. The end result of this whole journey was finding out that pretty much everything I took was fine. Certain pieces of equipment could use a little tweaking, as described, but overall, everything performed very well.
Next post will be pictures.