Hey fellow ARFCOMERS,
My fun little trailer bbq pit was stolen sometime today (Sun 08/14/2005) from a locked, fenced in residential area down around Bergstrom Airport. It's a one-of-a-kind pit that started life as a Dilly boat trailer, then went from there.
I'm guessing it will be repainted but there's some pretty specific things worth noting. They include:
· Texas Plate: 63Y-JTZ Expires 09/05 and NOW UP FOR RENEWAL
· Dilly Boat Trailer as basis, white in color.
· Welded box steel for tongue/ball mount. Welded at pivot point.
· Safety Chain welded in place. Chain is quite rusted and rough.
· 20MM Ammo Can bolted in place at Pivot. Two Master Locks on box. Four holes in box and frame to hold box in place.
· 2" ball coupler welded to box steel. "Remove Before Flight" ribbon on Master Lock.
· New Braunsfels Offset type smoker/grill bolted to angle iron cross members.
· White (basis) grocery store rack welded in place to trailer frame for bottom
· Angle iron 'feet' welded to trailer frame, corners rounded.
· Primer (pinkish/red oxide) over hand sanded white original paint.
· Paint OD #24087 with stencils "45BDEX 145G" and "US ARMY" with Stars.
· New 4.80 tires/wheels. Original wheels painted white, then OD. Rim area inside tire is WHITE.
· Dustcaps will have red epoxy primer present.
· Nose jack welded in place (Harbor Freight).
· White/Clear plastic wire loom at pigtail.
If Anyone sees this, please IM me or email at: scott "AT" m38a1.com with the subject as BBQ PIT
Thanks-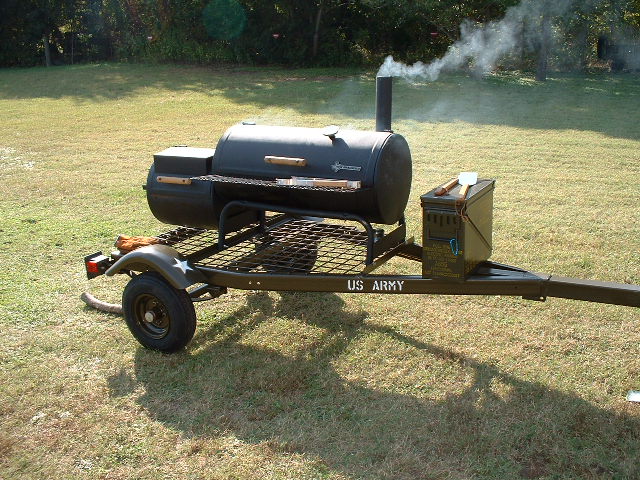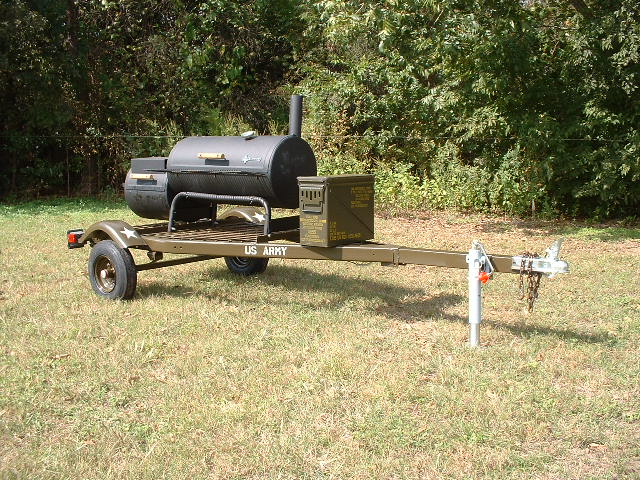 ETA:
Plate is now listed as Stolen Vehicle.