By request:
Because I bet most people aren't reading the entire thread, then would you please edit your first post:

1) see if anyone is bringing a good (digital) camcorder or video camera?

2) I would like to get on video either a Mad Minute (everyone emptying a magazine on full auto or bump firing, all at the same time) or Rolling Thunder (everyone with full auto lines up, the first person empties their mag, then the next, then the next, and so on, kind of like doing the wave with machine guns). Can you post a request on your post on Page 1 that everyone who would like to participate should be there by 11:00 a.m.? That way we can do it early enough while everyone still has ammo left. Yes, I realize there are people who do not have machine guns, but I am bringing 7, and I know RenegadeX is bringing some, so we will have enough to go around...
*************************************­*********************************
OK folks, let's get this thing organized! (Damn, amazing how getting a little Butter Bar pinned on can make a girl bossy...!)
ARFCOM Shoot and BBQ at Tom Bean, 8 Jan 06
We will be getting together at Ralph's for some shooting fun, to fill our bellies, and to show leonUK a good Texas welcome! You can find range info
here
. If you need better directions, IM CnL or myself and we'll be happy to help you. Plan on getting there around 10:00 or so. (We'll be arriving earlier to get set up, etc.)
Range fees are usually $3/hr, but for arfcommers, there is a low, low bargain rate of just $5/day!!! (leonUK, your range fee is on me. I also have a bottle of tannerite waiting with your name on it. Merry Christmas!)
CnL is going to fire up this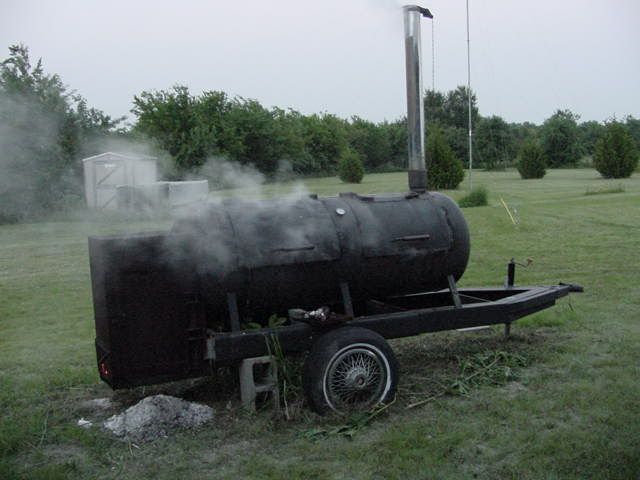 that Saturday night.
If you want brisket, sound off so we can be sure that there is plenty
, then please make a small donation the day of the shoot. I heard a rumor that someone may be kicking in some wood... if so, please touch base with the Big Guy or myself.
There will be a gas grill available if you want to bring your own meat to grill there.
To avoid having a table full of chips and cokes and nothing else,
please sign up to bring a side or a dessert.
BYOB.
If you have a folding table and/or chairs, you may want to bring them.
Roll call:
CnL and Makarov_Mami: brisket, baked beans
leonUK
ilikelegs: brisket, a delightful prune casserole
Superalpha, Energizer, +2:
white32golf:
jasondcrum and SP1grrl +1: ribs and green beans
RenegadeX: brisket
rogue007 and Jessica +1: brisket, broc and cheese, roasted potatoes
Maroonfeather
John11167 and Kim: brisket
soowah +1 or 2
Getsum
SilentRun: brisket and brownies
FALARAK: brisket and cole slaw
saj294
Gopher: brisket and plates, forks, etc.
lordtrader: brisket and cheesecake
Gorilla and son
white32golf's Dad
wganz and niece: brisket, beans and tater salad
runs_with_scissors
The Norm: brisket and dessert
hrt4me +3: brisket and dessert
freeflow
Strker + GF: brisket
In answer to the often asked question, yes, you need to bring your own targets! Link to range info at the top of this post.