---
Originally Posted By triburst1:
I am looking for a compact belt slide holster similar to this but for a Kahr pistol.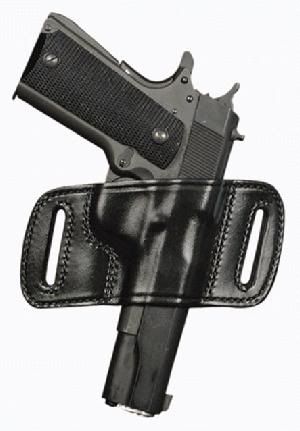 This is a Don Hume, but they do not offer it for the Kahr. I have checked a a dozen different manufacturers but haven't been able to find one. I don't want a Yaqui slide, or one of the large ones with tensions screws, or a thumb break. I just want a simple slide with belt slots, preferably in black leather.
---
okay, you didn't say what model of Kahr..... but if it's one of these:
KAHR 9
KAHR 40
KAHR MK9
KAHR MK40
KAHR P9
KAHR PM9
KAHR PM40
KAHR T9
how about this one? >
The #8 Close Cropped Shortcut is the same holster as the #10 Shortcut, but the belt slots are placed closer to the gun so it has a thinner profile. Sometimes people with thinner builds like a holster that doesn't have too much width. The cant is approximately the same as the #10. It is hand boned, hand dyed, HARDMOLDEDTM, and beautifully finished in your choice of 8 colors. The belt slots can be ordered in either 1¼"or 1½".
$44.95
or this one? >
This is a classic cut that lets your barrel show through the bottom of the holster. This light-weight, compact holster is hand boned, hand dyed, and Hardmolded™ with a dowel sight clearance. Made of 8-9 oz. cowhide.
$49.95
They have all kinds of options, send them the pic and they'll probably make one for you for your Kahr, and all are available in kydex, if that interests you.
Fist-inc
I just ordered a kydex rig and pouch last week...waiting for it to arrive.
No Expert