Making Your Own Pistol display / Range stand
I cut and sanded this in about two hours (stain and finish over several days).
This places the pistol in a fixed position, allows for placement of 6 single stack mags side by side and provides a space for miscellaneous items (extra rounds, mag loader, etc). The overall size allows it to fit in my particular range box with everything else.
At my range there are these little tables (pedestals really) that use carriage bolts to secure the wood to the post. The boltheads, of course, come in contact with firearms (unless you use a rug since it's a bit small for the typical OEM case)
So being the picky person that I am I decided to build this (50 rounds total in pic).
For all those who are interested, there are a number of ways to do this, I'll talk about two:
My Way and the Really Easy Way. Why did you even bother 'My Way'? Because it was raining and the range was getting soaked (Wilma had taken away the roof
)
Since this is my post
we'll start with My Way.
Materials I used 'My Way':
Maple wood, 3/4in thick (found it in Home Depot!, the only time ever!)
Handheld Router, 1/4in shaft, 1/2in round bit.
Orbital sander, 5in
Jigsaw
Ruler, 12in
Pencil
Min-Wax Wood Conditioner (actually does help stain wood nice and even)
Min-Wax Gel Stain in Mahogany (could only find it in gel)
Tung Oil for 'varnish' (Tung oil is very easy to touch up)
Black primer, spray can
(I decided not to paint the wells)
Mineral spirits, odorless
Various paint brushes and foam pads that I was willing to throw away
Tack cloth
Steel wool, Final Finish, Quad 0
Blue Shop Towels (minimal lint)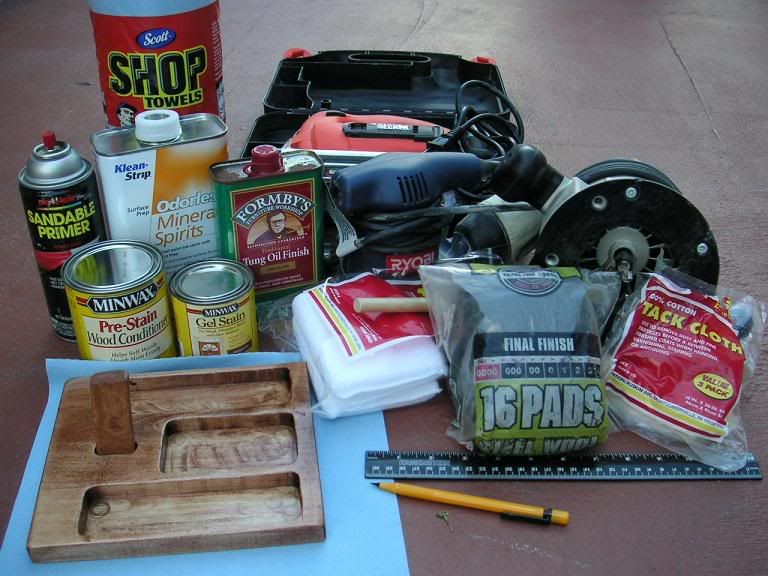 The Schematic:
Start the router at 1/8in depth and work deeper in 1/8in increments to minimize burn marks in reaching desired depth.
Sand it out good, I started with the sander at 150 grit, then used 320 grit by hand.
Wipe off using tack cloth then use blue towel and a light application of mineral spirits, let evaporate about 20 minutes.
Apply Wood Conditioner freely and let dry about 30-45 minutes.
Apply stain, pass over 2-3 times, let sit overnight (or hang as I did)
Realize it doesn't cure too fast in humid environment; hang inside all day
Tack cloth again (lightly to minimize wax transfer, otherwise use a light touch of mineral spirits to remove waxy residue)
Apply Tung oil nice and even, foam brushes work pretty well for me. Let SIT overnight, otherwise it may run down to the corner.
Extra coats optional but I put three altogether. Lightly use 0000 fine wool between coats and MAKE SURE to tack off the steel wool that settles on there.
After all that I then put one coat on the bottom just to seal it.
Materials for 'Really Easy Way':
Wood, 1/2in thick pieces by two
Handsaw
Ruler, 12in
Pencil
Wood glue
Cut the various pieces so that they conform to the schematic and glue them onto the other piece like a puzzle. Close enough! Go shooting!
Lets see yours (especially if you have access to a machine shop
) when you're done or if you have something different!
The End.
edit: For spelling and some grammar (even though I previewed several times
)