Assuming the slide of your pistol looks something like this one: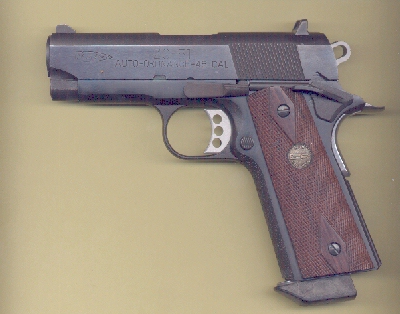 (found in search engine)
If I am reading your post correctly, instead of using a compact/officers/commander size frame, you've mated your Pit-Bull slide to a full-size gov. model frame.
This is "no" working and possibly dangerous thing to do as these pieces were NOT designed for each other. Suggest ya get the proper frame for the slide or the proper slide for your frame. The parts are made differently for a reason and yes their is a difference in the overall length of a commander/officers/compact recoil spring guide and a full-sized one.
Just because both slide and frame are based of a 1911 design, that does not mean you can slap two different "sized" designs together.
Here's ya a spot to pick a manual from Auto Ordinance's web-site,
www.auto-ordnance.com/ao_1911pkz_f.html
, hope it helps.
Mike
PS - I've yet to see a gun manufactuer that will not be happy to send ya a copy of a manual for one of their products, suggest ya contact Auto-Ord if link above doesn't do it for ya.