For years I've always read something to the effect of "...snubnose revolvers can't efficiently burn the powder and you are better off carrying 38 +Ps in a 357 snubnose...." However, I don't ever recall ever seeing any real data.
A little background about me, my first centerfire revolver that I ever had and shot to any extent was a S&W Model 19. That was back when I was 12 or 13. I guess you could say I was brought up around 357s and I like them. When I was in my early 20's after a hitch in the Army and putting myself through college, I joined a pretty big police department. My first issued weapon was a Ruger Security Six 357, loaded with either Federal, Remington or Winchester 125 gr JHPs - whatever the department got for a good deal I suppose. I always liked the 357 and usually carried a 357 snubnose off duty. I had a few, SP101s, S&W 640s and currently a 340PD. I still carry the 340 PD daily. I'm now a few months away from retirement. I got older, my son grew up and I was issued several different duty guns through the years. About the only things that are the same from when I came on is I still have the same wife and I still carry a 357 off duty.
This year I got my son a 642 no lock for Christmas. It's still in my gunsafe, unfired. He enlisted (and subsequently re enlisted) and is currently on the left side of the country. This summer, he'll be able to come back east and pick up his belated Christmas gift. Since then I've picked up some 38+Ps for him to carry. I never found a need for +Ps, because I always carried magnums. When I want to do a lot of shooting with my snubbies I just usually shoot some of my 38 reloads. I was never really recoil sensitive, but I have to admit, I DON'T want to shoot magnums out of my 340 PD all day! Coincidentally, it's time for me to rotate my carry ammunition, so I thought I might as well do some chronographing and see how inefficent the snubnose is at burning magnum powder.
Here's the gun, chronograph and the ammo: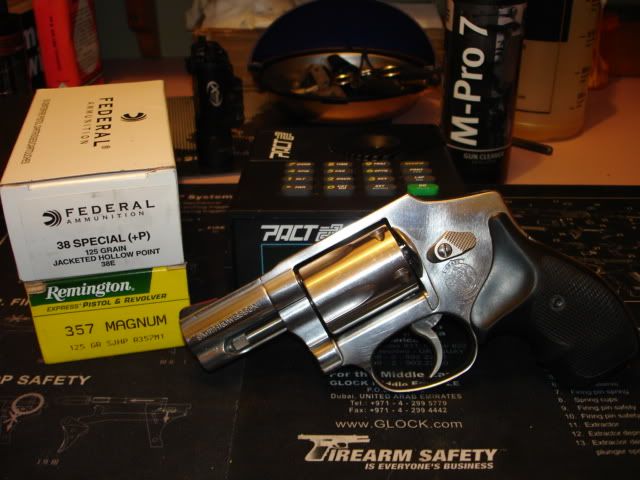 I went out to my back door range and set things up. Here's the results of the magnums out of the 640:
The results of the +Ps out of the same 640: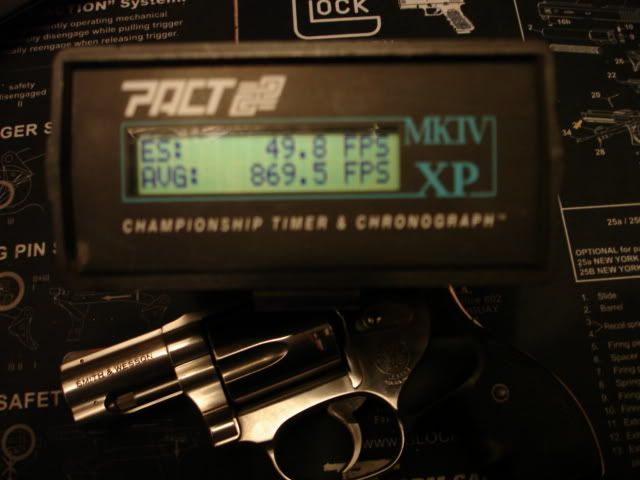 It seems to me, at least in my part of the world, the snubnose does a fine job at burning the powder and pushing the little 125 grain bullets four hundred and forty some feet faster than the 125 grain 38 +Ps. If it was within 150 fps, I don't think there would be that much difference according to what I have read. However, 400 fps faster? I think I continue to carry my magnums!
Things learned:
Don't always believe what you read on the internet.
Snubbies do a good job at pushing bullets at magnum velocities.
If I keep myself busy with this stuff when I retire, I'm going to really enjoy retirement!
Shooting is still fun after all these years!