Now normally I go to a local Cuban bakery for my Cafe con Leche in the morning. As most Floridians will attest, Cuban bakeries, their owners and most of their patrons are about as left-leaning as Ollie, G. Gordon and Rush.
For some reason I decided to pop into a Starbucks I've driven by, but never had the pleasure of patronizing. Outside are parked an eclectic mix of BIG SUV's made in countries that lost WWII, little econoboxes built in various Pacific Rim nations and bicycles of unknown make or origin. Please note that I have had little experience with "bikes" except for the occasional Schwinn or Harley-Davidson. God gave us internal combustion engines for a reason and I'm not pedaling. Over half the vehicles have some variety of "I Kream over Kerry!" or "Bush is a Nazi Thug" bumper stickers - you get the idea.
I decide to back my 90' Dodge Power Ram (Ol' Blue) into the (only available) space directly in front of the (fully occupied) outside patio seating. My 14 year old exhaust system, coupled with a 4" hillbilly lift, had the unfortunate side effect of fumigating the (outdoor-loving, venti-double-decaf-lite-mocha-frappacino-quaffing, lycra-clad, well-coifed) seated soccer MILFs with several cubic feet of toxic, malodorous Detroit perfume.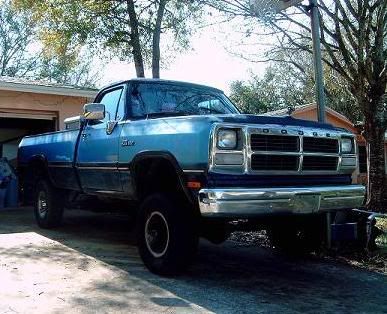 "Ol' Blue"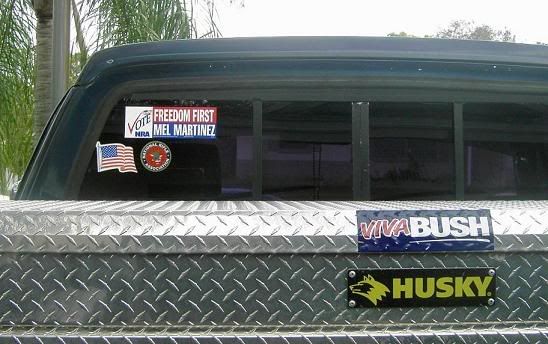 I'm not sure if it was the smog I produced with Ol' Blue, or the "Viva Bush" and "NRA for Mel Martinez" stickers on the window, but something caused facial contortions like these women just found out their Vietnamese manicurist cancelled their 1 o'clock, the Mall burned down and their "Doctor" won't get any more Botox in for at least a month. With a jaunty nod and a wink (and admittedly, perhaps a mild leer) to the gagging gaggle of liberal ladies, I proceeded into the store, a small whiff of burned hydrocarbons trailing behind.
After taking my place in the queue and wasting a precious 1.3 seconds of my life listening to the
lesbians
biologically-confused females in front of me argue the merits of Starbucks coffee additives, I did my best to filter out the cacaphony of conversations besieging my tender, conservative ears.
I sunk into myself and attempted to keep up a running self-help mantra; "Go to your 'Happy Place', Bay. Find your center. Stay on target. Soylent Green is people. STAY ON TARGET! Really explore the space. More Cowbell. Did Nietzsche die of syphilis?"
In spite of my internal monologue, I maintained visual situational awareness and noted that Starbucks Corporate HR and Recruiting must have some guideline mandating the hiring of thirty-something, over-the-top, flaming gay gentlemen and twenty-something, sort-of-cute-in-a-hippie-way, ambiguously gay women. It appeared I had fallen into a radiation-induced mutation of "Friends/Will & Grace". As I started to feel curiously faint, a growing wetness on my chest alerted the drool-mitigation subsection of my brain that it was time to perhaps slurp, or at least close my jaws.
Aroused from my reverie by the insistent, "Hello. Hello? HELLO!" of the diminutive "Barista", I casually wiped the drool from my chin, gathered my wits and girded my loins for the beverage ordering process to come.
---An aside, if you will allow me. What the hell makes a "Barista" different from Flo at Mel's Diner or even Muhammed's wife at my local Dunkin' Donuts? Why doesn't Muhammed's wife have a name tag? Why do Baristas rate an Action Figure?

Why is there a World Barista Championship held and what compelled Tim Wendelboe of Norway
to not only compete in this "Contest" but have the drive to beat out an international field of coffee-grinding, water-boiling, filter-swapping athletes?---
I don't want to give the reader the wrong impression. I am not a complete Starbucks neophyte. I have traveled this path before; in airport kiosks, in supermarkets and even in my local library with it's two pumper carafes of Seattle's liquid gold. But it had been a very long time since my last trip to a standalone store. I was rusty. I was also mildly disoriented from my recent drive in "Old Blue" and the vibrations, banging and strange, low-frequency hum that accompanies ownership of a classic American pickup truck. I still couldn't remember if Nietzsche died of syphilis and this was making my left eye twitch for some reason.
I should have backed out.
But as I stood there; male, hetero, Roman Catholic (well-endowed), conservative, drooling, twitchy and disoriented, puzzled at the final fate of a long dead 19th century philosopher, needing a cigarette..........
cigarette.
Cigarettes! Smoking! Quitting!
I quickly recovered my composure, at last making the proper synaptic connections in my addled brain - remembering my dozens of smoking cessation dramas, their ultimate failure and my final, bittersweet justification that "Quitting is for losers".
Quitting is indeed, for losers. I will not quit.
"I want a medium Ethiopian Yergacheffe".
<one million one>
<one million two>
Bad Bay!!! Judging by the raised eyebrow of the retro-hippie coffee slinger in front of me, I have erred. "Large, Grande or Venti, sir?" She asked with barely concealed delight. Wrong I may be, in Barista World – but dammit I'm Irish, I was raised in Philly and I'm stubborn. I point, with my outstretched 35" arm, to the second of three waxed-paper-cup towers piled next to the register.
"That one", says I.
"Grande?", says she.
"Medium", says I with the finality of tone and the grizzled countenance of Josey Wales facing down four Bluebellies on the dusty porch of a General Store in a no-name western town.
"OneGrandeEthiopianYergacheffe", she defiantly spits back in a mono-syllabic burst of rapid fire Barista-speak.
Through the rapidly growing red fog in my vision and the blood pounding in my ears, I only dimly recall paying for my GrandeEthiopianYergacheffe. Damn her. Damn them all to hell or whatever these Baristas consider an unpleasant afterlife. I grab my GrandeEthiopianYergacheffe, palm and pocket the change from my transaction and spin from the counter. Lurching forward like a three-legged AT-AT, I barrel upstream into the double-line of "Regulars" waiting like $5 Ho's jonesing for their crack pipe to come back around.
For the love of God! Get out of my way! Make a hole! Let me out of here!
Out the door, past the formerly asphyxiating, now-haughty patio spawn and their gym-hardened, surgically-sculpted bodies and their little, liberal, morally bereft minds. Past the newly arriving, crusty old, Jimmy Buffet-lookin' m-fer on his "E-bike" (WTF is an E-bike?) and into the blessed sanctuary of my loyal companion - Ol' Blue.
Shades on, key in ignition, turn the key, experience the gratifying roar of a 318 cubic inch beast straining at it's leash. Crank the windows down (no A/C for this real man), rev the engine once... twice. Dragon's breath spews from the rear end. The patio dwellers recoil in horror. Now the radio. Fox on AM, or risk the FM dial for the acoustical accompaniment to my grand exit from the parking lot. Punch the selector for FM and immediately hear the instantly recognizable opening words of SWEET HOME ALABAMA! The Red Neck Anthem!
[ronnie vanzant]
Turn it up.
[/ronnie vanzant]
Bwahahhahahaha!