Seal of Solomon, it was a sign of miracles and magic in Islam culture.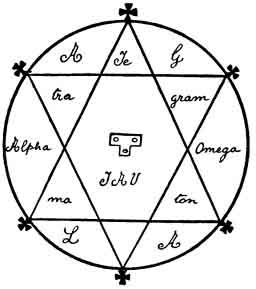 Seal of Solomon ???? ??????
The Seal of Solomon was associted with Solomon, son of David. He is seen in Islam as a prophet, as well as a great miracle maker.
However, in folklore, legends of his miracles took mythical dimensions, with a ring of his that had the "The Greatest Name of God" on it, unknown to anyone else. With it, unimaginable feats can be done. It is mentioned in the Arabian Nights, for example in the Fisherman and the Jinni story, and the Eldest Lady's Tale. It was believed by the superstituous to be a talisman ???? with magical and healing qualities.
As a result, the Seal of Solomon was used by Muslims from India to Spain to adorn and decorate the bottom of drinking vessels, coins issued by various dynasties, decorations on mosques and other buildings, and elsewhere. Click on the images on the side to see a larger version.
Several religious and quasi-medical manuscripts show the hexagram in relation to incantations for healing and warding off evil.
For example, the so called Libros Plumbeos, or the Leaden Books, found in the Sacromonte hill in Granada in the 16th century, show the hexagram among writings about the Virgin Mary, Jesus, and some of his disciples. A Morisco Muslim, Ahmad Ibn Qasim al-Hajari writes about them in the first half of the 17th century as if they are Muslim symbols.
In Europe, the symbol also took a non-Jewish character, as can be seen in this collection of building