---
Originally Posted By VTHOKIESHOOTER:
Because Sigs rule!

As long as your sig has a stainless slide you are good to go. The 226 Navy is a great gun.
<------------------Sig kool-aid drinker.
---
I actually prefer the old style stamped slides myself, but those can rust on you if you aren't careful about maintaining them long term. I got one of my P220s for exactly that reason. The guy bought it, shot it a few times, and didn't store it properly, so a little surface rust ended up on the slide. He tried to get the rust off with polishing compound, but that also removed finish. In disgust, he sold what ammounted to a brand new Sig P220 with only slight cosmetic problems for a song.
I, being the bargain hound that I am, bought it and am very happy with my purchase: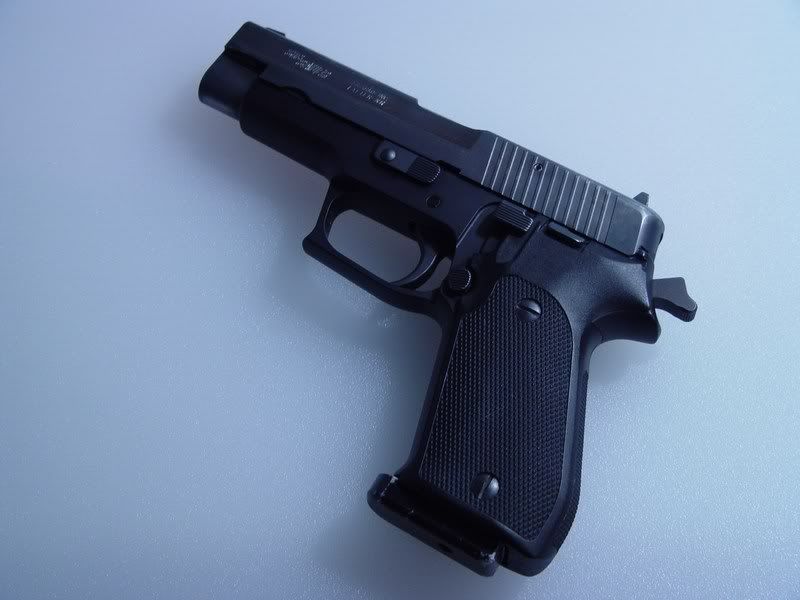 I took it to Blackwater with me for the last handgun class I took. I met a REAL Sig kool-aid drinker from the Chigaco PD who just LOVED Sigs so much that he became an armorer just so he could work on them. He even had a full armorers kit with him and kindly changed out my factory 7 rounders to 8 rounders with upgraded followers, springs, and even the thick aluminum bases you see in the picture. And he did it all for FREE.
That's one of the reasons I train at BW. You meet some of the best people in the world there.