Alright traffic gurus... whatcha think?
Major roadway with six lanes of traffic (3 north, 3 south and a LHTL).
1545 HRS in crawling bumper-to bumper traffic. A minivan going southbound pulls into the LHTL and signals to make a left turn (E) into a private drive.
Traffic in the #1 northbound lane stops and yields to the van to make the turn, as do the vehicles in the #2 and #3 NB lanes. The distance between the yielding vehicles and the traffic in front of them is about two vehicle lengths.
A motorcycle is coming northbound splitting the lanes (100% legal here) between NB #1 and #2 lanes. He is doing well under the speed limit and traffic is stopped on both sides of him.
The turning van and MC impact at almost a perfect 45% angle in front of the three yielding vehicles. Major injuries to MC guy but van driver is unhurt.
Van states he did not see MC and vice-versa.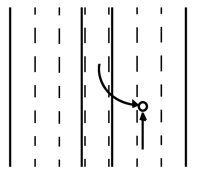 1. Who's at fault?
2. Primary collision factor?
Use your state laws as applicable.