OK, it's been a few weeks since I showed my love for military aircraft here. I believe my F-4 thread was my last. So today I will show my affection for the magnificent B-52 and as well as pass along some pics I've seen from various places around the net.
I guess my love for these huge planes started when I was a little kid. I lived underneath MTR 075 (a military low level training route) near Richmond, KY. There was a bomb plot located at the Bluegrass Army Depot that was used to score mock hits as they came over. The minimum authorized altitude was 500 feet on this route, but pilots sometimes got even lower! That was especially true of the FB-111 Switchblade drivers that also flew through here. On many days, there would be flights every 5-10 minutes. So as you can imagine, I would spend many of my days outside just watching the free airshow I was treated to. Mostly it was B-52's, but occasionally I would also see a B-1B (especially toward the late 80's/early 90's) and the very loud and fast moving FB-111. I am pretty sure the route was active as far back as the 1960's, but that was before my time. I can however remember them from the late 70's, the 80's and early 90's quite vividly. I know I saw aircraft that were based at KI Sawyer AFB, Blytheville AFB, Barksdale AFB, Pease AFB (the FB-111's) and likely many other bases from around the nation. It was so sad the flights stopped here in the mid 90's. I later learned that the radar site they used was closed and the bomb plot was no more. So I haven't seen one since about 1994 in person.
Anyway, here are the goodies:
This is the D model, known as the "Big Belly" used in Vietnam that was capable of carrying 108 Mk 82 500 lb bombs. Note the tall vertical stabilizer, camo paint and black underside paint with black vertical stabilizer. I recall these models as looking like a shark swimming across the sky with it's distinctive fin shaped vertical stabilizer. This model also had the rounded nose rather than the molded one piece nose of the later G and H models. These are some distinguishing features which makes recognition easier. The last B-52D's were pretty much phased out of service in 1983.
Here is a G model sporting the common camo paint with white underside so common during the 1970's.
Another view of a G model as it passes by the photographer. This one has the camo paint style of the 1980's before the monochrome dark gray paint became the standard.
Another G model showing off it's 1990's paint job. This would be the point where you better seriously be diving deep into an extremely well constructed bunker if you were enemy infantry and this plane was attacking!
Another very nice view of a G model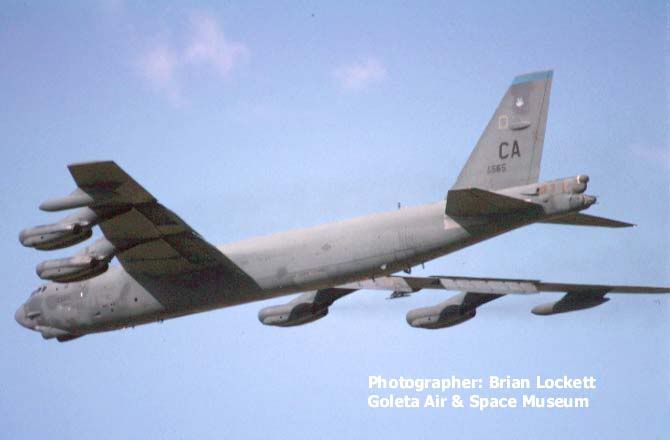 Yet another view of a G model. I believe the tail marking "CA" on this particular plane indicates it was based out of Castle AFB, CA.
Here's a thirsty G model taking a drink from a KC-135 tanker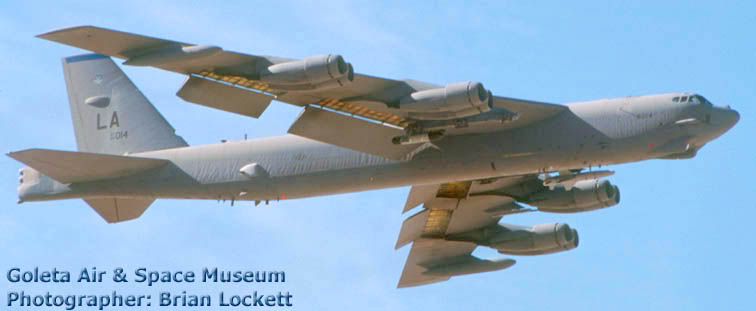 Here is an H model. They look nearly identical to the G's, with the exception the H has different engines than all other B-52 variants. There are still 8 engines (two per pod), but the H's engines have larger housings and jut out toward the front. The other models' engines all have a seamless look front to back. There are also other little tell-tale signs to differentiate such as antennas, but it's too damn early to get that technical!
A truly beautiful shot of another H model. I can't recall the number of times I was presented this same angle watching them pass by, at least the ones that didn't pass directly overhead. That is one mean looking jet!
This H looks even meaner! If it was left up to me this would be over the city of Fallujah, with several others on either side of it! But I don't get to make those type of decisions. Hehe. The "LA" marking on the tail indicates this plane is one of Barksdale AFB, LA's babies.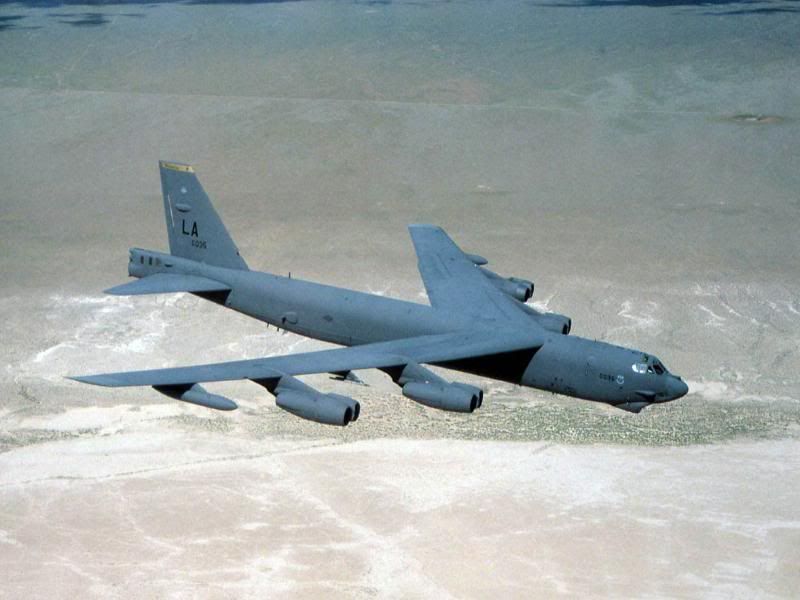 Here's another really beautiful shot of an H model. Notice the swept wing design and beautiful lines as it moves above the desert floor. They may call it the BUFF (big fat uglt F'er), but to me, it's one of the most beautiful sights in the air.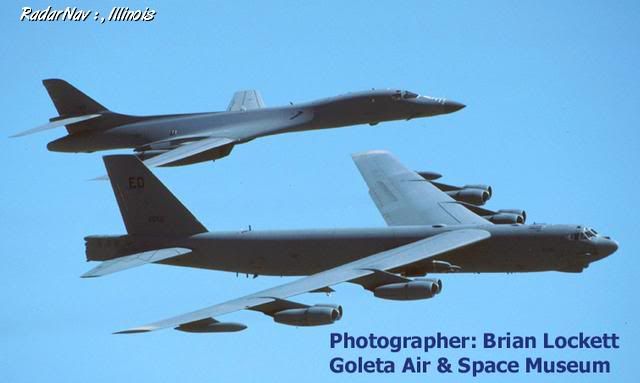 Here is an H model flying alonside the aircraft that was designed to replace it, the B-1B Lancer. What's ironic, more than 20 years after the B-1B was designed, not only has the B-1 not replaced the B-52, but it's likely the B-1 will be phased out before the B-52! Amazing longevity!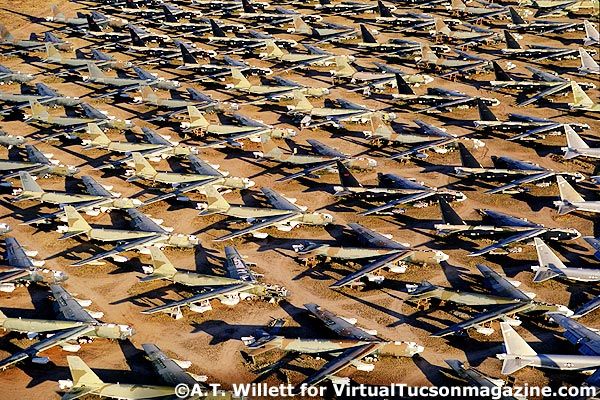 This is the most sad one I've ever seen. These are rows and rows of the retired B-52's that have been put out to pasture in the "The Boneyard" at Davis Monthan AFB, AZ. Just think of all the carpet bombing potential just sitting there getting a tan. Sad. Most of the aircraft visible are B-52G's, but there are also some D models mixed in as well (notice the taller all black vertical tails). There are also some other variants that are visible, at least the tail sections anyway, on the right side of the pic. They have the earlier paint scheme which is the silver over white common on the earlier B-52's. This is likely C, E or F models. If I were guessing, I would bet they are F's. Someone else posted this pic here before in another thread regarding retured aircraft. To whoever that was (probably KA3B), thanks for pointing that one out.
All models of B-52 besides the D, G amd H were retired prior to the 1980's. The D went to the boneyard in 1983. The G's first started phasing out in the late 80's, but were kept around a bit longer thanks to the Gulf War. It was the G model who pounded Saddam's forces so heavily during that conflict, having a serious effect that no doubt contributed to breaking their will to fight and saving US lives in the process. The last G's were phased out around 1994 or 1995. Today, only the H model remains in service.
Long live the B-52!
-CH