So yesterday I was flying home and watching
Reservoir Dogs
on the portable DVD player. Some where over the middle of Montana and around about the time Mr. White cuts the cops ear off. The ear bud falls out of my ear. For example: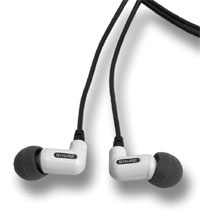 Problem was when it fell out, the rubber part was still in my ear...Deep in my ear.
While trying to get it out it went deeper. Now at this point a simple pair of tweezers would pulled it right out, of course you can't have any tweezers on a damn plane.
Well I thought by tugging and pulling on my ear I could get it out...Nope deeper it went.
So I flew the remaining hour or so home. got my luggage, shuttled to my truck and the hour drive home. So for about 3 hours I had the rubber part hugging my brain.
Diamond tweezers and some help I got it out. The whole show went in the garbage.
Man I hate flying.