Origami!
, the art of folding paper!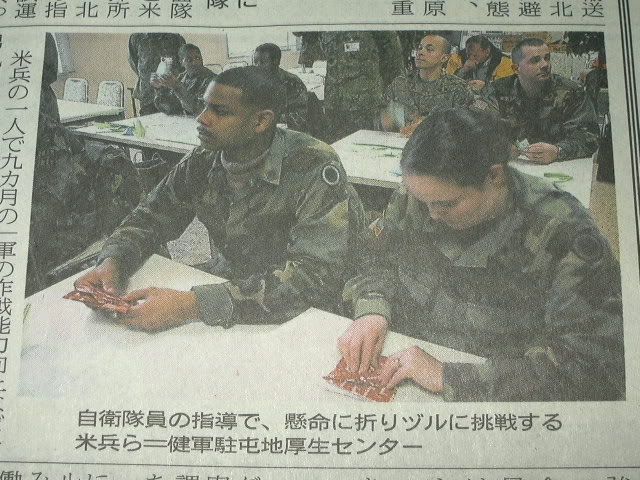 From the Kumanichi morning newspaper dated 2006/01/21.
"American Soldiers And JGSDF Members Experience Cultural Exchanges Via Origami"
,
The following is translated from the local newspaper.
On the 20th, the Western Army of JGSDF and the U.S. army have started preparing for the upcoming Joint Command Post Exercise (YS-49).
Preparations include confirming Japanese/US Joint Chain of Command and testing equipment.
The actual exercise will take place at Kita-Kumamoto JGSDF base and Kengun Base from the 23rd.
JGSDF members taught U.S. Soldiers Origami as part of cultural exchanges today.
Master Sergeant Shimizu and 7 other JGSDF members used English and sign language to show how to fold cranes and other objects to 11 U.S. soldiers.
Kerry Cruse (29), a mother of a 9 month old boy said "This was really interesting. I want to teach my son origami, too. I will try to absorb as much Japanese culture as possible during this exercise"
Other cultural experiences such flower arranging, the tea ceremony, and calligraphy will be held using spare time until the 25th.
This excise's objective is to advance the ability of the JGSDF and U.S. Army to carry out joint operations by practising commanding troops on maps using computers and other equipment to simulate movement.
This exercise is scheduled to finish on the 3rd of next month.
More photos!
Edited to fix links.