www.28thmass.com/Songs/nationonceagain.mid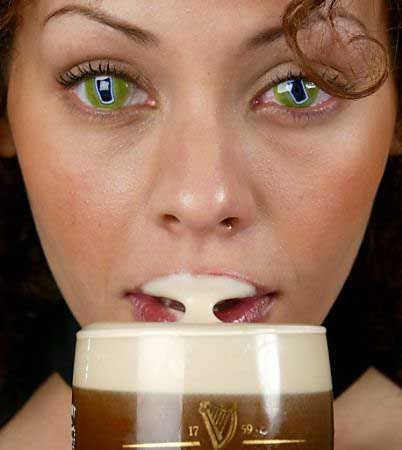 And some dirty Gaelic to impress and amuse your friends...
Cíoch = Tit
Póg mo thóin = Kiss my ass
Focal leat = Fuck off (lit. word with you)
Dún do bheal = Shut your mouth
Imigh sa diabhal = Go to the devil
Cailleach = Old hag, witch
Is dócha nach bhfuil seans ar bith ann? = I suppose a ride is out of the question?
Go dtachta an diabhal thú = May the devil choke you
Feisigh do thoin fein = Fuck your own ass
Striapach = Whore
Bitseach = Bitch
Feis ort = Fuck off
Focáil leat = Fuck off
Cac = Shit
Cac capaill = Horse shit
Titim gan éirí ort = May you fall without rising
Plá ar do theach A plague on your house
Go n-ithe na péisteoga thú =May the worms eat you
Téigh trasna ort féin =Go fuck yourself
Dúil mo Slat =Suck my dick
Éist do bhéil = Shut up! (lit. listen to your mouth)
Bog! = Fuck off! (lit. move)
Damnú air! = Shit/Damn it!
Bod = Dick
Ní mórán thú! = You're worthless!
báltaí = Pussy
Táim ag teacht = I'm coming
Go n-ithe an cat thú, is go n-ithe an diabhal an cat = May the cat eat you, and may the devil eat the cat
Go lagaí galar tógálach do chroí = May an infectious disease weaken your heart
Go mbeadh cosa gloine fút agus go mbrise an ghloine = May you have glass legs and may the glass break