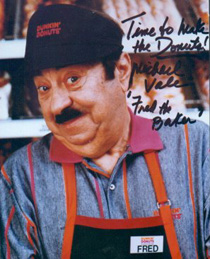 www.tvacres.com/admascots_dunkin.htm
Dunkin' Donut Guy - In 1982, The Dunkin' Donut Company aired a series of commercials with Fred the Baker, a chubby but devoted donut maker with a small black mustache who wearily woke each morning with the phrase "Time to make the donuts." Actor Michael Vale starred as the sleepy-eyed Dunkin' Donut Man. The campaign was created by the Ally and Gargano Advertising Agency.
In 1997, Michael Vale held a news conference to announce his retirement from his role as Fred the Dunkin' Donut man After 15 years and 100 commercials, he no longer had to get up at 4:00 AM. to "make the donuts."
On September 27, 1997, in honor of Vale's retirement, Dunkin' Donuts corporation offered a free doughnut to anyone who visited a Dunkin' Donuts shop that day.
When asked if he had a favorite donut flavor? Fred responded "They're all my children - I love them equally."
A veteran of World War II, as a US Army Signal Corpsman in Europe, Vale returned to the States to pursue a career in acting. He studied acting at The Dramatic Workshop in New York City with such classmates as Tony Curtis, Ben Gazzara and Rod Steiger.
In the movie Marathon Man, Vale played a jeweler who shows diamonds to Laurence Olivier's character. On Broadway, he starred in Neil Simon's California Suite. His most successful Broadway role was as Harold the hypochondriac doctor in "The Impossible Years," which opened in 1965 and ran for two years.
On television Vale performed in several television series, including "Car 54, Where Are You?" in the 1960s and "The Cosby Show" in 1987 as well as in over 1000 commercials including two Clio Award winning ads for Breakstone dairy products, which featured Vale as a perfectionist character named Sam Breakstone.
In 2001, Dunkin' Donuts founder William Rosenberg, titled his autobiography "Time to make the doughnuts."
Brooklyn-born actor Michael Vale died at the age of 83 at New York Presbyterian Hospital in Manhattan on Saturday, December 24, 2005 from complications from diabetes. He was survived by his wife, Nancy, son, Tracy. daughter, Ivy Vale, and granddaughter, Violet.
Saddened by Vale's death, the Canton, Massachusetts-based Dunkin Donuts said in a statement that his character "became a beloved American icon that permeated our culture and touched millions with his sense of humor and humble nature."
I hope I live to be 83.