Well, the concept is sound.
The Fulton Recovery System has been proven to work on many types of aircraft including the C-130.
The Fulton recovery kit was dropped to the person to be recovered who then puts on the overall-type harness.
A large, helium-filled balloon used to raise a 450-foot (136.5 meters) nylon lift line. The MC-130P engages the line with its V-shaped yoke and the individual is reeled on board. Red flags on the lift line guide the pilot during daylight recoveries; lights on the lift line are used for night recoveries.
The MC-130P flies towards the lift line at 150 miles per hour (240 kilometers per hour), snags it with scissors-like arms located on the aircraft nose and the person or equipment is lifted off, experiencing less shock than that caused by a parachute opening. Aircrew members then use a hydraulic winch to pull the person or equipment aboard through the open rear cargo door.
This method of sattilite recovery is nothing new, the Corona Project used aircraft to snag the canisters.
The satellites used film canisters that were returned to earth in capsules (a.k.a. "buckets") for evaluation. These capsules were designed to be recovered by a specially equipped aircraft during parachute descent,
MC-130P with Fulton Recovery blades in stowed position.
Recovery blades extended.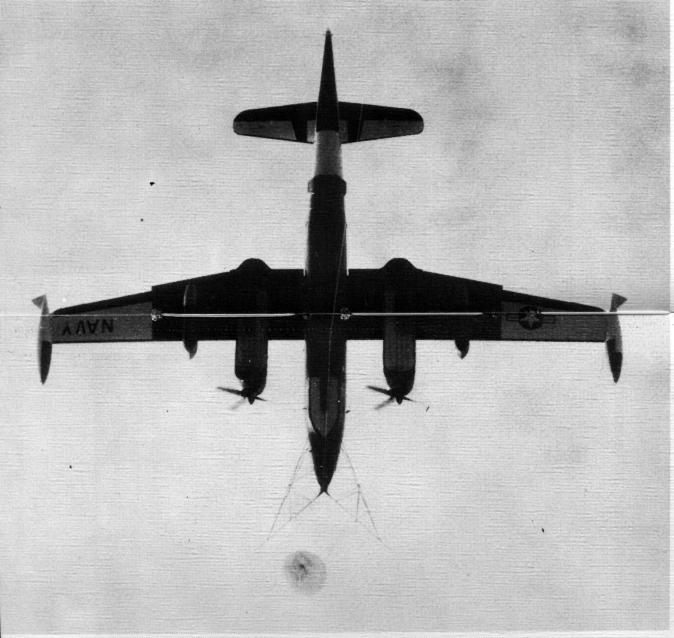 Early Fulton Recovery System testing done by US Navy with P2V aircraft.