Kerry 260 Bush 254
Once again, depends on which polls you choose to look at state by state... hard to tell anything at this point with so much variance out there. I would caution everyone to not assume that an outlined state will necessarily go that way... Instead look at all the data out there as it gets added in today and discuss it. Even the pollsters are in agreement that there is just too much information out there right now and either side can make their case for a huge electoral victory. Fact of the matter is it will most likely be a lot closer and we are making our best guesses as to what will happen.
Note there is a NJ poll from Quinnipiac that shows a dead tie... he chooses not to use that information... so take everything with a grain of salt. And the latest Quinnipiac shows a Bush lead of 49 to 47 in PA. BTW, Quinnipiac is a HIGHLY respected regional polling outfit, so their numbers on Jersey and PA are likely very accurate.
Realclearpolitics poll wrap-up
---
Reuters/Zogby (1206 LV) 10/25 - 10/27 48% 46% 1% Bush +2
ABC/Wash Post (1709 LV)* 10/24 - 10/26 48% 49% 1% Kerry +1
TIPP (792 LV) 10/23 - 10/26 48% 44% 2% Bush +4
ICR (741 LV) 10/22 - 10/26 48% 45% 2% Bush +3
CNN/USAT/Gallup (1195 LV) 10/22 - 10/24 51% 46% 1% Bush +5
Los Angeles Times (881 LV) 10/21 - 10/24 48% 48% 1% TIE
Newsweek (880 LV) 10/21 - 10/22 48% 46% 1% Bush +2
---
Bush maintains a lead in Zogby... DUh must be going through meltdown mode as they were dismissing the Bush lead as one good day. As far as I can tell Bush has been up for 5-6 days in the Zogby poll.
Iowa Political Futures
We will see how it shakes out the next day or so now that the NYT's story has more holes in it than Sarge's 45 states and made be Cali prediction. Still a Bush lead that is pretty reflective of where the polls are at now which is to be expected. Remember this is a predictor for where the people are... so maintaining a 60 lead going into the election when the candidates are like 4-5 points apart at most would show a flaw in the model. What you are seeing is a drop off of those predicting greater than 52 percent victory for Bush. That number will likely stabilize soon. Kerry's greater than 52 number is stagnant and the race is in the less than 52 range which we still lead.
Same thing with tradesports, the market is simply adjusting to the reality of a tighter race.
Realclearpolitics electoral map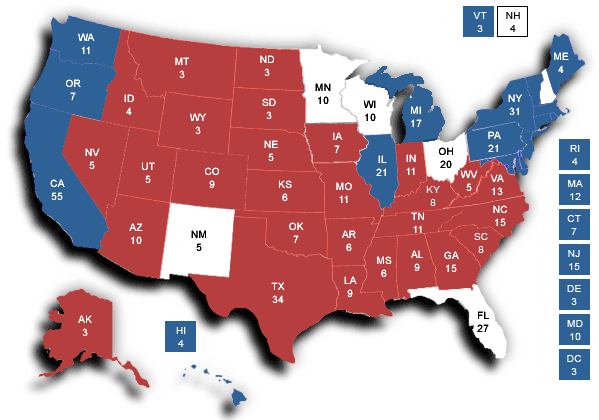 Kerry 228 Bush 234