from:
www.philly.com/philly/hp/news_top/7957702.html

N.J. cop arrested in Internet sex sting
By Sam Wood
INQUIRER STAFF WRITE
R
A South Jersey police officer was arrested yesterday and charged with propositioning an undercover agent he thought was a 13-year-old girl on the Internet, authorities said.
Edward Berzins, 37, of the Gloucester Township police department, was taken into custody at his home in Blackwood.
A Pic of the Scumbag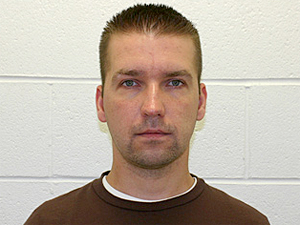 Edward Berzins, 37, a Gloucester Township police officer, sent pictures of his genitals to a law enforcement agent posing as an 8th grader, officials said. Berzins was taken into custody Monday at his Blackwood home.
Berzins made his initial chat-room contact in April with an agent from the Pennsylvania Attorney General's Office who was posing as an eighth grader, officials said.
During a series of instant message chats, Berzins used the screen name kickinbaknchillin and said he was a 21-year-old man from Philadelphia, according to court papers.
He sent several pictures of his genitals to the fictional girl's e-mail account, and later transmitted a live video of himself as he masturbated, officials said.
The undercover agent made a record of it all with a program that captures computer images.
The agent then filed a court order with Yahoo! Inc., which provided kickinbaknchillin's Internet account, which led to Berzins' identity.
Berzins is charged with one count each of unlawful contact with a minor, criminal attempted obscene and sexual performances, and criminal use of a computer, all third-degree felonies which are each punishable by up to seven years in prison and a $15,000 fine.
Berzins waived extradition and was transported to Harrisburg for preliminary arraignment in Dauphin County Night Court. He was lodged in the Dauphin County Prison after failing to post $50,000 bail.
Contact staff writer Sam Wood at 856-779-3838 or at samwood@phillynews.com.