DO IT!
My wife and I had thought and talked about having children since getting married 12 years ago but it was never the right time... going to school, living in third world countries, moving from country to country every year or two, having to travel two or three weeks at a time for work, etc.
Three years ago I did a little poll here asking people if they had any regrets about having children and everybody said they had no regrets about it. My wife and I talked about it and we got serious about trying. Eight weeks ago we had our first child, a beautiful healthy boy. Since his arrival I never get more than 3 hours of sleep at a time, I never get more than 6 hours of sleep per day, he vomits/pisses on me daily, my wife is always tired, he makes us spend money on diapers, clothes, etc., he cries, he wants to be held... at 4 in the morning, etc. BUT he is the joy of our life and has made my wife and I become closer than ever. I would gladly give up all my guns to have him and I would do anything to make him healthy and happy. Now my wife and I are planning to have our second next year and we are looking to adopt a child from Latin America.
Do it and do it now. You will have no regrets later... you have regrets later if you don't do it.
Here is a pic of my pride and joy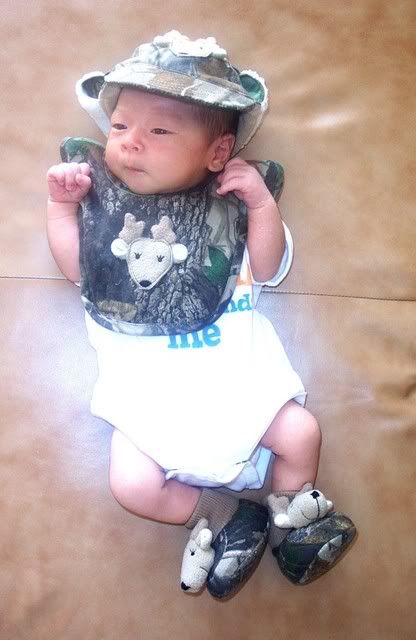 (anybody who photoshops my boy will be tracked down and hung from the nearest telephone pole
)