September 24, 2005 (12:00 pm, Hurricane Rita)
Waited till 12 noon to wait till after the news reported the hurricane made landfall to check on the business. I had my truck fully loaded with my most valuable firearms in case there was a storm surge and I had to haul ass out of there in a quick hurry. Main carry gun was a Bushmaster M4 w/ 7 fully loaded 30 round magazines and a Browning Hi-Power with 3 13 rd magazines fully loaded. Went to the business and proceed to open the entrance in the back. As I entered the business, I was the secondary metal door closed in front of my face. The drawers into the first room were all turned inside out. I calmly walked back to my truck and retrieved my M4 and Hi-Power and suited up mall ninja style. I handed the Remington 870 and a Model 10 Smith & Wesson to another person. I told other person to watch the outside in case I flush them out. I proceed to enter the building and came to my senses after 10 minutes this was not smart doing this by myself. Went outside and found the little fuckers running on the roof and I proceeded to point the rifle at them. They got away. 27 Houston Police Officers showed up on the scene (if any of the police were there at that scene, you will remember me, also 2 of your cars ran out of fuel and a Honda minivan came with extra fuel). They did not take my rifle away. Searched my building and found nothing. Once safe was cracked open and the rest of the place was destroyed by the burglars/looters. $27,000 in damage
October 7, 2005 4:00 am
Was still recovering/repairing the damage done by the burglars/looters from the previous encounter. Had to stay every night and watch the damn place since the building was not secure due to the lack of finding any help/materials in repairs all the damage to the roof. Burglar enter through the damage in the roof and proceed to the office and broke the key code lock and tried to open the other safe in there. I waited outside the office with my Browning Hi-Power forced him out of the office. Had him lay on the ground and waited for the Houston Police to arrive (took 45 minutes to get there since the building was pretty secured everywhere else). Burglar got really edgy on the ground while I blinded him with my surefire for that time frame. Light got dimmer and dimmer. Burglar kept trying to reach for his hoodie, so I fired 2 warning shots into my Craftsman Tool Box in order to control him. Later found a crowbar. Bail for him was $2,000. Got 1 yr State Jail TDCJ for that. Did $10,000 in damage.
February 16, 2007 11:30am
Was the target of a takeover robbery by 5 members of the Houstone Tango Blast Gang. (1) Getaway driver, (1) Lookout outside the front door, (3) Actual robbers. I was inside joking with a customer when one of the robbers charged up to me directly with a hoodie and proceeded to point a snub nose revolver in my chest. I said screw it and proceed to draw, but notice the 2 other robbers covering the other 10 innocent people inside. My Glock 19 taken away from me and a Smith Wesson Model 64 was also taken from its hiding spot. They did not find the other Glock 26s and snubnose revolvers lying around. Lost the money and got involved in a shootout outside the building with a Glock 26 and a Taurus Model 85 subnose revolver. Shot one of the individuals twice in the chest. God was watching him because the 2 bullets slid along his ribs and hit nothing vital. The other 8 rounds impact the getaway vehicle and had 1 stray round hit the building across the street. Robber showed up at Clear Lake Regional Hospital later on with an unexplained gunshot wounds. Bail for that robber was $30,000 (less than what was taken from me) and took about a year for the case to get disposed of. He got 10 yrs. The other robbers were not charged with that robbery, but for other cases of attempted murder, aggravated robbery, aggravated assault on a public servant (shooting at a Houston Fire Department Ambulance when it was arriving to treat a gunshot wound victim), aggravated kidnapping, assault, and domestic violence.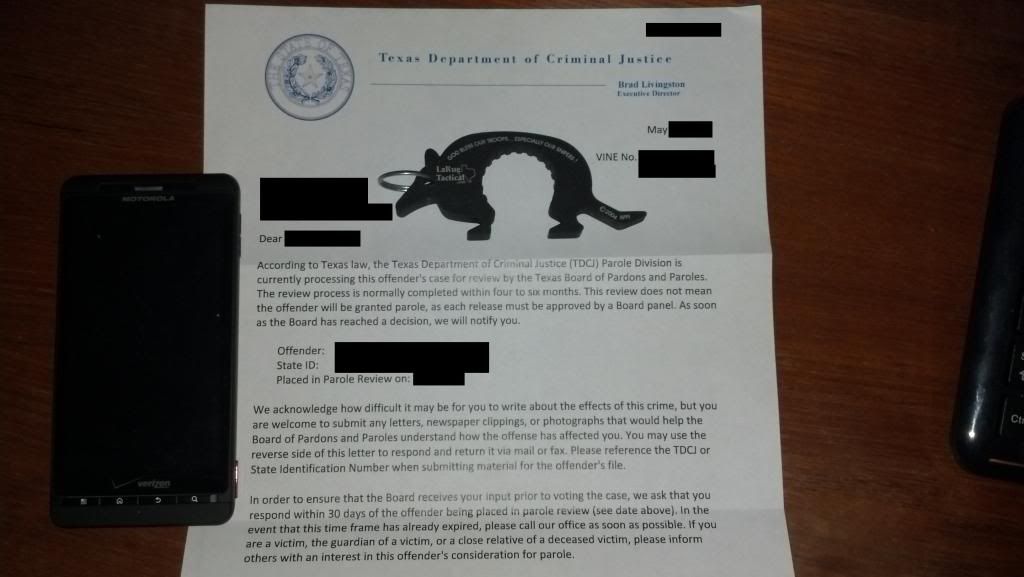 2010 (Left a lot of details out)
I was ambushed at the front of the business by 1 to 2 robbers with another as a getaway driver while coming from the bank. Did not know if followed or they waited because I did not take a predictable route back. One robber was shot 6 times in the body (center of mass) and 1 to the head. Had one stray round hit the building 1 block away. Robber expired at Ben Taub Hospital 30 minutes later. The other robber that took him there was held and arrested for that robbery. Expired robber was on bond for almost a year on another robbery charge. He was set to go back to court within 3 weeks of my robbery for a disposition. Other robber was just release from a 6 month stint in the Fort Bend County Jail for Burglary of a Vehicle. He was held on $75,000 bond. Case took 1 year, 3 months to get disposed of. He plea bargained to 5 years TDCJ for his part in the robbery. Used my money to hire (2) very high profile criminal attorneys.
February 2011, 1:00 am
Parking lot of a Mexican Restaurant with a group of 3 other people. Guy doped up started going after one of my friends call him a narcotics officer because of a previous bust in the area 2 hours before hand. He pulled out a knife and I pulled out my Glock 26 and almost shot him. He calmly folded the knife in his pocket and walked away. We left it at that.
February 18, 2012 9:30 pm
Some of my tenants were complaining about an extremely aggressive panhandler in the Spring Branch Area that was setting up shop and at the other property across the street. He and at times with another panhandler would stand in front of a Korean Restaurant, Mexican Meat Market, Bakery, Convenience Store, ATM, etc and with his sheer aggressive stance get people to "donate" money. I went there to make him leave the property that night. Well he did not take my desire from him to leave the property and proceed to charge towards me. I used a can of Fox Pepper spray with no effect on him, heck the blowback had no effect on me! He proceed to tell me if I had a gun, I better us it now, or he was going to really fuck me up. Well had enough witnesses there on my property and across the street, it would have been a very justified shooting. Did not shoot because of the large number of bystanders there and the very fluid nature of that situation especially with the pepper spray on my glasses. Had him arrested on March 11 when proceed to take off his pants and take a dump in front of a business during the afternoon. Police was finally able to get their hands on him and identify the panhandler. Get this, he had a current drivers license and a lot of arrests in Hawaii, Florida, California, and Texas.