Bastard must have came down from the ceiling of my carport. I guess if there's any good news to report, it's that it wasn't a brown recluse. Been too many of those threads lately. And, black widows are easier to ID because of their unique shiny black color and distinctive red hourglass marking on their belly.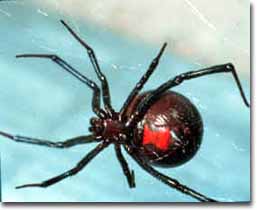 Colorful bitches, aren't they?
I suppose I'll now have to check out the loft above the carport to make sure it's not infested with these suckers. There are tons of widows around here, but so far, I've never encountered a brown recluse. Of course, that doesn't disappoint me at all. LOL.