NASTY...
I live in a condo that is adjacent to a large open space area with a detention pond. Well, with all the rain here lately, the pond has swelled to about 200% of its usual size. And my condo has been infested with lots of these little monsters. I looked 'em up and they're called:
EARWIGS!
Nastly little bastards.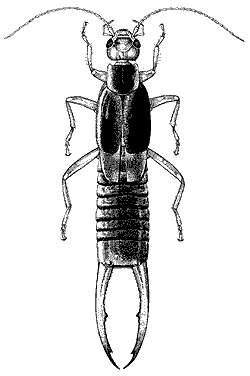 Little fuckers can getcha with those pincers, although I don't think they're poisonous.
I remember an urban legand from when i was a kid that said they crawl into your ear to lay eggs in your brain (ala Wrath of Kahn). I'm sure that's where they get their name.
I've got good food and crumb discipline in my place, so they're not coming in for the food. What the hell can I do to get rid of these. Be midful that I have a 4 year old so nasty chemicals aren't preferred.