Senator Di-Fi opened her hypocritical mouth at the Judge Roberts confirmation hearings by first lauding the worth of the 1,000 foot "gun free zone" and then saying that the Supreme Court showed poor judgment in overturning the law in 1995' US v Lopez decision (Congress passed it again the next year).
So, in the map you'll see by going to Alan Korwin's gunlaws.com web site:
http://www.gunlaws.com/Gun_Free_School_Zones.htm
You'll see a map of central Phoenix with as many school zones as the database and GIS software could find and map. About a 1,100 in Maricopa county which has a population of 3.5 million, give or take.
You'll see dots covering major and minor roads throughout metro-Phoenix. (The dots represent the 1,000 foot zone, plus another 300 feet since the zone starts not at the center of the school, but on the sidewalks). So, each dot has a radius of 1,300 feet, and a diameter of 2,600 feet, or about a half mile.
You'll see major highways in red such as Interstate 10 heading west to east through central Phoenix; State Route 51 (Squaw, nay, Pietewa Peak Freeway) and I-17 both heading north/south; and the US 60 heading east into Mesa. The gray lines represent the major surface streets such as Bell Road, Thunderbird, Cactus, Peoria (all east/west in the northern part of Phoenix) as well as north/south streets such as 19th Ave, 35th Ave, etc, in the central-west valley. These are major surface streets WIDE... usually six or even eight lane city streets (fun to cross on foot with the "Don't Walk" sign flashing at you).
To give you some perspective, the blocks made up by the gray roads should be roughly one-square mile (sometimes more, sometimes less) so that two zones, end to end will match the width of most Phoenix city blocks (yes, they are big blocks).
So, as you look over the map which I will post below, you will see that dozens and dozens of school zones block major highways and major surface streets. So, if you're one of the many Arizona citizens who don't have a CCW (only about 70,000 do), if you pass through one of these zones... you're a felon.
Just try to get from Metro Center Mall in NW Phoenix down to the State Capitol in the center of the city. Good luck. Now, look how many surface steets are blocked off at many different places. Some metro-Phoenix citizens are "land-locked" by the GFSZ.
Can't get there from here.
Rick
The following is text from Korwin's press release:
GUN FREE SCHOOL ZONES ACT OF 1990
This act criminalizes every lawful gun owner who travels with a firearm outside the home, with a few narrow exceptions. It was never intended to do this, and needs to be amended. Schools themselves would remain gun-free zones, and the near-total gun ban this law creates would be corrected.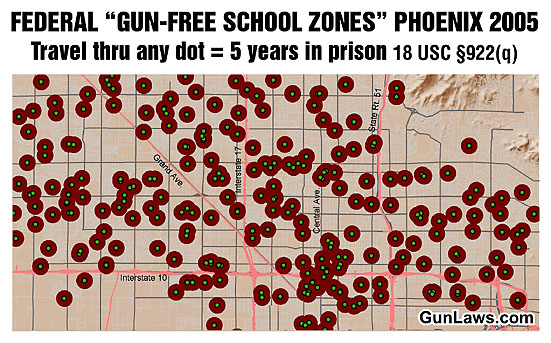 Next up is Cleveland. All those Catholic schools? What a mess !!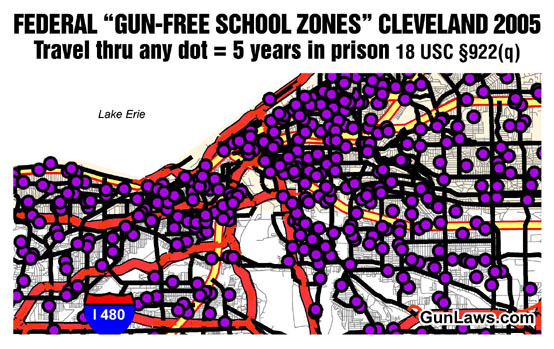 There are some exceptions built into the law...
http://www.gunlaws.com/images/GFSZ%20Phoenix.pdf
Things such as CCW permit (if it requires a background check), educational activity, locked and unloaded, etc.
Here is the current law with the new post-Lopez verbage ("it's really, really about interstate commerce") included by Congress in 1996
http://www.gunlaws.com/Gun_Free_School_Zones_Act.pdf