---
Originally Posted By geegee:
America is better for that decision. Back to the American Quarter Horse Association, or wherever he was getting that necessary disaster relief experience.
---
Nah, he was fired from the "horsey job"... guessing gross incompetance, but just conjecture
---
Originally Posted By wgjhsafT:
Kind of shows some guilt on Bush's team. Unfortunately the Democrats will not stop until Bush is the person resigning or being forced out.

What about the governor of LA?

Mayor Nagit?

Naw, they pay their D union dues.
---
I have yet to see anything (aside from assertions on ARFCOM) that would make me agree w/your assesment to the Gov, but the Mayor? Yup, his ass needs replaced! IF the Gov DID keep relief from going INTO NO... well, that certainly needs to be addressed, I've yet to see anything "official"about that yet (of course, I've not LOOKED either). But I've seen AND heard a LOT (even from Republicans/Conservatves) that blast Brown... so.... (and the Mayor asshat).
---
Originally Posted By warlord:

---
Originally Posted By rtech:
You don't always have to know the business to be the boss, but you need to have good people around you and take thier direction when the time comes. I don't think he did anything bad.
---

The mantra in old days of conglomerates & MBA-types, was you really didn't have to know anything about the business, but surround yourself with people who do. The trouble is why should a company hire anyone with zero experience, and depend on a subordinates to set policy?

Mr. Brown was literally way over his head, and that goes for NOLA Mayor Ray Nagin and Gov. Kathy Blanco also.
---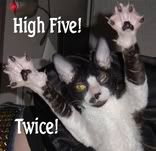 ---
Originally Posted By Grunteled:
The problem was there seems to be some fluff in his Bio. I'm not sure why that was done, but if it's correct then it sure makes it hard to stand up and defend him. You will have your legs cut off from under you. It seems some of the Bio items were puffed up. That wasn't smart.

I still think he didn't become incompetent overnight when he managed 5 previous disasters, but there will be no way to get that across now.
---
Some fluff? Saying you were Assistant Director when you were the assistant TO the Director? Assistant Directoor is a REAL position, assistant TO the director is a lackey. The first doesn't get the director's lunch, the second typically DOES. Come on, SOME fluff???
SERIOUS disasters shine a spotlight on the VERY compentant, and the extremely incompetant. Smaller disasters make incompetance harder to notice, that's all. (Not to say that the FL hurricane disasters weren't SERIOUS, they were, but FL has both more EXPERIENCE w/hurricanes (small and large) as well as not having fragile infrastructure to exacerbate an already bad situation).
IOW, if the levies had held, none of us would even know who the Phoque Mike Brown IS. As the hurricane damage itself was serious, but not catastrophic. The levies going is what turned a disaster into a catastrophy.