Originally Posted By xenophon21:
Not bad, I wonder how well that keeps rain/snow out. Also another "bend" in the system, but at least it's not facing the ground for mr. mice.
Here's some pics of the identical, but more expensive, Heartland unit. You can see from the illustration how the air is vented, and that there is nothing open to the elements. The top cap that you do see is actually just there for clean out. All the magic happens inside the unit.
It's not the most attractive unit, though and some say it's larger than you would think. My dryer is on the 2nd floor which means to clean it i need a ladder which makes the above kind of a pain in the ass, I'd imagine.
I also found these for a reasonable price that also have a trap door inside the unit to prevent critters and back drafts:
http://www.seiho.com/product/sfz/sfz.html
http://www.ebay.com/itm/NEW-SEIHO-ALUMINUM-DRYER-VENT-4-with-BDD-SFZC4-/160932601860?pt=Air_Conditioner&hash=item257854a004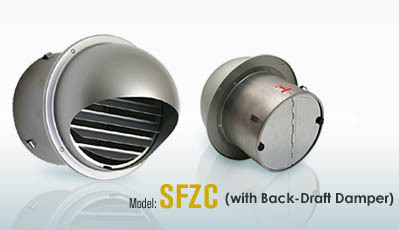 I personally like the look of the Seiho a lot better, but it's more expensive. I'm also curious how it performs with the fixed louvers on the outside and the lint that gets stuck.